Need some healthy dessert recipe ideas for Christmas? I've gathered 30 of my best top-rated healthy Christmas treats adults and kids love, and are easy to make using healthier gluten-free, Paleo ingredients.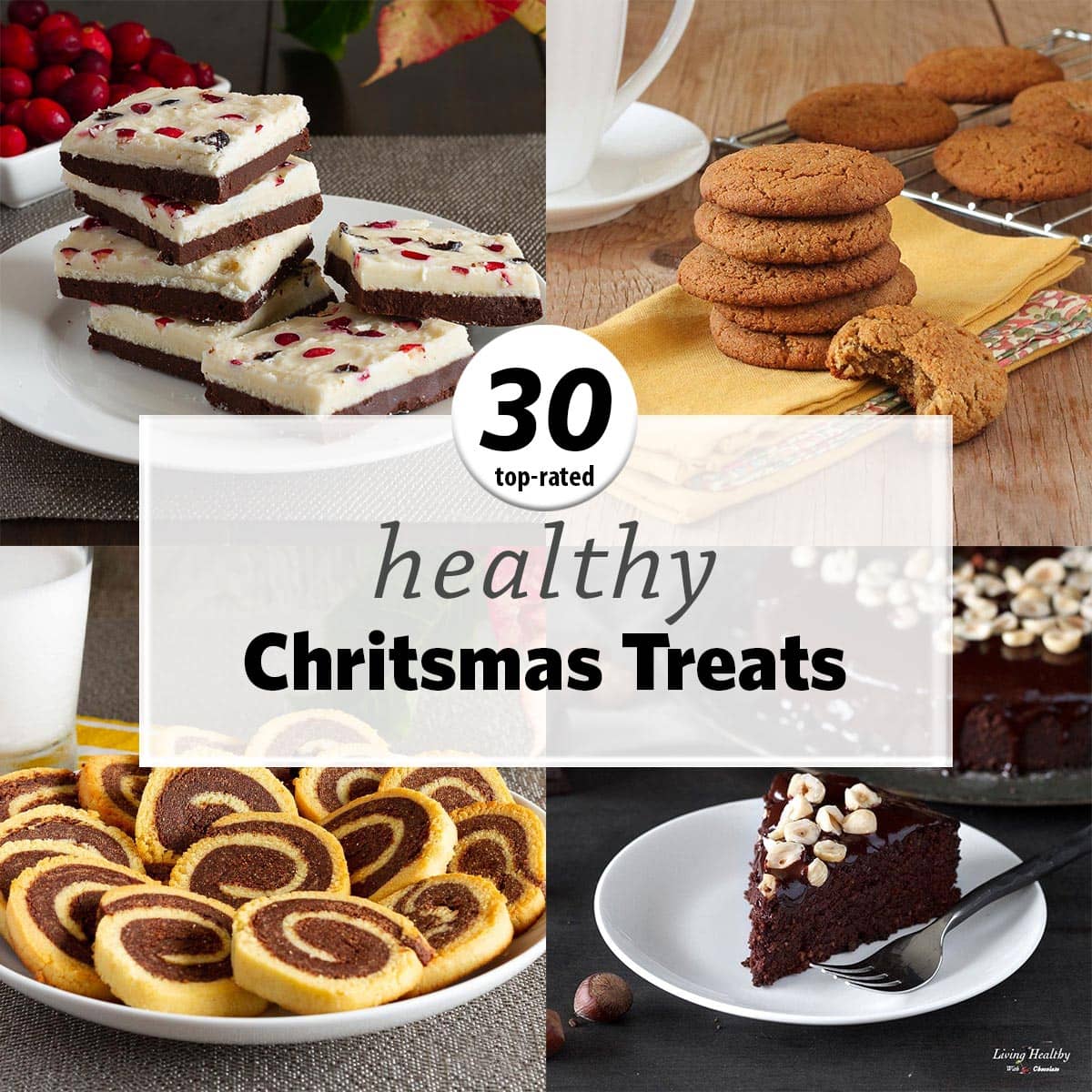 Jump to:
From all the treats you'll see on this list, my top picks are definitely the soft ginger cookies and the hazelnut chocolate cake. Though you'll find many more healthy dessert ideas that are sure to satisfy everyones' sweet tooth this Christmas.
Choose from the best Paleo and gluten-free Christmas cookies to chocolate desserts, easy no bake sweet treats, candy and other snacks, and many more tasty homemade treats you can give as gifts.
I have your desserts covered so let's take a look at these 30 tried-and-true favorite healthy Christmas treats below.
---
Paleo, gluten-free Christmas cookies
Here are some readers' favorite Paleo and gluten-free Christmas cookies you can make for your holiday gathering that are sure to please your friends and family, including kids.
Chocolate desserts
Here are some amazing chocolate Christmas treats to try this year that are made with healthy Paleo ingredients and can be prepared ahead of time or baked at the last minute.
No-bake treats
These delicious sweet no-bake Christmas treats are perfect to make when you don't want to turn the oven on. They're quick, easy, and fun to make.
Candy & snacks
If you're looking for healthier Christmas candy recipes or snack ideas this fall, choose from the following delicious sweet treats.
Edible gift ideas
Below you'll find some of my favorite homemade edible Christmas treats to give as gifts every year.
Bonus recipes
Your holiday celebrations can be healthier this year, and any of these Paleo, gluten-free Christmas treats and desserts are certainly going to please the crowd.
And if you need more inspiration, browse my other healthy dessert recipes on this site, or better yet, download a copy of my cookbook while it's still on sale. The price will go up very soon and it's currently 45% off!
Marry Christmas!! Adriana ❤️🎅🏻
Subscribe to my newsletter for email updates, and follow along on YouTube, Instagram, Facebook and Pinterest for all of the latest updates.
---