These Chocolate Chip Cookies are stuffed with a creamy homemade chocolate hazelnut butter and are irresistible! This recipe is Paleo, grain-free, gluten-free and dairy-free.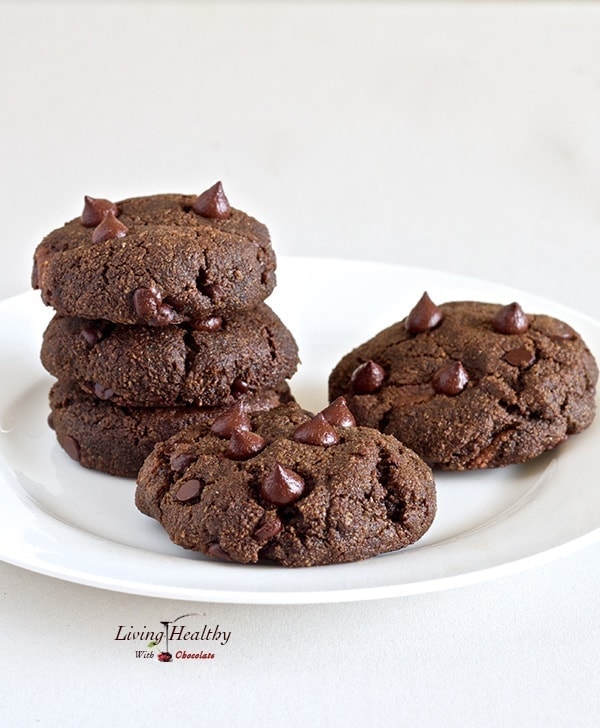 Welcome to a NEW YEAR! A fresh start and a healthier, happier you! This January will mark the one year anniversery since Living Healthy With Chocolate became a reality to me, and I am sure a lot of you too. I thank you all for the support and for the kind words that inspire me everyday to keep creating these recipes.
To start of 2014, here is a recipe that my husband declared is a winner and will be a huge hit. I have to admit, they really do taste that good!They have a creamy layer of homemade 'nutella' in the center and are very moist and soft.
Earlier in 2013 I posted two different recipes for homemade nutella. The one on the left (see photos below) is made with raw cacao powder and the one on the right is made with both unsweetened chocolate and raw cacao powder. You can choose either recipe to make these cookies and I made mine with the recipe on the left.
Making these cookies is super simple. There are no processed oils or sugars, just wholesome paleo-approved ingredients like almond flour, raw cacao powder, dark chocolate, coconut oil, coconut milk, egg and hazelnuts. The batter is flavored with vanilla extract and is very lightly sweetened with raw coconut palm sugar. These cookies are proof that there is no sacrificing great taste when ditching all grains and refined, processed ingredients.
HAPPY NEW YEAR!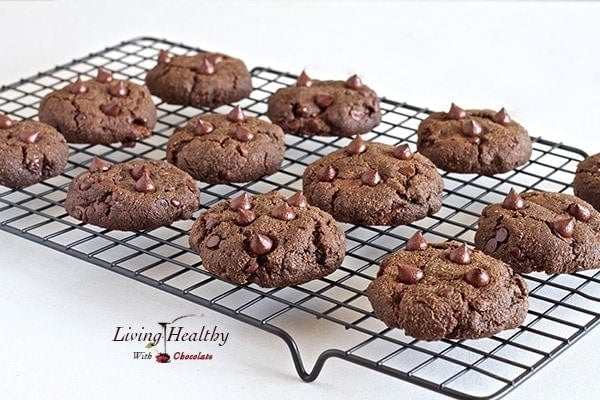 📖 Recipe
SHARE THIS RECIPE
Chocolate Chip Cookies Filled With Homemade Nutella
To see the brands I use, click each ingredient above or visit my Amazon shop.
Instructions
Begin by making the homemade nutella.

Chill the nutella in the refrigerator overnight or until it hardens.

In a large bowl, mix together the almond flour, cacao powder, coconut palm sugar, baking soda and salt.

In a separate bowl, whisk together the coconut milk, coconut oil, vanilla extract and egg.

Using a rubber spatula, mix dry and wet ingredients together to form a batter. Do not over mix.

Gently fold in chocolate chips.

Cover the bowl containing batter and freeze for 30 minutes.

To assemble cookies, scoop about 1 ½ tablespoons (medium cookie scoop) of the chilled dough onto a baking sheet lined with parchment paper.

Using your thumbs make an indentation in the center of each ball, large enough to fit 1 teaspoon of nutella.

Add 1 teaspoon of the chilled nutella in the center of each cookie then wrap and press cookie dough around nutella to cover entirely. Roll into a ball, then gently press down to flatten cookies, being careful not to split open. If your dough or nutella softens and becomes hard to work with, return to the refrigerator or freezer for a few minutes.

Top cookies with some chocolate chips and bake in a preheated oven to 350°F for approximately 10-12 minutes.

Allow cookies to cool on the baking sheet for 5 minutes, then move to a wire rack.
Notes
Recipe makes approximately 13 cookies.
Nutrition facts calculated without the homemade Nutella.
Nutrition per serving
Calories:
166.6
kcal
Protein:
3.9
g
Fat:
13.8
g
Saturated Fat:
6.1
g
Sugar:
4.7
g
Fiber:
2.3
g
Carbohydrates:
9.6
g
Net Carbs:
7.3
g
*This post may contain affiliate links and as an Amazon Associate I earn from qualifying purchases. Please read my disclosure policy for more details.
Made this recipe?
Please leave a review and photo in the comments below.