Each bite of these gooey Chocolate Caramel Bars delights with rich dark chocolate, sweet caramel sauce, layered in between a buttery crust that crumbles just as you bite into it. And we are going to make them without using any grains, dairy, eggs, or refined-sugars.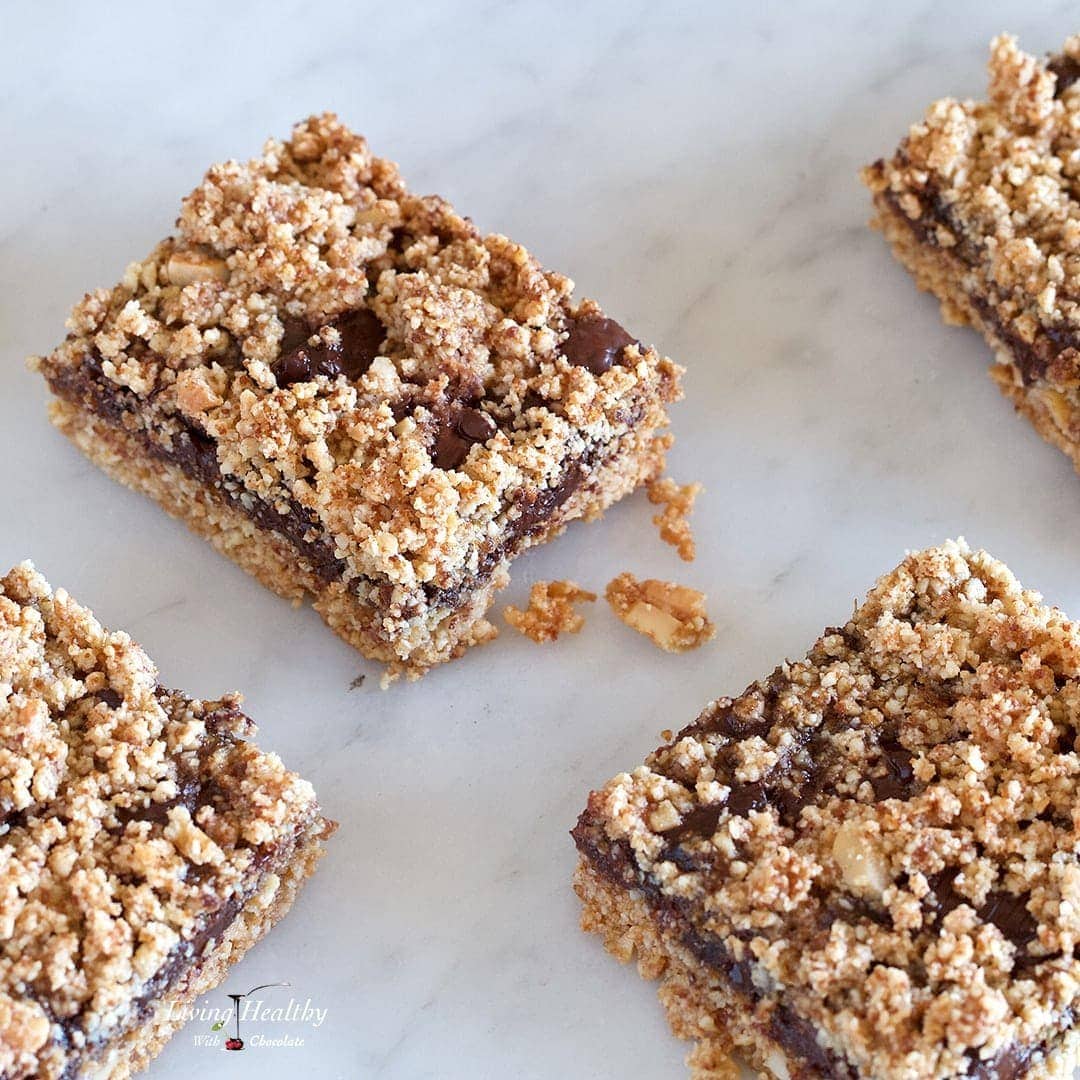 The caramel sauce is homemade, and I taught you how to make it on another post (the video and recipe are posted here). It is very easy to make, and it takes this dessert to the next level. This caramel sauce adds the perfect amount of sweetness, and as it bakes it caramelizes even more, giving these bars a nice chewy texture.
The steps to make this recipe are super simple. The dark chocolate (I'm using 80% dark) balances out the sweetness of the caramel, and gives the bars that incredible chocolaty taste that us chocolate lovers seek out in a dessert.
When the bars are chilled in the refrigerator and the chocolate hardens the texture gets even better to me, and I love how the cold chocolate has a crunch and slowly melts in my mouth.
Chocolate and caramel together is amazing, but when layered in between a delicious crust made of cashews and almonds...ummm...these bars are simply incredible. I love them and I think you'll really like them too.
The inspiration to make these bars came to me because I really missed eating those sweet Carmelita bars from a nearby store. The bars were very sweet and made with caramel, chocolate and oatmeal. No more cravings for me 🙂
Enjoy 🙂 Can't wait to read your comments and thoughts below.
🎥 Watch the recipe video
Chocolate Caramel Bars (Vegan, Paleo, Gluten-free)
📖 Recipe
SHARE THIS RECIPE
Caramel Chocolate Bars (Paleo, Vegan, GF)
To see the brands I use, click each ingredient above or visit my Amazon shop.
Instructions
Add the cashews to a food processor and pulse until you have a fine, flour-like texture. Add the cashew flour to a large bowl, then add the almond flour, coconut sugar and salt. Mix to combine the ingredients, then mix in the chopped cashews.

Add the coconut oil and vanilla to the bowl, and using your hands mix until the dough sticks together and has a coarse, sand-like texture. Set aside ½ cup of this mixture, and spread the rest evenly in the baking pan.

Pour the caramel sauce over the top in an even layer, then distribute the chocolate over the caramel. Sprinkle the reserved dough over the chocolate.

Bake at 350°F for 18 minutes, then reduce the temperature to 325°F and bake for another 10 minutes so the dessert gets crunchy.

Set the pan over a cooling rack and let it cool completely before serving. Store your bars in the refrigerator.
Notes
*You can also use store-bought cashew flour instead of using whole cashews in step 1 above. If you go that route, you'll need 1 ¼ cup of cashew flour.
**For the dark chocolate, use your favorite chocolate bar, but I like to use a dark chocolate with 80% cacao to balance out the sweetness of the caramel.
Be sure to read my post for more info and watch the video tutorial above.
Nutrition per serving
Calories:
199
kcal
Protein:
4
g
Fat:
16
g
Saturated Fat:
7
g
Sugar:
6
g
Fiber:
1
g
Carbohydrates:
11
g
Net Carbs:
10
g
*This post may contain affiliate links and as an Amazon Associate I earn from qualifying purchases. Please read my disclosure policy for more details.
Made this recipe?
Please leave a review and photo in the comments below.