This Lemon Cream Pie is gluten-free and dairy-free with a Vegan option. Made with an almond flour crust and a healthy lemon cream filling made without eggs.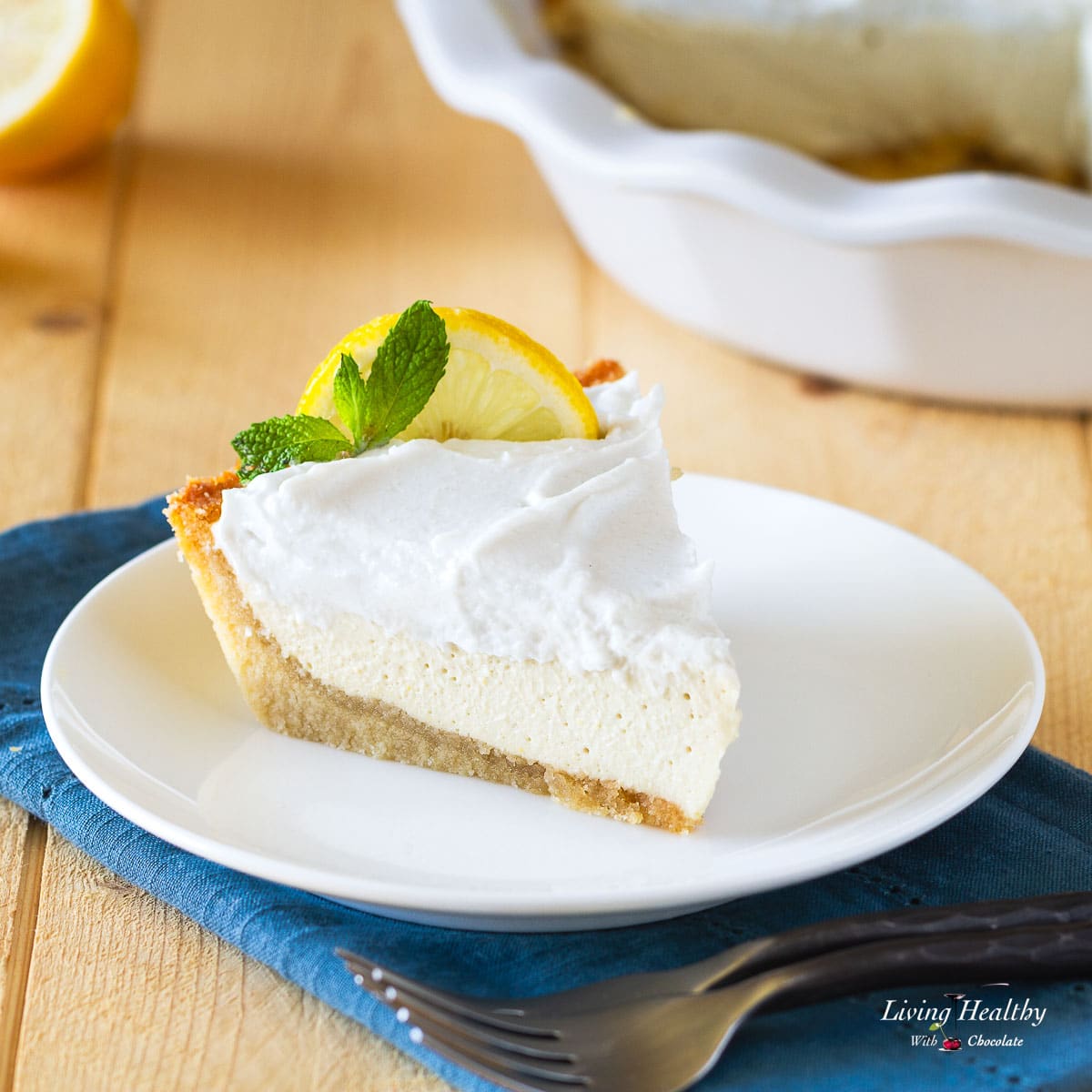 This Lemon Cream Pie recipe has a truly amazing taste and texture even though it's gluten-free, grain-free, egg-free and dairy-free. And today I'm gonna teach you everything you need to know to make this healthy lemon cream pie.
Looks amazing right? It tastes amazing and you're gonna fall in love with it!
In today's recipe you're going to learn how to make 3 things:
Learn how to make a flaky pie crust using almond flour and coconut oil as opposed to using the traditional all purpose flour and butter. This crust is versatile and you can make a ton of different pies with it.
Learn how to make a smooth lemon cream using nutritious ingredients, and without any refined sugars, sweetened condensed milk or even eggs.
Learn how to make a dairy-free whipping cream that is a great substitute in any recipes that call for cream.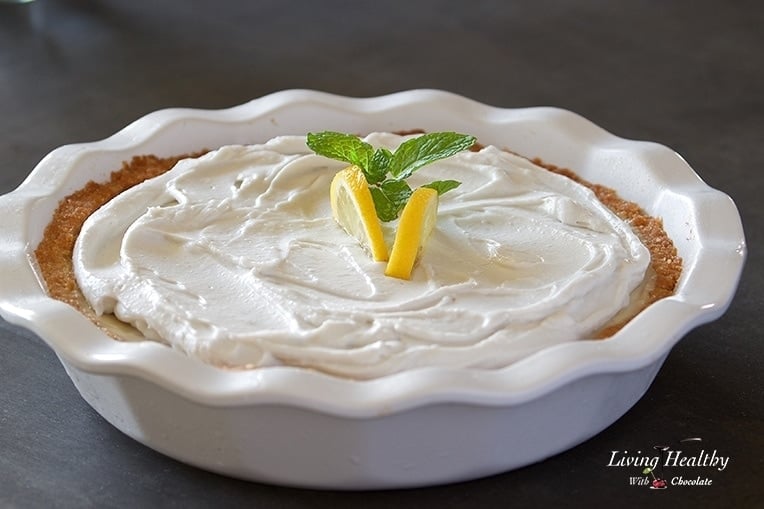 I hope my video is helpful to you and you see how making a Lemon Cream Pie healthy and delicious is totally possible.
I think what I love most about this pie is that it's refreshing, not too sweet or heavy. The creamy and smooth texture of the lemon cream filling is absolutely incredible, the crusts' consistency and flavor are spot on, and the whipping cream topping is a fluffy, light and delicate cream that just completes this pie perfectly.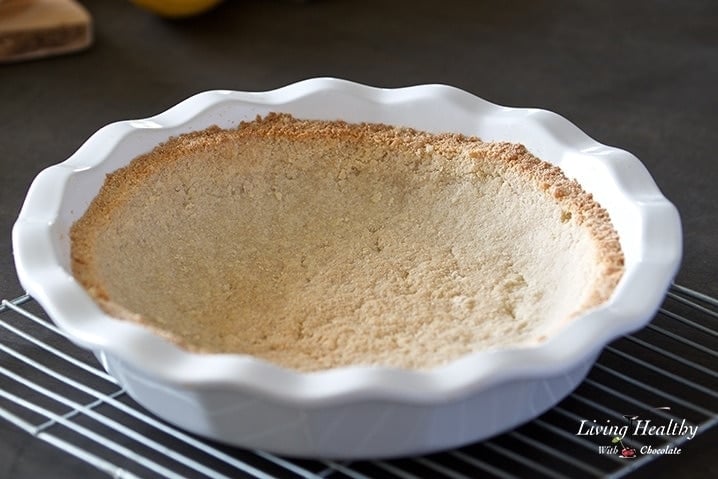 This pie is simply to die for and I was hesitant to share my recipe online instead of putting it in a cookbook. But I love you guys, and I'm thankful for you being here with me every week, and I couldn't have you wait for me to write a book to have this recipe. So I hope you make it soon and truly enjoy it with family and friends.
Don't forget to share your photos with me when you make it. You can attached them in the comments below, or share them on the social networks with the hashtag #livinghealthywithchocolate so I can find it. Any comments or questions you have for me, write them below and I'll answer them for you.
More lemon recipes
Let's get baking! This pie is sure to be a hit, but if you need some more dessert ideas for the holidays check out my top-rated thanksgiving recipes.
🎥 Watch the recipe video
Paleo Lemon Cream Pie (gluten/grain/egg/dairy-free)
📖 Recipe
SHARE THIS RECIPE
Lemon Cream Pie (Paleo, Gluten-free, DF)
Ingredients
Dairy-free Whipping Cream
To see the brands I use, click each ingredient above or visit my Amazon shop.
Instructions
Crust
Preheat your oven to 350°F. In a large bowl, mix all the ingredients listed for the crust with a spatula until the mixture resembles coarse meal. Don't over mix. Press crumbs on the bottom and sides of a

9-inch pie dish

, and bake until the edges and center start to brown. Cool completely on a cooling rack.
Lemon Cream Filling
Add the lemon juice and zest, and ½ the can (201.5ml) of coconut milk to a saucepan. Sprinkle the gelatin on top and set aside to allow the gelatin to soften.

In the meantime, add the cashews, remaining (201.5ml) coconut milk in the can, honey, and vanilla to a blender and process for a minute or two, or until the mixture is very creamy and smooth. Set aside.

Now heat the lemon mixture in the saucepan over medium heat until the gelatin dissolves, stirring frequently with a spoon. Allow it to cool for 5 minutes, then add it to the blender along with the cashew mixture, and blend again to combine everything. Let lemon cream filling cool in the blender for 30 minutes, then pour it over the cooled crust. Cover with plastic and refrigerate for a minimum of 6 hours or overnight to allow it to set.
Dairy-free Whipping Cream
Open the can of coconut milk that has been chilling overnight being careful to not shake the can. Scoop the coconut cream that has risen to the top into a large bowl. Discard the water on the bottom of the can.

Add the honey and gelatin to the bowl and whisk with an electrical hand or stand mixer until stiff peaks form. Spread the cream over the cooled pie and serve.
Notes
*Important: soak the cashews in hot water in a large bowl for about an hour. This will soften the cashews and make them easier to blend. Discard the water and add just the cashews to the blender in step 2 of the Lemon Cream Filling above.
Store pie in the fridge covered with plastic wrap or tinfoil.
If you have any extra lemon cream, fill an ice cube tray with the cream and place some lolly pop sticks in the center and freeze it (watch my video above for more info).
Nutrition per serving
Calories:
473
kcal
Protein:
11
g
Fat:
34
g
Saturated Fat:
14
g
Sugar:
25
g
Fiber:
2
g
Carbohydrates:
35
g
Net Carbs:
33
g
*This post may contain affiliate links and as an Amazon Associate I earn from qualifying purchases. Please read my disclosure policy for more details.
Made this recipe?
Please leave a review and photo in the comments below.