Acai bowls are healthy and refreshing, and I'm going to show you how to make original Brazilian Acai bowls using just three ingredients.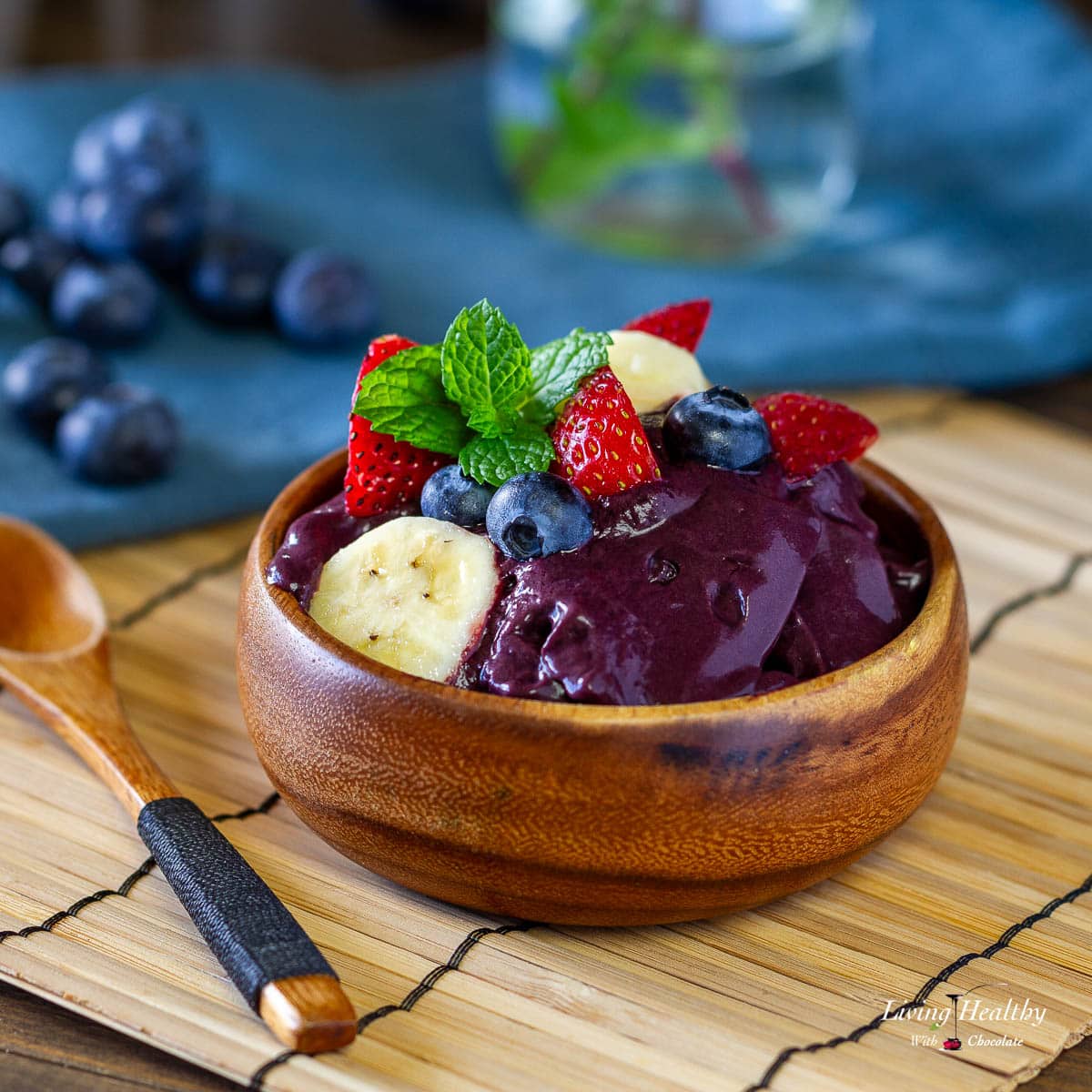 I was born and raised in Brazil, and açaí has always been one of my favorite fruits. I thought moving to the US would mean not eating it anymore, but thankfully açaí is now easy to find in most stores.
There are many ways of making an açaí bowl like this Chocolate Acai Bowl recipe, and one of my favorites is still this original recipe I used to eat when living in Rio. This recipe is simple, and uses just 3 ingredients. It's healthy, delicious, and easy to make.
Being creative with the toppings is fun, and I love serving it with fresh fruits and my banana granola or the chocolate granola. Hope you try it at home!
The açaí fruit is pureed and frozen in individual packs. Different packages are available, some sweetened cane sugar and containing other ingredients, and some are just the açaí pulp. They are both delicious, but I prefer the traditional packages containing no sugar. In my opinion the added banana and toppings add just the right amount of sweetness.
What is Açaí?
Chances are, you've already heard about this little purple berry that is quickly making a name for itself. Açaí (pronounced ah-sah-EE) is a highly nutritious palm berry that grows on a tall, thin palm in the Amazon flood plains.
Açaí palms grow natively along the riverbanks of the rainforest where the humidity and mineral content of the earth make for perfect growing conditions.
The acai palm can reach heights of up to 60 feet tall. High in the canopy of its pristine environment, the Açaí palm produces clusters of dark purple berries.
Although similar in look and size of a blueberry, the Açaí berry is 90% seed with only a thin oily skin. This purple skin of the berry possesses tremendous health properties and has been used by Amazon natives for centuries. Source: Tambor Açaí
More refreshing recipes to cool off
---
🎥 Watch the recipe video
How to Make Traditional Acai Bowls (3 ingredients)
SHARE THIS RECIPE
How to Make Traditional Acai Bowls (3 ingredients)
Ingredients
2

packs

frozen açaí

2

small bananas

,

I used apple bananas

splash

water or juice
To see the brands I use, click each ingredient above or visit my Amazon shop.
Instructions
Add banana, açaí and water to a blender and blend until all is combined but still has a thick consistency.

Serve in a bowl and get creative with your toppings!
Notes
Fresh fruits, granola, and coconut shreds are great toppings for your acai.
Nutrition per serving
Calories:
92
kcal
Protein:
1
g
Fat:
2
g
Sugar:
8
g
Fiber:
3
g
Carbohydrates:
15
g
Net Carbs:
12
g
*This post may contain affiliate links and as an Amazon Associate I earn from qualifying purchases. Please read my disclosure policy for more details.
Made this recipe?
Please leave a review and photo in the comments below.