This White Chocolate Macadamia Nut Butter is one of the most delicious, creamiest and silkiest nut butters I have ever made and tasted. It's addictive and without hesitation you must make this at home and share with everyone. (Paleo, gluten-free)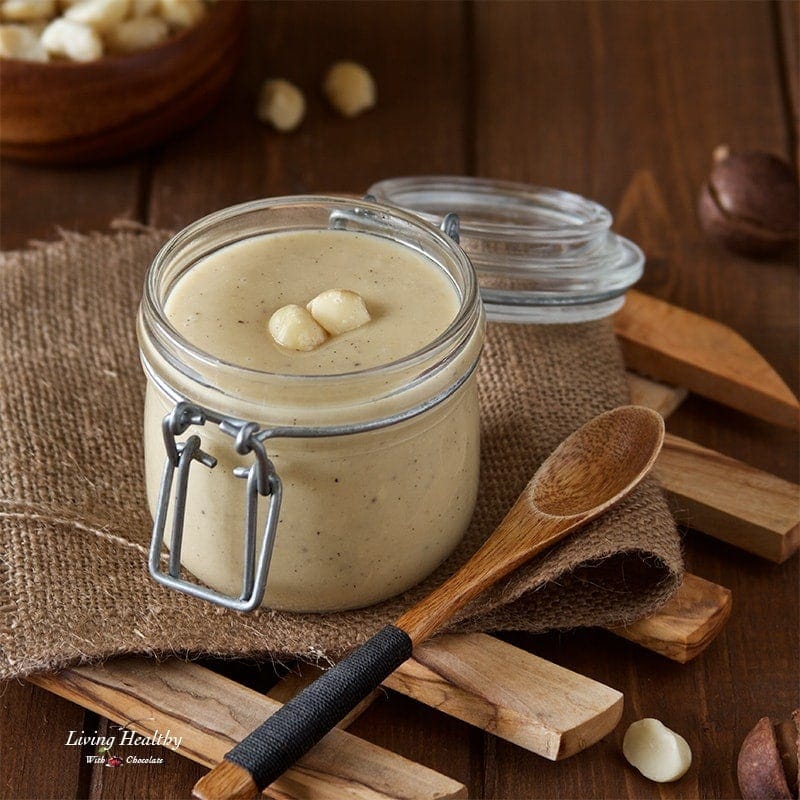 This nut butter is different, it's creamier and smoother, and tastes like no other nut butter I have ever tried. It has that perfect spreadable texture at room temperature, and when cooled in the fridge the texture changes and becomes a super silky smooth fudge. Every bite literally melts in your mouth.
This perfect texture and flavor comes from blending macadamia nuts, which are high in healthy fats and cashews, which are more starchy and enhance the creaminess of this butter.
And to bring the taste and texture to the next level, pure cacao butter is added to the mixture giving it that amazing white chocolate flavor while also intensifying the silky smooth consistency. This nut butter is heavenly and hard not to eat straight from the jar by the spoonfuls!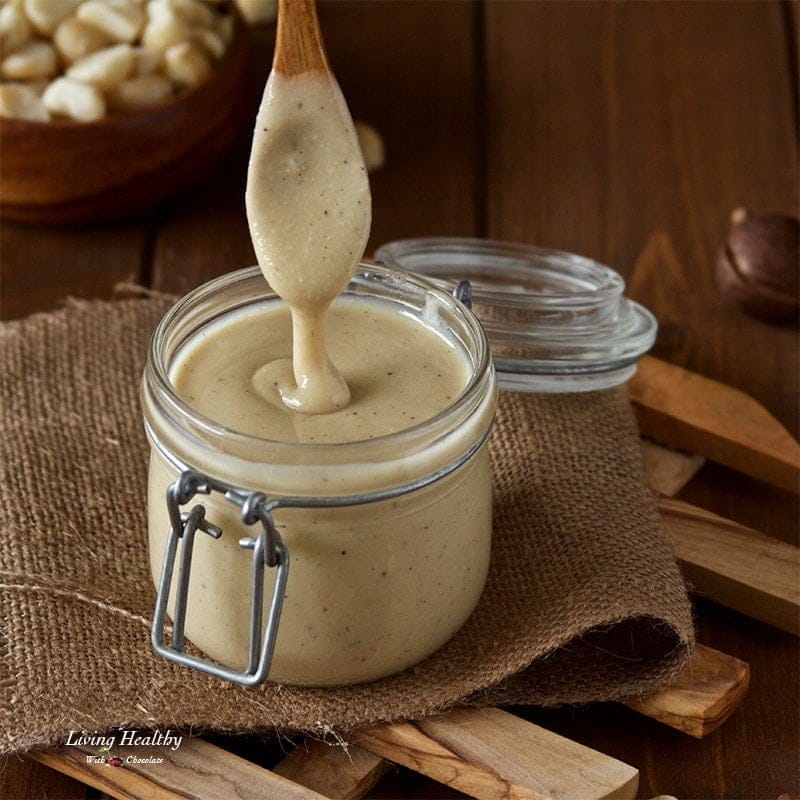 This White Chocolate Macadamia Nut Butter recipe is exactly how I would have written, but all credits go to Sonia Lacasse, author of the cookbook called Paleo Home Cooking.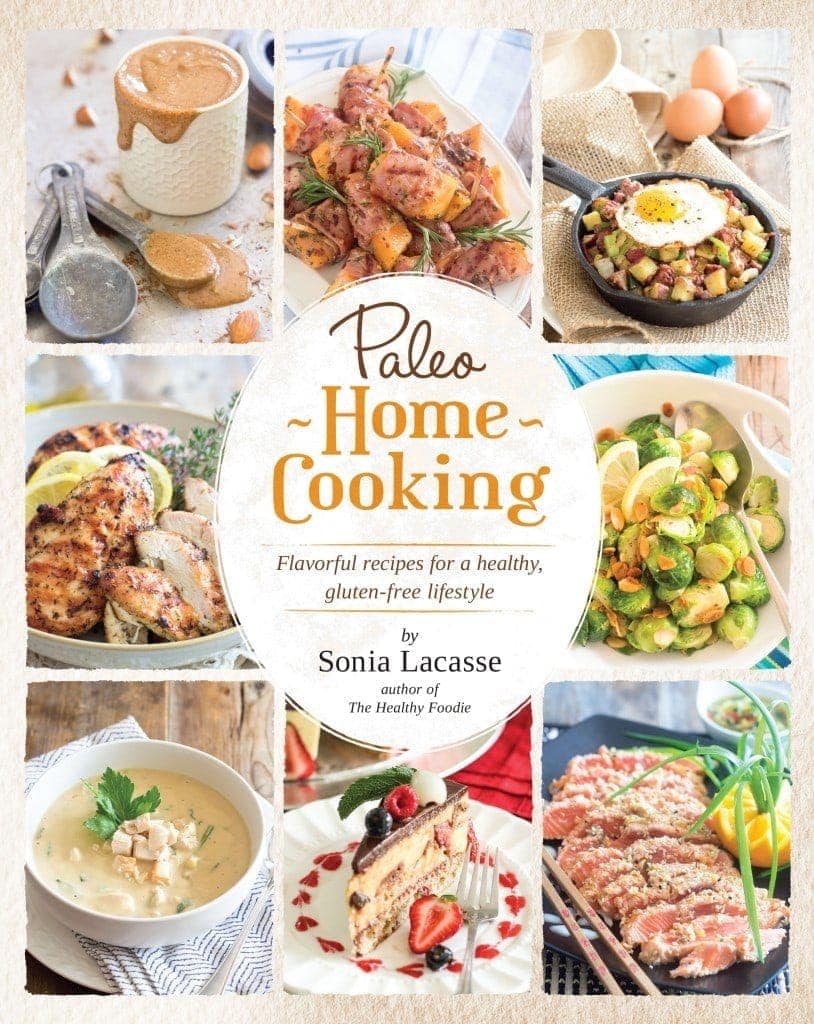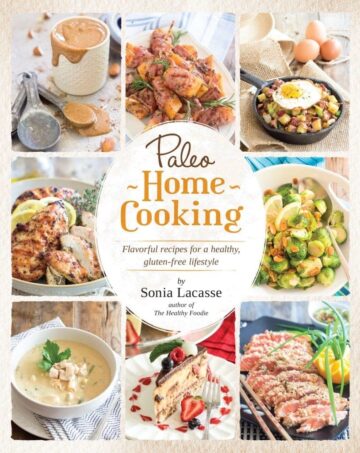 I've been following Sonia's blog for quite some time and I am excited that she included this recipe in her book!
The book if full of recipes for appetizers, lunch, dinners, sides, sweets and a whole chapter dedicated to different flavors of nut butters.
Comment below if you make this White Chocolate Macadamia Nut Butter recipe and let me know if you love this recipe as much as I do!
📖 Recipe
SHARE THIS RECIPE
White Chocolate Macadamia Nut Butter
Ingredients
Optional add-ins:
½

cup (70g)

raw macadamia nut pieces

¼

cup (35g)

cacao butter,

chopped
To see the brands I use, click each ingredient above or visit my Amazon shop.
Instructions
Make the nut butter base: Place the cashews, macadamia nuts, salt and vanilla in the bowl of a food processor and process until smooth and creamy. You may need to stop the motor and scrape the sides of the bowl a few times, but the butter should come together rather quickly due to the high fat content of the macadamia nuts.

While the nut butter is processing, make the white chocolate: Put the finely chopped cacao butter in a small microwave-safe bowl and heat on high in 30-second to 1-minute intervals, mixing well between intervals, until completely melted, 2 to 3 minutes total.

In a separate microwave-safe bowl, mix together the coconut butter and honey and melt on high, which shouldn't take more than 30 seconds to 1 minute. Add the melted cacao butter to the coconut butter mixture one-third at a time, whisking each addition until well combined.

Add the white chocolate to the nut butter by pouring it down the feeding tube while the food processor is running. Continue processing until well incorporated.

Stop the motor, add the add-ins, and pulse a few times just to mix the in, no more.

Transfer to an airtight glass container and allow to rest for at least 24 hours before eating. Store in a cool, dark, dry place, where it will keep for up to a few months.
Notes
*In step 2 and 3 above, instead of using a microwave, I melted the ingredients in a double boiler. For this you need a small saucepan with a just enough water to cover the bottom of the pan. Heat the water on low heat and place a heat-proof glass bowl on top. Add your ingredients to the bowl and allow them to melt slowly.
*Be sure to stir the content in the jar of coconut butter well before measuring so that you don't just use the oils that rise to the top. Nutritions facts (per tablespoon):
Calories: 120 • Total fat: 11.4g • Total carbs: 4.8g • Net carbs: 3.7g • Protein 1.6 g
Nutrition per serving
Calories:
3185.1
kcal
Protein:
40.8
g
Fat:
309.3
g
Saturated Fat:
86.4
g
Sugar:
53.3
g
Fiber:
27.2
g
Carbohydrates:
107.1
g
Net Carbs:
79.9
g
*This post may contain affiliate links and as an Amazon Associate I earn from qualifying purchases. Please read my disclosure policy for more details.
Made this recipe?
Please leave a review and photo in the comments below.