Fill your home with wonderful fall aromas by baking my soft, spicy and sweet Pumpkin Cookies recipe made with pumpkin puree, pumpkin seeds, puree and spices. This recipe is Paleo, Gluten-free with Vegan option.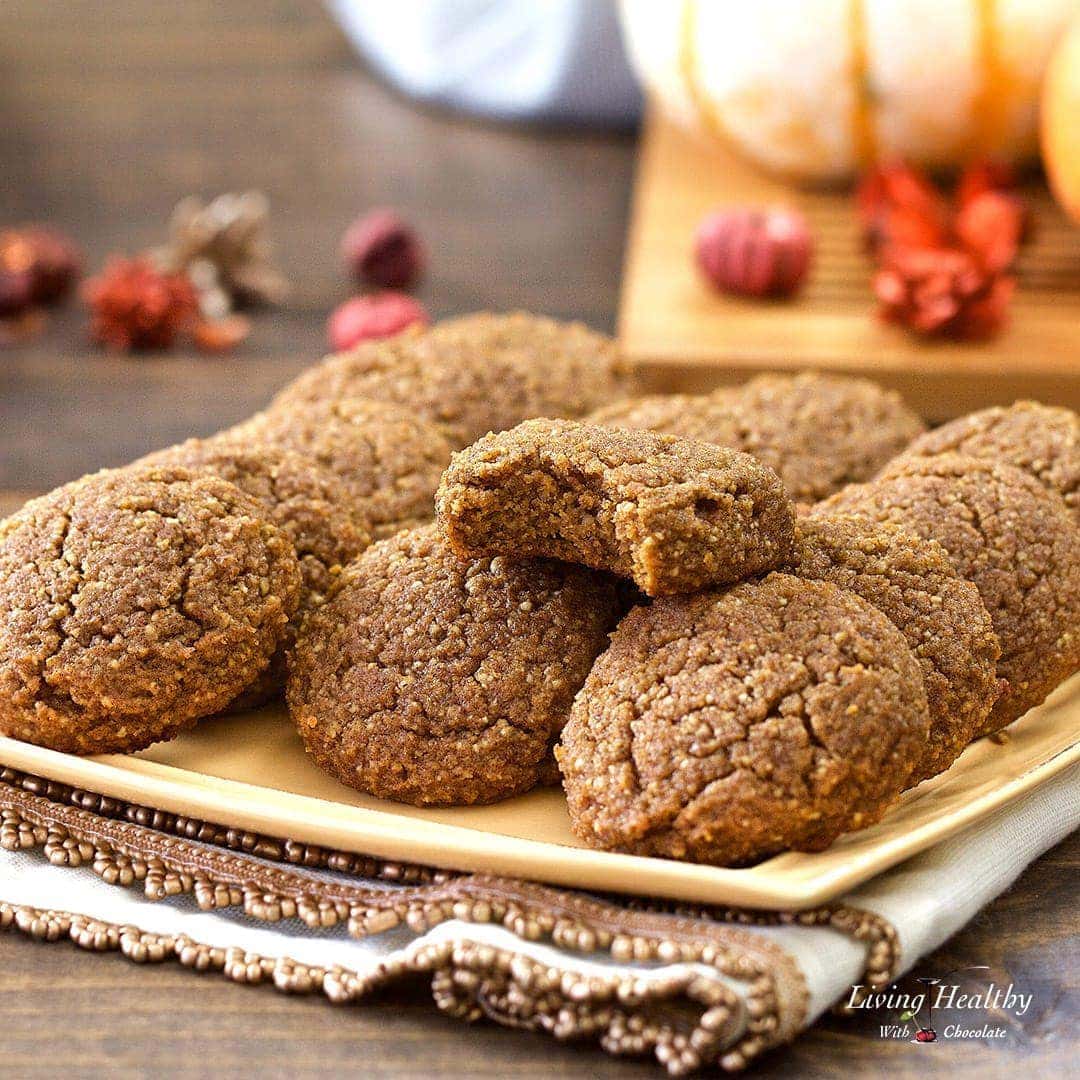 Pumpkin is my go-to ingredient for baking in the fall, and just like with all my other recipes, I'm getting creative and making this dessert gluten-free and grain-free so you have a healthier option to enjoy in your holiday celebrations.
These cookies are thick, super moist, and they just might change your perception of what pumpkin is all about!
Did I mention each cookie is low-carb, and only has 4 grams of net carbs?
Pumpkin seeds are going to enhance the pumpkin flavor of our cookies so we will be grinding them into flour. We are also spicing our Pumpkin Cookies by adding pumpkin pie spice which is a blend of ground cinnamon, nutmeg, ginger, cloves, and allspice. And to give the cookies a moist, soft texture, we are also adding pumpkin puree.
My secret to giving these Pumpkin Cookies a lighter texture is to add arrowroot powder. Shhh... don't tell anyone 🙂
Both kids and adults will love these Pumpkin Spice Cookies so be sure you make enough.
Wanna get inspired with more of my pumpkin recipes? Check out these other favorite fall recipes and share them with everyone!
*Moist Chocolate Pumpkin Bread
*Triple Chocolate Pumpkin Pie
*Marble Pumpkin Bread
After you make these, check out the popular gluten-free Ginger Cookies. They are perfect for Christmas!
🎥 Watch the recipe video
Paleo Soft PUMPKIN COOKIES (Keto, Gluten-free) (with Vegan option)
📖 Recipe
SHARE THIS RECIPE
Soft Pumpkin Cookies
To see the brands I use, click each ingredient above or visit my Amazon shop.
Instructions
Using a food processor, pulse the pumpkin seeds until they have a fine, flour-like texture. Add the pumpkin flour to a large bowl along with the almond flour, arrowroot, pumpkin pie spice, salt, and baking soda. Mix with a spatula to combine the ingredients until you see no more lumps.

In a separate bowl, add the butter, coconut sugar and egg, and whisk until the sugar dissolves. Then add the vanilla and pumpkin puree, and whisk well to combine the ingredients and add some air into the mixture.

Using your spatula, mix the wet and dry ingredients together just until combined. Freeze the dough for 15 to 20 minutes, and in the mean time preheat the oven to 350°F.

Line a cookie sheet with parchment paper, and drop tablespoonfuls of the chilled dough onto the sheet. Flatten the cookies slightly with your fingers and bake until the bottom and edges start to brown, about 12 minutes. Allow the cookies to cool in the pan over a cooling rack for 5 minutes before serving.
Notes
*To make this recipe nut-free you can substitute the almond flour with more pumpkin flour using the same amount.
**I like my cookies spicy so I add 3 tsp. Here's how you can make Pumpkin Pie Spice at home:
3 tablespoons ground cinnamon, 2 teaspoons ground ginger, 2 teaspoons ground nutmeg, 1 ½ teaspoons ground allspice and 1 ½ teaspoons ground cloves
Mix all spices together.
***Substitute the egg in this recipe with 1 tablespoon flaxseed meal and 3 tablespoon water to make it vegan.
I'm using organic, boxed pumpkin puree. The ingredient is just pumpkin so you can make your own pumpkin puree at home using fresh pumpkins, or you can use pumpkin puree sold in cans.
Nutrition per serving
Calories:
102
kcal
Protein:
3
g
Fat:
7
g
Saturated Fat:
2
g
Sugar:
3
g
Fiber:
1
g
Carbohydrates:
5
g
Net Carbs:
4
g
*This post may contain affiliate links and as an Amazon Associate I earn from qualifying purchases. Please read my disclosure policy for more details.
Made this recipe?
Please leave a review and photo in the comments below.