Light, fluffy Paleo Chocolate Cake recipe with chocolate frosting & ganache. This is the perfect birthday healthy chocolate cake. (Grain-free, Gluten-free, Dairy-Free)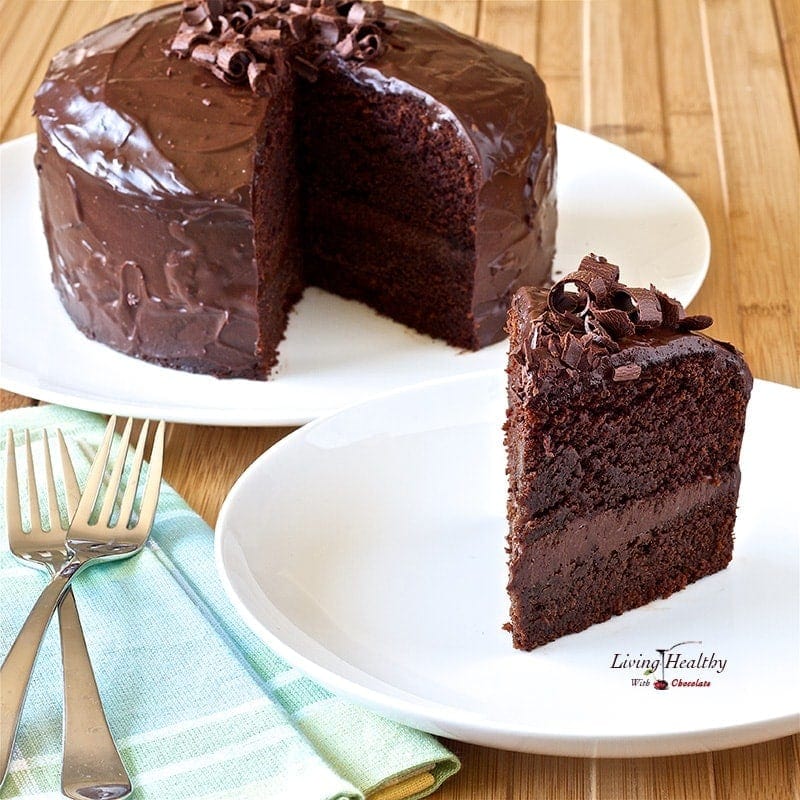 Yesterday was my birthday and if you follow me on the social media media networks you probably saw my husband's post teasing you with this chocolate cake photo. I've been wanting to make a chocolate cake all year long, but I also wanted to wait to do it for a special occasion so I decided to wait until this weekend to make it.
I am really excited to share this recipe with you. I am usually not a big fan of cakes, but this cake is out of this world! It feels weird saying this since I made it, but I can honestly say this is the best chocolate cake I have ever had.
When I served it last night everybody loved it and even the kids loved every bite of it. It was quite a feeling for me to see those kids enjoying a cake made with wholesome, real food ingredients and not even notice a bit of difference.
None of the parents or children at my birthday party eat paleo, and that just serves as proof that healthy foods, made free of refined ingredients do taste good and even picky eaters like children will love them.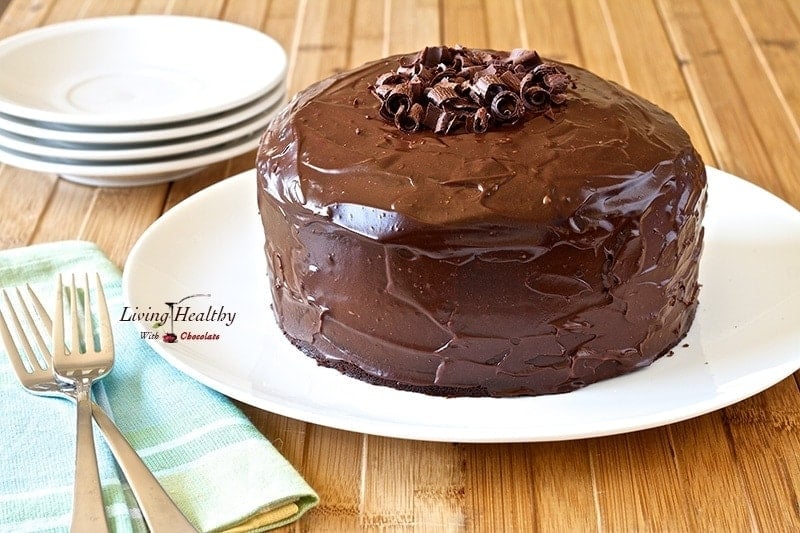 Now let's talk about the texture and flavor... As you would expect this multi-layer chocolate cake has a decadent chocolate taste.
The texture is deliciously soft and moist. The middle layer is made with a dairy-free sweetened condensed milk and raw cacao powder and is creamy and soft. This layer adds extra flavor and moisture to the cake.
Also surrounding the cake is a smooth dark chocolate ganache made from dark chocolate chips and coconut milk. To decorate the cake I shaved small pieces of 70% dark chocolate and sprinkled on top.
It is very rewarding to me that I am able to make such delicious desserts and be able to share them with so many people.
Whether you eat a paleo diet or not, you will love this chocolate cake, so make sure to save, print and share this recipe with all your friends and family this holiday season. Happy Holidays!
📖 Recipe
SHARE THIS RECIPE
Paleo Chocolate Cake
Ingredients
Middle Layer Chocolate Ganache*:
To see the brands I use, click each ingredient above or visit my Amazon shop.
Instructions
Cake:
Preheat oven at 350°F. Grease the bottom and sides of a 7-inch springform pan with coconut oil and line the bottom with parchment paper.

In a large bowl, mix together the almond flour, coconut flour, cacao powder, coconut sugar, baking soda and salt.

In a separate bowl, whisk together the coconut oil, coconut milk, eggs, vanilla and honey.

Using a rubber spatula, gently mix dry ingredients into wet ingredients to form a batter. Do not over mix.

Pour batter into prepared pan and bake until a toothpick inserted into the center comes out clean, approximately 45-50 minutes. If you feel you need to cook it longer, cover cake with aluminum foil to prevent burning the top and lower the heat to 325°F. Cook until toothpick comes out clean.

Let cake cool completely then cut horizontally in the middle.

Spread the chocolate ganache over the bottom half of the cake and refrigerate for 30 minutes.

Top with other half of cake, then spread the chocolate frosting over the top and sides of the cake.

Sprinkle top with shaved dark chocolate if desired.
Middle Layer Chocolate Ganache:
In a medium saucepan, bring the coconut milk and honey to a light boil.

Simmer on low heat for two hours, stirring occasionally. Do not cover the pan. You will know you cooked it long enough when the coconut milk is reduced to half and has a thicker consistency and darker color, similar to sweetened condensed milk.

Mix in the raw cacao powder and vanilla extract and stir until all is combined and smooth.

Let it cool and refrigerate until cake is ready.
Chocolate Frosting:
Melt the chocolate chips in a bowl over simmering water (double boiler).

Mix coconut milk with melted chocolate until all is combined and smooth.

Let cool for 5 minutes before icing the cake.
Notes
*The middle layer chocolate ganache takes a long time to make. Please plan ahead and have this ready before you bake the cake. If you make this cake with almond flour by Bob's Red Mill your cake may turn out oily, dense and it may sink in the middle. Be sure to use finely ground almond flour with the skin removed to get a light and fluffy consistency out of your cake. I suggest blanched almond flour by Honeyville. I am not affiliated with them. Their almond flour just works the best for baking.
Shop Equipment Used
Nutrition per serving
Calories:
240
kcal
Protein:
3
g
Fat:
20
g
Saturated Fat:
16
g
Sugar:
8
g
Fiber:
2
g
Carbohydrates:
12
g
Net Carbs:
10
g
*This post may contain affiliate links and as an Amazon Associate I earn from qualifying purchases. Please read my disclosure policy for more details.
Made this recipe?
Please leave a review and photo in the comments below.