Living Healthy With Chocolate eBook Affiliate Detail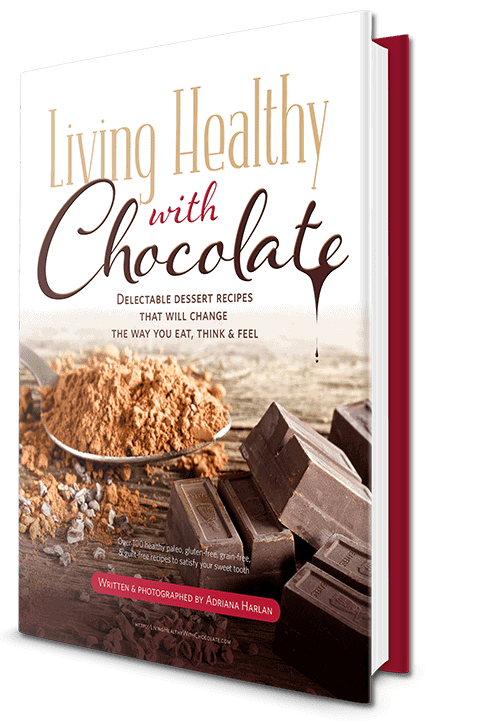 Dear Partner,
I want to thank you for joining me for my upcoming eBook launch. I'm beyond excited to partner with you and my goal is to help you make money while serving and adding massive value to your list and clients.
Let's get to it! The Living Healthy With Chocolate eBook brings together all in one place over 100 of the top recipes featured on livinghealthywithchocolate.com. The Living Healthy With Chocolate eBook is a compliment to the blog and it provides a more intimate and convenient experience for people to have all of the top recipes right at their fingertips.
Complete details can be found at http://livinghealthywithchocolate.com/delectable-dessert-recipes/
PRELAUNCH
Prior to the launch of the book on March 2, 2014 you will be able to share four free exclusive recipes found only in the ebook. You will be able to send these recipes out via email, Facebook, Twitter or any other method you choose. Please see the release dates for these four recipes below.
Recipe #1 Release: Feb 9th
Recipe #2 Release: Feb 16th
Recipe #3 Release: Feb 23rd
Recipe #4 Release: March 2nd
LAUNCH
Launch/Cart Opens: March 2nd
The eBook will cost $24.97 and you get 75% commission on sales from your link.
AFFILIATE PRIZES!
And 6 Reasons to Be My Affiliate!
Let me start by saying, I love taking care of my partners! Here's 6 reasons to signup now:
1. AWESOME COMMISSIONS
As the Living Healthy With Chocolate eBook affiliate, you will receive $16.58 for every sale you get. I partnered with ClickBank to ensure the sales process and conversions for this launch are rock solid. ClickBank allows you to register an account for free and get a special URL that sends your people to my opt-in page and free recipes, I serve them, close them and make you money. Pretty easy! Every time your readers buy my eBook through your link, you earn 75% of the money made from that sale.
2. AWESOME PRIZES!
In addition to receiving your commission checks, I also wanted to offer Amazon gift certificates for the top three producers. *See terms and conditions below.
- 1st Place Affiliate (measured by sales at midnight on May 23rd when we close): $100.00 gift certificate to Amazon.com
- 2nd Place Affiliate: $60.00 gift certificate to Amazon.com
- 3rd Place Affiliate: $40.00 gift certificate to Amazon.com
3. CLEAN DESSERT RECIPES FOR YOUR LIST
I have created the most nutrient rich, compelling dessert recipes that your list will absolutely love and thank you for! All recipes are free of gluten, grains, peanuts, refined sugars and soy. I have carefully selected every ingredient to use in my recipes in order to provide the maximum number of micronutrients, beneficial fatty acids, and anti-oxidants so that every bite is filled with nutrition and free of processed ingredients.
4. MASSIVE DEMAND WITH PROVEN RESULTS
There is a high demand for dessert recipes in this community and my blog is proof of that. I have shared my recipes with thousands of people from around the world. The have left and continue to leave amazing comments and feedback expressing how my recipes have changed the way they eat, think and feel about desserts alongside living a healthy lifestyle.
5. ROCK SOLID TRACKING
I am using the ClickBank affiliate system to track and control every aspect of the launch. It is a rock solid system and all you have to do is click "Send" on your email, tweet about it, recommend it to your Facebook fans, write a review article on your blog, place a banner ad on your site, and enjoy watching the dollars come in.
6. SUPER AFFILIATE SUPPORT
Your success is my success. I want to ensure that my partners make as much money as they can with this book and I will send your commissions accurate and on time. I am dedicated to provide you with the essential tools and promotional material you need so you are successful as can be with your sales.
If you have any questions, you can reach me here.
My goal is to help you serve your list and clients, earn a nice commission, and send you an added bonus for your support.
Thanks in advance for your partnership and good luck with your sales!
Not an affiliate yet?
Below is my GENERAL affiliate signup form for this eBook and all future promotions.
Once you register, I will send you a confirmation and a link to access the banners and other promotional material for this eBook. Please note that you must have an account with ClickBank in order to profit from this ebook and qualify for my affiliate giveaway. You can open an account for free at www.clickbank.com. Please take note of your nickname ID and enter it below. Your ID nickname is the same name you use to login to your account.
By signing up, I will also send you full details of future products and promotions I create so you can offer to your audience. You help me spread the message about my products and you will earn 75% of each sale you refer.
Signup now and I'll be in touch soon!

100% Privacy. Your information is secure and will never be shared, rented, spammed or sold.