I'm so excited to be sharing this Healthy Shepherd's Pie recipe with you! I've been super sick with a cold these last few days and it was hard to make, film, and edit the video for this recipe in time to publish it today. I did it and it feels really good! It took me a total of 5 days to get this post ready, but now you can finally see how I make one of my favorite dinner recipes.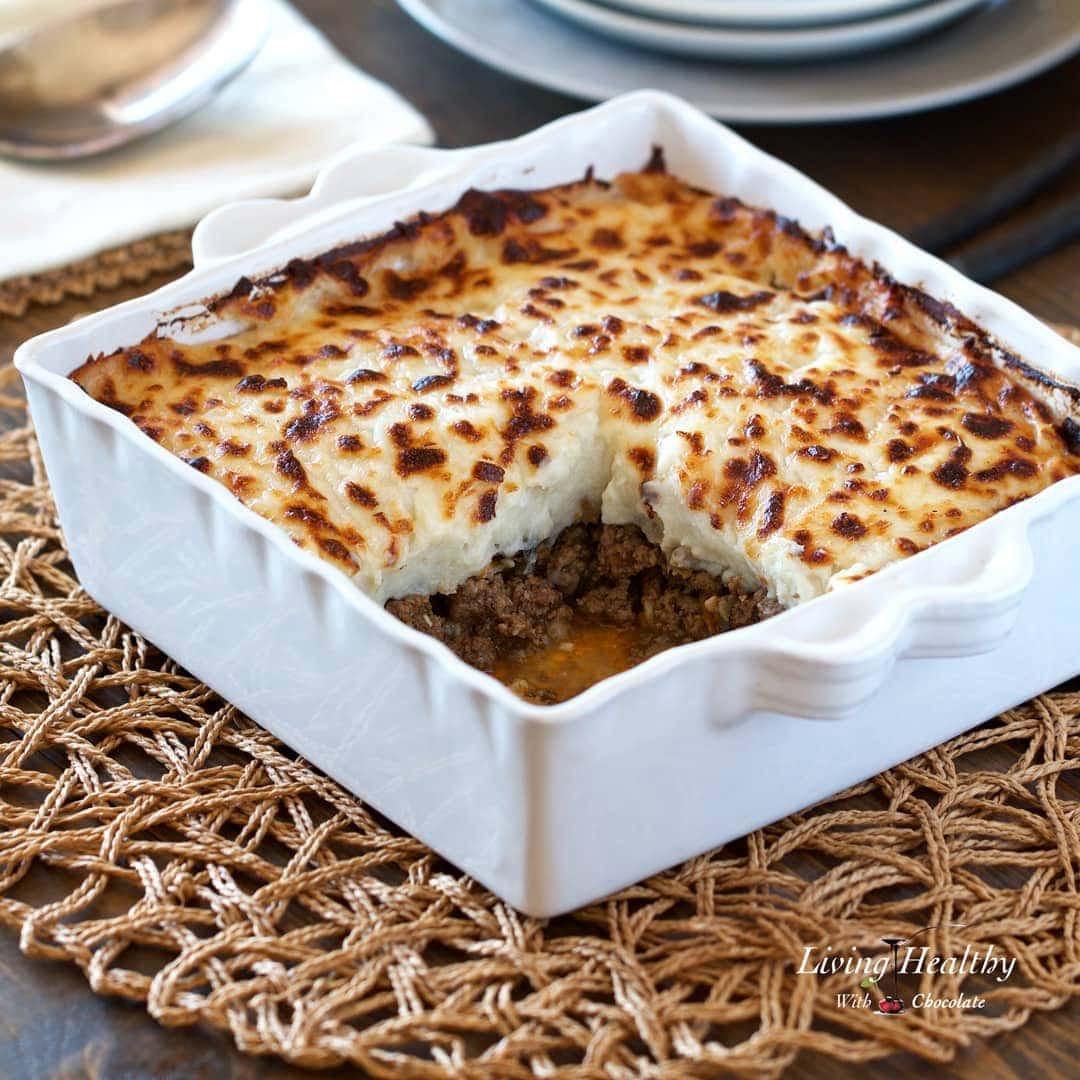 This is one of the first recipes I posted here on the website when I started the blog back in late 2012 (see post here). I felt this recipe needed a much better explanation on how to make it, and it's so good, it deserves a full video tutorial so be sure to watch it above!
Shepherd's Pie is easy to make and most commonly, the top layer you see in the pie is made with mashed potatoes. Yes, it tastes amazing but, there's a healthier vegetable we can use in place of the potatoes that has almost the identical taste and texture, and with a far superior nutritional value.
Cauliflower interestingly enough, is the vegetable we will be using in place of the potatoes, and to top our pie we are going to transform the cauliflower into an amazingly delicious garlic roasted mashed cauliflower. What's most interesting though, is that even if you don't follow a healthy diet chances are you won't even be able to tell we are not using potatoes in this recipe.
If you crave some kind of comfort food, this meals gives you that satiating feeling without guilt. Cauliflower is low in carbs, and it's nutritional value far exceeds that of potatoes. It is rich in vitamin B, C, K, as well as manganese, phosphorous, and potassium. It is also rich in phytochemicals which are now being studied for their anti-cancer properties. Cauliflower is also a sulfur-rich vegetable, an essential nutrient necessary for the production of hormones which helps keep our muscles, digestive, cardiovascular, and nervous systems healthy.
As you can see, there are numerous health benefits to cauliflower, but we also want our food to taste good, and this meal does. I think you will love it, and it may become a favorite in your home like it is in mine. Be sure to watch the video above to see my method of making this pie, and when you're ready to make it, read the recipe card below for all of the measurements and step by step instructions.
This Healthy Shepherd's Pie recipe is easy to make and takes me no longer than 30 minutes. Hope you try it, and please comment below letting me know how it goes. I also want to know what kind of dinner recipes you want me to teach you how to make, so let's chat in the comment section below.
Check out my other favorite dinner recipes. I think you'll love them too!
🎥 Watch the recipe video
Healthy Shepherd's Pie Recipe (low-carb, paleo, whole30)
📖 Recipe
SHARE THIS RECIPE
Healthy Shepherd's Pie Recipe (low-carb, whole30, paleo)
Ingredients
1.25

lbs (610g)

ground beef

½

medium onion

,

chopped

5

large garlic cloves

,

minced

1

medium carrot

,

shredded

1

medium zucchini

,

shredded

1

tablespoon

olive oil,

or your preferred cooking oil

1 ½

teaspoons

fine Himalayan salt

1

teaspoon

chilli powder
Mashed Cauliflower Recipe
To see the brands I use, click each ingredient above or visit my Amazon shop.
Instructions
Heat the olive oil in a large skillet over medium heat, and sauté the onion and garlic until tender. Add the carrot and zucchini, and cook until they start to soften. Add the ground beef, salt, and chili powder, and cook until the beef browns and all of the moisture begins to dry out.

Meanwhile prepare the mashed cauliflower. Chop the cauliflower heads into small chunks, and steam until they soften (a fork can easily pierce). Add the steamed cauliflower, roasted garlic and salt to a blender and blend until you have a smooth puree. Use the tamper to help blend the cauliflower if you have one.

To assemble the pie, distribute the ground beef evenly in the bottom of an

8-inch baking dish

. Spread the mashed cauliflower over the top of the ground beef, and bake in a preheated oven to 350°F for 25 minutes. If you're adding cheese (I use mozzarella) to the top of your Shepherd's Pie like I show in the video, sprinkle the cheese on top after you bake it, and then broil it until the cheese browns (about 3 more minutes in the oven).
Notes
*Roasted Garlic - Using a sharp knife, cut ¼ inch from the top of cloves, exposing the individual cloves of garlic. Drizzle with olive oil, and bake in a preheated oven to 400°F for 25 to 30 minutes, or until the cloves feel soft when pressed. Watch the video above to see how I do it.
Tip: In the video above you see me adding cheese and egg on top of my Shepherd's Pie. Both these ingredients are optional. If you are not adding cheese to your pie, and you want it to brown during baking, brush an egg over the top of the mashed cauliflower before you bake it. The nutritional values you see above were calculated without adding cheese or egg.
Use all organic ingredients if you can. For the ground beef, be sure it is grass-fed, and for the salt I prefer using finely ground pink Himalayan salt.
Nutrition per serving
Calories:
248
kcal
Protein:
15
g
Fat:
16
g
Saturated Fat:
5
g
Sugar:
4
g
Fiber:
3
g
Carbohydrates:
10
g
Net Carbs:
7
g
*This post may contain affiliate links and as an Amazon Associate I earn from qualifying purchases. Please read my disclosure policy for more details.
Made this recipe?
Please leave a review and photo in the comments below.