This Chocolate Pecan Pie is a delicious twist on the old-fashioned classic pecan pie with more flavor, not as sweet, with a hint of maple and a rich chocolate taste. Made with a gluten-free almond flour shortbread crust that is light and buttery. This recipe is refined sugar-free, Paleo friendly and rivals the processed pecan pie version we all grew up eating.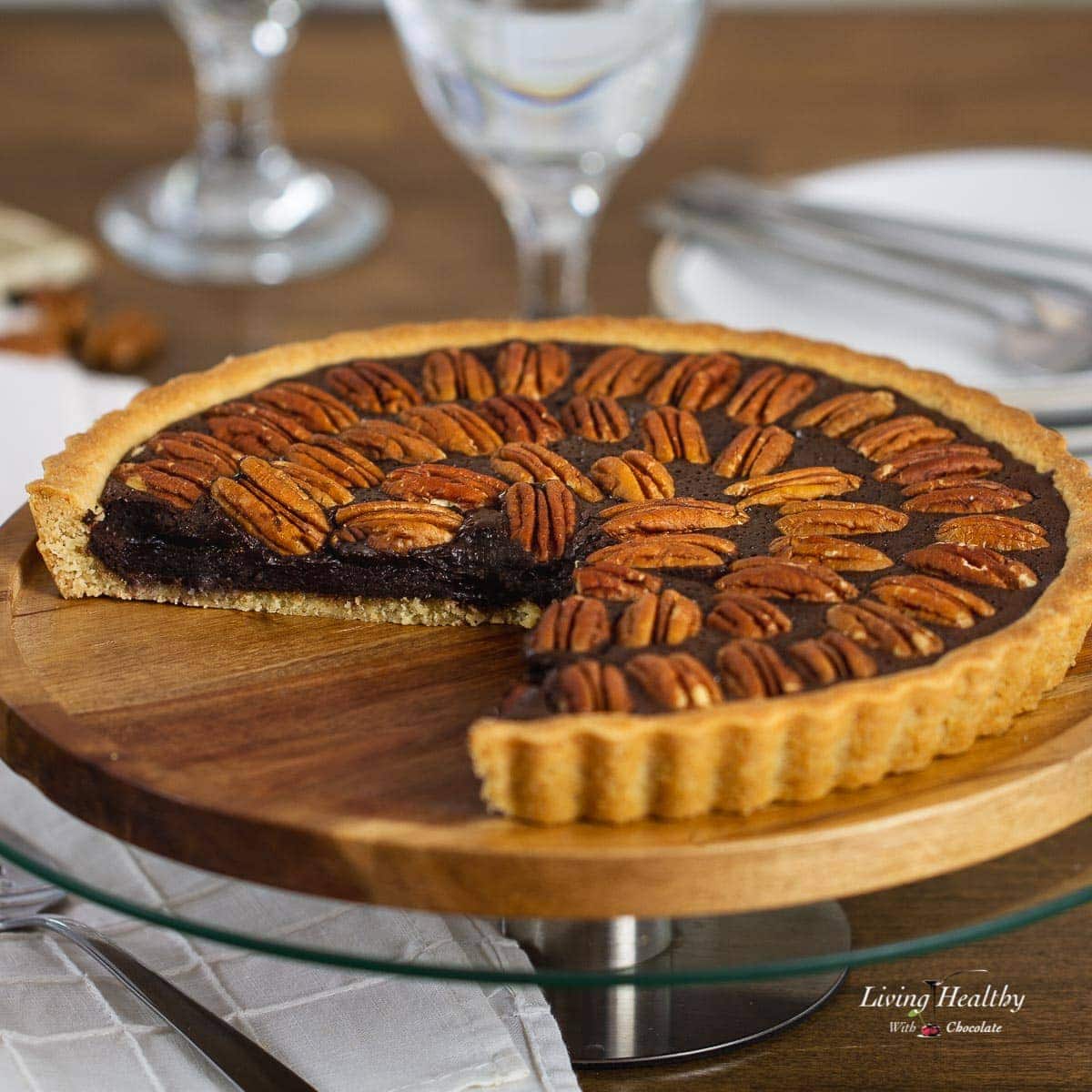 Here you'll learn how to make this pie and I'm also going to teach you how to make a smooth, creamy dairy-free whipping cream and beautiful chocolate triangles to garnish your pie. Be sure to watch the recipe video.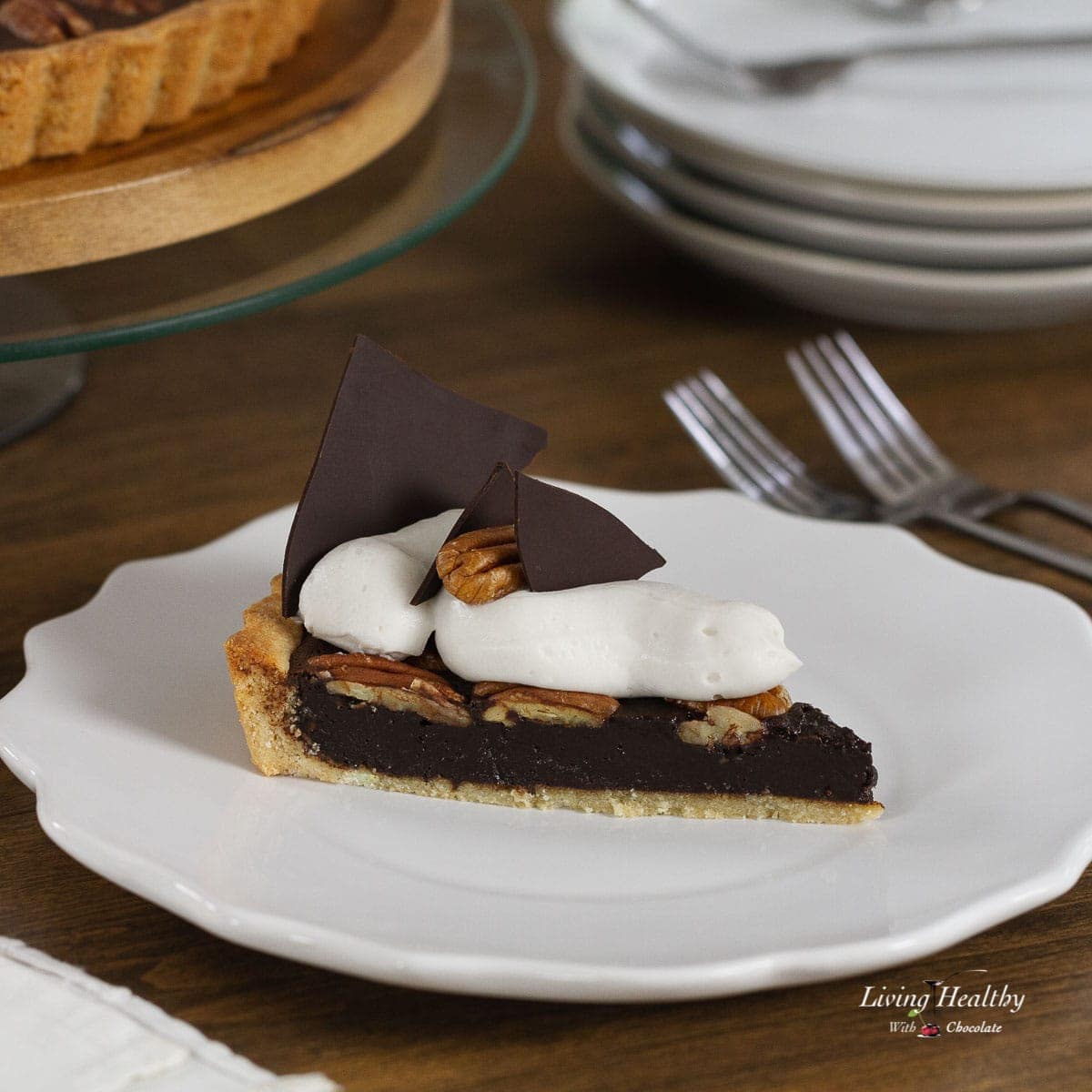 This variation of a family classic is what I consider the perfect pecan pie because chocolate really turns up the flavor and no artificial sweeteners like corn syrup are needed. This recipe is also much easier to make than traditional pecan pie and takes much less time to prepare and bake.
I am really excited to share this recipe with you and for you to try it! If you're a chocolate lover like me, you will love this chocolate pecan pie around the holidays.
What does Chocolate Pecan Pie taste like
This chocolate pecan pie has became one of my favorite desserts. The chocolate flavor is intense, rich, perfectly sweet, creamy, soft and super smooth. If you refrigerate your pie and serve it cold, it firms up becoming fudgy like flourless chocolate cake.
The buttery almond flour crust and pecans give this pie a wonderful crunch and a nutty flavor that shines through.
Traditional pecan pie is usually very sweet, but adding chocolate helps balance the sweetness of this dessert. Especially because in this recipe we use 100% dark chocolate and a combination of coconut and maple sugar.
How do you make the pie, crust & filling
The steps are so easy! This chocolate pecan pie starts with baking the crust, followed by making the chocolate pecan filling and finishing it off by decorating your pie.
Serve individual slices with my dairy-free whipping cream or my Butter-pecan Caramel ice cream, and top it with some chocolate triangles to impress.
The crust
The best chocolate pecan pie needs a really good crust, so we start by making my favorite almond flour pie crust recipe. The dough can be made weeks or months in advance and frozen if you'd like to get ahead.
Almond flour is a common ingredient used in pastries, but usually along side all-purpose flour. Being grain-free and gluten-free, this crust dough is made with just almond flour. It has a buttery and nutty taste and a light, crumbly texture.
You can roll the dough before you put it in your pan like you do with traditional pie crust, but I usually prefer to press the dough in the pan starting in the middle and filling the edges, making sure I have an even amount throughout the bottom and sides of the pie pan.
To make a dairy-free version of this crust, use the crust in my Lemon Cream Pie recipe, or substitute the butter for coconut oil or palm shortening.
The chocolate filling
Making the filling for our chocolate pecan pie is as easy as mixing all the ingredients in just one bowl. And the secret to making the best chocolate filling is to use a high-quality dark chocolate, particularly 80% to 100% dark to help balance the sweetness of the dessert.
Making pecan pie without corn syrup or other artificial sweeteners is possible! In this recipe, we use a combination of coconut and maple sugar which adds a delicious caramel-like taste to the filling. Maple sugar if you haven't heard of it, is wonderful for baking and a great substitute for maple syrup.
We also need to add pecans! Here I choose to top my pie with whole pecans. You can add as many pecans as you like and also mix some extra chopped pecans in the filling to make the pecan flavor stronger.
Tips for baking
This chocolate pecan pie bakes faster than traditional pecan pie. First, pre-bake the crust for 10 minutes, then add the chocolate filling and bake your pie for an extra 30 minutes.
The biggest tip I can give you is bake your pie for just 10 minutes at 400° F, then remove it from the oven, cover it with a piece of aluminum foil, lower the temperature to 300° F and bake for an extra 20 minutes. This ensures your crust and pecans on top don't get too brown and the center stays moist.
Every oven is slightly different and these baking times may vary. Baking is done when you jiggle your pie and you see the middle is set and firm to the touch.
Is pecan pie served warm or cold
Serving this pecan pie warm or cold is a personal preference and you can do either. Personally my favorite is when it's warm or at room temperature because the feeling is soft and melty. I also really like it chilled because it tastes more like chocolate fudge than pecan pie. But if I was to serve it to guests I would serve it warm right out of the oven, or at room temperature.
To serve your chocolate pecan pie warm, bake it and allow it to cool on a cooling rack for about 30 minutes. And if you want to pre-bake your pie ahead of time, you can reheat it in your oven at 300°F covered with aluminum foil for about 10 minutes.
---
Let's get baking! This pie is sure to be a hit on Thanksgiving and Christmas but if you need some more dessert ideas for the holidays check out my top-rated thanksgiving recipes.
Please don't forget to leave a rating, post your photo and let me know how it goes after you make it in the comments below, I love hearing from you!
🎥 Watch the recipe video
Chocolate Pecan Pie (Gluten-free, Paleo) Without Corn Syrup
📖 Recipe
SHARE THIS RECIPE
Chocolate Pecan Pie (Gluten-free, Paleo)
Ingredients
To see the brands I use, click each ingredient above or visit my Amazon shop.
Instructions
Crust
In a small saucepan, melt the butter over medium heat.

In a large bowl, mix together the melted butter with the almond flour, arrowrrot, maple syrup and salt to form the dough.

Press the dough with your hands on the bottom and sides of your pan, making sure you have an even amount throughout the bottom and sides of the pan.

Freeze the crust for 10 minutes so it holds shape during baking, then poke a few holes throughout and bake until it's light golden, in my oven this takes 12 minutes. Set the pan on a cooling rack to cool.
Filling
Preheat the oven to 400°F.

In a small saucepan, melt the chocolate and butter together over medium heat. Set it on a cooling rack to cool for 5 minutes.

Using a whisk, whisk the eggs in a large bowl until foamy. Then whisk in the vanilla, maple sugar, coconut sugar and melted chocolate butter mixture. Whisk ingredients until everything is well combined.

Pour mixture in your pie crust and tap the pan on the counter to remove some of the air bubbles.

Bake your pie at 400°F for 10 minutes. Remove it from the oven and place a piece of aluminum foil over the top so the crust and pecans don't burn. Lower the oven temperature to 300°F, and bake your pie for an extra 20 minutes until the middle is set and firm to the touch.
Dairy-free Whipping Cream
Add the ingredients to a medium saucepan and heat over medium heat until the gelatin dissolves.

Transfer the mixture to a large bowl and chill in the freezer for 30 minutes.
Chocolate Triangles
Melt the chocolate in a double boiler, then spread it into a thin layer on a sheet of parchment paper using a knife, bench scraper or icing spatula.

Refrigerate until the chocolate firms up, then using a knife cut into small triangles.
Notes
Crust: you can roll the dough with a rolling pin as well. Simply refrigerate the dough for about 10 minutes before rolling, then roll in between 2 sheets of parchment paper.  Filling: feel free to add more pecans in the filling. Chop a handful of pecans and add them to the filling in step 3 above. Dairy-free Whipping Cream: try using a variation of dairy-free milks like cashew or hazelnut milk. Also add more sweetener to taste. Storing & reheating: keep any left over in the fridge or freezer. To reheat, place it in the oven at 300°F for a few minutes covered with aluminum foil. Nutrition facts: calculated without the whipping cream and chocolate triangles.
Nutrition per serving
Calories:
451.7
kcal
Protein:
7.4
g
Fat:
38
g
Saturated Fat:
12.2
g
Sugar:
15.9
g
Fiber:
5.2
g
Carbohydrates:
25
g
Net Carbs:
19.8
g
*This post may contain affiliate links and as an Amazon Associate I earn from qualifying purchases. Please read my disclosure policy for more details.
Made this recipe?
Please leave a review and photo in the comments below.