Chocolate Pinwheel Cookies are delicious and look gorgeous! These cookies are perfect for the holiday season! (Paleo, Gluten-free, Grain-free)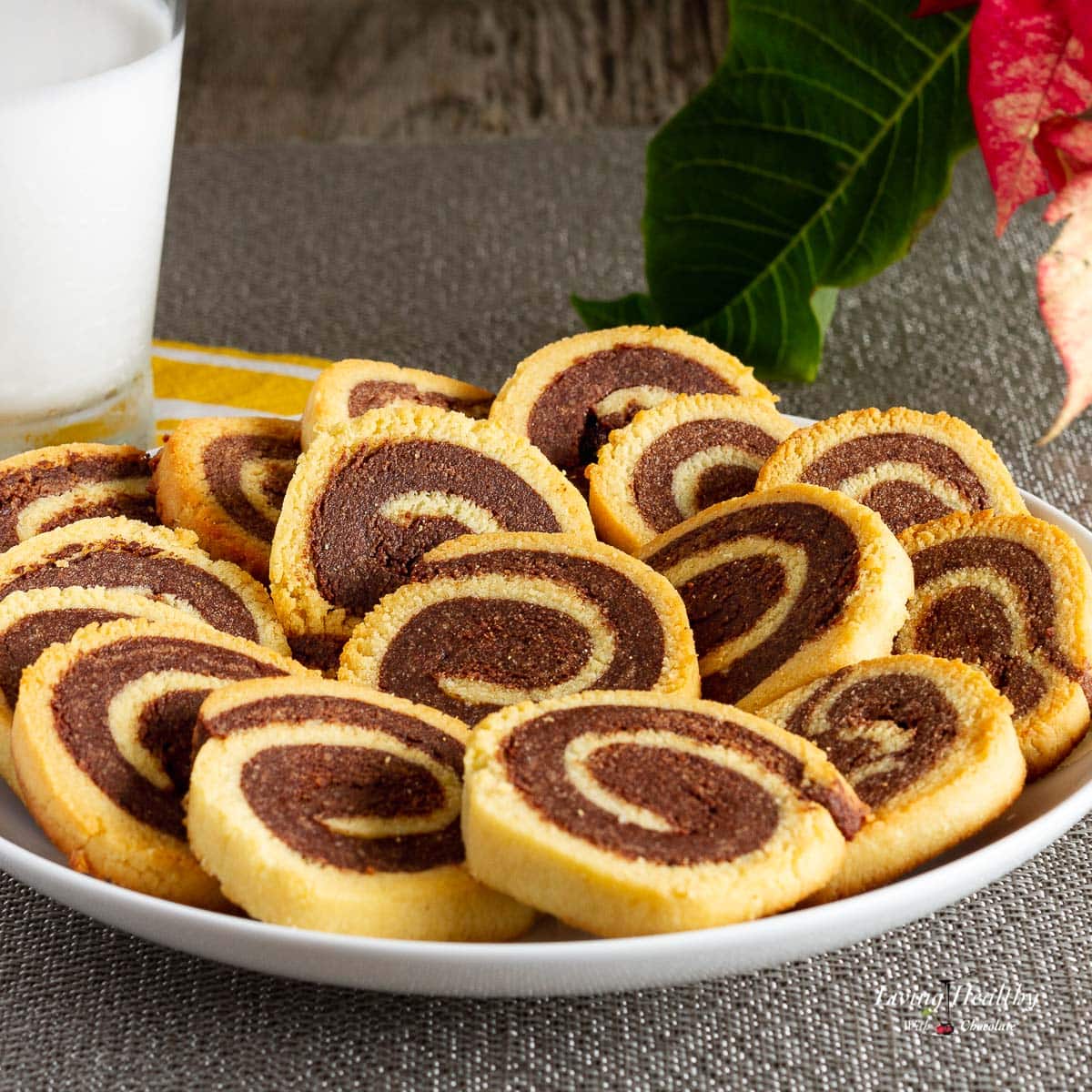 You guys know how much I love Honeyville's almond flour. I use it in almost all my recipes and it works great for baking. I have tried many different brands of almond flour and no other brand gives me the same results.
When Honeyville invited me to write a recipe for Christmas to be published as a guest post on their blog, I was so honored and excited. I decided to make something fun and traditional to the holiday season and I came up with the idea for these Chocolate Pinwheel Cookies.
Initially I thought this recipe would be really hard to make because I had to roll the vanilla dough and the chocolate dough together. This is usually easy when your dough has an elastic property to it, but when using almond flour you tend to loose that elasticity. I came up with this recipe and it actually worked great! The secret is to work with the dough very cold, both when rolling it and when cutting the cookies.
Please check out my guest post on Honeyville's website and while you're there, be sure to order a bag of Blanched almond Flour.
Warm and fresh out of the oven 😉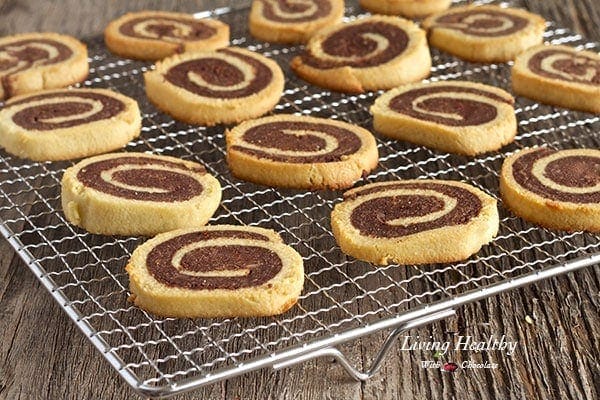 📖 Recipe
SHARE THIS RECIPE
Chocolate Pinwheel Cookies
To see the brands I use, click each ingredient above or visit my Amazon shop.
Instructions
Melt the chocolate chips in a bowl over simmering water (double boiler).

Mix together the almond flour, arrowroot powder and salt.

in a separate bowl, whisk the butter, eggs, honey and vanilla extract

With rubber spatula, gently mix dry and wet ingredients together to form a batter being careful not to over mix or the batter will get oily and dense.

Divide the batter into two equal size balls.

Add the melted chocolate and raw cacao powder to one half and mix to incorporate the chocolate into the batter.

Wrap each half of dough separately in plastic wrap and refrigerate for 1 hour. Alternatively, you can freeze the dough for 30 minutes.

Roll the vanilla dough into a 10-inch square between 2 pieces of parchment paper then remove the top sheet.

Repeat the process with the chocolate dough then flip the chocolate dough on top of the vanilla dough. Gently roll over the top with a rolling pin to make the doughs adhere.

Trim the edges of the dough with a knife then carefully roll the dough into a tight log. If you have trouble rolling the log, lift up the parchment paper and use it for leverage.

Freeze the dough for 30 minutes

Using a knife, cut chilled dough into ¼-inch thick cookies and transfer each piece to a cookie sheet lined with parchment paper.

Bake in a preheated oven to 325°F for about 10 minutes or until the top and edges start to turn brown.

Allow cookies to cool on the baking sheet for 5 minutes then transfer to a wire rack.
Notes
Recipe yields approximately 20 cookies. Store in an airtight container.
Nutrition per serving
Calories:
127.1
kcal
Protein:
3
g
Fat:
10.2
g
Saturated Fat:
3.1
g
Sugar:
4.1
g
Fiber:
1.6
g
Carbohydrates:
7.7
g
Net Carbs:
6.1
g
*This post may contain affiliate links and as an Amazon Associate I earn from qualifying purchases. Please read my disclosure policy for more details.
Made this recipe?
Please leave a review and photo in the comments below.