Coconut Tuile Cookies is a delicious thin, chewy and sweet dessert, easy to make in 15 minutes. The cookies are topped with a delicious homemade dairy-free chocolate whipping cream and fresh strawberries to impress. This recipe is Gluten-free and Paleo.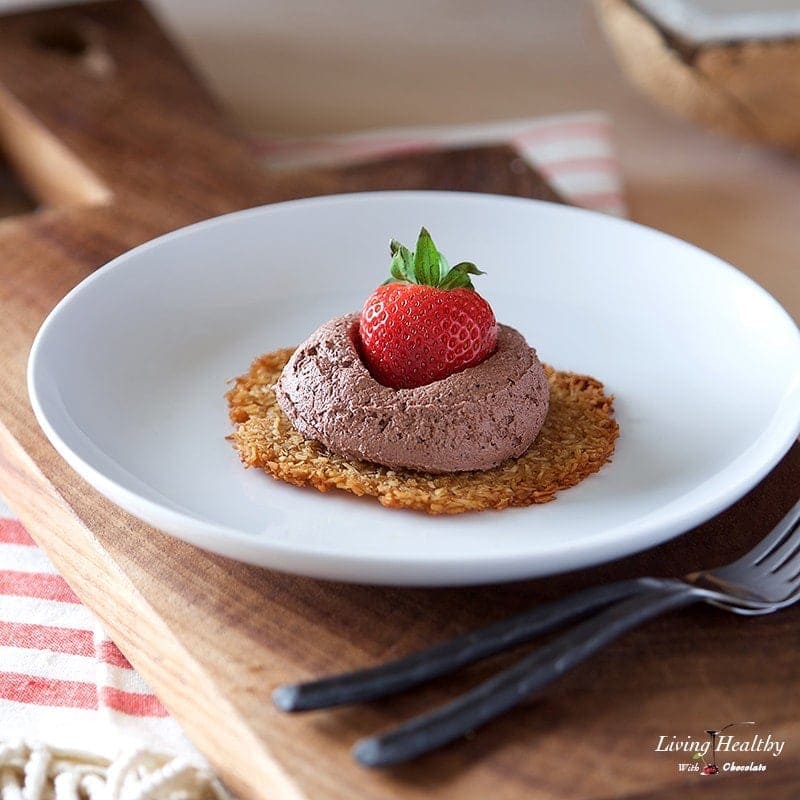 What are tuile cookies
Inspired by the French cuisine, tuiles are thin and delicate cookies usually molded and filled with pastry cream or mousse and berries.
Traditionally, most tuiles are crispy and shaped into arcs or cones, and are served accompanying other dishes. However, I've decided to modify the original recipe so that these are healthier and no flour or refined sugars are used.
Ingredients and taste
This recipe is made with a little honey and lots of coconut for a delicious flavor - unsweetened shredded coconut, coconut sugar and coconut oil.
The cookies are sweet, chewy and taste amazing (husband and friends agree!) and we're dressing them to impress, topping each with a dairy-free chocolate whipping cream and fresh strawberries.
The taste reminds me of some Brazilian coconut desserts I grew up eating called Quindim or Cocoda which is also sweet, chewy and coconuty. Have you heard of these?
How to make
These tuiles are very easy to make! All you need to do is mix the ingredients in a bowl, spread them thin on a baking sheet and bake.
Making the chocolate whipping cream is easy, but you need a can of full fat coconut milk for this. Coconut milk from cartons won't work for this recipe because they usually contain less fat and include additional ingredients, and the coconut doesn't separate from the water giving you that thick coconut cream.
We're using just the coconut cream that you see in the can and you can use the leftover water for smoothies for example.
I'm also adding ground coffee to the whipping cream and this is optional. You can omit it if you like but coffee and chocolate together tastes divine!
Be sure to watch my instructional video to see how I make them, and comment below to tell me how it goes after you make them. I love hearing from you!
I know you'll love this dessert! Enjoy 🙂
🎥 Watch the recipe video
Coconut Tuiles with Fresh Strawberries and Dairy-free Chocolate Whipping Cream (Paleo)
📖 Recipe
SHARE THIS RECIPE
Coconut Tuiles with Fresh Strawberries and Chocolate Whipping Cream
To see the brands I use, click each ingredient above or visit my Amazon shop.
Instructions
Coconut Tuiles
Preheat the oven to 325°F, and line a cookie sheet with silicon baking mat.

In a large bowl, using a spatula mix together the shredded coconut, egg whites, coconut sugar, salt, coconut oil, and honey. Scoop about a tablespoon of the mixture onto the baking mat spacing them about 3-inches apart. Using an offset spatula or your fingers, flatten the cookies to a ⅛-inch thick.

Bake in the preheated oven for 12 minutes and let them cool completely in the pan before removing them.
Chocolate Whipping Cream
Scoop the coconut cream from the coconut milk can into a large bowl and discard the water in the can.

Add to the bowl the cacao powder, honey, coffee (optional) and vanilla. Whip the ingredients using a hand-held (or stand) electrical mixer until well combined and smooth.

To serve, scoop the chocolate whipping cream over each cookie and top it with a fresh strawberry.
Notes
You can store your cookies and Chocolate Whipping Cream in the fridge in an airtight container. The cookies should last a few months, but the whipping cream is best served right after you make it. You can make it ahead if you like and you'll need to whip it again before serving.
Please read my post and watch the video above for more info and details.
Nutrition per serving
Calories:
198
kcal
Protein:
2
g
Fat:
15
g
Saturated Fat:
13
g
Fiber:
2
g
Carbohydrates:
14
g
Net Carbs:
12
g
*This post may contain affiliate links and as an Amazon Associate I earn from qualifying purchases. Please read my disclosure policy for more details.
Made this recipe?
Please leave a review and photo in the comments below.