This homemade Vanilla Cinnamon Almond Butter is healthy, creamy and delicious. It's also Gluten-free, Paleo, Vegan and low-card friendly.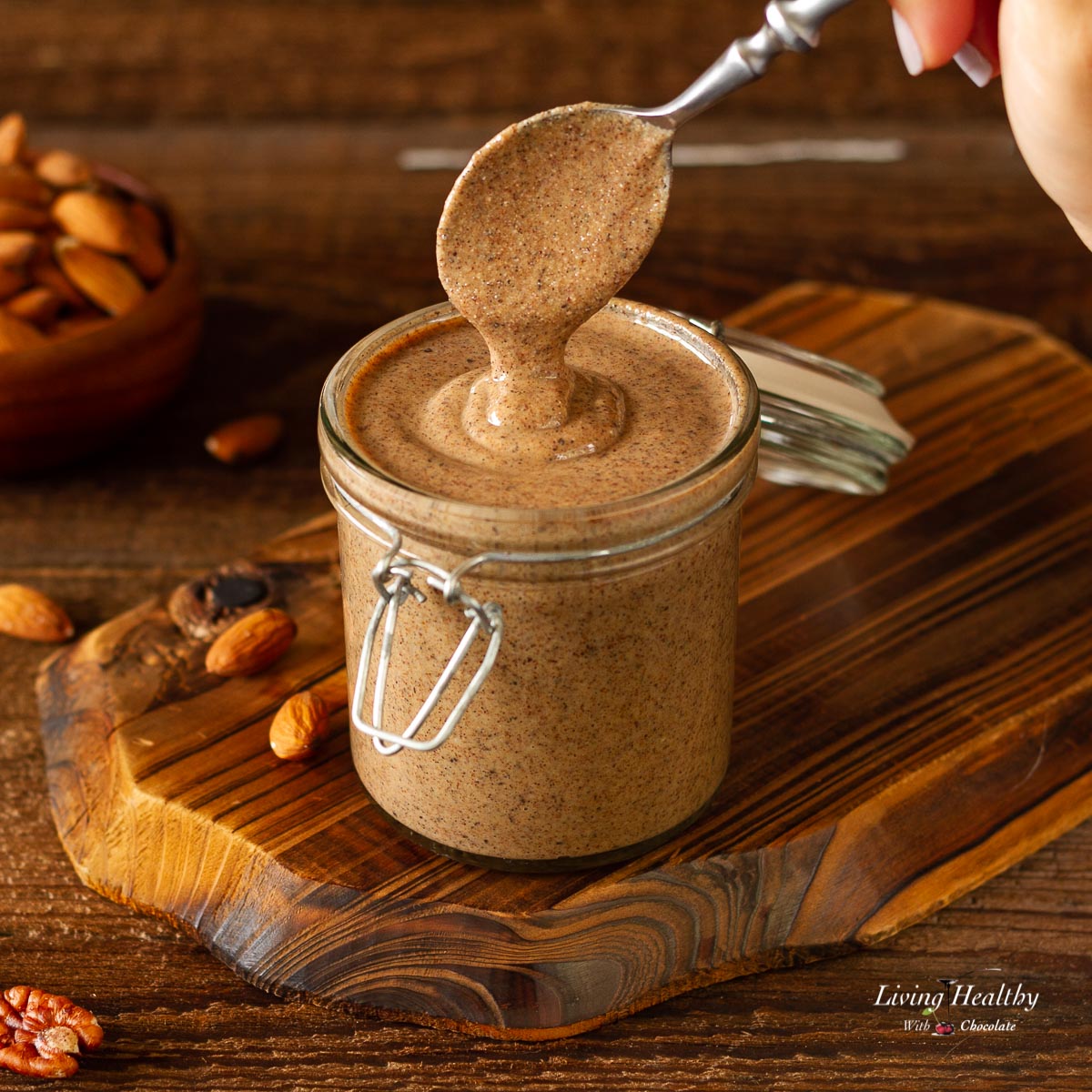 I've been wanting to share this recipe here for a while now.
For this recipe I am particular about using ground vanilla. I think it enhances the flavor and texture of the almond butter.
If you prefer to use vanilla extract you can. Your almond butter will still taste delicious and I suggest you mix it into the almond butter with a spoon and not your processor or blender. Using the processor may give your creamy almond butter a thicker consistency because of the added moisture.
You can substitute 2 to 3 teaspoons of vanilla extract for the ground vanilla in this recipe.
This recipe takes literally about 5 minutes to make! I know you'll enjoy it and it will be part of your healthy snack choices for years to come as it has been for me 🙂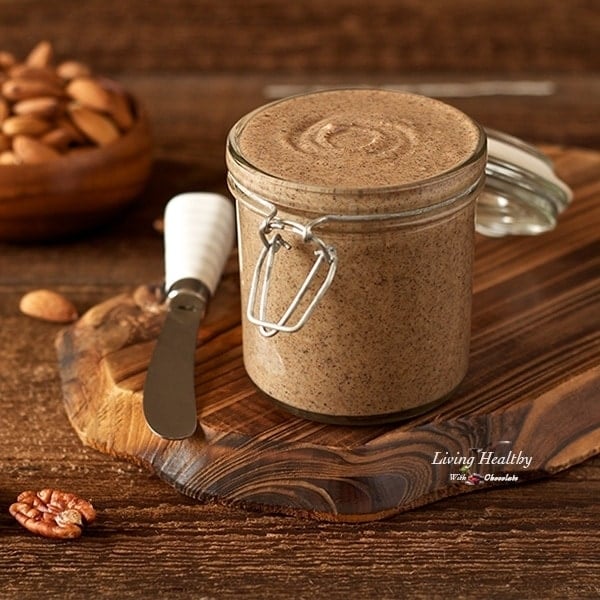 When I was first leaning what healthy foods were and which foods my body tolerated best, I also cut out all sweets from my diet.
I was trying to reduce the inflammation in my body and I didn't really know how to read labels and the difference between sweeteners. So I felt it was best to not eat anything packaged or any products that had any kind of sugar added.
This was a hard period for me and it took a very long time to adjust. In fact, I think it took me about 2 to 3 years before I began eating certain foods, sweeteners and even some fruits again.
My go to snacks back then were mostly low sugar fruits like berries. Then I started eating green apples which I have always loved, and then came the nuts. I began experimenting with making different snacks with nuts and fruits and this recipe for Vanilla Cinnamon Almond Butter was born.
If you eat a healthy diet, low in carbs you know that apples topped almond butter is THE perfect snack. Organic apples are high in antioxidants, vitamins, and fiber.
Almonds contain healthy monounsaturated fats, and are a rich source of protein, manganese, potassium, copper and vitamin E. Together with wholesome spices such as cinnamon and vanilla, this healthy snack also tastes delicious! Cinnamon has been shown to help regulate blood sugar levels, and vanilla has anti-infammatory properties amongst other benefits.
After you make this recipe, please take a photo and post it here in the comments. Enjoy 🙂
🎥 Watch the recipe video
Vanilla Cinnamon Almond Butter Recipe
📖 Recipe
SHARE THIS RECIPE
Vanilla Cinnamon Almond Butter
To see the brands I use, click each ingredient above or visit my Amazon shop.
Instructions
Add the almonds and pecans to your food processor or high speed blender. Process until smooth and creamy like peanut butter. This may take about 5 minutes depending on your machine.

Add the vanilla, cinnamon and salt, and pulse to combine ingredients. Store almond butter in a glass jar or airtight container.
Notes
*In place of ground vanilla bean powder you can use the seeds of a vanilla bean or vanilla extract. Note that vanilla extract will give you a milder vanilla taste.
**In place of the pecans, you can use more almonds. I think the pecans add even more flavor to this recipe. If pecans are not your favorite, try this recipe with macadamia nuts, hazelnuts, or another nut of your preference.
Nutrition per serving
Calories:
1603
kcal
Protein:
50
g
Fat:
143
g
Saturated Fat:
11
g
Sugar:
10
g
Fiber:
31
g
Carbohydrates:
57
g
Net Carbs:
26
g
*This post may contain affiliate links and as an Amazon Associate I earn from qualifying purchases. Please read my disclosure policy for more details.
Made this recipe?
Please leave a review and photo in the comments below.