Learn how to make a Mango Smoothie recipe that tastes like candy using just 3 ingredients and without yogurt, milk, or bananas. Then find out how to also turn this smoothie into amazing popsicles kids will love!! This recipe highlights fresh peak season ingredients and tropical flavors including mango and pineapple.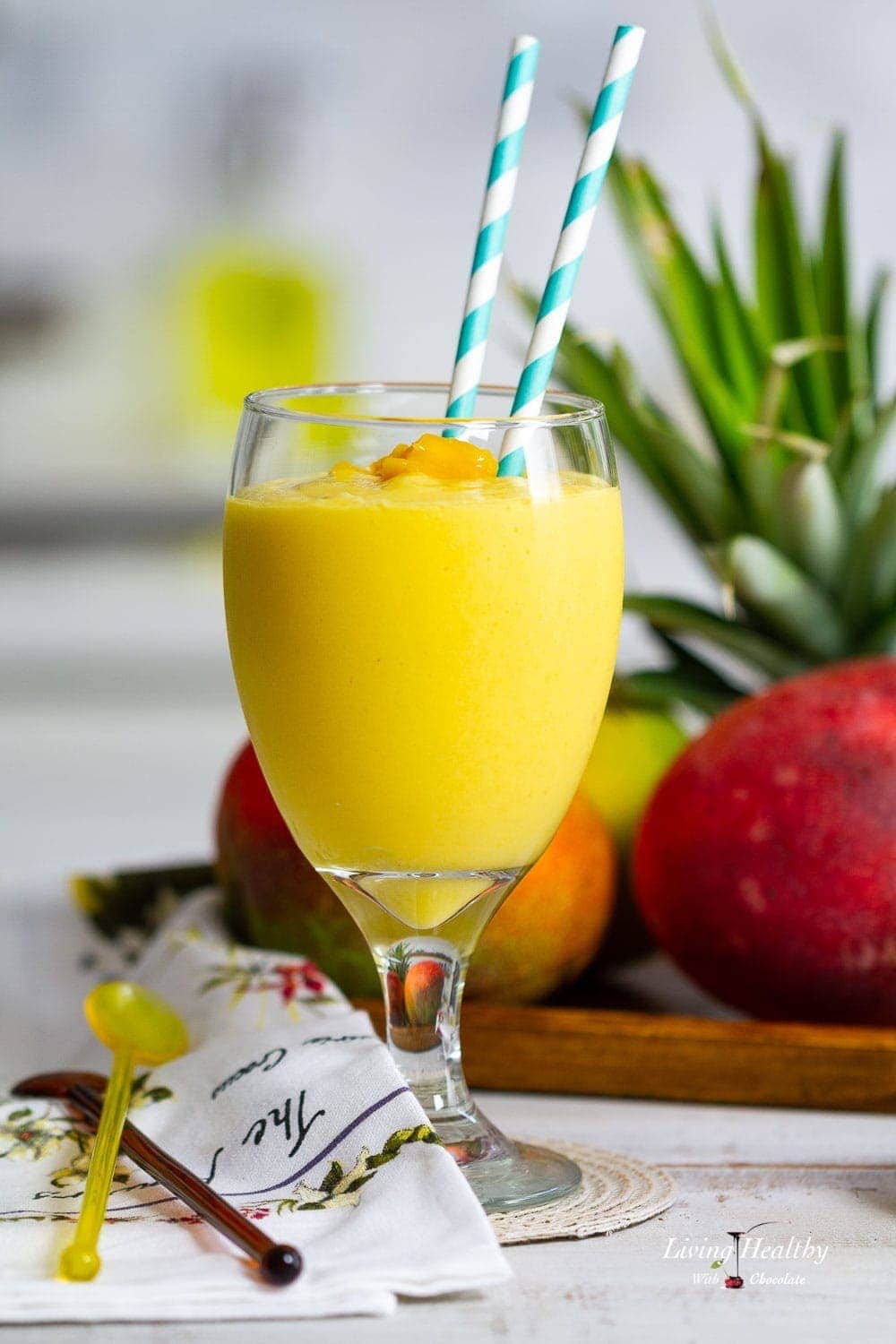 Mango smoothie is a refreshing summertime smoothie recipe when mangoes are in season. It's easy to make using 3 healthy ingredients and without needing to add yogurt, milk, or banana to make it thick and creamy.
This mango smoothie recipe highlights your favorite peak season ingredients. What's in season in the summer? Mango and Pineapple!
Right now the tree in my backyard is loaded with huge juicy mangoes, and just up the street from my house is the Dole Pineapple plantation.
So to give you a little taste of the tropics, I want to share with you my best mango smoothie recipe that I make every year. I think you'll love it as much as I do!
Using fresh or frozen mangoes you can make this smoothie recipe in a less than 5 minutes and even turn it into popsicles for the kids.
Watch the video and read the recipe below to see how I make this smoothie, the popsicles and to learn the easiest method for cutting mango and pineapple.
Smoothie ingredients 🥭
What ingredients go into a mango smoothie is really up to you and there are so many fruit combinations that blend well with mango.
I think you will agree with me that pineapple and coconut goes well with mango. So in this smoothie recipe all you need is mango, pineapple and coconut milk. But you can make this smoothie with just mangoes and below I tell you how to make substitutions.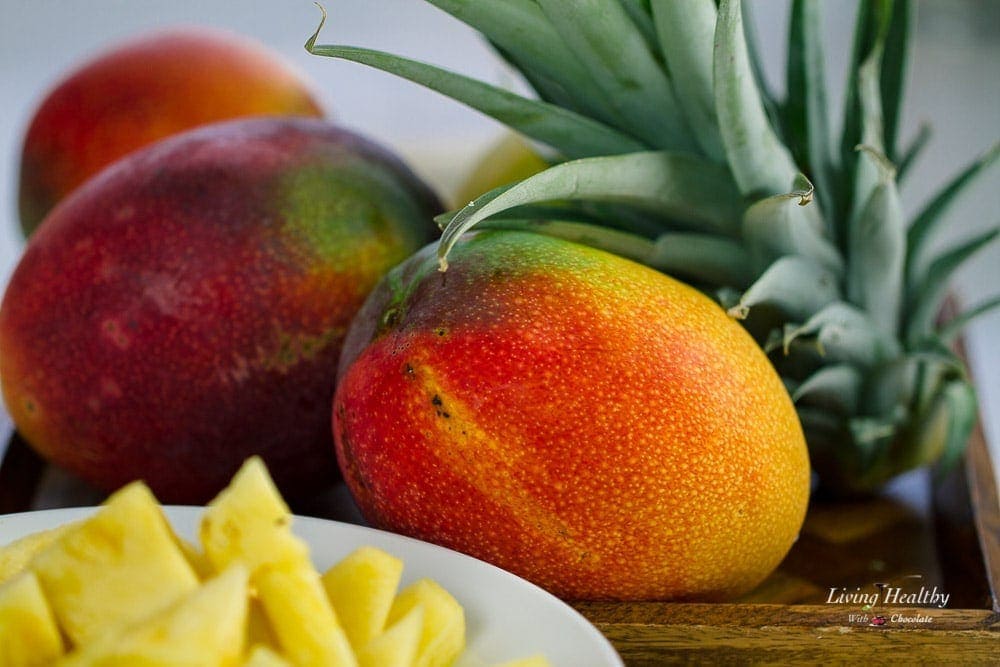 How to make a mango smoothie
Making this simple mango smoothie takes no time, especially if you cut your fruits ahead of time and store them in the fridge. Then when you're ready, throw all your ingredients in the blender and blend for a few seconds until it's thick and creamy.
You can use fresh or frozen mango to make this smoothie recipe. Personally, like to use frozen mango because the frozen fruit makes the smoothie nice and cold, while also giving it a thick and creamy consistency.
Frozen pineapple works well too, so if you use fresh mango then make sure you're using frozen pineapple in the recipe to keep the smoothie thick, and nice and cold. But if you decide to use all fresh fruits instead, I suggest you add ice to make your smoothie cold.
In the recipe video, you can see I'm adding a combination of frozen mango and fresh pineapple. Using one fresh and one frozen fruit makes it easier to blend the ingredients in the blender.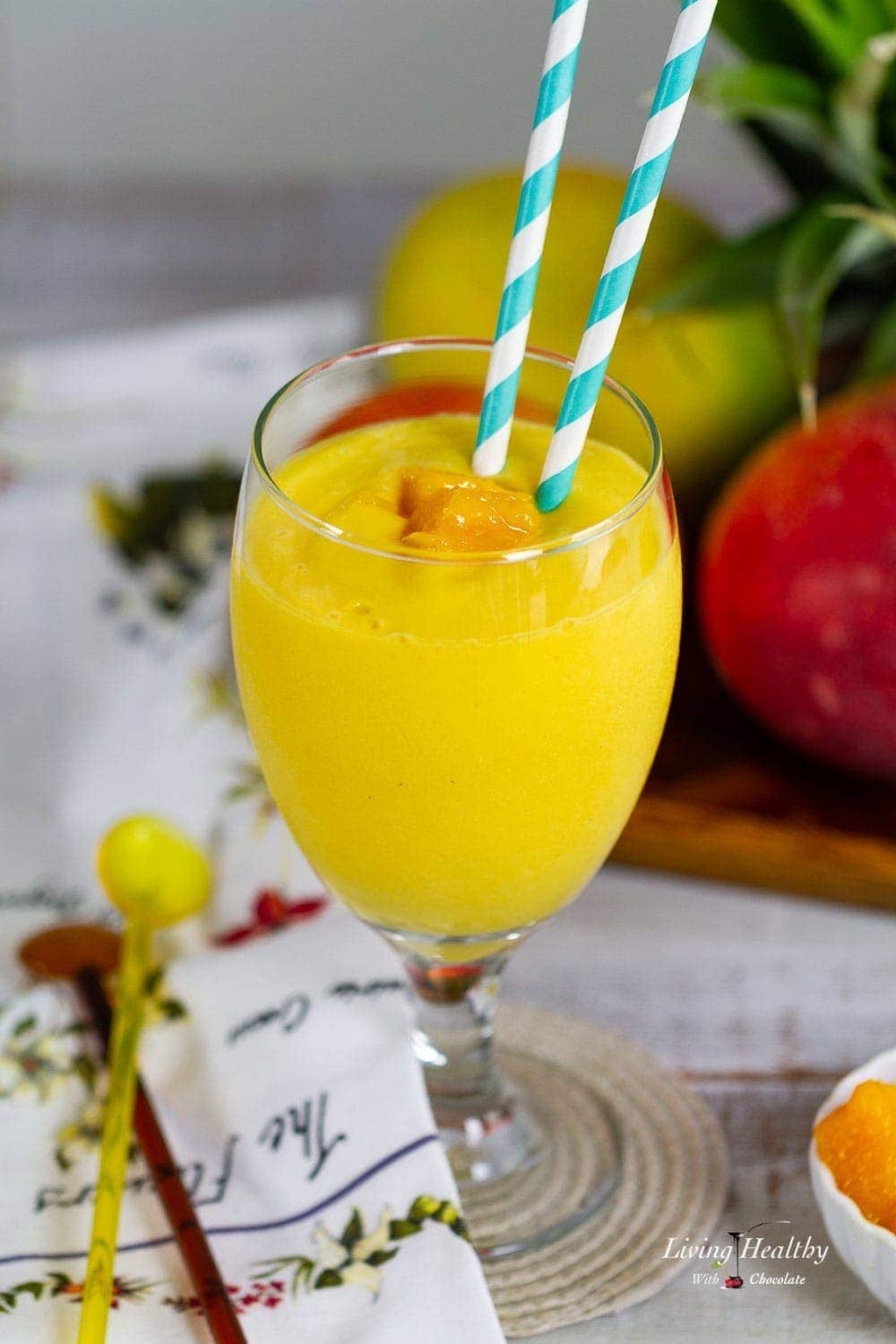 Why make it without yogurt, banana or milk?
I have been asked before to share more vegan smoothie recipes without yogurt and milk. So this recipe is also for those of you looking for a good dairy-free smoothie.
Also, how do you thicken a smoothie without yogurt/banana? Omitting yogurt or banana in smoothies doesn't affect the texture or sweetness and without the banana, your smoothie is lower in carbs.
Taste and texture
This mango pineapple smoothie tastes like candy to me. The mango adds the perfect amount of sweetness, while the pineapple balances out that sweet taste with a slight tang. Pineapple is a fruit that blends well with mango.
I also think making this mango pineapple smoothie with only mangoes tastes really good and it makes it sweeter.
As for the coconut milk, personally I can't taste it. It helps to give this smoothie a creamier texture while also buffering some of the sugar in the mango and pineapple.
This smoothie is super thick, creamy and refreshing, and one of my favorite ways to use seasonal mangoes in the summer.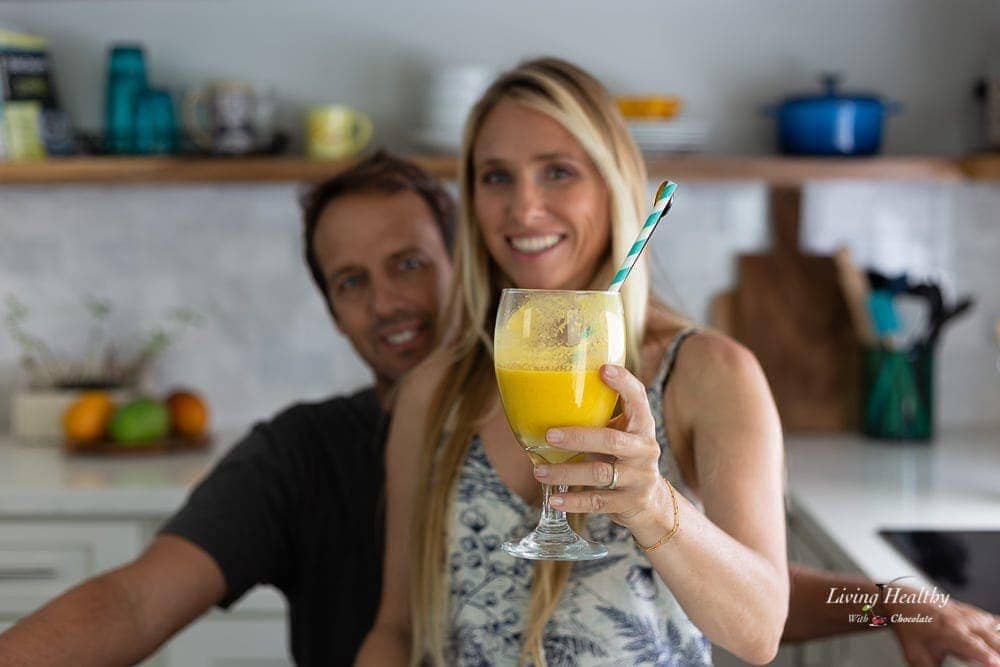 What to mix with the smoothie
Give this smoothie some crunch by serving it with some granola. My homemade banana granola or my chocolate granola goes really well with it.
Turn this smoothie into a cocktail by adding some rum and giving it a piña colada vibe.
What other fruits should I put in my smoothie? Another fruit that goes really good with mango is starfruit! Check out my Starfruit Mango Smoothie recipe.
Add extra nutrition to this by adding a scoop of your favorite protein powder. I recommend Vital Protein collagen peptides.
Substitutions you can make
Instead of pineapple: Make your smoothie with just mango or substitute it with starfruit, oranges, strawberries or banana.
Instead of coconut milk: Make your mango smoothie with almond milk or cashew milk.
Instead of frozen fruit: Frozen fruits make the smoothie nice and cold and give it a creamier texture. But feel free to use fresh mango and fresh pineapple, and add ice to make your smoothie cold.
Turn your smoothie into popsicles
Ok so now how can you make popsicles out of this tropical smoothie?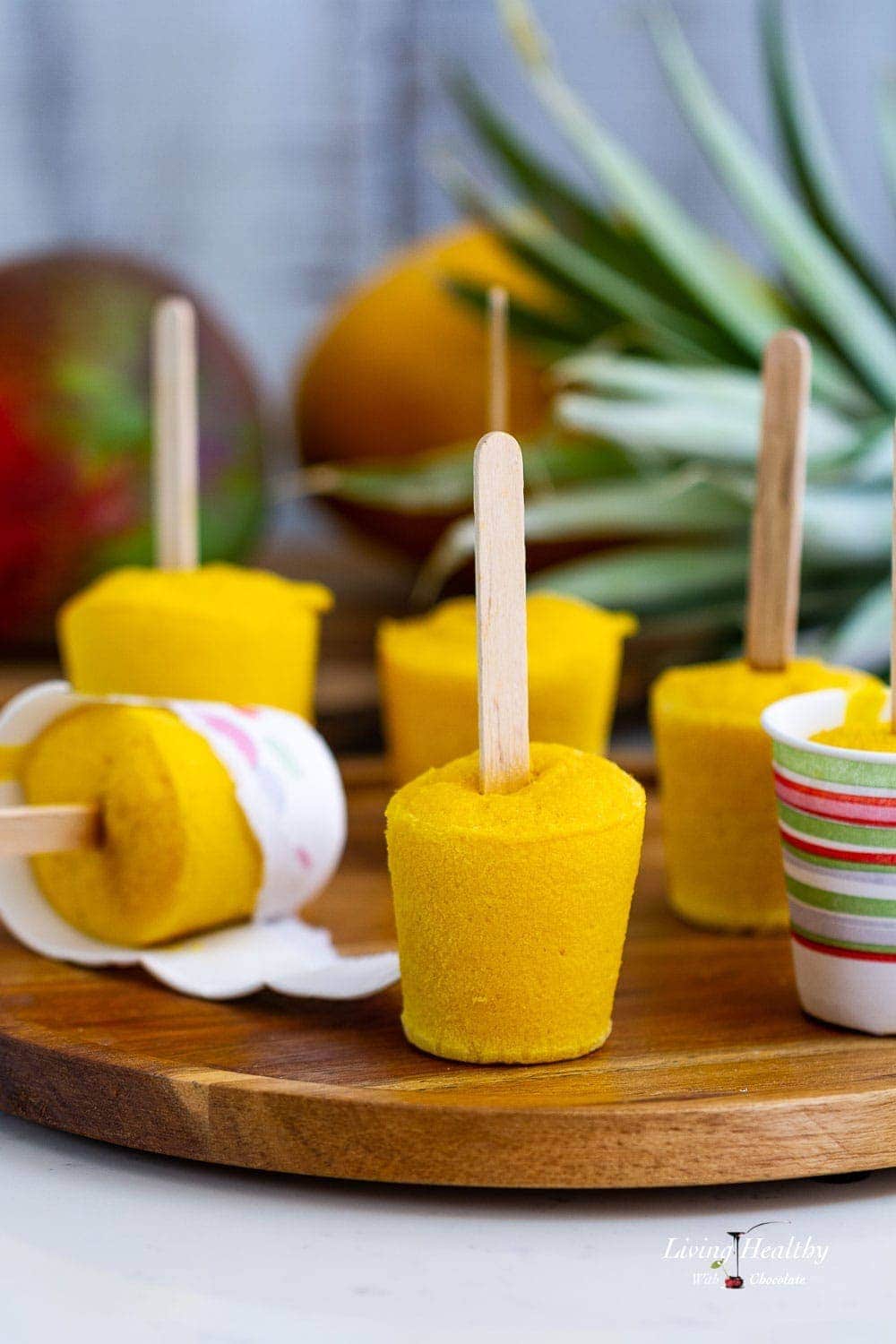 It is super simple! Make this recipe exactly the same, grab some mini paper cups and fill them with the smoothie. Drop a popsicle stick inside each one and freeze.
You and your family will love them! Just rip the paper off and enjoy whenever you feel like having a healthy, refreshing snack.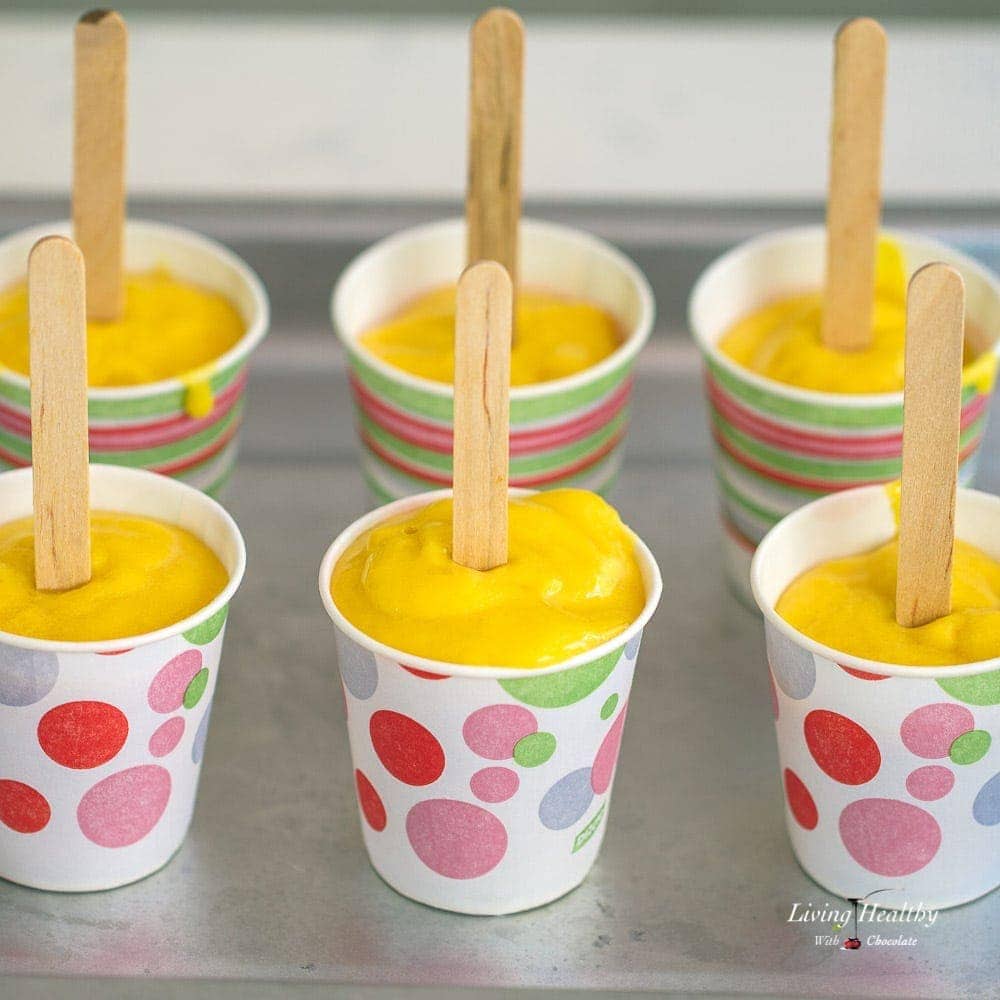 How to cut a mango into perfect cubes
Slice off the 2 cheeks on either side of the pit.
Cut a crisscross pattern into the flesh.
Turn it inside out and cut away the cubes.
How to cut a pineapple
Cut off the crown, then the bottom so it sits flat on the cutting board.
Cut away the peel on all sides.
Cut lengthwise into four quarters and cut out the core from each quarter.
Finally cut your pineapple into bite-sized chunks.
I hope you make this smoothie or the popsicles at home and comment below letting me know how it went. Love you guys and see you again soon 🙂
P.S. Try my strawberry milkshake without ice cream next. It's sooooo good!
🎥 Watch the recipe video
MANGO SMOOTHIE | Easy 3 INGREDIENTS (without yogurt)
📖 Recipe
SHARE THIS RECIPE
MANGO SMOOTHIE | Easy 3-INGREDIENTS (without yogurt)
Ingredients
2

cups

mango chunks

,

fresh or frozen

1

cup

pineapple chunks

,

fresh or frozen

½

cup

full fat coconut milk,

almond milk or water
To see the brands I use, click each ingredient above or visit my Amazon shop.
Instructions
Mango smoothie
Add all your ingredients to blender and blend for a few seconds until it's thick and creamy. If necessary, add in more coconut milk or some water to thin the smoothie.
Mango popsicles
Make the smoothie recipe exactly the same and fill 6 3oz mini paper cups with the smoothie.

Drop a popsicle stick inside each one and freeze. After frozen rip the paper off and enjoy.
Notes
I make this recipe with frozen mango and fresh pineapple (read why in my post above).
*Nutrition facts were calculated for 2 cups and the values listed below are for 1 cup. However this recipe makes about 2 ½ cups.
Shop Equipment Used
Nutrition per serving
Calories:
200.3
kcal
Protein:
2.3
g
Fat:
6.7
g
Saturated Fat:
5.2
g
Sugar:
31.2
g
Fiber:
3.8
g
Carbohydrates:
36
g
Net Carbs:
32.2
g
*This post may contain affiliate links and as an Amazon Associate I earn from qualifying purchases. Please read my disclosure policy for more details.
Made this recipe?
Please leave a review and photo in the comments below.