You will fall in love with this easy Molten Lava Brownies (or cake) recipe for two. Make it in less than 30 minutes in a mug or mini ramekins using just a few healthy ingredients. With that melty chocolate lava cake center this dessert is irresistible. This recipe is Paleo, gluten-free, grain-free and dairy-free.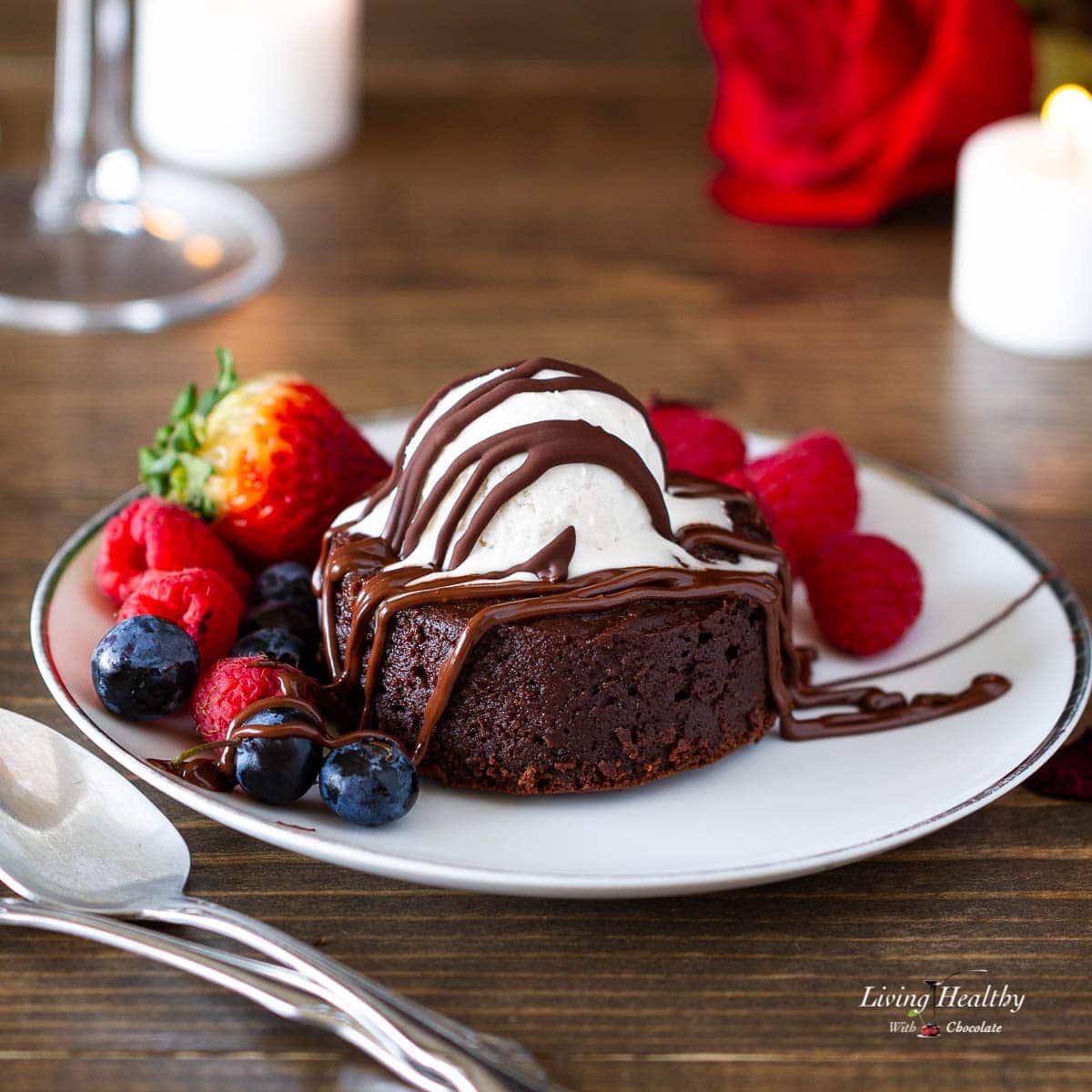 Jump to:
This gluten-free lava cake is amazing and here's why:
Imagine eating a slice of moist chocolate cake. Now imagine taking a bite of a gooey, hot chocolate lava cake exploding with melty dark chocolate that pools out from the center and melts in your mouth. It's heavenly, and even better drizzled with more chocolate, topped with homemade caramel ice cream and some berries.
But have you ever thought a delicious chocolate dessert like this could be made much healthier without sacrificing taste and texture? This recipe doesn't even need added sugar or other sweeteners!
If you're a chocolate lover, follow along and find out my secrets for making this super easy lava cake recipe in this Valentine's Day special.
Ingredients you need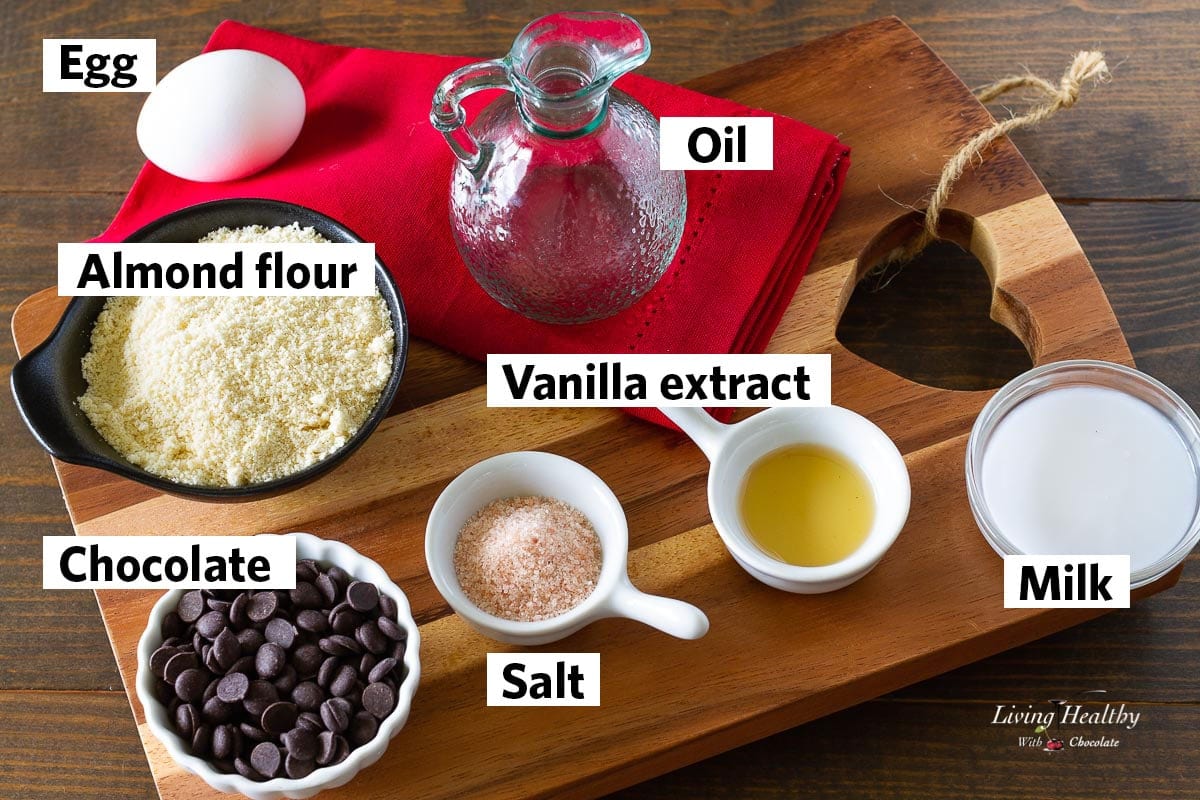 To make this Paleo molten lava cake for two people or more you need 5 main ingredients, plus some vanilla extract and salt to enhance all the flavors. Here're highlights from some of the ingredients:
Chocolate: The secret to making this recipe without added sugar is using a high quality dark chocolate with 55% to 60% cacao content. Most semi-sweet chocolate brands have this amount of cocoa solids and will make your cake molten and sweet enough. My favorite brands that are dairy free and soy free are by Enjoy Life, Santa Barbara Chocolate, Pascha and Equal Exchange.
💡 Tip
Use 70% bittersweet chocolate or 100% dark instead of semi-sweet to make this dessert low-carb or Keto and to control the amount (and type) of sweetener in the recipe. Mix your sweetener of choice in the batter and add as much as you like to taste.
Almond flour: Finely ground blanched almond flour is the perfect flour to use instead of wheat flour to give this lava cake a fudge, brownie-like texture and nutty flavor. It's also great because it keeps this recipe gluten-free, grain-free and Paleo-friendly.
Oil: Lava cake without butter? Yes, no butter is needed in this recipe! The perfect substitute here is coconut oil because it adds the right amount of fat and richness, while also keeping the recipe dairy-free. But if you like butter, you can use it in this recipe instead.
💡 Tip
If you don't like the taste of coconut oil, use refined coconut oil which is tasteless. Either way, even if you use unrefined coconut oil this cake won't taste like coconut. Other dairy free alternatives you can use are avocado oil or palm shortening.
How to make it - step by step overview
This is one of the easiest dessert recipes I am sharing with you and it doesn't involve any complicated ingredients or equipment. Here are the steps to prove it:

Melt the chocolate slowly in a bowl over simmering water (double boiler). Have the heat set to low and only about a ½-inch of water in the pan so the bowl doesn't touch the water.

Oil and milk - Remove bowl from heat and stir in the oil and milk until smooth and combined.

Whisk the egg, vanilla, salt and almond flour together in a separate bowl.

Add the melted chocolate and mix to combine the batter.

Prepare ramekins greasing each with coconut oil and place a piece of parchment paper on the bottom.
💡 Tip
If you grease your ramekins well with oil and put a piece of parchment paper on the bottom, your cake will easily release after baked. Cut the paper to the shape of your ramekin so it fits perfectly on the bottom. Dusting the ramekins with cocoa powder after greased is also an option to prevent the cake from sticking.

Hot water bath - Fill each ramekin with the batter about ¾ full. Place the ramekins in a deep baking dish or baking sheet and cover ramekins half way with hot water.
💡 Fun Fact
Baking in a hot water bath helps to cook the center of the mini cakes slower, keeping it molten and flowing with melty chocolate inside.

Bake in a preheated oven to 375°F, remove from water bath and cool ramekins on a wire rack for 5 minutes, then carefully flip the freshly baked lava cakes upside down onto plates. You may want to run a small cake spatula or knife around the edges of the ramekin to loosen the cake from the pan.
💡 Fun Fact
The high oven temperature cooks the sides faster leaving the center slightly gooey and still molten.
This recipe makes 2 individual servings, and if baking only 2 of these chocolate cakes are simply not enough you can double, triple or adjust the recipe to make as many as you like.
Bake in ramekins, mug or muffin pan
You need single serve ramekins or you can bake this lava cake in a mug that is oven safe or a muffin tin. I like and recommend using small 4-ounce ramekins. They're the perfect size and easy to place upside down on plates, but I have a friend who loves baking them in muffin tins when he triples the recipe.
It's important to point out that the baking time will change based on the size of your ramekins and your oven (every oven bakes differently) so it's a good idea to do a test batch before you serve these at a dinner party.
Optional toppings
These warm little cakes you just plated need to be dressed up to impress! There are so many toppings that pair well with them - some you should try are: my homemade caramel ice cream, hot fudge, caramel sauce, fresh berries like strawberry and raspberry, melted peanut butter, dusted with cocoa powder or sprinkled mini chocolate chips.
Substitutions
I don't recommend you make any substitutions, but since I get so many question about it here are my thoughts:
Egg: Can I make it Vegan without eggs? If you replace the eggs the texture will change. However you can experiment using aquafaba to help bind the ingredients and give the cake a lighter brownie texture. The inside might not come out molten, but a trick you can do is place a large chunk of chocolate in the center of the ramekin before you bake. It should melt during baking and flow when you cut into your cake.
Almond flour: You cannot use coconut flour in place of almond flour in this lava cake, it just won't work. To keep this recipe gluten-free you may be OK using oat flour or a gluten-free flour mix. However, these flours are dryer and more absorbent so you will need to experiment by adding less than the recipe calls for.
Milk: I make this recipe with full fat coconut milk from can, but you can use any other milk of choice with a similar fat content to give your cake richness and moistness.
🙋‍♀️ FAQs
How do I store and reheat lava cake?
You can store the cooked cakes in the fridge for about 2 weeks and reheat them later by placing in the oven at 350°F for about 10 minutes, or in the microwave for a few seconds.
Can I serve lava cake cold?
Lava cake is supposed to be served warm so that the inside is still flowing with melted chocolate. You can however serve it cold! Right out of the fridge, the inside turns into a fudgy brownie which is moist and delicious!
Can I make lava cake ahead of time?
You can make lava cakes ahead of time. Make the batter, place it in individual ramekins, cover each with plastic wrap and refrigerate for up to 3 days. When ready to bake, remove it from the fridge, let it come to room temperature then bake as directed.
Can I make lava cake without an oven?
If you don't have an oven to bake your lava cake you can use a microwave, crockpot or instant pot and experiment with the timing it takes to bake before serving it for dessert. Every machine and brand bakes differently so testing the recipe first is recommended.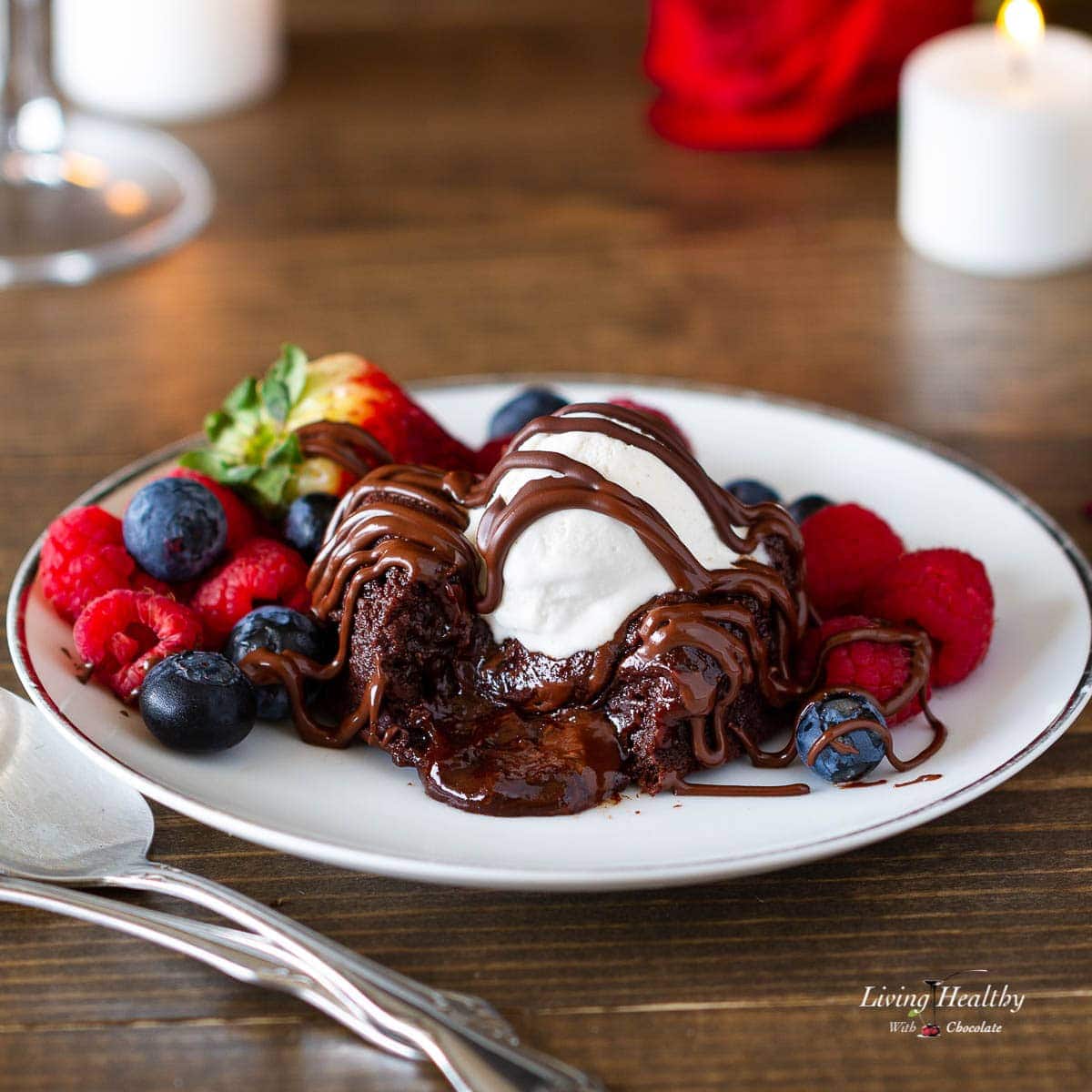 I really encourage you to try this chocolate lava cake, it's addicting and one of my favorite recipes on the blog. But here are a few more gluten-free and Paleo chocolate cake recipes to check out:
After you've tried it please don't forget to leave a rating and your photo in the comments below, I love hearing from you! Subscribe to my newsletter, and follow along on YouTube, Instagram, Facebook and Pinterest for all of the latest updates.
---
🎥 Watch the recipe video
Molten Lava Brownies (Cake) (Paleo, Gluten-free, DF)
📖 Recipe
SHARE THIS RECIPE
Molten Lava Brownies (Cake)
To see the brands I use, click each ingredient above or visit my Amazon shop.
Instructions
Preheat the oven to 375°F and grease well the bottom and sides of two 4-ounce ramekins with coconut oil. Cut a piece of parchment paper and place it on the bottom of each ramekin.

Melt the chocolate in a bowl over simmering water (double boiler). Once the chocolate melts, remove bowl from the heat and stir in the coconut oil and coconut milk until smooth.

In a separate bowl, whisk together the egg, vanilla, salt and almond flour. Using a spatula, gently mix in the chocolate mixture until you get a smooth chocolate batter.

Divide the batter evenly among the prepared ramekins and place them in a deep baking dish. Fill the dish with hot water halfway over the ramekins.

Bake for 17 minutes or until the edges look firm but the center is softer. Remove ramekins from the water bath and allow them to cool for 5 minutes over a cooling rack, then run a knife around the edges to loosen and invert onto your serving plates.
Notes
Double or triple the amount of ingredients to adjust the recipe to make as many as you like.
In place of the semisweet chocolate chips, you can use a 100% dark chocolate bar and add any sweeter of your preference to taste. Taste your batter and adjust the amount as added to your liking.
- Store any leftovers in the fridge and allow them to come to room temperature so they have a soft consistency again. Right out of the fridge they have a fudge-like texture which is also great!
To reheat place in the oven at 350°F for about 10 minutes or in the microwave for a few seconds.
Use small 4-ounce ramekins (about 3

½

by 1

½

inches), or bake them in a mug that is oven safe or a muffin tin.
P.S. Lining the ramekins with parchment paper makes removing the brownie much easier.
Nutrition per serving
Calories:
401
kcal
Protein:
8
g
Fat:
33.4
g
Saturated Fat:
19.5
g
Sugar:
15.4
g
Fiber:
3
g
Carbohydrates:
21.5
g
Net Carbs:
18.5
g
*This post may contain affiliate links and as an Amazon Associate I earn from qualifying purchases. Please read my disclosure policy for more details.
Made this recipe?
Please leave a review and photo in the comments below.
This recipe was originally published in Feb 2017 and this post has been updated in Jan 2021 with new information to answer readers' questions. No changes were made to the original recipe.