Homemade crackers made with cassava flour are my new favorite healthy snack. Crackers may seem difficult to make, but in fact they are very easy and my friends love me for bringing a platter of homemade crackers to dinner parties. When I first told them these are low-carb crackers, vegan and paleo friendly, they were thrilled to know they can now enjoy crackers without guilt.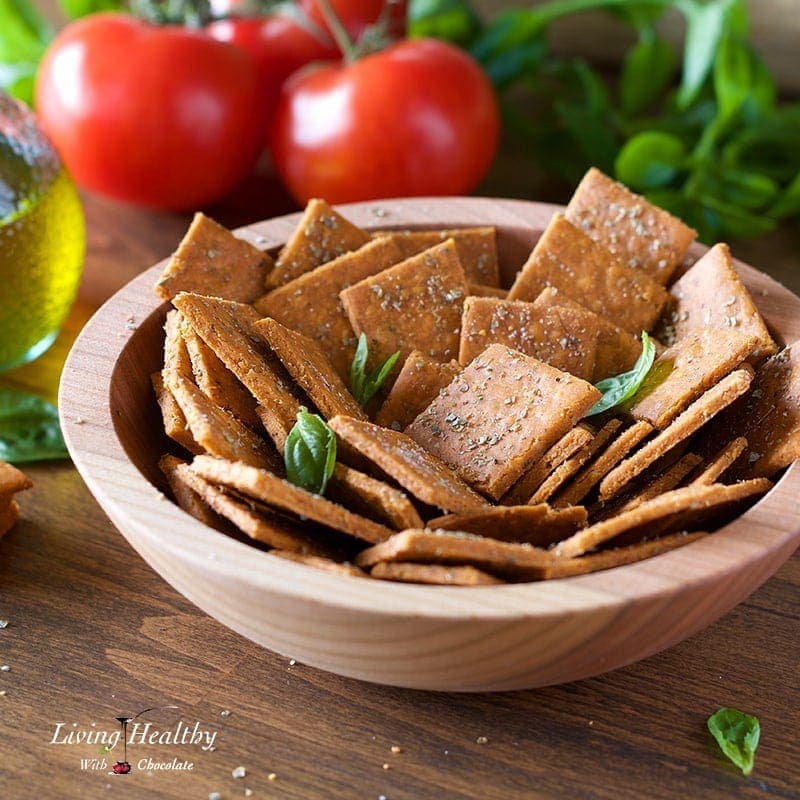 I'm excited for you to learn how to make my homemade crackers using cassava flour today! You'll learn my best tips and tricks for baking them crispy and crunchy without using any gluten or grain flours. We will season the dough with tomato and oregano to give the crackers a mild and lovely pizza flavor.
They are the perfect crackers to serve with this Carrot Soup!
This healthy homemade crackers recipe is fantastic (I'm impressed with myself for creating it!), and the flavor combinations are endless. We can infuse these them with herbs like rosemary or chives, and even make them sweet. I was thinking a maple, cinnamon combination would be amazing. What do you think?
Homemade crackers: tips & tricks
My gluten-free crackers recipe is very easy to make! Takes no more than 10 minutes to mix the ingredients and roll the dough. The dough is soft and comes together very easily.
You'll notice the dough may be drier or seem more wet depending on the humidity in the air, but this doesn't affect the method of preparation and you don't need to add more or less flour.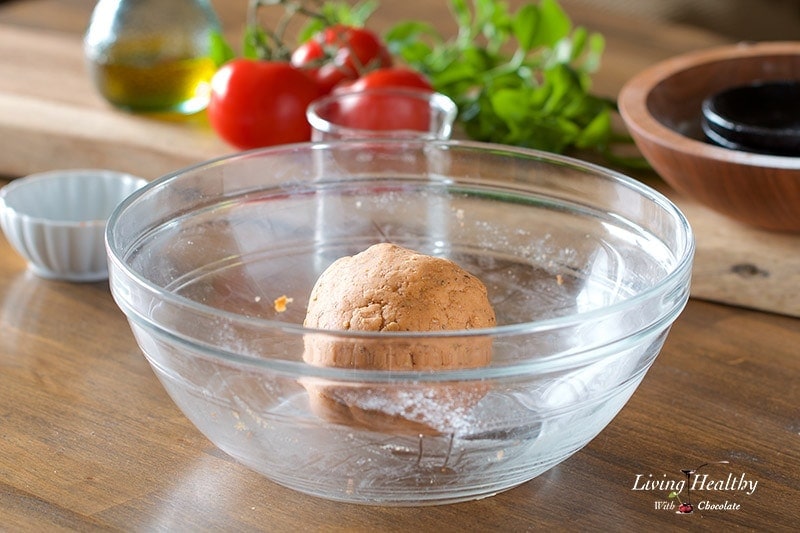 Rolling the dough in between 2 pieces of parchment paper is my favorite method. I find it easiest to shape the dough into a square with my hands, then with my rolling pin, I roll it as thin as I can, and I make sure the thickness is even throughout. This ensures each cracker bakes evenly.
You may know that it's hard to give grain-free baked goods a crunchy texture. Using cassava flour does help, but my best tip for giving the crackers a crunchy texture is to bake them at low temperature for a longer time, then separating the crackers on the baking sheet, and baking them again for a few more minutes. This ensure that any moisture in the dough drys out and the crackers stay crunchy.
I have been able to give this crunchy texture even to crackers made with almond flour using this same method. By the way, I never shared my almond flour crackers recipe with you. Would you want me to?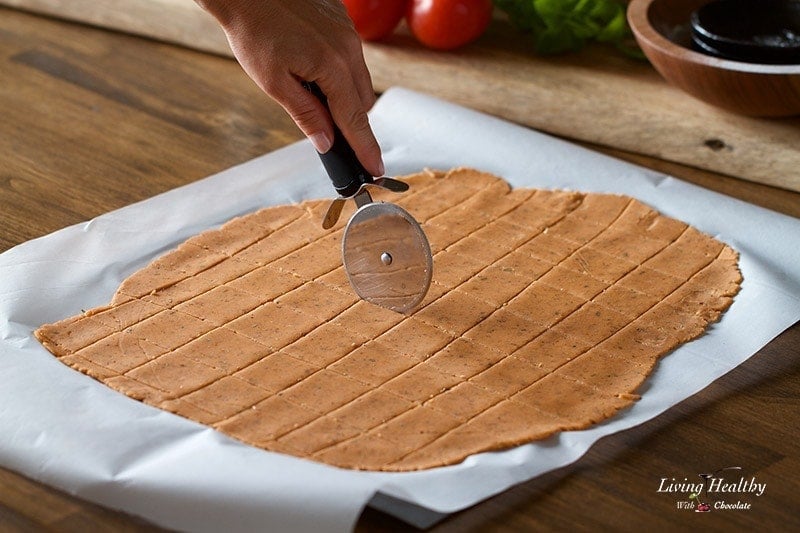 Be sure to let them cool completely before you store them, or else you'll be adding moisture in the container and your crackers may loose crunch.
This homemade crackers recipe is such a good healthy snack. Since I created this recipe, I now always have some made ready to snack on. I like adding them to salads, its my favorite! My friends always enjoy eating them dipped in hummus or guacamole.
I am so excited for you to try this recipe! Be sure to watch the video above 🙂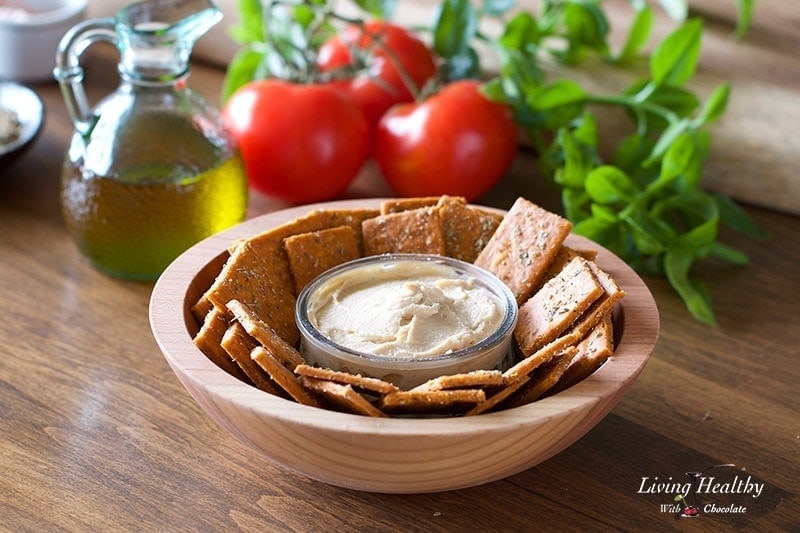 To buy cassava flour click here. To learn more about it watch this video by Dr. Sarah Ballantyne from The Paleo Mom.
Have you also seen or made my Sandwich Bread recipe? I think you'll love it if you miss eating bread as well. It has raving reviews - click here for the recipe.
🎥 Watch the recipe video
How to Make HOMEMADE CRACKERS with Cassava Flour (Vegan & Paleo)
📖 Recipe
SHARE THIS RECIPE
How to make Crackers with Cassava flour - Pizza Crackers (Vegan, Paleo)
To see the brands I use, click each ingredient above or visit my Amazon shop.
Instructions
Preheat the oven to 300°F.

In a large bowl mix together the dry ingredients: cassava flour, flaxseed meal, salt, garlic powder, baking soda, cream of tartar and oregano.

In a separate bowl whisk together the wet ingredients: olive oil, water and tomato paste.

Mix the dry and wet ingredients to form a dough. I like to use my spatula initially, then I use my hands until the dough is formed.

Roll the dough in between two pieces of parchment paper into a thin square, about ⅛-inch thin. Be sure it's even throughout. Slide the rolled out dough with the parchment paper onto a baking sheet, and using a pizza cutter (or knife) cut into squares of about 1-inch.

Bake for 40 minutes, then remove it from the oven, space out the crackers in the pan and bake it again for an extra 15 minutes to remove any access moisture.

Sprinkle top with more salt and oregano. Store in an airtight container at room temperature or in the fridge.
Notes
*Adding flaxseed meal is optional. It gives the crackers a more wheat-like taste and does not affect the texture of the crackers if you omit it.
**Adding baking soda and cream of tartar is the same as adding baking powder. You can substitute these two ingredients for ½ teaspoon baking powder. Store-bought baking powder usually contains other ingredients that are not healthy like cornstarch, aluminum, and other additives I try to stay away from. So I make my own with baking soda and cream of tartar.
Shop Equipment Used
Nutrition per serving
Calories:
10
kcal
Protein:
0.1
g
Fat:
1
g
Fiber:
0.3
g
Carbohydrates:
1
g
Net Carbs:
0.7
g
*This post may contain affiliate links and as an Amazon Associate I earn from qualifying purchases. Please read my disclosure policy for more details.
Made this recipe?
Please leave a review and photo in the comments below.