This Blueberry Chocolate Cake is super moist, soft, and fudgy. The blueberries are mixed in the batter in a very unique way! This is a healthy chocolate cake you must try. The taste is incredible and best of all, this cake is Paleo, gluten-free, grain-free and dairy-free.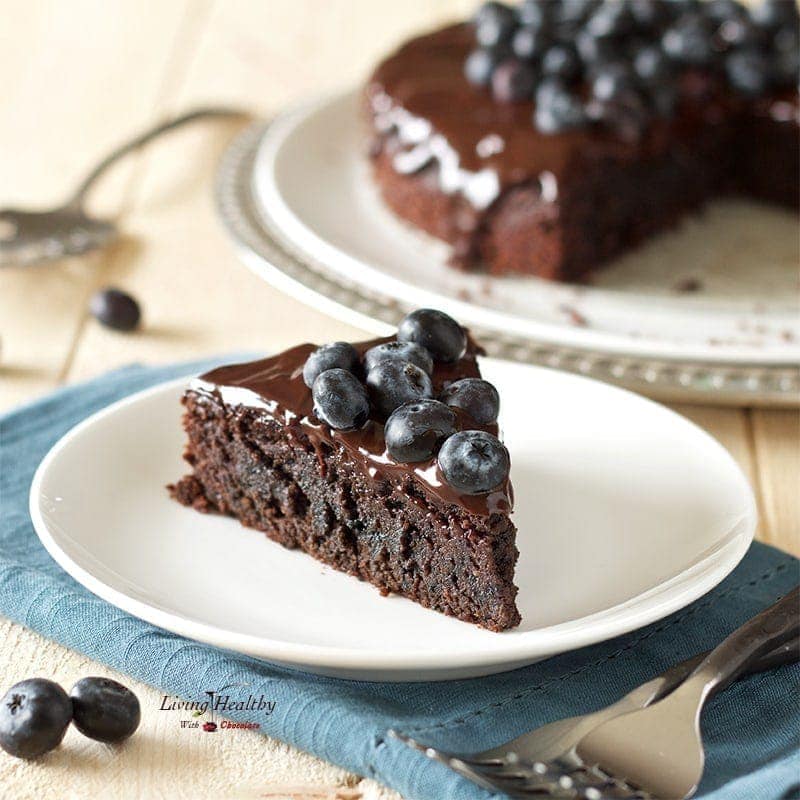 What could be better than a moist chocolate cake topped with delicious fresh blueberries and a creamy chocolate ganache?
We all love cake, but we all also hate to feel guilty or sick after eating a piece of cake. That's a huge problem I know, and this is why I wrote this recipe.
For those of us with dietary restrictions especially, being able to enjoy cake on special occasions is REALLY nice.
Although this Blueberry Chocolate Cake recipe is grain-free, gluten-free, dairy-free and Paleo, it exceeds all the expectations of a traditional chocolate cake and tastes incredible.
The texture is super moist, soft and fudgy. It's almost like a brownie, but not as dense or chewy.
Fresh blueberries are incorporated into the mixture, pureed with the wet ingredients to give the cake this special texture.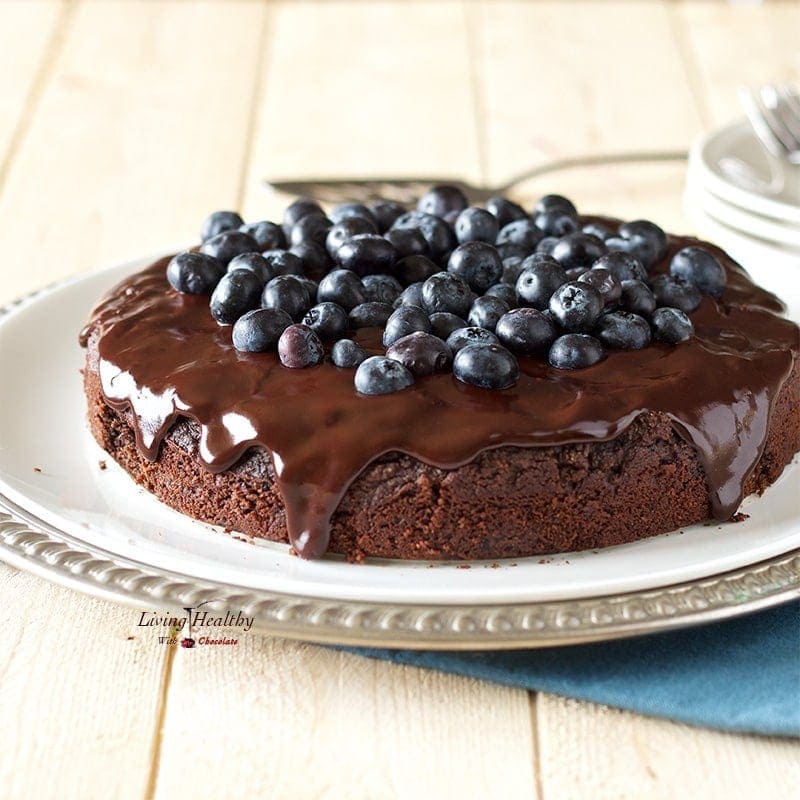 The dominant flavor is chocolate, and most of the blueberry taste comes from the fresh blueberries on top.
The more blueberries you top your cake with, the more delicious every bite is in my opinion, especially if the blueberries are very fresh and still have a hint of tart flavor to them.
For the chocolate ganache, I used dark chocolate with 60% cacao. This ganache is smooth and creamy. It gives a beautiful look to the cake.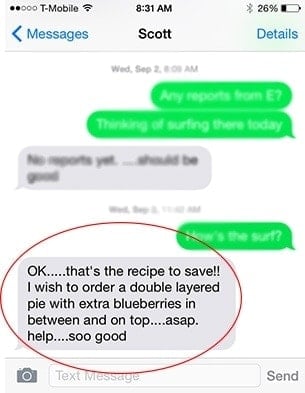 Check out this text my neighbor sent me after trying the cake with his wife. I know you guys are going to like it too!
Between my friends and neighbors this cake didn't last long, and I wasn't even able to save a piece for the next day. We all enjoyed a piece for dessert and it was decadent!
I want to hear from you when you make this cake! Please share your feedback and a photo in the comments below 🙂
I filmed every step to show you how this cake is made. Hit play on the video below and subscribe to my Youtube channel to see all my cooking videos.
🎥 Watch the recipe video
Healthy Blueberry Chocolate Cake (gluten-free, grain-free, dairy-free, Paleo)
📖 Recipe
SHARE THIS RECIPE
Blueberry Chocolate Cake
To see the brands I use, click each ingredient above or visit my Amazon shop.
Instructions
Pre-heat the oven to 350°F. Grease an

8-inch round cake pan

with coconut oil, then place a piece of parchment paper on the bottom.

In a large bowl mix all the dry ingredients: almond flour, coconut flour, raw cacao powder, coconut sugar, baking soda, and salt.

Using a food processor or blender, pulse together the blueberries, honey, coconut milk, coconut oil, apple cider vinegar, and vanilla extract until smooth.

Using a rubber spatula, gently mix the blueberry mixture with the dry ingredients to form a batter. Mix just until everything is combined, and be careful not to over mix.

Whisk the eggs until pale and fluffy using a handheld or stand mixer, or a whisk. Pour the eggs into the batter and with a spatula gently mix to combine everything.

Spread batter evenly into the prepared cake pan and bake for 20 minutes, or until a toothpick inserted into the center comes out clean. Be careful to not over cook the cake so that it stays moist on the inside after cooled.

Place pan on a cooling rack and allow the cake to cool for at least 20 minutes before removing it from the pan.

Top cake with the Chocolate Ganache and fresh blueberries. Store leftovers in the fridge.
Chocolate Ganache
Melt the chocolate in a bowl over simmering water (double boiler). Once the chocolate is melted, stir the coconut milk until the smooth and shiny. Allow the ganache to cool for 5 minutes before topping the cake.
Notes
Serves 10 to 15 people. Store leftover in the fridge.
Nutrition per serving
Calories:
188
kcal
Protein:
5
g
Fat:
15
g
Saturated Fat:
6
g
Sugar:
5
g
Fiber:
2
g
Carbohydrates:
9
g
Net Carbs:
7
g
*This post may contain affiliate links and as an Amazon Associate I earn from qualifying purchases. Please read my disclosure policy for more details.
Made this recipe?
Please leave a review and photo in the comments below.