A silky smooth Caramel Sauce made without any refined sugars or dairy. This healthier version has the same amazing taste and texture of traditional caramel sauces.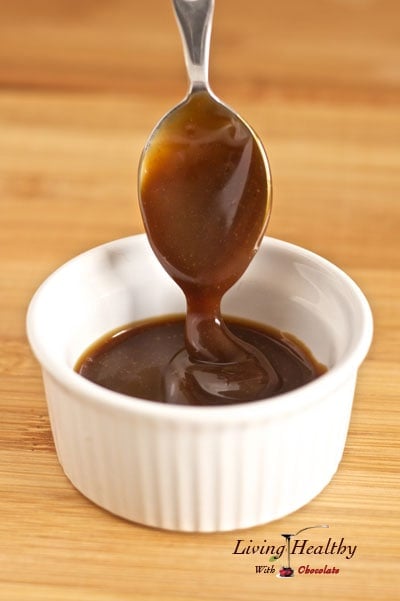 A few weeks ago we were having my Paleo Chocolate Ice Cream for dessert and my friend suggested I make a caramel sauce to go along with it.
At first, I didn't think it was a good idea because caramel sauce is usually really sweet. And a traditional caramel sauce is made with sugar, water, cream or milk, and vanilla extract.
Then I thought that if I'm drizzling just a little bit of caramel over my ice cream, it would make it that much better and wouldn't add that many more carbs.
So here's my Paleo version of a caramel sauce that I'll be serving along with my ice cream to some friends next time.
There are only four ingredients needed to make my recipe: water, raw coconut palm sugar, coconut milk, and vanilla extract.
The texture is silky smooth and creamy. I found that using different brands of coconut milk tend to change the flavor slightly depending on the brand. You may want to experiment with a few different brands until you find the flavor that you like most.
Making caramel sauce is actually much easier and faster than you may think. You just need to dissolve the coconut sugar in water, and then add the coconut milk and vanilla, and stir constantly so that it does not burn.
If you over cook your caramel and it is thicker than you like, add some more water or milk a little at the time, until you achieve your desired consistency.
This recipe makes a very small amount, approximately ⅓ cup of caramel, so feel free to double it or make as much as you like.
Keep in mind that if you make more, it will also take longer to cook and you may want to use a larger pan with a bigger surface area to cook it so it reduces faster. Store it in an air tight jar and it will keep in the fridge for about a month.
Let's get baking! This caramel is sure to be a hit and it's perfect for topping any of these top-rated thanksgiving desserts.
🎥 Watch the recipe video
Caramel Sauce (Vegan & Paleo, refined sugar-free)
📖 Recipe
SHARE THIS RECIPE
Caramel Sauce (Paleo, Vegan)
To see the brands I use, click each ingredient above or visit my Amazon shop.
Instructions
Bring the water and coconut sugar to a light boil in a medium saucepan, stirring the mixture constantly over medium heat.

Add the coconut milk, vanilla and salt, and cook for about 15 to 20 minutes over medium heat, stirring constantly so that it doesn't burn. When the mixture start to thicken and turn darker in color it's ready. Set aside to cool and store it in a airtight container in the fridge.
Notes
Recipe make about ⅓ cup depending on how thick you make your caramel.
Nutrition facts listed is for the full recipe per container, not per serving.
Nutrition per serving
Calories:
304.8
kcal
Protein:
1.5
g
Fat:
16.8
g
Saturated Fat:
14
g
Sugar:
36.9
g
Fiber:
0.2
g
Carbohydrates:
36.9
g
Net Carbs:
36.7
g
*This post may contain affiliate links and as an Amazon Associate I earn from qualifying purchases. Please read my disclosure policy for more details.
Made this recipe?
Please leave a review and photo in the comments below.