This Apple Crisp recipe is full of warm buttery chunks of lightly sweetened cinnamon apples and a crunchy, crispy crumb topping made without oats. It's a classic apple dessert just like old fashioned apple crisp, but this recipe you can trust is made only with real whole food ingredients.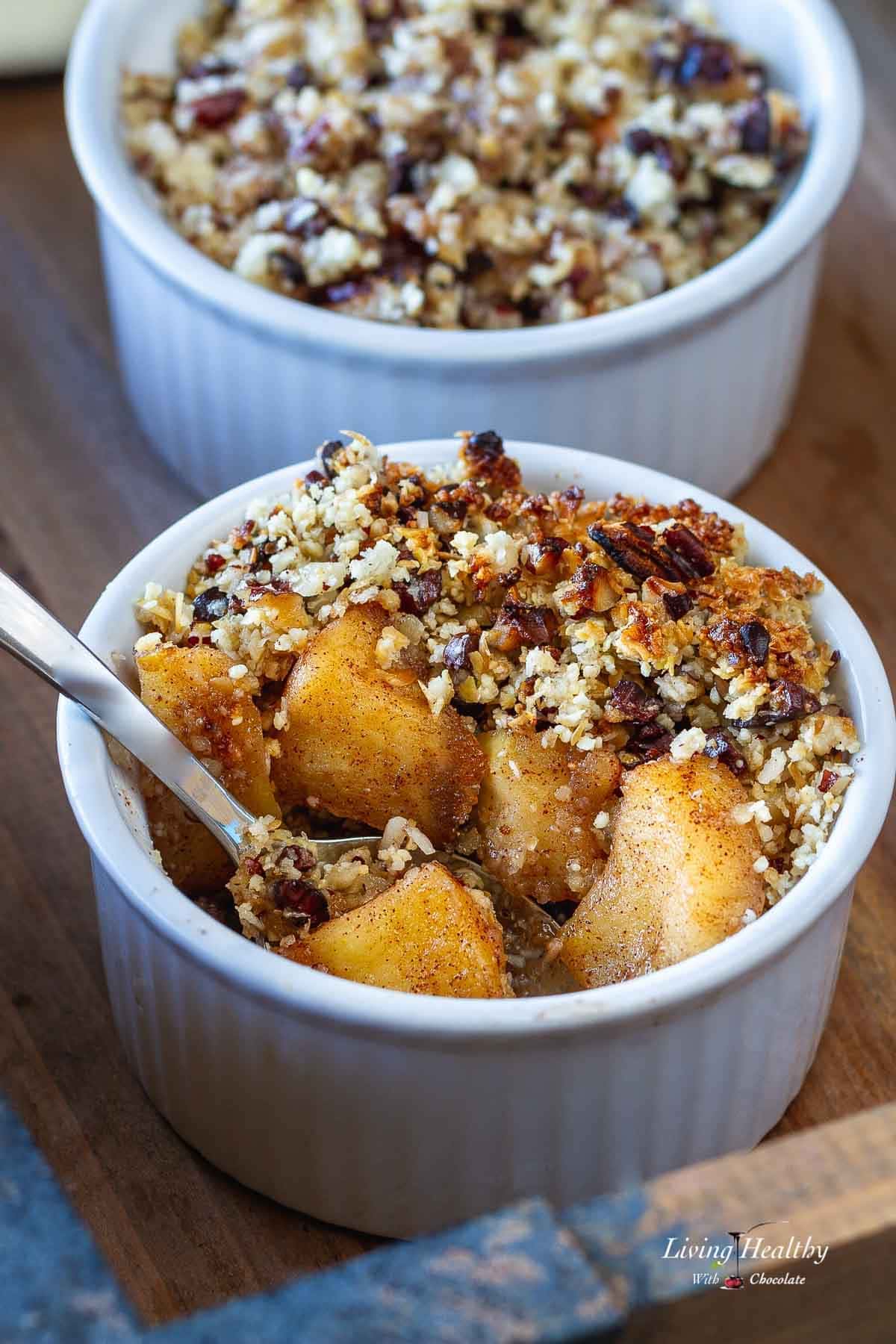 Apple season starts in the late summer, early fall and this apple crisp has always been one of my mom's most requested apple desserts during this time of year. She loves apples spiced with cinnamon served warm. Do you have a classic fall dessert that you just LOVE?
While I love making my Apple Pie or my Warm Caramel Apple Pie Bread for dessert in the fall, I have to agree with my mom that sometimes apple crisp wins over it with that delicious smell wafting through the house and also mostly because of that crisp topping.
I've tweaked the traditional apple crips recipe to make it much healthier. This is the best Paleo apple crisp recipe. It's dairy-free, grain-free, refined sugar-free, Vegan and Gluten-free too.
Making this apple dessert is very quick and easy. You can serve it in single serving, individual ramekins, in a mug, or in a larger pie pan. I'm making my apple crisp for two to four people in individual dishes because I love impressing my guests with a cute presentation.
How to make apple crisp
Traditionally apple crisp is a dessert made with apples, seasoned with spices like cinnamon, nutmeg and ginger, and served with a crumb topping made of flour, sugar, butter and rolled oats.
In this apple crisp recipe, we're going to be using much more nutritious ingredients to both sweeten and season the apples, and to make the crumb topping. This apple crisp is made without oats and here's a quick glance at the ingredients used.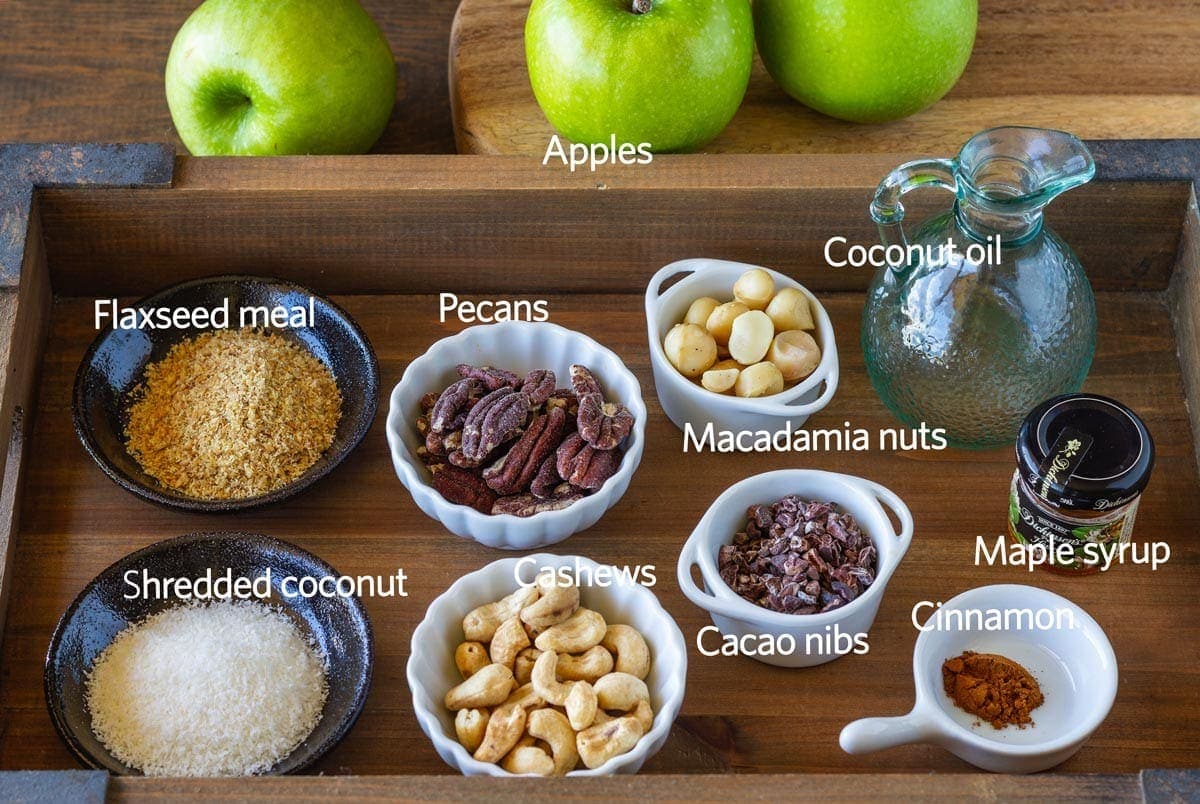 Instead of baking the dessert in the oven, we will be cooking the apples on the stovetop so they caramelize as they cook. Caramelized apples taste so good!
We want the apple chunks to all be about the same size so they cook evenly. We need to slice them into even sized chunks of about ¼ to ½ inch thick.
Making the crumb topping is as easy as chopping and flavoring the ingredients, then laying the crumbs over the apples.
What are the best apples for apple crisp
There are so many types of apples to choose from during the autumn when apples are plentiful. Simply put, you can use any apples you like to make this apple crisp.
I think Granny Smith, those little green apples, are perfect for making apple crisp. Even my apple pie or chocolate hazelnut spread taste amazing with Granny Smith apples because they are nice and crisp, and taste a little bit tart which helps balance all the flavors in the dessert.
Some other apple varieties I think make a wonderful apple dessert are Golden Delicious, Gala, Fuji and Honeycrisp.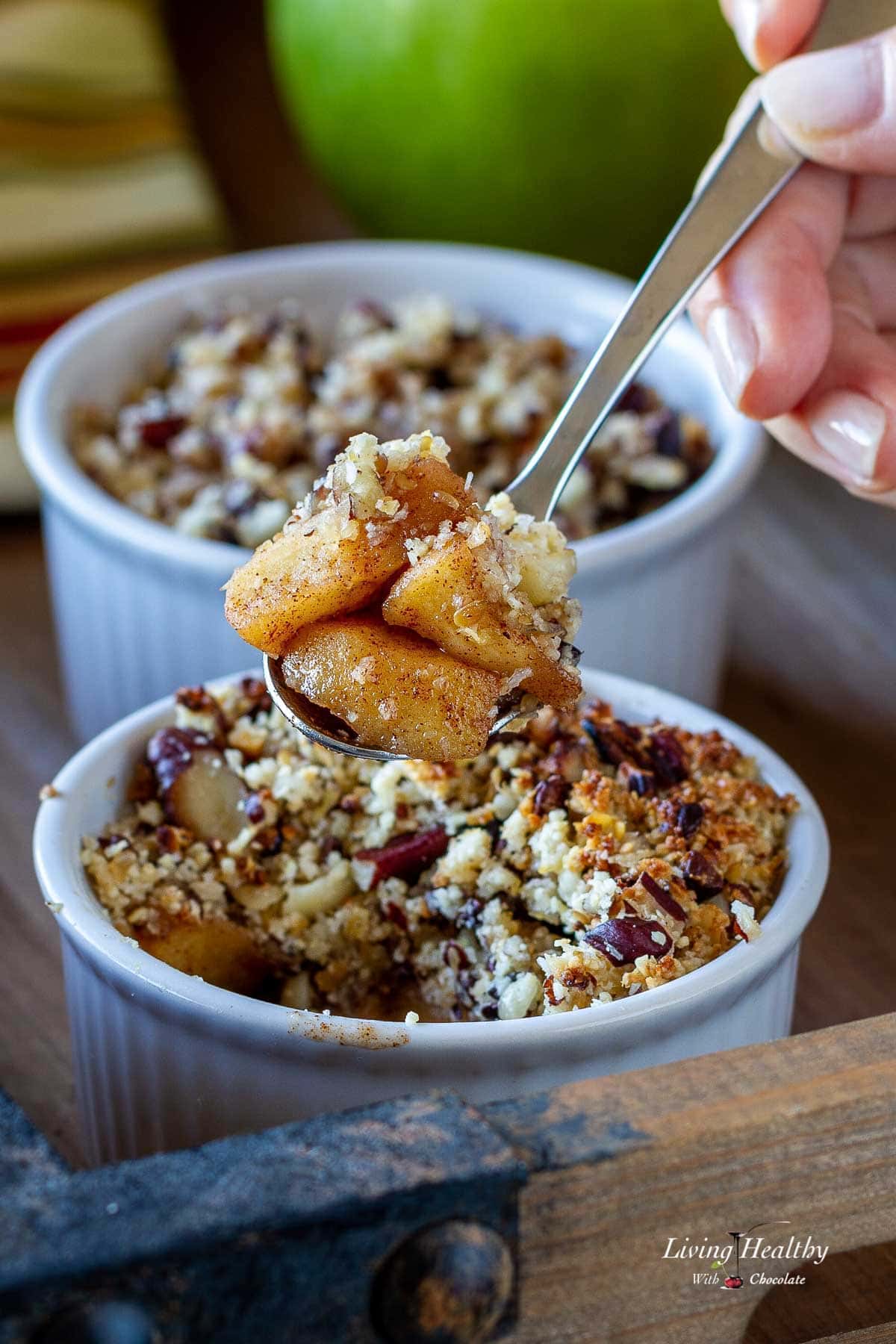 Do I need to peel the apples
Removing the peel from apples is so easy when you use a swivel peeler that I think it's better to peel the apple when making your apple crisp.
It is not a problem if you don't peel your apples though. But with the peel on you'll need to cook your apple longer to also soften the skin. I personally don't mind the texture of the skin so this is completely up to you.
How to make the crumble topping without oats
A good apple crisp should have a nice crunchy crumble on top. It should be sweet and super crispy too. It's so easy to make the topping with healthy ingredients!
Different types of nuts, seeds and cacao nibs make the perfect crispy, crunchy topping for an apple crisp. The cacao nibs in particular adds a lot of crunch and antioxidants to this dessert.
And since we are making this apple crisp without oats, we can add unsweetened shredded coconut to replicate that subtle chewiness of the oats.
To sweeten it up we will add just a touch of maple syrup. Maple syrup has that perfect sweet fall flavor that goes really well with apples.
Can I use different nuts for the topping? The answer is yes, you can use any nuts of your choice. I chose pecans, cashews and macadamia nuts because I think together they give this dessert a really good taste and texture.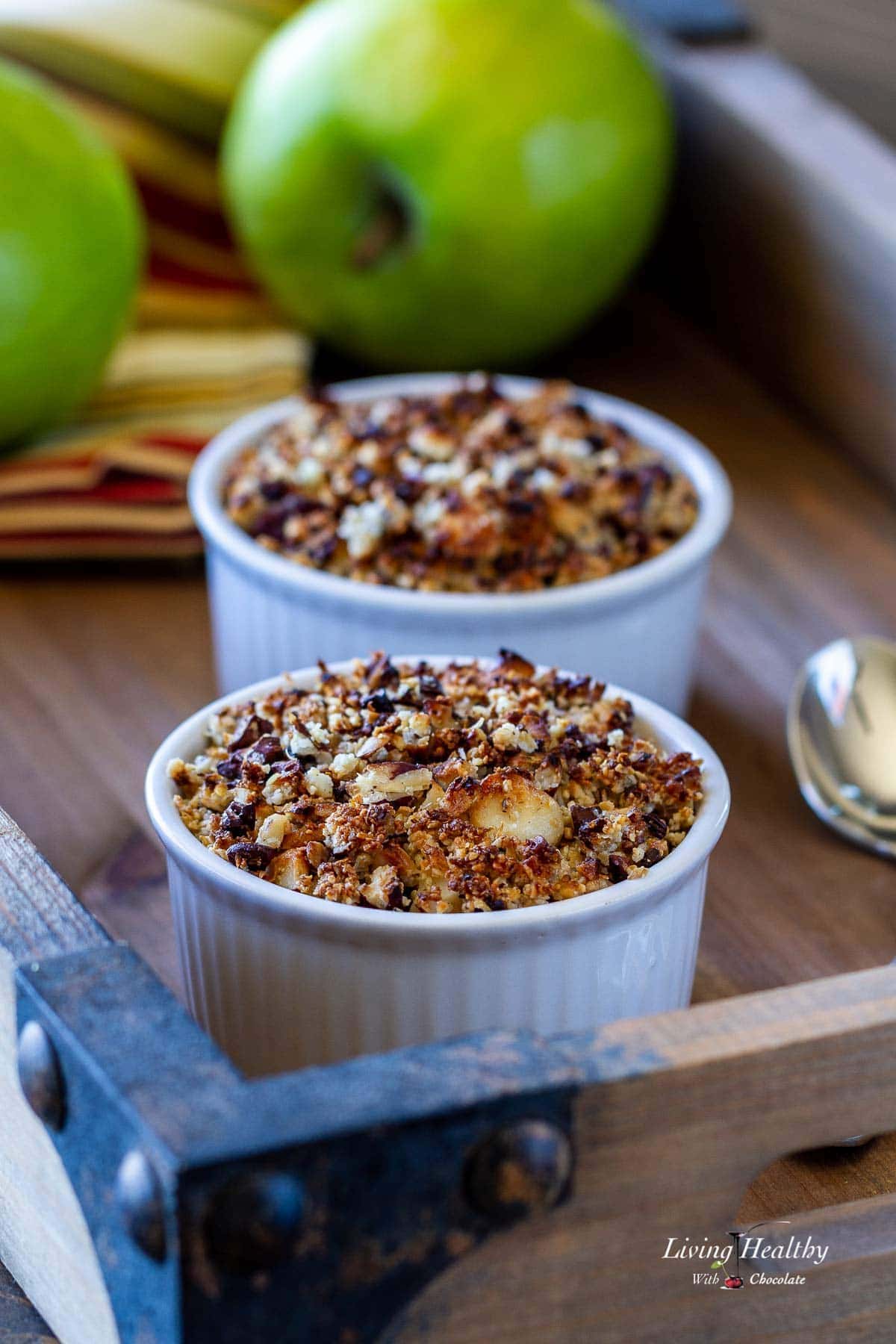 Making ahead, storing and reheating
Making this apple crips dessert ahead of time is certainly possible. Follow all the steps in the recipe including assembling it in your serving dish. The only thing I would suggest is skipping the broiling step.
Cover your dessert with plastic wrap or aluminum foil and store it in the fridge. When you're ready to serve it, place it in the oven at 350°F for about 10 minutes to reheat it. This dessert is amazing served warm.
I think it's worth mentioning that the apple filling has a very buttery taste and mouthfeel. The crumble stays crispy even after days stored in the fridge and this dessert served with a scoop of my maple-pecan ice cream is divine.
Let's get baking! This recipe is sure to be a hit on Thanksgiving and Christmas but if you need some more dessert ideas for the holidays check out my top-rated thanksgiving recipes.
Please enjoy and share with your family and friends 🤗. My best wishes to you and your family this holiday season!
This recipe was originally published in December 29, 2014 and has been updated with new photos, instructional video and some recipe updates.
🎥 Watch the recipe video
Healthy APPLE CRISP in 5 minutes! | Big Chunks of Apple & Crispy Topping
📖 Recipe
SHARE THIS RECIPE
Apple Crisp (Paleo, Vegan, Gluten-free)
To see the brands I use, click each ingredient above or visit my Amazon shop.
Instructions
Ground the cashews to fine powder in a food processor (or blender) and put it in a large bowl.

Coarsely chop the pecans and macadamia nuts in a food processor (or blender) and put it in the bowl with the cashew.

Add to the same bowl shredded coconut, flaxseed meal, cacao nibs and salt. Add 1 tablespoon of coconut oil and 1 tablespoon of maple syrup, and mix with a spatula to combine. Mixture should be moist and have a crumbly consistency. Set aside.

In a medium saucepan, add 1 tablespoons of coconut oil, 1 tablespoon of maple syrup, ground cinnamon and the apples. Heat mixture over medium heat stirring frequently for about 5 to 10 minutes or until the apples soften and caramelize.

Add about 1 tablespoon of the crumbs to four 4-ounce ramekins and press it down evenly on the bottom. Followed with the apples, filling the ramikens almost to the top. If you have any amount of that delicious sauce from the cooked apples left in the pan be sure to pour it over the apples in your dish. Top the apples with with more crumbs.

Broil in the oven for 2 minutes to brown the top being carefull not to burn. Let it cool for 5 minutes on a cooling rack before serving.
Notes
Storing and reheating: Cover your dessert with plastic wrap or aluminum foil and store it in the fridge. When you're ready to serve it, place it in the oven at 350°F for about 10 minutes to reheat it. This dessert is amazing served warm

with scoop of my homemade 

maple-pecan ice cream

or whipped cream. 
Double the recipe to make this dessert in a standard 8-inch pie or cake pan.
You can substitute the ground cashew with almond flour.
Nutrition per serving
Calories:
326.2
kcal
Protein:
4.2
g
Fat:
25.4
g
Saturated Fat:
10.4
g
Sugar:
17.9
g
Fiber:
4.6
g
Carbohydrates:
24.8
g
Net Carbs:
20.2
g
*This post may contain affiliate links and as an Amazon Associate I earn from qualifying purchases. Please read my disclosure policy for more details.
Made this recipe?
Please leave a review and photo in the comments below.