Have you been looking for delicious Coconut Flour Banana Muffins that are moist, fluffy and full of banana flavor? This muffin recipe is the one and every bite has just the right amount of banana and coconut flavor.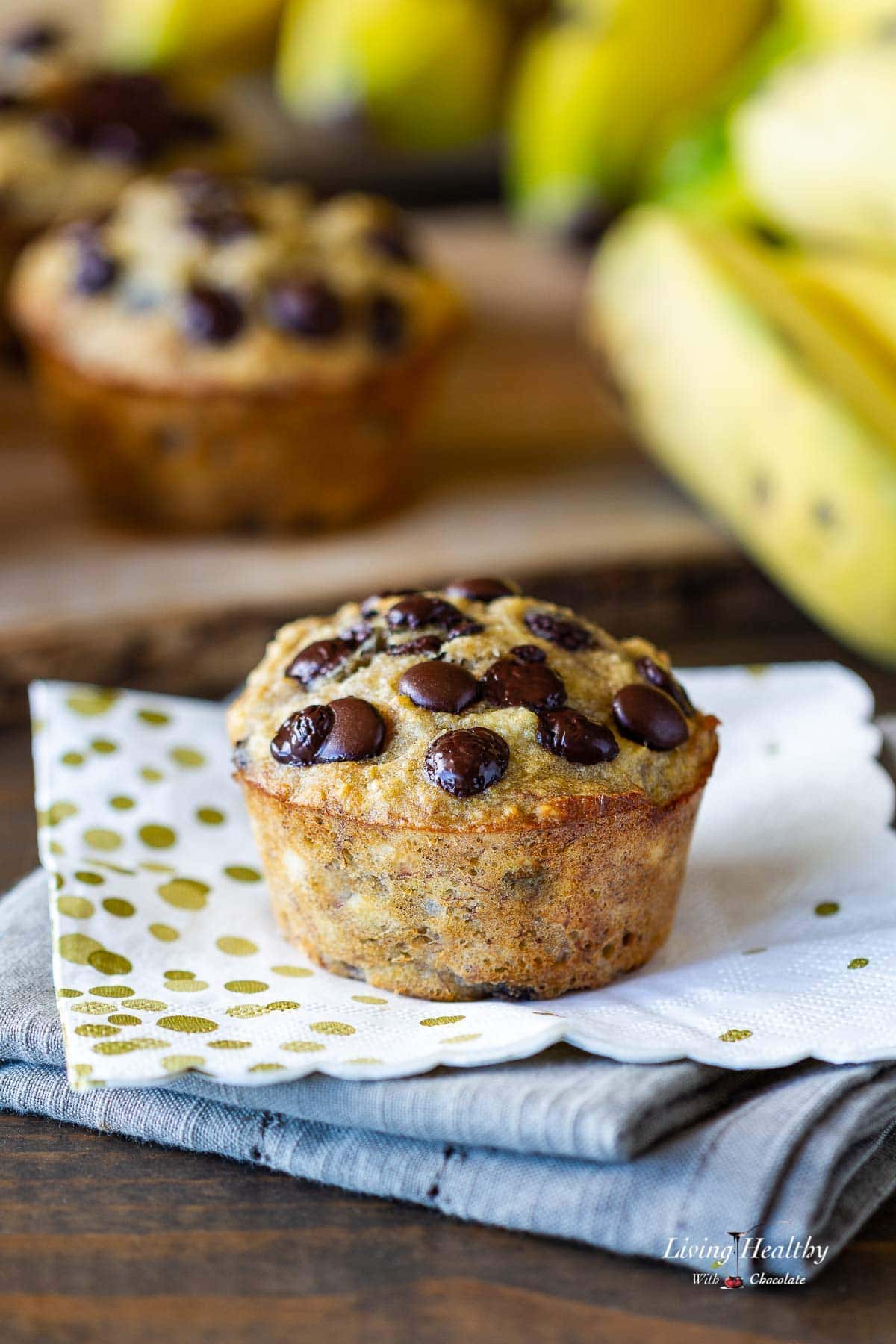 This coconut flour banana muffin recipe is gluten-free, grain-free, dairy-free, and Paleo, and a great alternative to baking banana muffins with almond flour.
Just as moist and flavorful as my Banana-Walnut Muffins, this coconut flour version is made without refined sugar and is loaded with coconut and spiced with cinnamon. They're much healthier than traditional banana muffins made with wheat flour and sugar, and are very satisfying.
I love making them regularly to have around during the week. They're are portable and I can quickly grab one to take with me when I go surfing early in the mornings. They're great for breakfast and snack time, and can also be served for dessert.
This recipe is easy to make, whips up in just a few minutes so lets get started!
Ingredients you need
This banana muffin recipe uses a handful of healthy ingredients you may already have at home or you can easily find them at your local supermarkets.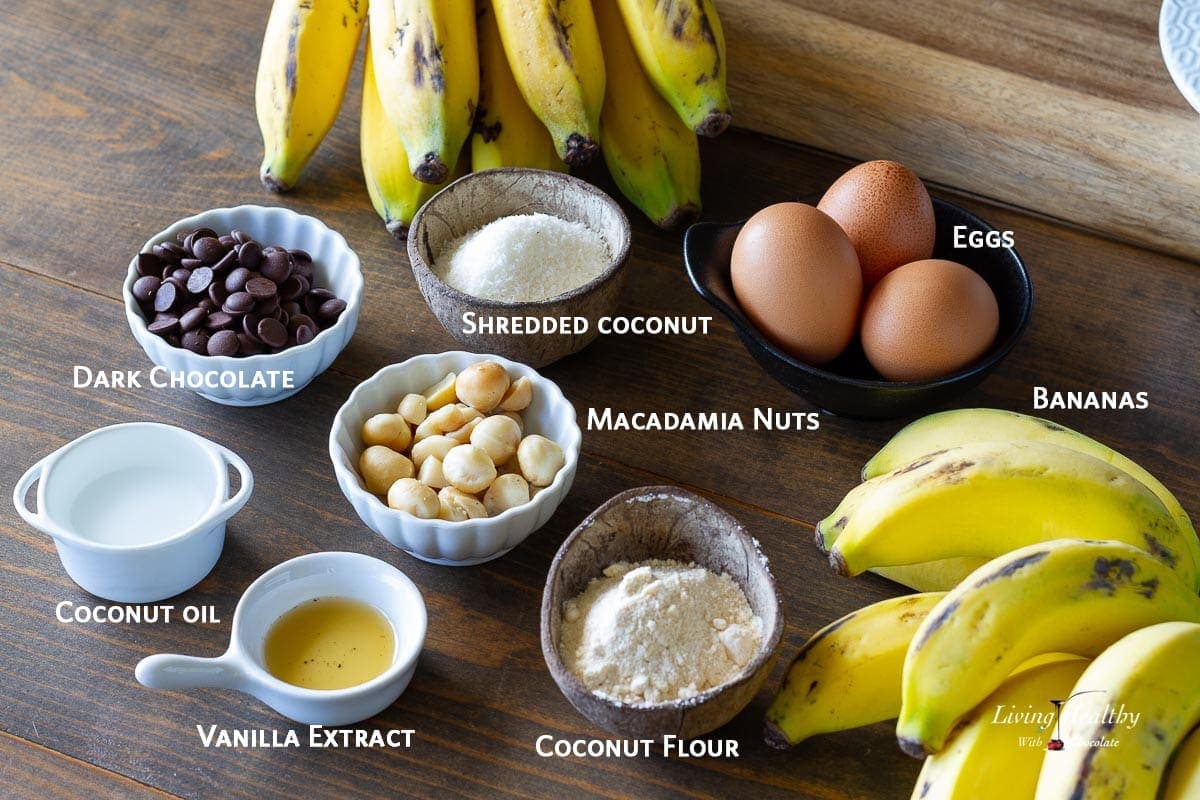 There are five main ingredients you need to make this recipe:
Coconut flour
Coconut oil
Bananas
Eggs
Baking soda
The other ingredients listed in the recipe are optional but I still suggest you add them. For example, the unsweetened shredded coconut adds a chewy texture to the muffins as well as more healthy fasts that helps keep you satiated for longer.
The vanilla extract, salt, cinnamon and sweetener help to give the muffin more flavor and sweetness. The muffins are wonderful plain and omitting these ingredients doesn't affect the recipe, but they sure enhance the taste.
Adding chopped macadamia nuts gives the muffins a really nice crunch and even more healthy fats. Using other nuts like walnuts or almonds are also an option if you prefer. But if you need these muffins to be nut-free you can skip adding this ingredient.
Finally why not add some chocolate? Chocolate makes anything better. 🙂 Sometimes I make these muffins and I add 60% dark chocolate chips to give the muffins more sweetness. But I also like to make them with 100% dark chocolate chips to lower the sugar content in the muffins. I found this brand of 100% dark chocolate chips that tastes amazing and it's not very bitter.
How to make the muffins moist using coconut flour
To make these banana muffins you don't need any fancy equipment, just two bowls and a spatula. You'll be mixing the dry ingredients in one bowl, the wet ingredients in another and then combining the two to form the batter. Here's a quick slide overview of the steps.
You will then be filling each cup in your muffin tin to the top so your muffins rise well. Using paper liners is not necessary but it's certainly an option if you like.
But most important, to give your muffins a nice moist texture you'll need to be sure to measure your ingredients accurately, especially the coconut flour. Coconut flour is very absorbent and you only need a small amount to make a whole tray of muffins. This recipe for example, only needs a quarter cup to make 6 muffins.
Also, adding the right amount of banana is important. Some recipes call for two bananas for example, but that is not a very accurate measurement because every banana may vary in size. In this recipe I give you the amounts you need by weight so you know exactly how much to add. Measure your ingredients with a scale if you can, but to be honest this recipe is so easy and forgiving that you will be OK if you don't have a scale.
In addition, whenever you bake with coconut flour you must also add the right amount of eggs to make baked goods moist and these muffins are no exception. The correct ratio in this recipe for a ¼ cup of coconut flour is adding 3 eggs. This may seem like a lot but it's not and unlike a lot of other recipes out there, these muffins do not taste eggy.
Can I substitute the eggs for something else? I know some of you may want to substitute the eggs for something else and unfortunately this won't work. The eggs are an important ingredient when baking with coconut flour and they can't be easily substituted. If you need an egg-free banana muffin I suggest you make my almond flour banana muffins and substitute the eggs in that recipe for any egg replacer of your choice (aquafaba works the best!).
Taste and texture
It's worth mentioning that if you use a type of bananas called apple bananas your muffins will taste even better. If you can find them where you live make sure to buy some to make this recipe. Apple bananas are smaller than the most common varieties and they have a very sweet yet tangy taste that is amazing.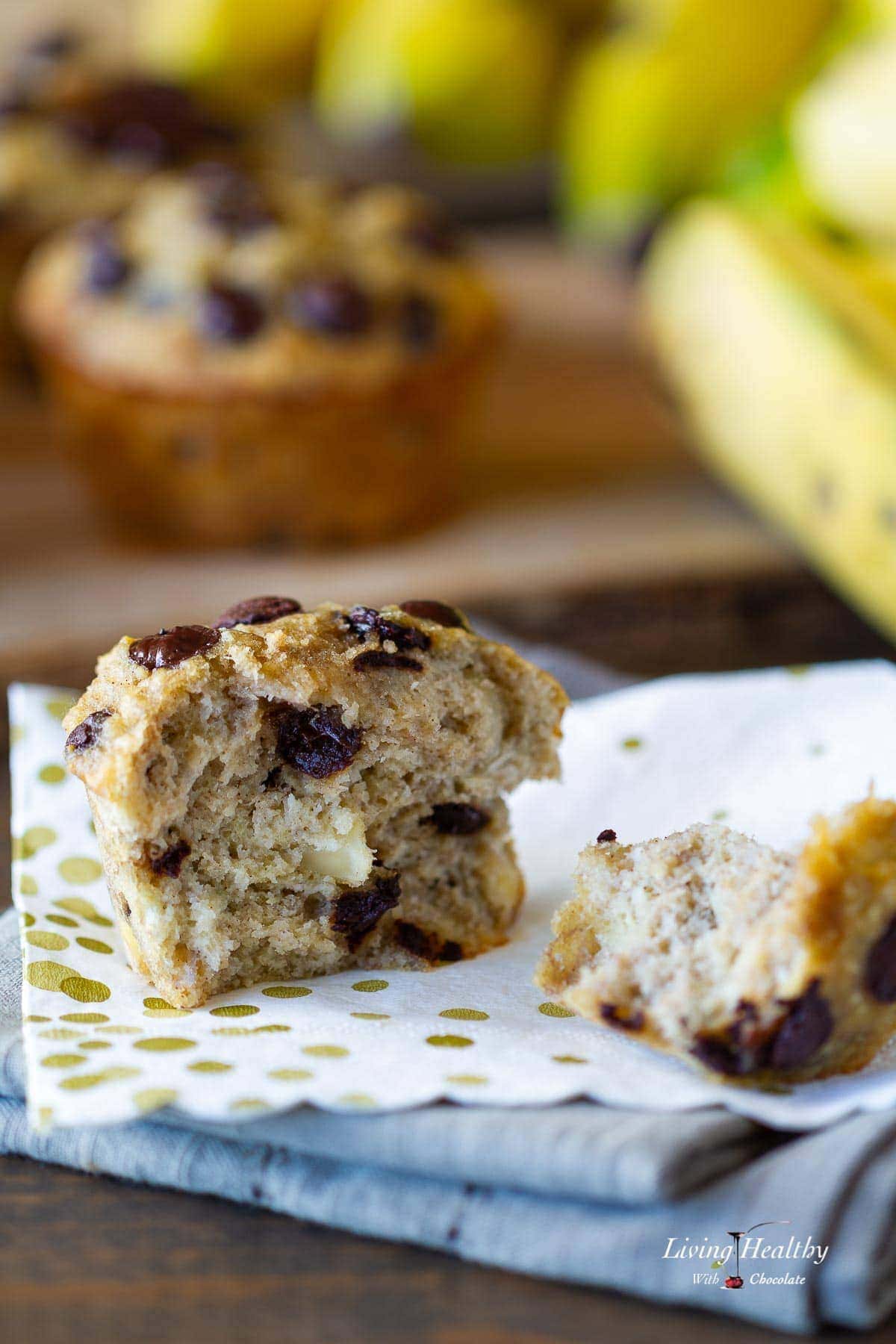 Spices like cinnamon, all spice, nutmeg and cardamon go really well together with banana. Feel free to use one or a few of these spices and add as much as you like to give your muffins a special flavor. Usually 1 to 3 teaspoons of added spices is enough.
Overall these Paleo banana muffins have a very dense yet moist and soft texture. The macadamia nuts add a really nice crunch with every bite while the shredded coconut gives a nice chewy texture.
The shredded coconut also gives the muffins a slightly grainy texture and I wanted to mention that in case you don't like the texture of shredded coconut in baked goods.
Do these banana muffins taste like banana bread? Yes, totally! And if you'd like to turn this muffin recipe into a coconut flour banana bread you can. The process for making it is identical and you just need to bake it in an 8-inch bread pan.
Dress up those muffin tops
Don't forget to dress up those muffin tops with some chocolate chips to make them look amazing. And if you like, you can even sprinkle some coconut sugar on top. I think you'll enjoy the extra caramelized crunch from the coconut sugar.
I hope you enjoy these muffins as much as I do. Be sure to watch the video I made for you where I give you even more tips and show you all of the steps.
After you make this recipe share a photo of your muffins in the comments below and let me know what you think!
🎥 Watch the recipe video
Coconut Flour Banana Muffins | AMAZING Recipe (Paleo, Gluten-free)
📖 Recipe
SHARE THIS RECIPE
Coconut Flour Banana Muffins (Paleo, Gluten-free)
Ingredients
Optional
1

tablespoon

raw honey,

or any other liquid sweetener

¼

cup

macadamia nuts

,

chopped (or another nut of your choice)

⅓

cup

dark chocolate chips

1

teaspoon

cinnamon

,

all spice, nutmeg, or cardoman
To see the brands I use, click each ingredient above or visit my Amazon shop.
Instructions
Preheat the oven to 350°F and grease a standard size muffin tin with coconut oil.

In a large bowl, mash the banana with a fork or potato masher, then add the coconut oil, eggs, honey and vanilla. Using a whisk, mix the ingredients well.

In a separate bowl, mix together the coconut flour, baking soda, salt, shredded coconut, macadamia nuts, chocolate chips and cinnamon.

Using a spatula, mix the dry ingredients with the wet just until combined.

Fill each muffin cup to the top and decorate the tops with chocolate chips.

Bake in the preheated oven for about 20 minutes or until a skewer inserted into the center comes out clean.

Allow muffins to cool on a cooling rack for about 5 minutes before removing them from the pan. Store in an airtight container in the fridge.
Notes
Bananas: this recipe calls for 4 apple bananas which are smaller than the most common variety found at supermarkets. If you're not using apple bananas, measure your bananas by weight or you should need about two of the regular sized bananas.
Cinnamon: Add cinnamon or another spice to taste. 1 to 3 teaspoons should be a good amount to add depending on how spicy you want your muffins.
Muffin pan: Any muffin pan like porcelain, silicone or non stick can be used. You can also line your pan with paper liners. This brand is really good and nothing sticks to them.
*Nutrition facts were calculated without the chocolate chips.
Nutrition per serving
Calories:
211.9
kcal
Protein:
4.9
g
Fat:
15.4
g
Saturated Fat:
9.2
g
Sugar:
9.9
g
Fiber:
4.4
g
Carbohydrates:
18.1
g
Net Carbs:
13.7
g
*This post may contain affiliate links and as an Amazon Associate I earn from qualifying purchases. Please read my disclosure policy for more details.
Made this recipe?
Please leave a review and photo in the comments below.
This recipe was originally published in August 27, 2012 and has been updated with new photos, instructional video and some recipe updates.