Flourless Chocolate Hazelnut Muffins • Paleo, Grain-free, Gluten-free, Dairy-free, Refined Sugar-free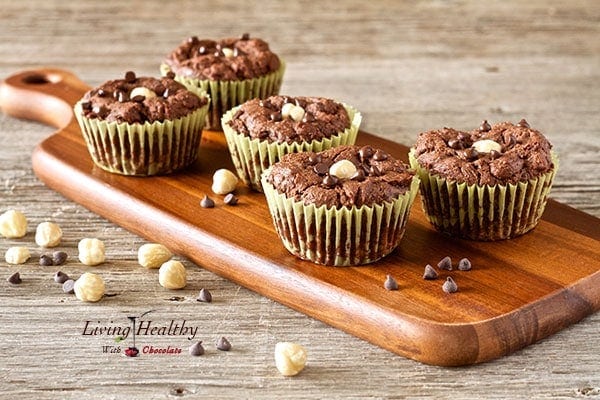 I am overly excited to share this recipe with you today. If anybody ever tells you that eating healthy or eating paleo is boring and does not taste good, you must make this recipe and prove them wrong.
I had a few friends not on the paleo diet that still eat a standard american diet try these muffins, and they said they couldn't believe it wasn't made with white sugar and flour.
These muffins have a rich chocolate and hazelnut flavor. Remember Nutella? Well, that combination of hazelnuts and chocolate that we know so well, goes way beyond expectations with these muffins.
The main reason is because the raw hazelnuts are freshly ground to a smooth and creamy consistency, and then mixed with raw, unprocessed chocolate powder.
This process also gives these muffins an incredible soft and fudgy consistency, without the need to add any oil, butter or flour.
I am not only thrilled at how this recipe turned out but I am more excited to share with you my first instructional video. As you all know, I have been posting my recipes with photos (that I personally take), but I have always wanted to share my recipes with video and this is the start!This is my very first video and I am sure they will improve over time so thanks for watching and please share with your family and friends. I would greatly appreciate your thoughts and feedback on the video and how I can improve.
Paleo Flourless Chocolate Hazelnut Muffins Recipe | Living Healthy With Chocolate
If you like this recipe and would love to have over 100 more savory dessert recipes made with real, nutrient dense ingredients, be sure to check out my new cookbook that was just released. The book is called Living Healthy With Chocolate: Delectable Dessert Recipes That Will Change The Way You Eat, Think & Feel.
Click on the cover below to learn more about it.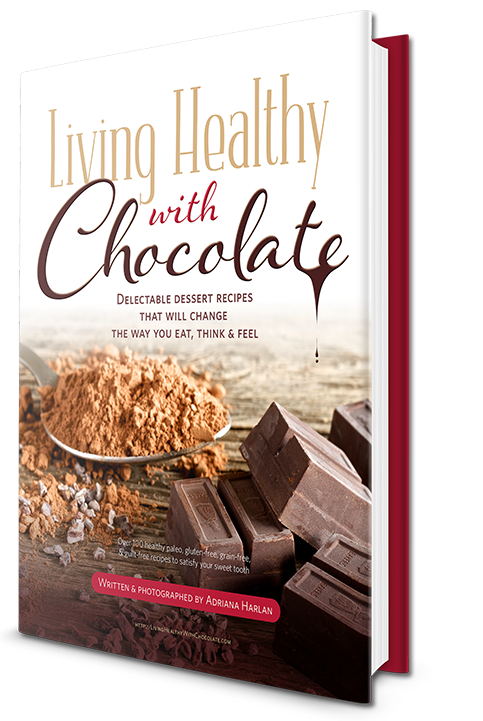 SHARE THIS RECIPE!
Paleo Flourless Chocolate Hazelnut Muffins (Gluten-free, Dairy-free)
Instructions
Process the hazelnuts in a food processor or high speed blender until creamy and smooth like peanut butter.

Place hazelnut butter in a large bowl, and using a spoon mix in the raw cacao powder and baking soda until fully combined. Then mix in the chocolate chips.

Place the banana, eggs, honey, apple cider vinegar and vanilla extract in the food processor and process until smooth.

Add the banana mixture to the chocolate hazelnut butter and using a spatula mix until everything is fully combined.

Preheat the oven to 350°F and line a muffin tin with 9 standard paper muffin cups. Fill each cup to the top with the mixture.

Smooth the top of each muffin with the back of a spoon, then place a hazelnut in the center of each. Sprinkle top with more chocolate chips if you like.

Bake muffins until a stick inserted into the center comes out clean, approximately 12-15 minutes. Allow muffins to cool on a wire rack.
Recipe Notes
*In case your hazelnuts are not blanched, you can easily remove the skin by roasting them in the oven for about 5 minutes. Click here for my tutorial.
**To measure 1/2 cup of bananas, break the banana into small pieces and fill your measuring cup.
Nutrition Facts per serving
Calories:
78
kcal
Carbohydrates:
10
g
Protein:
2
g
Fat:
3
g
Saturated Fat:
1
g
Fiber:
1
g
Sugar:
7
g
Net Carbs:
9
g