Delicious Flourless Chocolate Chip Cookies made with only 6 healthy ingredients, plus lots of chocolate chips and no flour, peanut butter, butter or oil. Gooey and chewy inside and VERY quick and easy to make. Plus, this recipe is gluten-free, dairy-free, and Paleo also including a Keto and Vegan eggless option.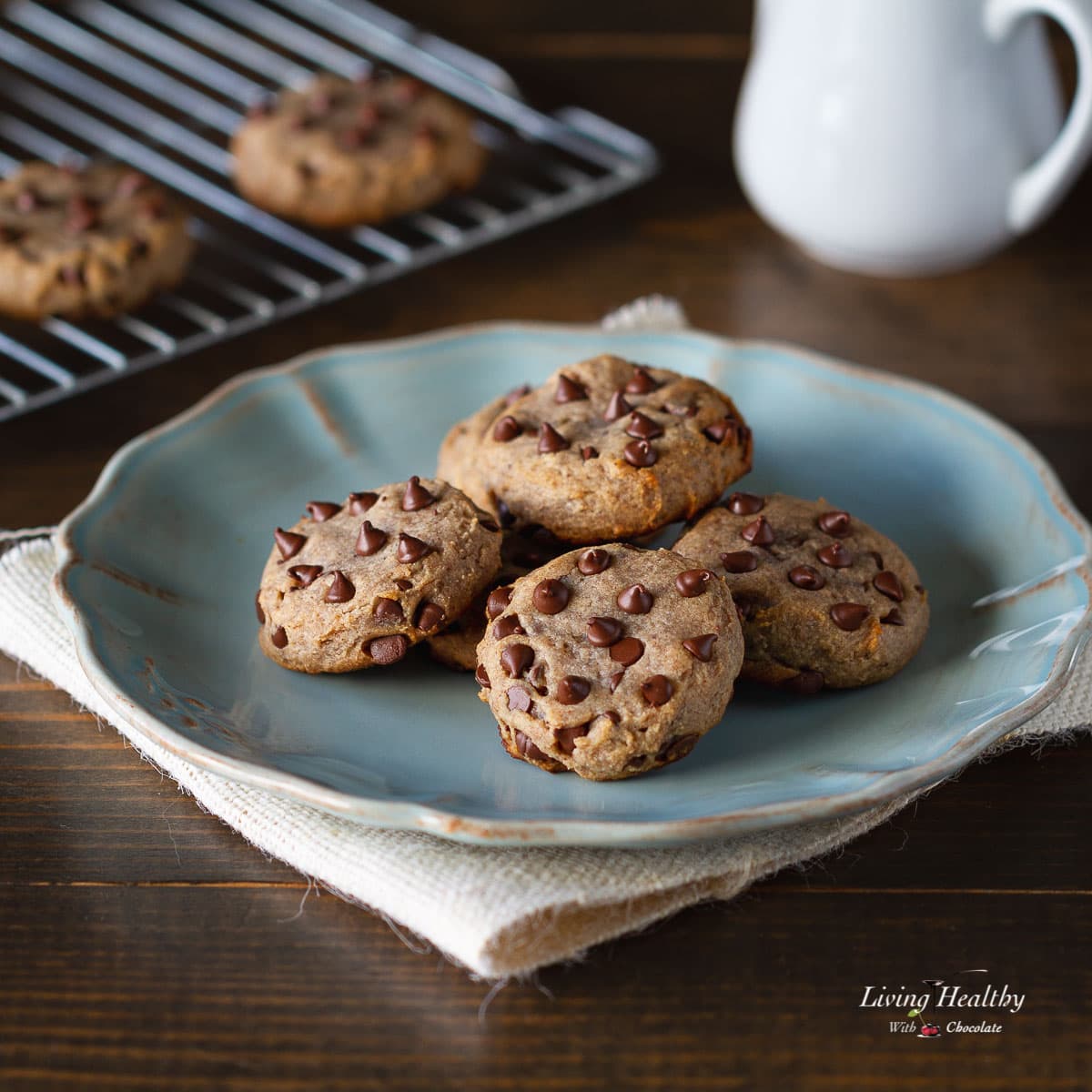 Jump to:
6 reasons to make these cookies
Flourless or not, these taste delicious with just the right amount of sweetness.
The texture inside is super soft, chewy and gooey because they contain no flour and have lots of melted chocolate chips.
They store well in your pantry so you can enjoy them for dessert the whole week.
The cookies bake in just 10 minutes and are easy to make in your food processor (or blender).
This recipe uses the simplest pantry ingredients like almonds and pecans - no flours, butter, oil, peanut butter or oatmeal needed. These are even made without baking soda and baking powder!
Healthier than other flourless cookies and the perfect sweet treat for anyone who likes delicious cookies or follows a gluten-free, dairy-free or Paleo diet (for optional Keto and egg-free Vegan version see FAQs).
I got inspired to make this recipe from my Flourless Chocolate Chip Muffins and my Vanilla Sandwich Cookies and I have to say, these are amazing! Check out the full recipe tutorial below.
Ingredients you need
These flourless chocolate chip cookies come together quick and easy with a few healthy ingredients you may already have stocked up. Here are some important notes to highlight:
Almonds and pecans: In order to make these without flour, butter and oil, we need to substitute with ingredients that add consistency and the right amount of fat. With almonds and pecans these cookies come to life!
We will be using almonds and pecans to make a creamy nut butter so they are super chewy, soft and moist just like peanut butter cookies.
You may be wondering - can I use store-bought almond butter instead? Yes, but making your own saves money, it's easy to make and less messy because you don't have the oil separation in the jar. Plus almonds and pecans make a perfect tasty combination.
💡 Tip
If you decide to make this recipe with store-bought almond butter be sure to mix the content in the jar until fully incorporated before measuring the amount you need (you need 1 cup). Use an immersion blender to make mixing easier.
Do the nuts need to be blanched, organic and sprouted? The short answer is no. Blanched almonds give your cookies a lighter color. Organic and spouted nuts are healthier but not needed. But you can soak the nuts overnight to sprout them and use it in this recipe.
Chocolate chips: What kind of chocolate should I use for baking cookies? These flourless cookies are best using semi-sweet mini chips because the chocolate gets evenly distributed throughout the entire cookie and every bite is super chocolaty.
The recipe calls for ⅓ cup but I often make them with ½ cup and sprinkle a few more on top. The more chocolate the better right?! Together chocolate, almonds and pecans taste wonderful!
Step-by-step overview
How to make flourless chocolate chip cookies from scratch - here is a detailed overview to show you the simple easy steps. No flour, butter, oil, peanut butter, oatmeal or almond flour. Check out how it works and also watch me make them in the recipe video.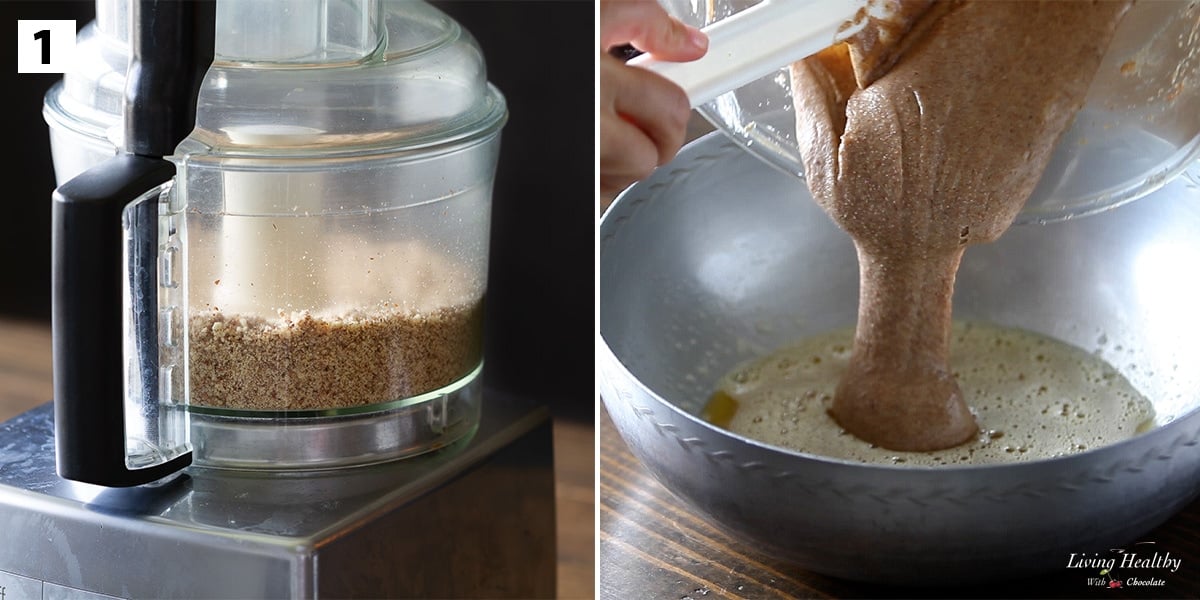 Process the almond and pecans together in your food processor (or high speed blender), scraping the sides of the bowl as needed until your nut butter has a pourable creamy consistency (very important). Let it cool completely so when you add the chocolate it doesn't melt and no separation of nut oils occur.
💡 Tip
Because your nut butter may be warm from processing you need to let it cool to room temperature before mixing with the other ingredients. To speed up cooling, place it in the fridge for 10 minutes, giving it a stir 5 minutes into chilling.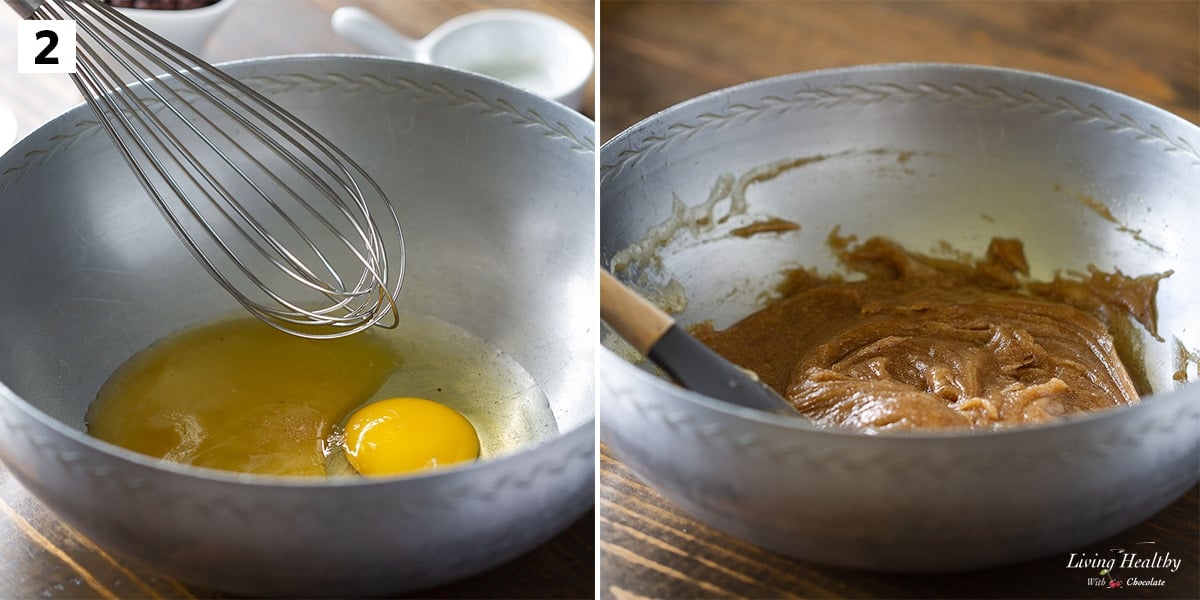 Add to a bowl egg, honey, vanilla and salt and whisk to combine. Then pour in the almond/pecan butter and with a spatula, mix just until combined and thickened.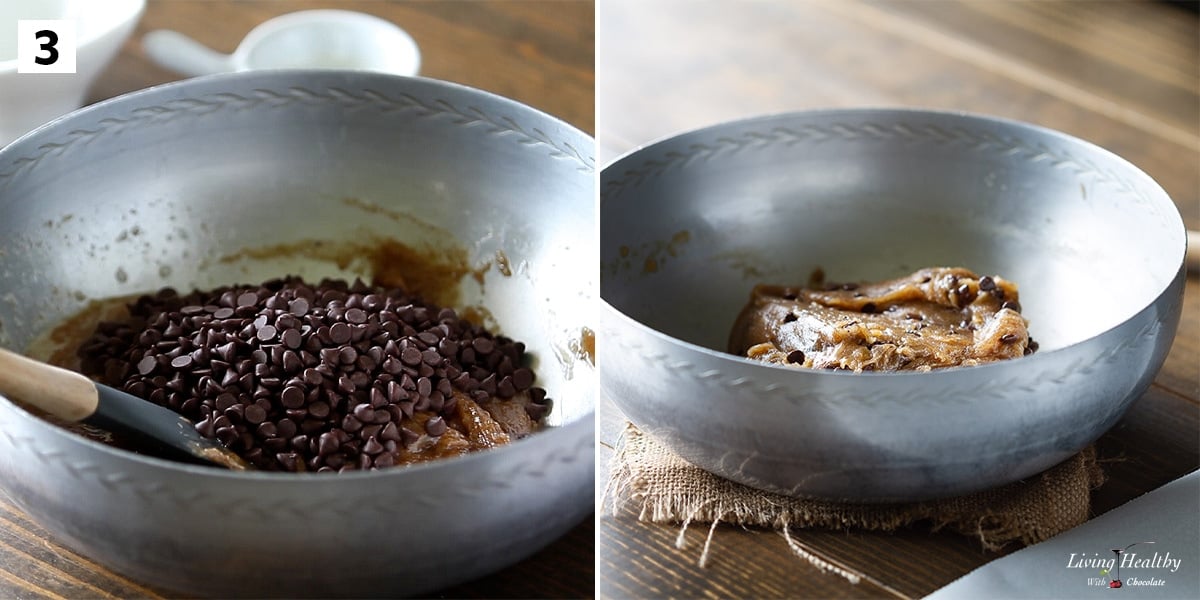 After that, add the chocolate chips and gently mix to incorporate them into the dough. There's no need to chill the dough.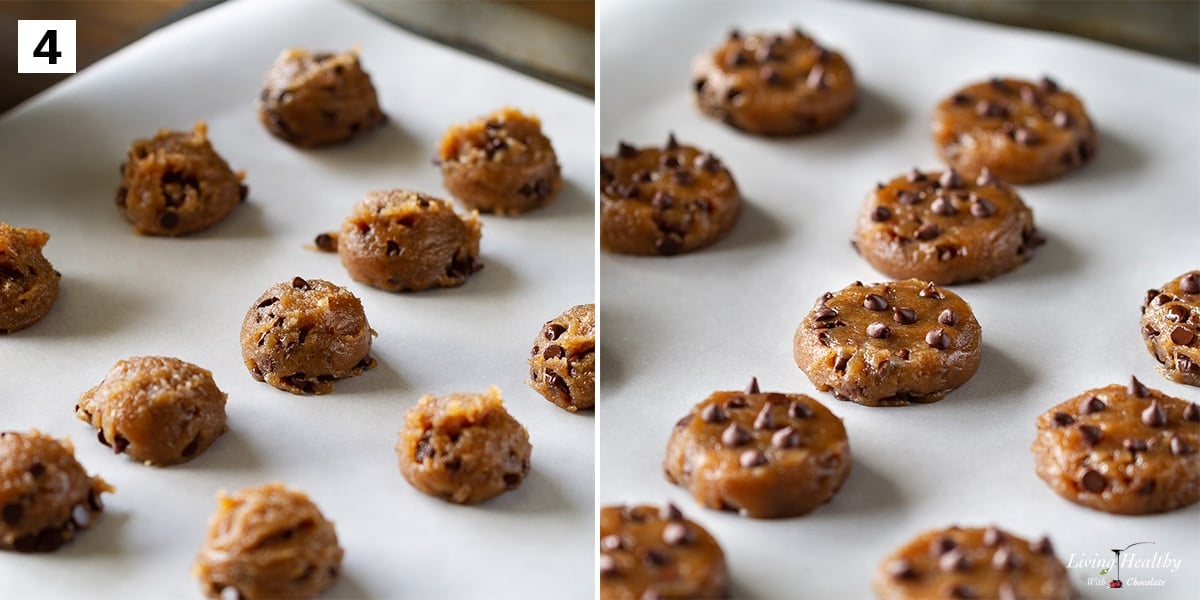 Scoop tablespoons full of dough onto a cookie sheet lined with parchment paper (use a medium cookie scoop to get 1.5 tablespoons per cookie). Then flatten the tops slightly and sprinkle with some extra chocolate chips.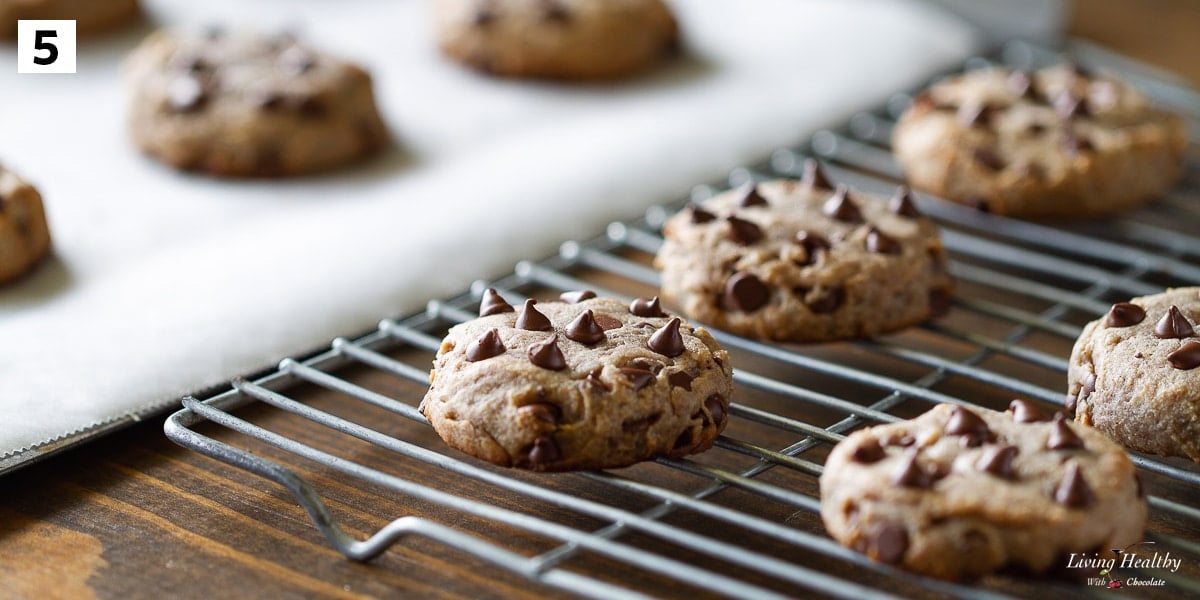 Bake cookies in a preheated oven to 350°F for 10 minutes, then allow them to cool on a wire rack.
🌟 Important note
It's important to note one more time and not forget that you need to process your nuts in the food processor (or blender) scraping the sides as needed until the consistency is liquified, creamy and pourable. Let it cool, then when you mix your nut butter with the other ingredients in the bowl, mix just until the dough comes together and thickens to avoid separation of nut oils.
How to store and freeze
Keep your cookies fresh. The best way to store your flourless cookies is by keeping them in an airtight container in your pantry or fridge. At room temperature they'll last for about 2 to 3 weeks still maintaining a soft texture with gooey chocolate inside (my favorite).
Can I freeze no flour cookies? These are freezer-friendly! If you love frozen cookies (I do!) place them in a sealed container and freeze. They will still retain a chewy texture when chilled and will keep well frozen for at least 6 months.
Pre-make the cookie dough
You can make your dough in advance! Place the dough in an airtight container or wrap well in plastic or Saran Wrap. Then keep in the refrigerator for about 5 days or in the freezer for about 6 weeks.
How to bake frozen or refrigerated dough: thawing first is best. When ready to bake, allow the dough to come to room temperature, scoop it onto your baking sheet and bake as directed in the recipe.
Can I bake cookie dough from frozen? Yes you can so bake in a preheated oven as directed in the recipe on a parchment lined baking sheet. The cookies may not spread as much but they'll still taste great.
💡 Baking tips
Egg: Always use room temperature eggs in your baking. Bring to room temperature fast by submerging it in warm water for 5 to 10 minutes.
Over-baking: Do not over-bake your flourless cookies so they stay soft, chewy and moist. Be sure the oven temperature is accurate using an oven thermometer and bake just until the edge and bottom start to brown - about 10 minutes.
Allergens & substitutions
I'm allergic to nuts. What else can I use? Some nut free options to replace the almond and pecans in this recipe is with 1 cup of sunflower seed butter, tahini or coconut butter. Or if you're a fan of peanut butter (not a nut) use that instead.
Can I use other types of nuts? Yes! Substitute the almond and pecans for any kind of nut you like best. Some ideas to use are hazelnuts, cashews, macadamia nuts. Or make these with either just almonds or just pecans.
Can I use store-bought nut butter. Don't feel like using the food processor for the almond and pecans? Use store-bought nut butter of any flavor. Just be sure to mix the content in the jar until fully incorporated. An immersion blender makes mixing easier. You need 1 cup.
Sweetener. I'm a big fan of the taste and health benefits of raw honey, but you can substitute it and make this recipe with any other liquid sweetener or even with brown sugar if you're not Paleo.
Vanilla: Give these cookies even more flavor and substitute vanilla extract with vanilla powder or omit adding vanilla if you prefer.
Flavor Variations
If you love baking and adding your own twist to the recipes you make, try adding a few more ingredients to your cookies. For instance, here are some ideas:
Cocoa powder: Want to make them over-the-top chocolaty? Make flourless double chocolate chip cookies by mixing ¼ to ⅓ cup of cocoa powder in your homemade almond/pecan butter. I recommend using raw cacao powder to increase the nutritional value and because it tastes better than dutch processed cocoa.
Walnuts: Add a handful of chopped walnuts to your cookie dough because it makes them nice and crunchy.
Dried cranberries: Add some dried cranberries too! The tartness of the cranberries are a tasty combination. I recommend avoiding cranberries sweetened with white sugar and using cranberries sweetened with apple juice instead.
Salt: Try sprinkling flaky sea salt on top because salt makes any food or dessert taste better.
💡 Tip
Do you love warm cookies? Yea me too, but I actually like these more after they cool completely or are frozen. Give them a try warm and after cooled to see how you like them the most.
🙋‍♀️ FAQs
Can I make the flourless chocolate chip cookies Vegan and without eggs?
To make these no flour cookies Vegan and eggless we need to substitute the sweetener and egg. Some healthy sweetener ideas you can use are maple syrup, coconut nectar, and date syrup.

Anytime you substitute eggs in baked goods the texture of the product changes. However, there are some substitutes you can use that work well as a binder such as "flax eggs", "chia eggs", banana, apple sauce and aquafaba.

For reference and as a general rule, 1 tablespoon of ground flax seeds soaked in 3 tablespoons of water can replace 1 egg. Adding 1 teaspoon of chia seed flour or 1½ teaspoons of chia seeds mixed with a ¼ cup of water replaces 1 egg. 
How to make these flourless chocolate chip cookies Keto and low-carb?
These flourless cookies may be enjoyed if you're on the low carb and Keto diet and for this we need to reduce the carb count by substituting the sweetener and chocolate.

Substitute the honey with low-carb sweeteners such as maple flavored Monk Fruit (same amount), Allulose or xylitol (not as sweet as honey, so add more to taste at least 3 to 4 times the amount). And substitute the chocolate chips with stevia sweetened chips.
Are flourless chocolate chips cookies healthier?
The short answer is it depends. A lot of flourless chocolate chips cookie recipes use unhealthy ingredients and contain a lot of sugar and sometimes dairy, cornstarch, and xanthan gum.

These flourless cookies in contrast, use all natural and organic ingredients. The chocolate chips are free of the most common allergens like soy, dairy and gluten, and this recipe is naturally gluten free, contains no cereal grains such as oatmeal and can also be easily made Keto and Vegan.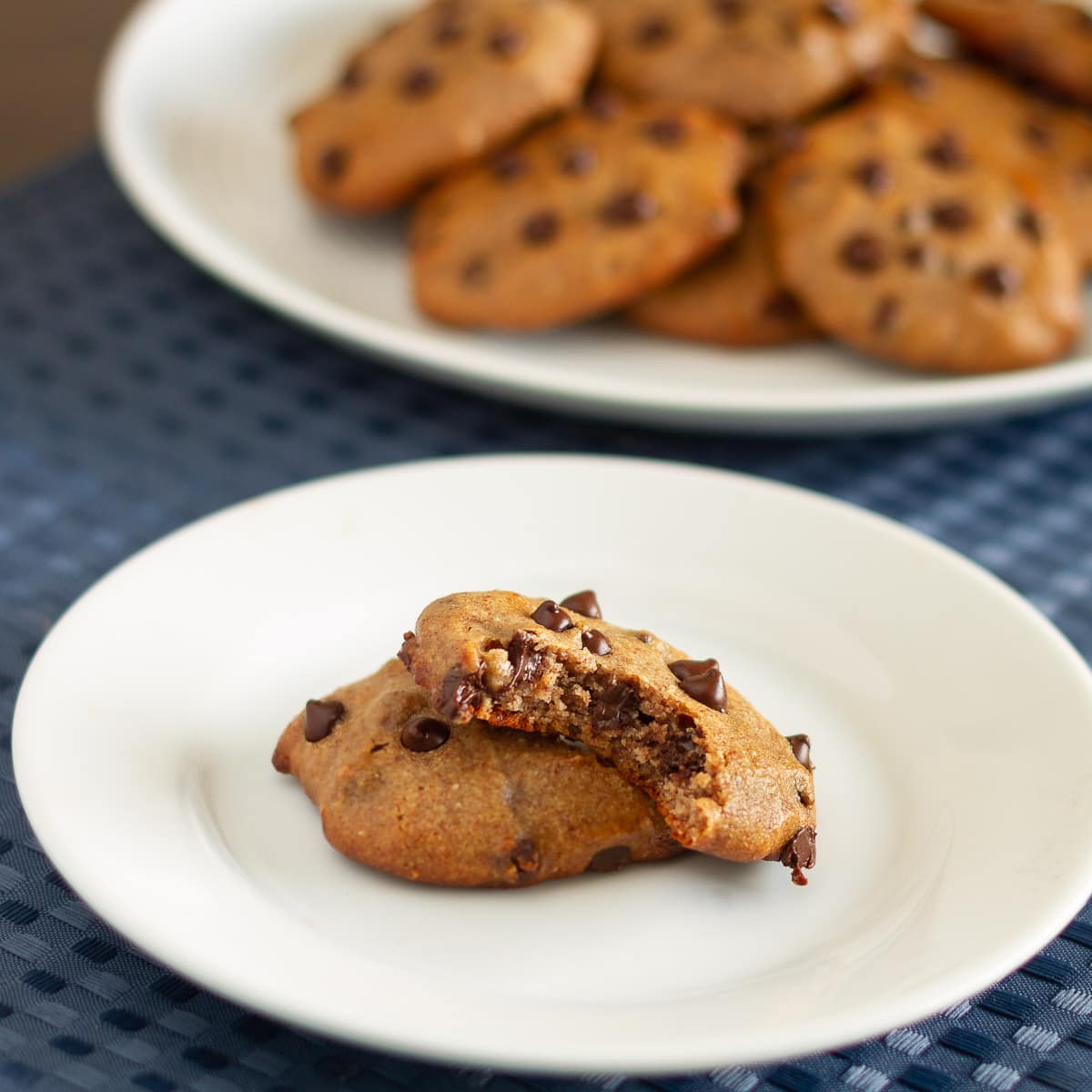 More flourless desserts
What else can I bake if I don't have flour? This recipe for flourless chocolate chip cookies is a delicious and easy start, but you can also try making some muffins and even pancakes for breakfast. For instance, here are some more no flour recipes you can bake if you don't have flour in your pantry:
There's nothing better than freshly baked chocolate chip cookies oozing with melted chocolate. And if you're a fan of nut butter and a soft chewy cookie I think you're going like these! Let me know how it goes after you make them, leave a rating and your photo in the comments below.
Like this recipe? Subscribe to my newsletter for email updates, and follow along on YouTube, Instagram, Facebook and Pinterest for all of the latest updates.
---
🎥 Recipe video
FLOURLESS Chocolate Chip Cookies (with LOTS of chocolate and NO flour)
📖 Recipe
SHARE THIS RECIPE
Flourless Chocolate Chip Cookies
To see the brands I use, click each ingredient above or visit my Amazon shop.
Instructions
Preheat the oven to 350°F and line a cookie sheet with parchment paper.

Process the almond and pecans together in your food processor (or high speed blender), scraping the sides of the bowl as needed until your nut butter has a pourable creamy consistency (very important). Let it cool completely so when you add the chocolate it doesn't melt and separation of the nut oils doesn't occur.

In a bowl, whisk together the egg, vanilla, honey and salt. Using a spatula, fold in the almond/pecan nut butter just until combined and thickened. Then gently mix in the chocolate chips.

Spoon tablespoons full of the dough onto the cookie sheet (use a medium cookie scoop to get 1.5 tablespoons per cookie). Flatten the cookies with your fingers slightly and add some extra chocolate chips on top of each cookie if you like.  

Bake for about 10 minutes or until the edges and bottom start to turn brown. Let cookies cool on a wire rack.
Notes
Almonds/pecans: substitute for 1 cup of nut or seed butter. Chocolate: Add as much as you like. The more the better 🙂 Nut butter: Be sure to process your nuts until the consistency is liquified, creamy and pourable. It may be warm from processing so to let it cool to room temperature before mixing with the other ingredients. To speed up cooling, place it in the fridge for 10 minutes, giving it a stir 5 minutes into chilling. Keto & Vegan option: please see the FAQs section in the post for substitutes to make these Keto and Vegan friendly. Storage: Store cookies in an airtight container in you pantry, fridge or freezer. To me they're best at room temperature or frozen.
Nutrition per serving
Calories:
154.2
kcal
Protein:
3.6
g
Fat:
12.4
g
Saturated Fat:
1.8
g
Sugar:
6.3
g
Fiber:
2.3
g
Carbohydrates:
9.5
g
Net Carbs:
7.2
g
*This post may contain affiliate links and as an Amazon Associate I earn from qualifying purchases. Please read my disclosure policy for more details.
Made this recipe?
Please leave a review and photo in the comments below.
This recipe was originally published in May 2013 and this post has been updated in March 2021 with new info, photos and recipe video. No adjustments were made to the recipe.