These healthy Chocolate Hazelnut Fudge Bites have a delicious taste of chocolate and hazelnut. Made with hazelnuts and cacao butter, dark chocolate. (Paleo, Vegan, Gluten-free)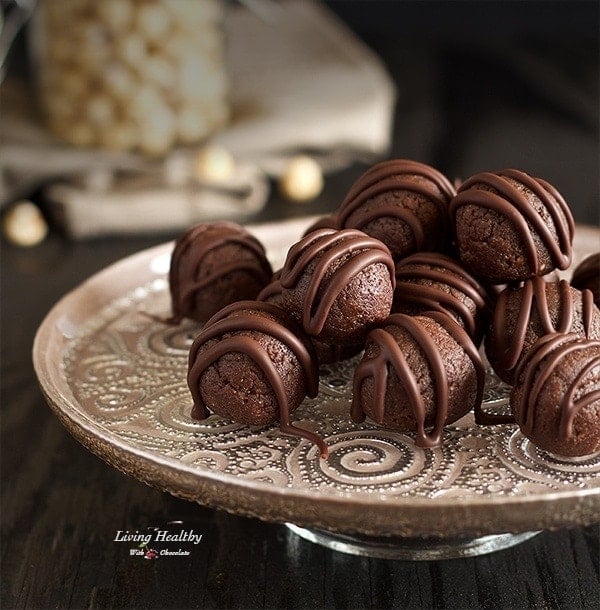 The combination of hazelnuts and chocolate is one of my favorites. Many of you might feel the same way and it's probably why Nutella has become such a popular chocolate spread worldwide.
These little balls of goodness are nothing like Nutella, but they do have a delicious and vibrant taste of chocolate and hazelnuts.
The texture is creamy and smooth, and they melt in your mouth. The reason for this is because I added cacao butter to the mixture.
Cacao butter is a delicate fat that is extracted from cacao beans. It's smooth, has an amazing chocolate aroma, and is full of nutrients and antioxidants.
You can find cacao butter in some health food stores and also online. I get mine from amazon.com and this is my favorite.
This dessert is sweetened with dates and is not very sweet. Adding a bit of maple syrup enhances the flavor without making these overly sweet, but adding it to your fudge is optional.
At first I didn't know what to name this recipe and because these have an incredible texture and chocolate/hazelnut flavor, it made sense to call them Chocolate Hazelnut Fudge Bites. Enjoy :).
More hazelnut recipes
🎥 Watch the recipe video
Chocolate Hazelnut Fudge Bites (Paleo, Vegan, Gluten-free)
📖 Recipe
SHARE THIS RECIPE
Chocolate Hazelnut Fudge Bites
To see the brands I use, click each ingredient above or visit my Amazon shop.
Instructions
Process the dates and ½ cup of hazelnuts (reserve the remaining ½ cup) in a food processor or high speed blender for about 2 minutes.

Add the reserved hazelnuts, cacao butter, cacao powder, vanilla, salt and maple syrup to the food processor and process for 1 minute.

Line a cookie sheet or large plate with parchment paper. Roll the mixture into small balls, using about 2 teaspoons of the mixture per ball (I use this cookie scoop). Set each ball on the parchment paper and refrigerate until you melt the chocolate.

Melt the chocolate slowly in a double boiler or microwave. Cut a small hole in one end of a plastic bag and fill the bag with the melted chocolate. Drizzle melted chocolate over the balls and serve.
Store in an airtight container in the fridge or at room temperature.
Notes
I used blanched hazelnuts in this recipe and below is a link to the one I usually buy already skinned. You can use hazelnuts with the skin on in this recipe, but the texture might not be as smooth. If you like, you can remove the skins from your hazelnuts easily and I have a tutorial on how to do this here.
Nutrition per serving
Calories:
79
kcal
Protein:
1
g
Fat:
4
g
Sugar:
6
g
Fiber:
1
g
Carbohydrates:
8
g
Net Carbs:
7
g
*This post may contain affiliate links and as an Amazon Associate I earn from qualifying purchases. Please read my disclosure policy for more details.
Made this recipe?
Please leave a review and photo in the comments below.