Super moist Paleo Mango Muffins with Coconut-Lime Streusel recipe - Made with coconut flour and fresh mangoes. This recipe is Paleo, gluten-free and nut-free.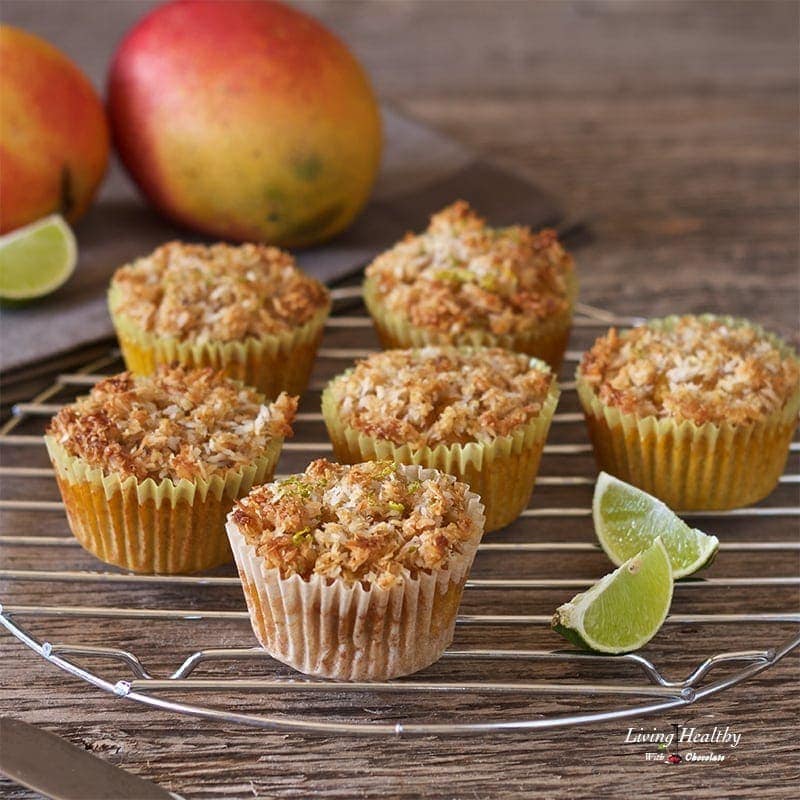 Today I'm bringing you a little taste of my tropical Hawaiian life. I'm using fresh mangoes, coconut and limes to make these flavorful Mango Muffins topped with a sweet Coconut-Lime Streusel.
Mangoes are in season here in Hawaii and the tree in my backyard is loaded with mangoes! Here's my husband Chuck picking some for me to make these muffins.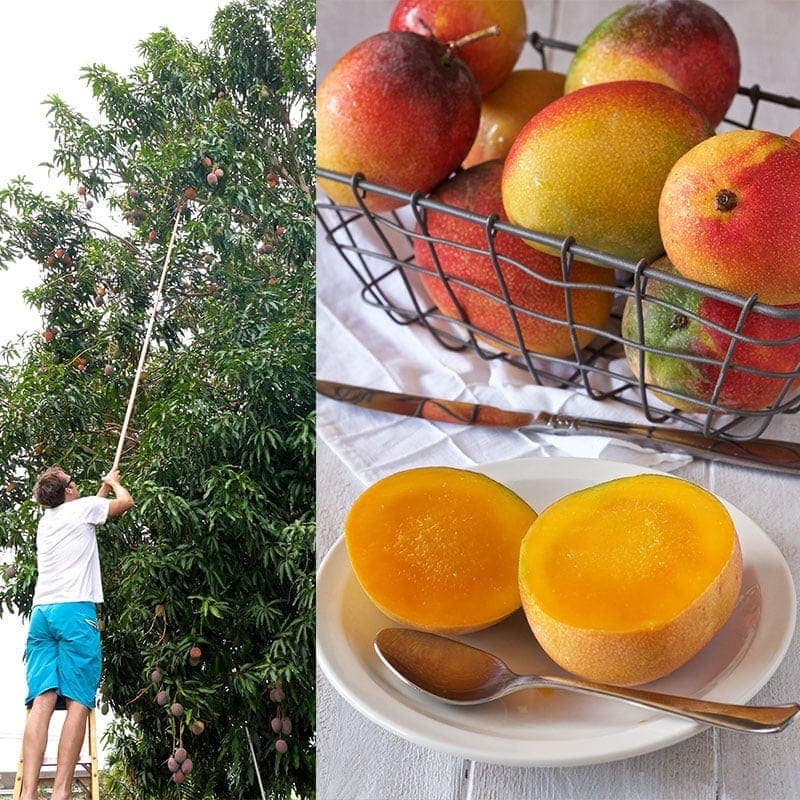 Together with the fresh limes and coconut from my neighbor's trees, these mango muffins came to life! They are super moist and full of tropical Hawaiian flavors 🙂
The muffins are made by first pureeing the fresh mangoes and then forming a batter by mixing eggs, coconut flour, coconut oil and flaxseed meal.
To season it, I added the juice of a fresh lime, some vanilla extract, honey and salt.
Making them is super simple and you just need to pulse everything in the food processor or blender.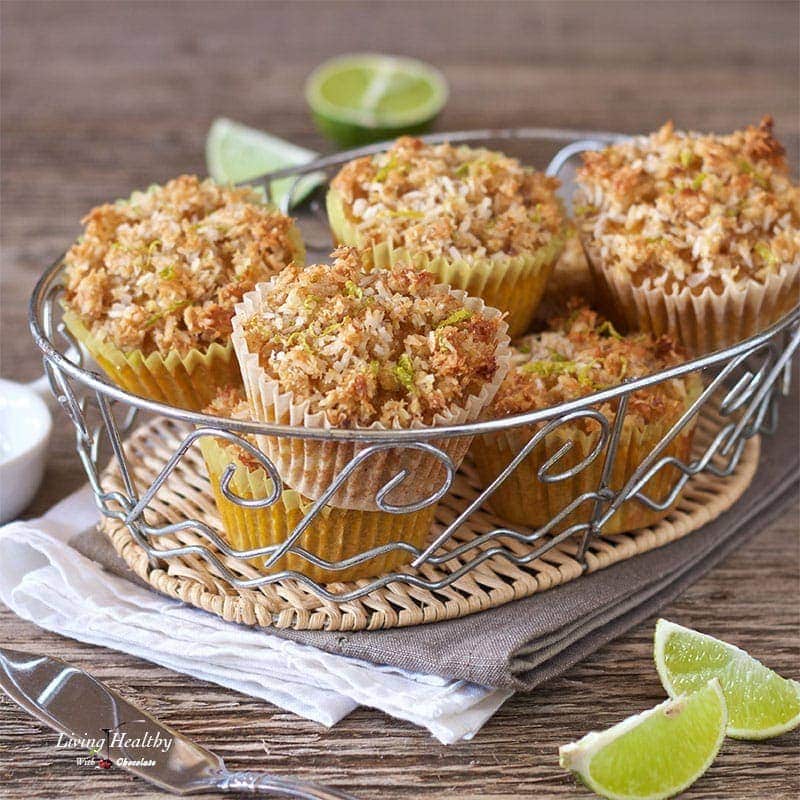 To give it some crunch (which I love in all baked goods) I added a handful of macadamia nuts (very Hawaiian 🙂 ). Adding the nuts to your muffins is optional and you can also replace it with any other nuts of your choice, or skip the nuts all together to keep this recipe nut-free.
Topping these mango muffins is a sweet coconut-lime streusel. This streusel adds a great texture while also enhancing the coconut and lime flavor. It also makes the muffins look really pretty 🙂
So as you can see, these muffins are grain-free, gluten-free, dairy-free, refined sugar-free, and nut-free (omitting the macadamia nuts). They're full of healthy fats and are an awesome Paleo summer treat.
I think you'll really enjoy them if you make them, because here in my house I had several friends who are not Paleo licking their fingers after trying these.
Give this recipe a try and lets chat about it in the comments below. Talk soon!
My Cookbooks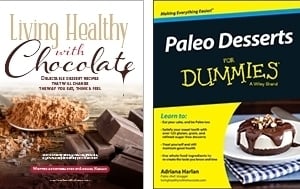 📖 Recipe
SHARE THIS RECIPE
Mango Muffins with Coconut-Lime Streusel
To see the brands I use, click each ingredient above or visit my Amazon shop.
Instructions
Coconut-Lime Streusel:
Begin by making the Coconut-Lime Streusel. In a bowl, add all the ingredients listed except for the lime zest. Mix with a spoon or your hands to combine everything together. Set aside.
Mango Muffins:
Puree the mangoes in a food processor or blender until creamy.

Add the eggs, coconut oil, lime juice, vanilla extract, and honey to the processor and pulse to combine everything with the pureed mango.

Add the dry ingredients (flaxseed meal, coconut flour, salt, and baking soda) to the processor and process until the batter is formed.

Optional - mix the macadamia nuts into the batter with a spoon.

Fill each muffin cup almost to the top with the batter. Then using your hands, sprinkle the Coconut-Lime Streusel on top of each muffin.

Bake muffins uncovered for 10 minutes, then place a piece of aluminum foil over the top of the pan and bake for an additional 15 minutes, or until a toothpick inserted into the center comes out clean.

Set the pan on a wire rack to cool, then remove muffins from the pan and let them cool for another 5 minutes on the rack before serving.

Sprinkle lime zest on top of each muffin and serve.
Notes
TIP - These muffins don't stick too much to regular paper muffin cups and you can use these if you have them. If you use the type of paper cups made from parchment paper, your muffins will come out clean and no crumbs will be left on the paper. You can also skip using paper cups and bake these muffins in silicon muffins pans if you have them. These are great non-stick pans that don't need any greasing.
Nutrition per serving
Calories:
224
kcal
Protein:
4
g
Fat:
17
g
Saturated Fat:
10
g
Sugar:
12
g
Fiber:
4
g
Carbohydrates:
16
g
Net Carbs:
12
g
*This post may contain affiliate links and as an Amazon Associate I earn from qualifying purchases. Please read my disclosure policy for more details.
Made this recipe?
Please leave a review and photo in the comments below.