These Cinnamon Mocha Cupcakes are Paleo and gluten-free, healthy, delicious, moist, and super easy to make topped with a dairy-free chocolate "butter cream". You'll love this recipe! It's the perfect birthday or holiday cupcakes!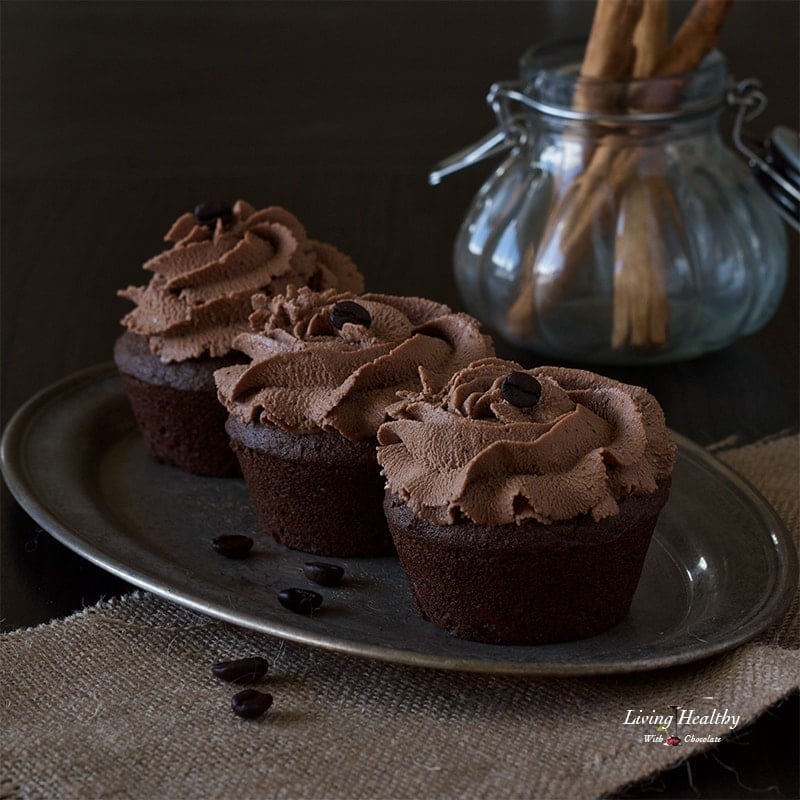 Hey guys! While fall spices like cinnamon, nutmeg, cloves, allspice and ginger may be one of the season's favorite spices, fall flavors don't stop there! Combining cocoa with some of these flavorful spices also makes any dessert taste incredible.
So today I am combining cinnamon, coffee and chocolate to make the most decadent cupcake. It's a perfect holiday cupcake, and sure to be a hit this fall with your family.
There are no processed ingredients in this recipe or a ton of sugar, and they still taste incredible.
The texture of the muffins is light, fluffy, and they have perfect tender crumbs. They are moist and very flavorful. The combination of cinnamon, coffee and chocolate really taste delicious.
Topping the muffins is a smooth and delicate chocolate frosting. This frosting is light, not super sweet and adds a divine taste and moistness to the muffins.
Both the batter and the frosting are infused with ground coffee. Using a high quality ground coffee that you love is key to making these cupcakes taste great. There is no need to strain the coffee grounds from the batter or the frosting, making this recipe even easier to prepare.
Take a look below at how divine the texture of these muffins are on the inside. There's no reason whatsoever to use gluten, refined flours, sugars and oils to make a good muffin. All you need is real, whole foods, and some imagination to blend these ingredients at a ratio that works well. But one thing that really matters is how fine your almond flour is ground. I highly suggest you take a look at the ingredients I used in this recipe (listed below the recipe) and if possible use the same ones when you make these for best results.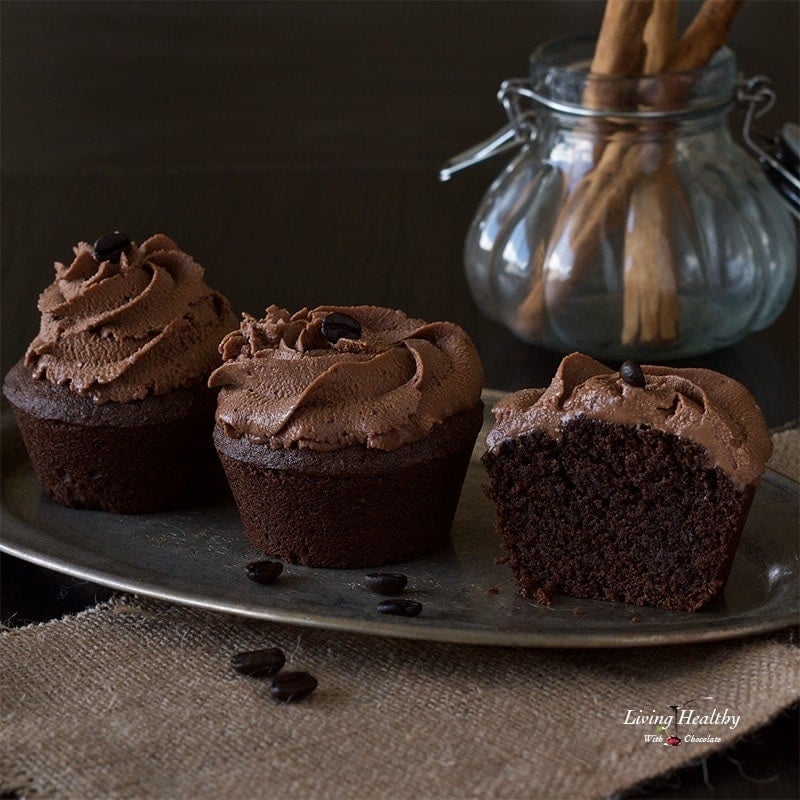 📖 Recipe
SHARE THIS RECIPE
Cinnamon Mocha Cupcakes (Paleo, Gluten-free)
Ingredients
Paleo Chocolate Frosting:
To see the brands I use, click each ingredient above or visit my Amazon shop.
Instructions
Preheat the oven to 350°F. In a small saucepan, heat the coconut milk and coffee just until it starts to bubble over medium-heat. Set the pan on a cooling rack so that the mixture cools to room temperature.

Meanwhile, mix the all dry ingredients together in a large bowl using a spatula: almond flour, cacao powder, coconut sugar, cinnamon, salt, and baking soda.

Add the coconut oil, egg and vanilla extract to the cooled milk mixture and whisk to combine. Pour mixture into the bowl with the dry ingredients and gently mix to form a batter. Do not over mix.

Spoon the batter into the muffin tin, filling each cup to the top. Bake for 19 minutes or until a stick inserted into the center comes out clean. Set pan on a wire rack to cool muffins completely before frosting.
Chocolate Frosting:
Melt the chocolate in a double boiler - Add the coffee and chocolate to a bowl and set it over a small saucepan filled with about ½-inch of water. Make sure the bowl with the chocolate does not touch the water in the bottom of the pan. Turn the heat to low and allow the chocolate to melt, then remove from heat and let it cool for a couple of minutes.

Add the melted chocolate and coconut cream to a large bow and using a handheld or standup mixer, whisk until combined and fluffy. Set frosting in the freezer for 5 minutes and then whisk again. Frost muffins as desired. I used a pastry bag and a

1M star tip

.
Notes
*Coconut cream is the thick cream that forms on the top of a can of full‐fat coconut milk when you leave it in the fridge overnight, discarding the water.
I baked my muffins in a silicon muffin pan, but you can also use any muffin tin and paper liners. I recommend using parchment liners because it prevents the batter from sticking to the paper.
This recipe makes only 4 cupcakes. You can double or triple the recipe if desired.
Nutrition per serving
Calories:
386
kcal
Protein:
9
g
Fat:
30
g
Saturated Fat:
13
g
Fiber:
4
g
Carbohydrates:
24
g
Net Carbs:
20
g
*This post may contain affiliate links and as an Amazon Associate I earn from qualifying purchases. Please read my disclosure policy for more details.
Made this recipe?
Please leave a review and photo in the comments below.