For all you avocado lovers out there, this recipe is for YOU.
I personally don't like avocados (I wish I did), so I made this recipe especially for you.
Even though I don't like the taste of avocados, this recipe tastes pretty good to me. It's chocolate-y (which is probably why I like it ☺ ) and it has a very light and smooth consistency. Serving it with fruit makes this delicate dessert even more flavorful. I love kiwis so thats what I served my pudding with, but you can use any fruit you prefer. I think serving this with strawberries, raspberries or even bananas would be really good too.
The trick to making this pudding thick without the need for using eggs as in traditional pudding recipes, is by adding chia seeds to the mixture. If you read my post and recipe for Strawberry-Mango Jam, you know that when chia seeds are mixed with water or other liquids, they form a goopy texture similar to eggs. This gelatinous property of chia seeds is then perfect for making this pudding thick and creamy, and without having to cook the mixture. Plus this recipe could't be any easier & quicker to make. All you have to do is blend everything together and serve.
I hope you guys like this recipe. Please let me know and give me your feedback in the comments below.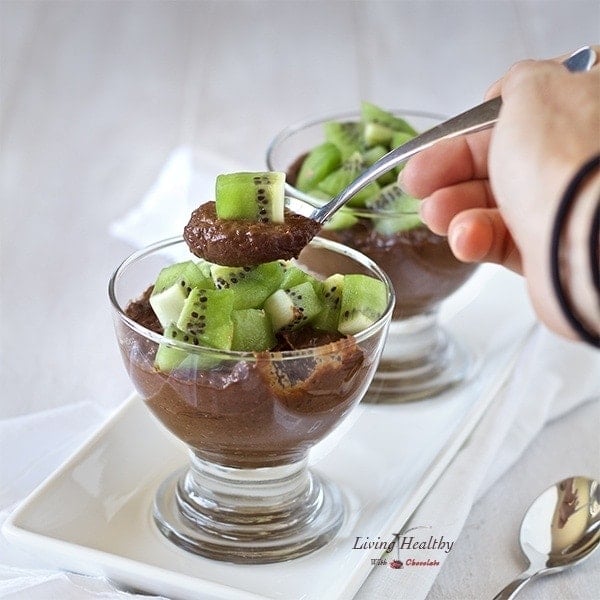 Paleo Chocolate Avocado Pudding Recipe

Ingredients
1 ripe avocado (I used Hass avocado)
¼ cup raw cacao powder
1 teaspoon vanilla extract
¼ teaspoon ground cinnamon
2 tablespoons chia seeds
¾ cup water
pinch of salt
sweetener of choice to taste (I used ⅓ cup coconut sugar and 1 tablespoon raw honey)
fruit of choice for garnish
Instructions
Blend the avocado, cacao powder, vanilla, cinnamon, chia seeds, water and salt in a blender or food processor until everything is combined and smooth.
Garnish with fruit of choice. Serve immediately or refrigerate pudding until chilled, about 30 minutes.

Yields: 4 servings