A unique, healthy and delicious Chocolate Mango Chia Pudding. Made with fresh mango, dark chocolate, chia seeds, and free of dairy, eggs and refined sugars. (Gluten-free, Vegan, Paleo)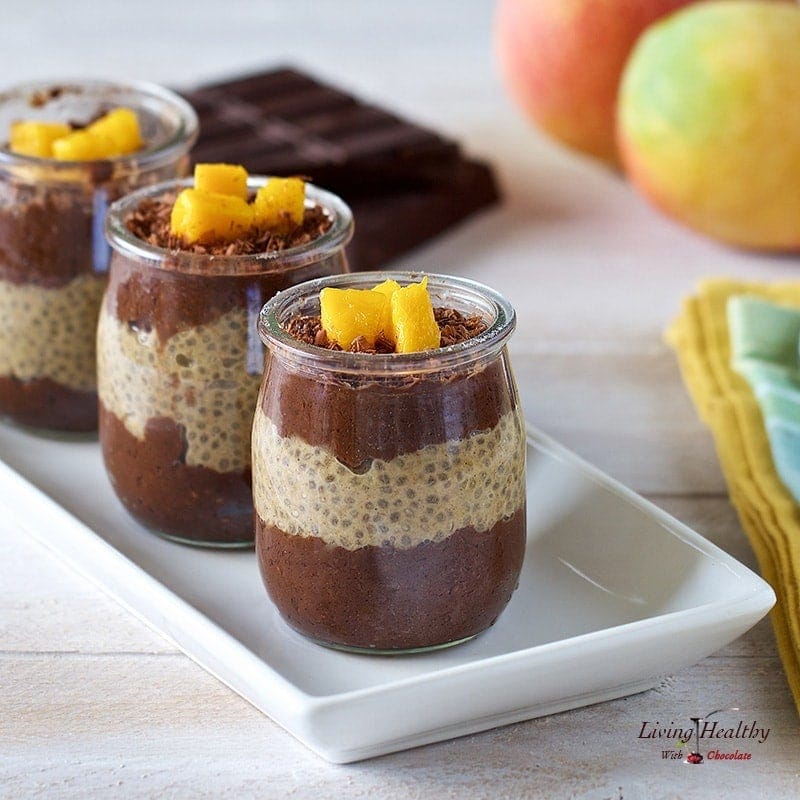 With so many people becoming sensitive to eating eggs and dairy, I thought it would be great to share a healthier pudding version with you here on the blog.
Most traditional pudding recipes contain eggs, milk, cornstarch and huge amounts of refined sugars. These ingredients definitely work well to make pudding, but they're not always necessary, especially the amount of sugar that's added to some of those puddings.
In place of eggs and cornstarch, my recipe uses chia seeds as the main thickening agent. When these seeds are soaked in any liquid, they expand and form a sticky substance that resembles eggs. They work well to thicken this pudding, and they even add a slight crunch with is lovely.
And to make this recipe dairy-free, a simple blend of water, vanilla and almond butter is used in place of milk. This blend creates a delicious vanilla flavored almond milk that's easy to make, and is much healthier than most store bought almond milk. But in case you're sensitive to almonds, you can also use cashew or other types of nut butter. And in case you can't eat nuts, you can use coconut milk instead.
And finally, this pudding has a creamy and smooth texture, with also a slight crunch from the chia seeds like I mentioned. Mangos and chocolate are a delicious combination. They're already sweet enough by nature, so it's not necessary to add too much of any sweetener to this pudding.
So, I want to know if you're are a fan of pudding and which is your personal favorite pudding flavor. Comment below to let me know. Also, rate and leave your feedback when you make this recipe. Looking forward to hearing from you.
🎥 Watch the recipe video
Chocolate Mango Chia Pudding (Gluten-free, Vegan, Paleo)
📖 Recipe
SHARE THIS RECIPE
Chocolate Mango Chia Pudding (Gluten-free, Vegan, Paleo)
To see the brands I use, click each ingredient above or visit my Amazon shop.
Instructions
Melt the chocolate in a bowl over simmering water (double boiler).

In the meantime, combine the water, almond butter, vanilla, honey and salt in a bowl, and whisk to combine. Divide this almond milk mixture into 2 cups. Reserve 1 cup and add 1 cup to the melted chocolate over the double boiler and mix to combine.

Remove chocolate from the heat, and stir in 3 tablespoons of chia seeds and set aside.

Using a food processor or blender, pulse together the mango and reserved 1 cup of almond milk. Stir in 3 tablespoons of chia seeds to this mixture and allow it to thicken for about 15 minutes.

Layer serving dishes with the chocolate and mango pudding. Top it with grated chocolate and fresh mango pieces, and serve.
Notes
If you prefer to serve your pudding chilled, place a piece of plastic wrap over the top of each pudding and refrigerate. Be sure the plastic touches the pudding so that the top stays moist. When ready to serve, layer your serving dishes with the chocolate and mango pudding, and top each one with grated chocolate and fresh mango pieces.
To measure a ½ cup of mango, chop your mango into small pieces and fill your measuring cup.
You can substitute the water and almond butter for coconut milk to make it nut-free. Read more about it in my post above.
The serving dishes I use fit about ½ cup of pudding and I got 4 to 5 servings from this recipe.
Nutrition per serving
Calories:
185
kcal
Protein:
4
g
Fat:
11
g
Saturated Fat:
2
g
Sugar:
8
g
Fiber:
7
g
Carbohydrates:
17
g
Net Carbs:
10
g
*This post may contain affiliate links and as an Amazon Associate I earn from qualifying purchases. Please read my disclosure policy for more details.
Made this recipe?
Please leave a review and photo in the comments below.