This Avocado Chocolate Mousse recipe made with just 5 ingredients is going to be your next favorite healthy dessert and you're going to impress everyone by serving it in chocolate cups. One bite and you'll be hooked. (Vegan, Keto, Paleo)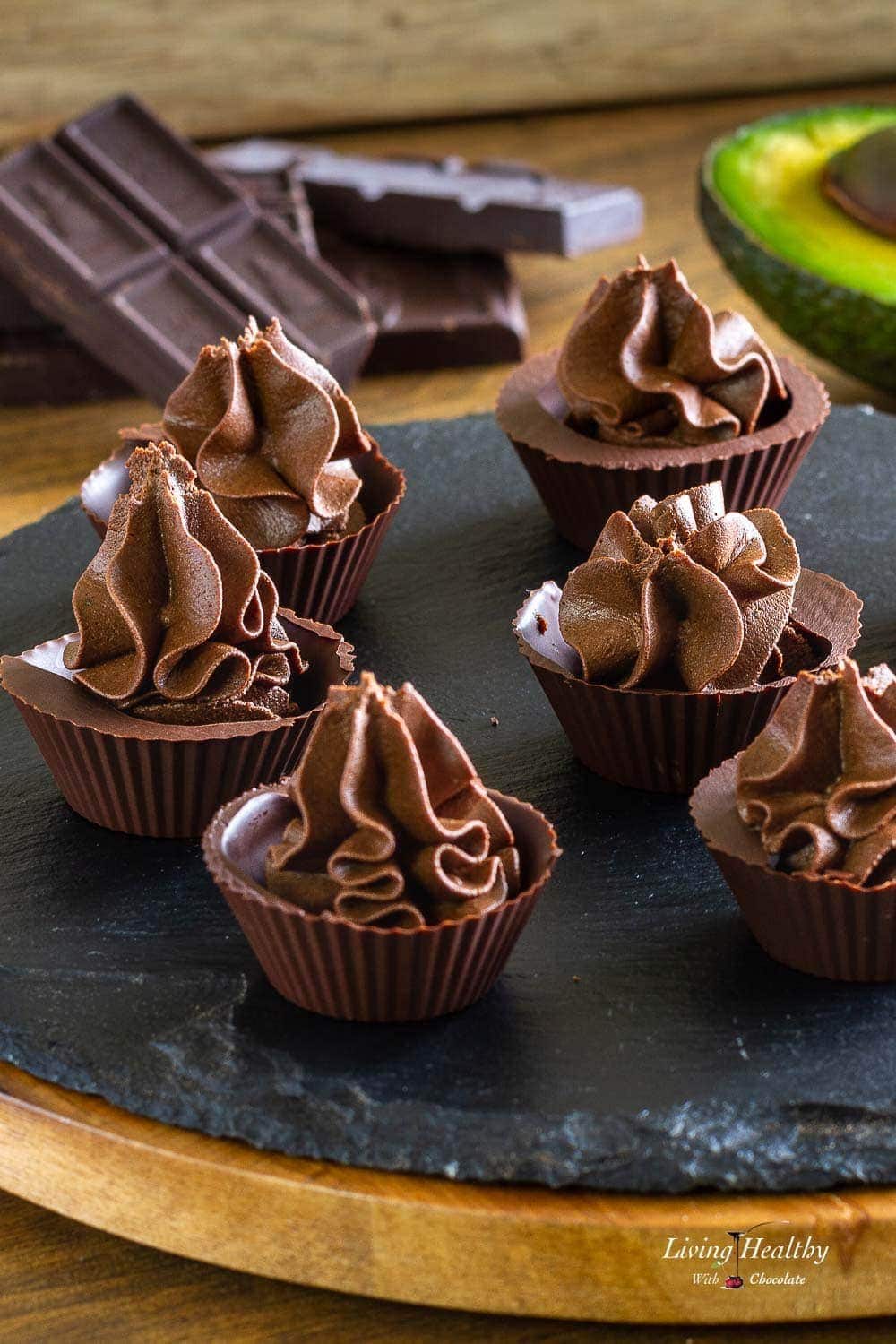 To make this avocado chocolate mousse you'll be using superfoods like avocado and chocolate because it gives the mousse a light, creamy texture and a delicious dark chocolate taste. And to intensify the chocolate taste and give the mousse a beautiful presentation, serve it in cute mini chocolate cups.
Follow along to learn how to make the avocado chocolate mousse recipe and the chocolate cups. The steps are easy using few ingredients and a few minutes.
This recipe has a keto-friendly option and its Vegan and Paleo.
Taste and texture
The Avocado Chocolate Mousse tastes like chocolate. It's very chocolaty, dark, rich and light all at the same time.
Can you taste the avocado in the recipe? No you can't! You would never believe avocados are in this recipe. In fact, this avocado chocolate mousse is my favorite way of eating avocados because I can't taste it (I never really liked eating them on their own 🙃)
The texture of avocado is thick and buttery, so it makes for the perfect base for a mousse made without eggs or milk. It adds a light and silky smooth, creamy texture that melts-in-your-mouth.
Adding cacao butter in this recipe also gives the mousse a super smooth mouth feel while enhancing the chocolate flavor.
In my opinion, cacao butter should be used more often in chocolate mousse recipes made with cocoa powder. It is one of my favorite ingredients to make this mousse stand out from other mousse recipes.
Is it sweet enough? Compared to traditional chocolate mousse, I think you'll find this recipe not as sweet, but sweet enough that even kids and non-healthy eaters would like it. Adjusting the amount of sweetener added is something you can do if you like.
Why serve the mousse in chocolate cups?
The chocolate cups add a nice crunchy texture to this dessert.
Also, the chocolate cups are sweet balancing out the overall sweetness of this dessert.
You can serve the mousse in serving dishes, but I think you'd agree with me that the chocolate cups give it a beautiful presentation.
Basically, these little chocolate dessert cups pair with the mousse perfectly and they are easy and fun to make.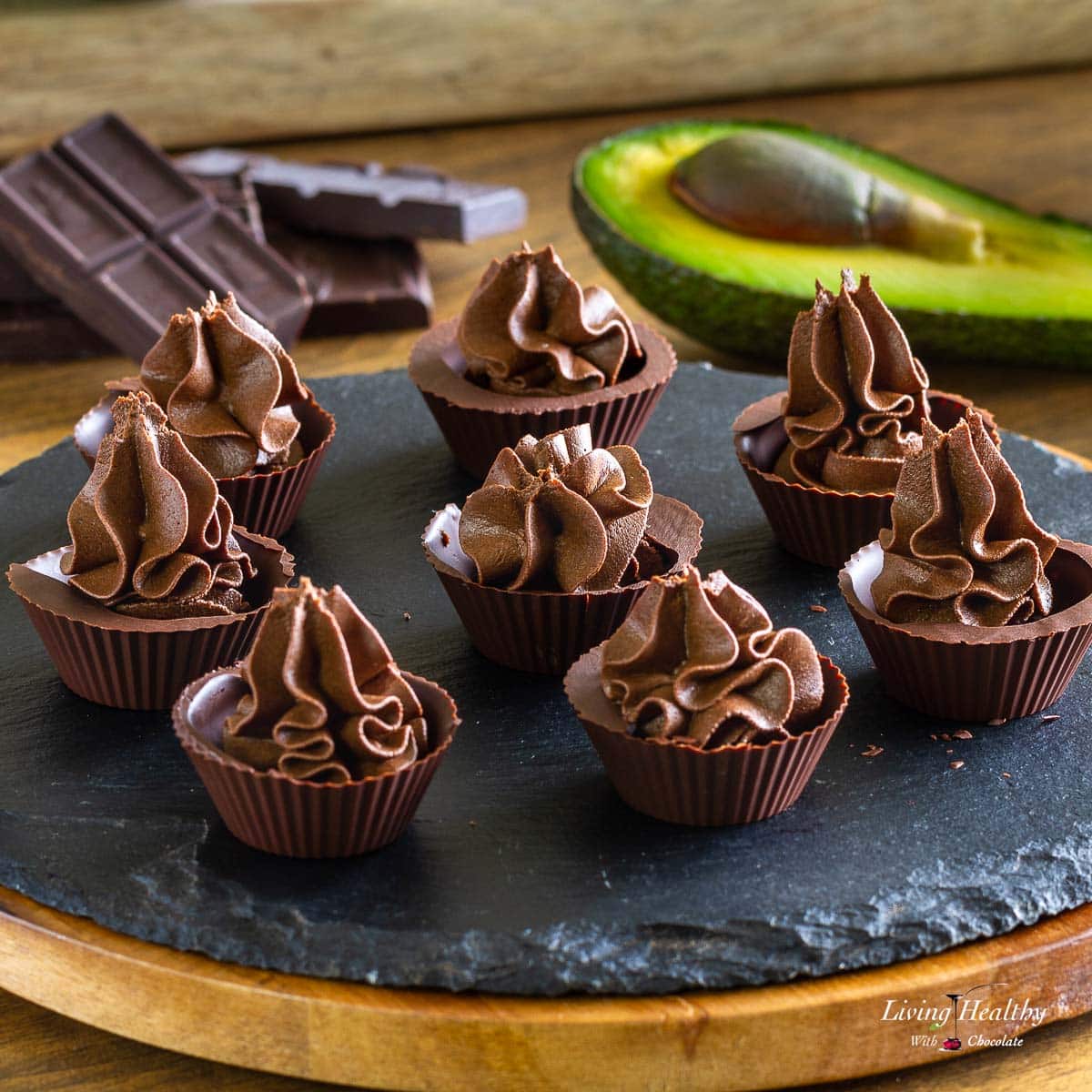 How to make the avocado chocolate mousse
It's so easy and simple to make this avocado mousse! All you have to do is toss all your ingredients into your food processor or blender, and puree them until combined. That's it!
Then scoop the mousse in the chocolate cups or in your serving dish. Try using a piping bag with a stat tip to give it a pretty swirl.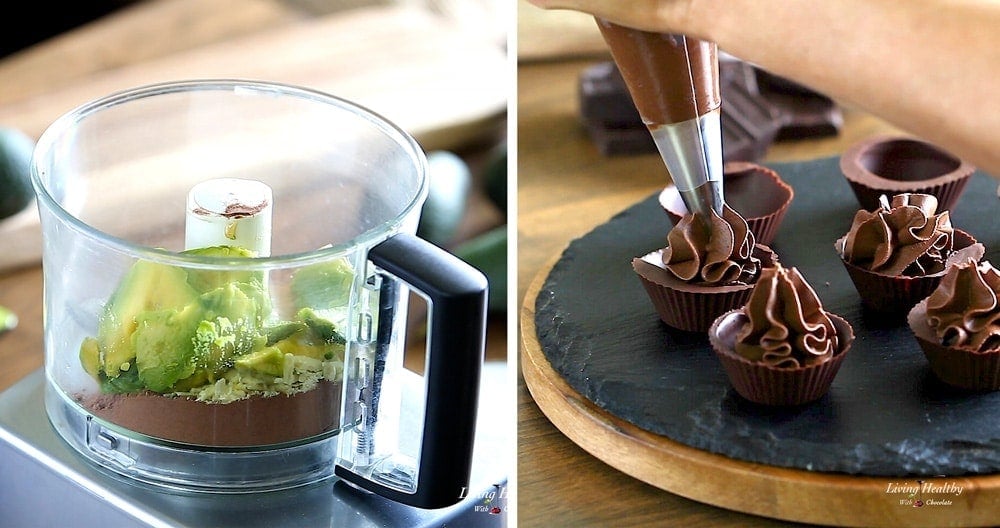 How to make the chocolate cups
Making the editable chocolate cups with mini silicone molds is very easy and fun to get the kids involved. You can also use paper cups as molds if that's all you have at home.
Dark chocolate is the only ingredient you need to make these chocolate dessert cups. Melt the chocolate, coat your mold with it, refrigerate and remove the chocolate cups from the molds.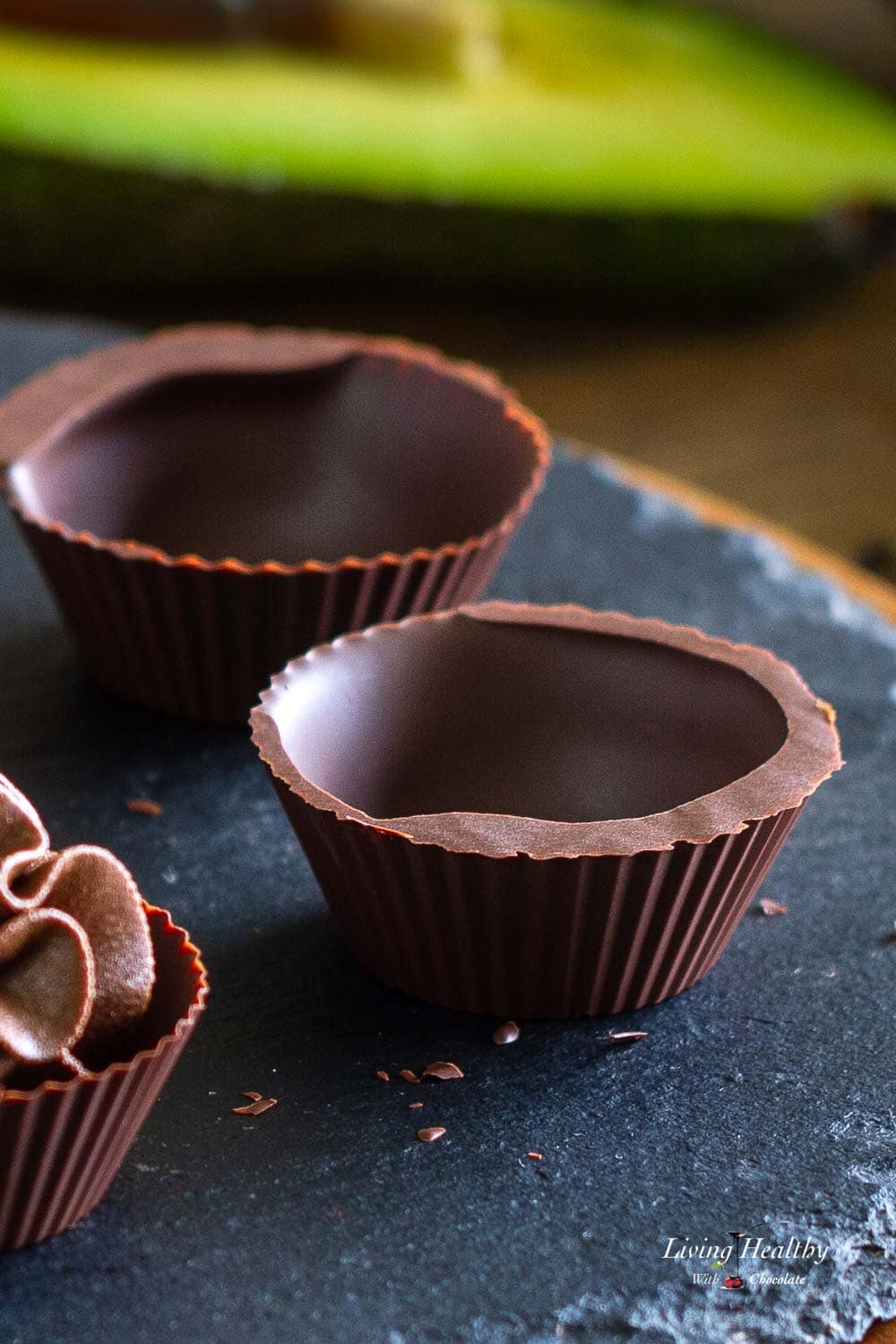 Frequently Asked Questions
Do I need to temper the chocolate to make the chocolate cups?
You can skip the tempering process when you make your chocolate cups. If you don't temper your chocolate you will need to store your cups in the fridge so they don't melt at room temperature.
What's the best way to store this dessert?
The best way to store it is by placing them in an airtight container and keeping them in the fridge. You can also place a piece of paper towel on the bottom of your container to avoid any moisture from getting in the chocolate (this is optional).
How long does the moose last in the fridge?
Your avocado chocolate mousse will last in the fridge for about 2 weeks. And the chocolate cups will last in the fridge for months if kept in an airtight container.
Can you freeze the mousse?
You can freeze the mousse and when you do, it will turn into a super creamy avocado chocolate ice cream!
Can I make this dessert ahead of time?
Yes! Make it ahead of time, store it in the fridge and enjoy it for dessert whenever that chocolate craving hits!
Are there any substitutes for cacao butter?
I would suggest you don't substitute the cacao butter because it enhances the texture of the mousse. But if you really wanted to replace it with something else, omit the cacao powder as well and add about 1 cup of 80% to 100% dark chocolate instead.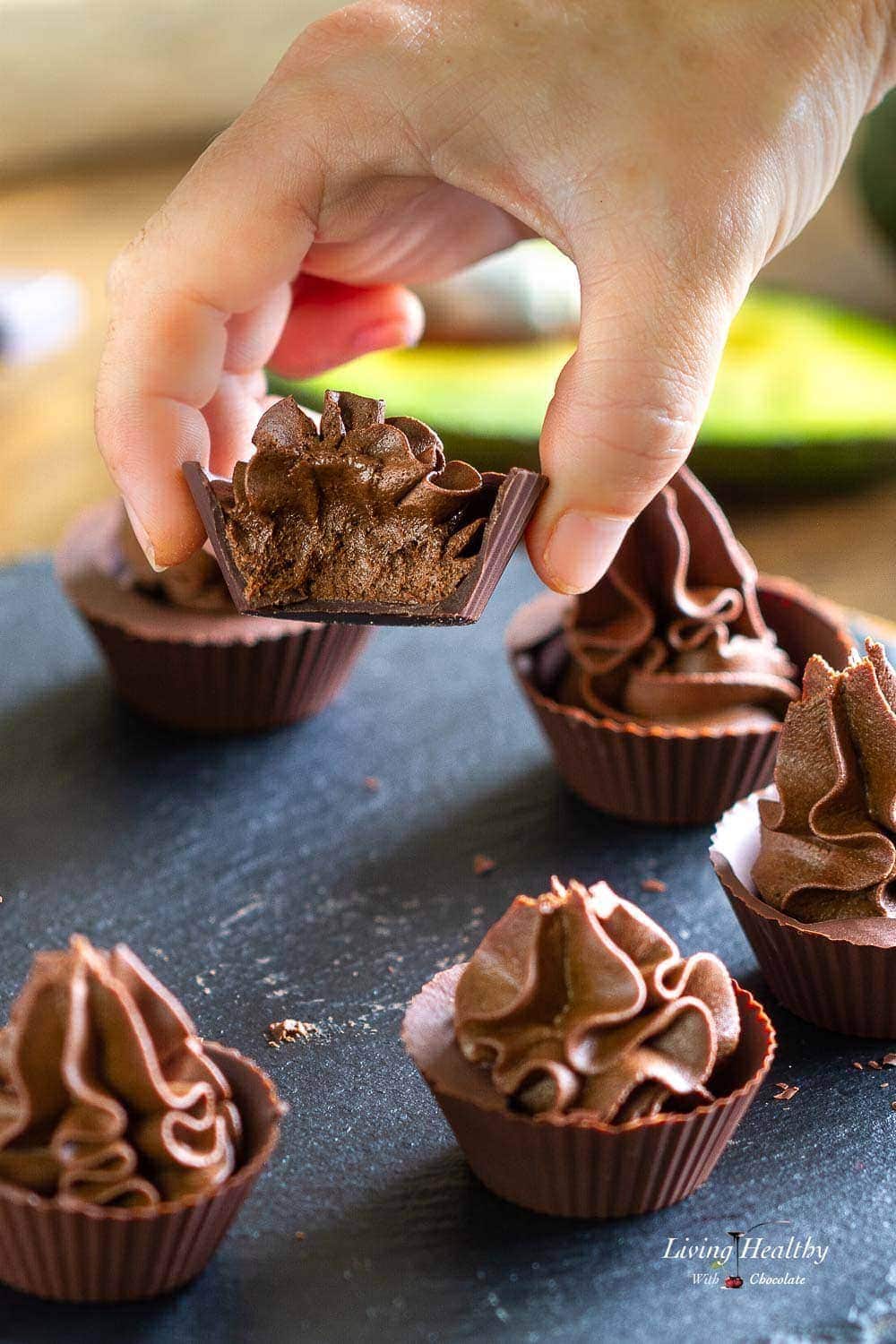 I have to warn you that it may be hard for you to eat just one. Every time I make these it's hard to control myself because they are so good! You may feel the same way. Make sure you double the recipe if you are serving them for dessert to guests 😊.
Cant wait to chat with you about this recipe in the comments below and see your gorgeous photos after you make them.
Also try filling the chocolate cups with fresh berries and coconut whipping cream like I do sometimes! Tastes so good!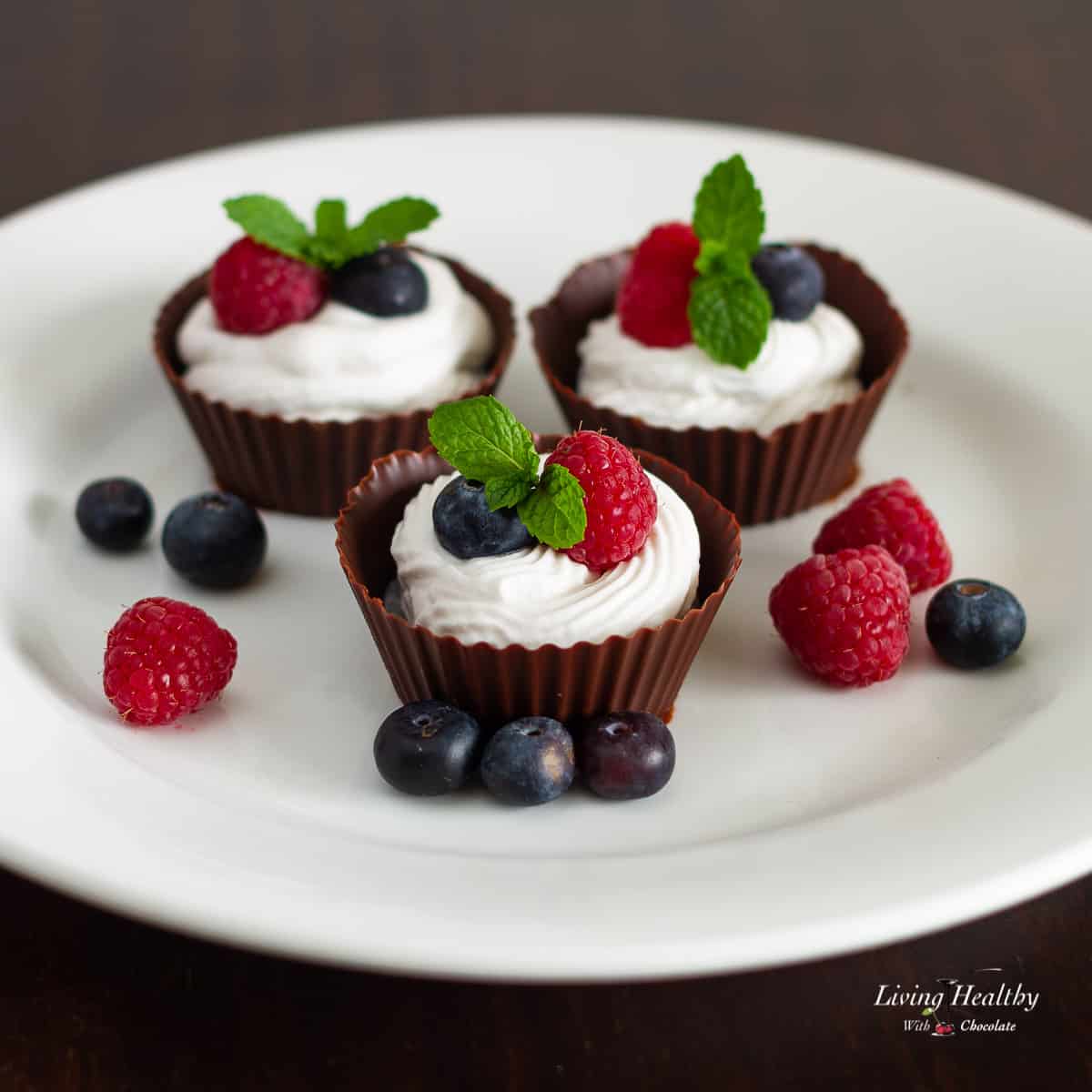 Is this dessert recipe healthy?
Avocado nutrition and calories 🥑
Avocados have double the potassium of bananas.
They are rich in phytonutrients, magnesium, vitamin C, K, E, A and B5.
Avocados are low in carbs and high in insoluble fiber.
They are one of the healthiest sources of fat in the form of oleic acid, a monounsaturated fatty acid. This helps you feel fuller after eating your meal and keeps you satiated longer.
So don't worry too much about the calories in avocados or other whole foods for that matter. These are good calories we should be eating.
Dark chocolate is also a powerful source of antioxidants, vitamins and minerals with many health benefits.
Therefore, the combination of avocado, dark chocolate and the other whole food ingredients in this recipe makes this dessert a much healthier option. But this is still a dessert, it shouldn't replace meals and should be eaten in moderation.
Is this dessert Keto friendly?
This dessert is very low in carbs even though it's made with honey. Each serving only has 7g of net carbs (see the nutrition facts below).
You can further reduce the carb count of the recipe in two ways:
Substitute the honey for a low-carb liquid sweetener like Lakantos' Maple Syrup which is made with monk fruit.
Make the chocolate cups using a dark chocolate with a higher cacao content, or a chocolate sweetened with stevia and erythritol. I usually make them using 70% dark chocolate, but you can reduce the carbs in this recipe by using a chocolate 80% to 100% dark. My favorite 100% dark chocolate is by Santa Barbara Chocolate. They also have chocolate sweetened with stevia and erythritol that is very low in carbs and tastes really good.
More avocado recipes
If you want to try more of my avocado recipes check these out next or try this avocado smoothie from my friend's blog.
🎥 Watch the recipe video
📖 Recipe
SHARE THIS RECIPE
Avocado Chocolate Mousse in Chocolate Cups
To see the brands I use, click each ingredient above or visit my Amazon shop.
Instructions
Chocolate Cups
Tempered chocolate (optional, see notes): Melt about half of your chocolate in a bowl over simmering water (double boiler) until it reaches 120°F (49°C). Be sure the bowl does not touch the water in the pan. Remove the bowl from the heat, stir in the remaining chocolate and mix until it melts and your chocolate reaches 90°F (32°C).

Add enough chocolate into each silicone or paper cups, rotating it to coat the bottom and edges of the cup. Let excess chocolate drip back into the bowl. Refrigerate cups and go onto making the mousse.
Avocado Chocolate Mousse
Add the following ingredients to your food processor or blender: avocado, cacao powder, cacao butter, sweetener and vanilla extract. Process until creamy and scrape the sides of your bowl to make sure everything is well combined and smooth.

Remove the chocolate cups from fridge and unmold. Fill each one with the mousse using a spoon or a piping bag with a large 1M star tip. Serve right away or store them in the fridge.
Notes
You can skip the tempering process. If you do, melt all your chocolate at once in a double boiler without taking its temperature. Allow the chocolate to cool for about 5 to 10 minutes so it thickens. This will make it so that you can add a thicker layer of chocolate in your mold, thus having a thicker chocolate shell.
*You'll need about one and a half small avocados to measure out 1 cup (185g) of avocado. I use California Hass Avocados to make this recipe.
**Feel free to use your sweetener of choice and adjust the amount added to your preference.
In the recipe video I'm using this brand of 70% dark chocolate.
Cacao butter substitute: I would suggest you don't substitute the cacao butter because it enhances the texture of the mousse. But if you really wanted to replace it with something else, omit the cacao powder as well and add about 1 cup of 80% to 100% dark chocolate instead.
Shop Equipment Used
Nutrition per serving
Calories:
101
kcal
Protein:
2
g
Fat:
6
g
Saturated Fat:
3
g
Sugar:
6
g
Fiber:
3
g
Carbohydrates:
10
g
Net Carbs:
7
g
*This post may contain affiliate links and as an Amazon Associate I earn from qualifying purchases. Please read my disclosure policy for more details.
Made this recipe?
Please leave a review and photo in the comments below.