I really wanted to share this recipe with your guys before Christmas, but with all the holiday distractions I wasn't able to finish this post for you. Either way, now you have this recipe and I think you'll love it no matter what time of year it is.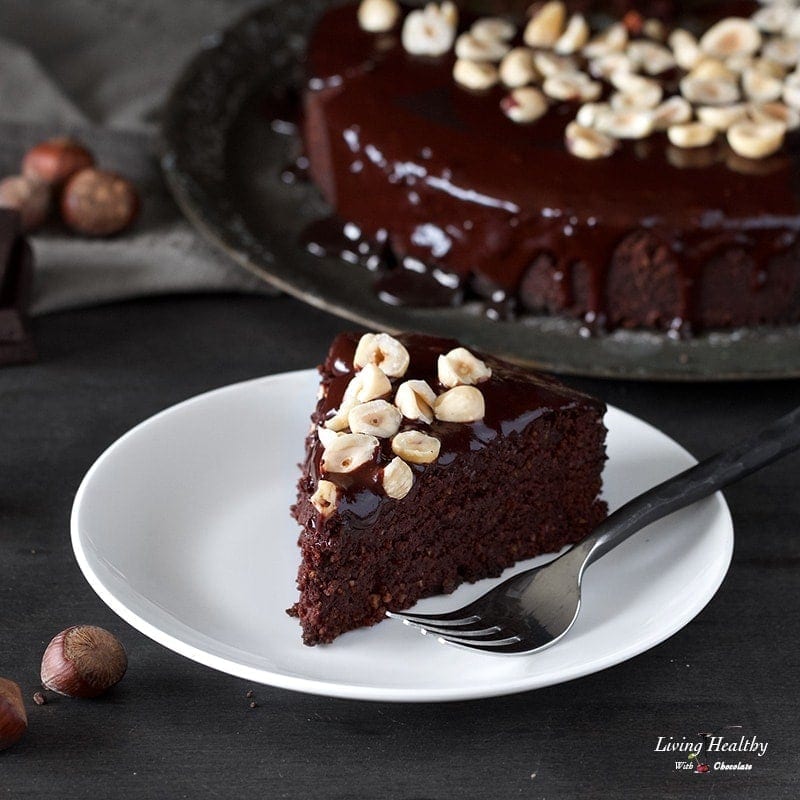 This Hazelnut and Chocolate Cake is perfect for all of us chocolate lovers. It's very rich, and has a deep chocolate and hazelnut flavor.
The texture is dense, and overtime after it's stored and chilled in the fridge the cake gets even more dense and the texture changes becoming more fudge-like.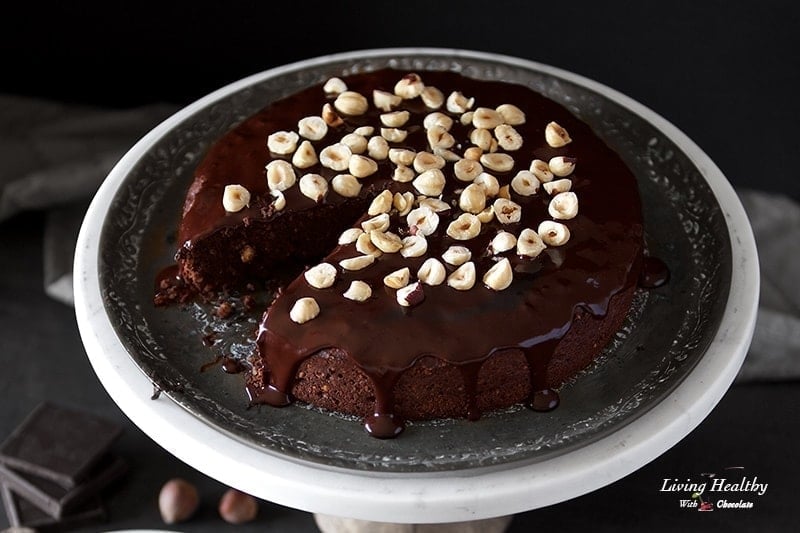 This is a flourless cake and I'm using hazelnuts to give it volume and texture.
This cake is also free of white or refined sugars, and it's sweetened with pure maple syrup, making it ideal for those of us following a Paleo and Gluten-free lifestyle.
If you love the combination of hazelnuts and chocolate like I do, you're gonna really like this cake, so I hope you give it a try soon.
I'm looking forward to reading your comments and seeing your photos in the comments section below. Happy New year!!
---
🎥 Watch the recipe video
Hazelnut and Chocolate Cake (Paleo, Gluten-free, Dairy-free)
SHARE THIS RECIPE!
Hazelnut and Chocolate Cake (Paleo, Gluten-free, Dairy-free)
Serves:
20
(15 to 20 people)
Instructions
Preheat the oven to 350°F. Prepare your pan by greasing the bottom and sides of a round or square

8-inch pan

with coconut oil. Line the bottom of the pan with a piece of parchment paper so the cake is easy to remove later.

Melt the chocolate and coconut oil together in a large bowl over simmering water (double boiler). After melted, stir in the coconut milk until combined. Remove bowl from the heat and stir in the maple syrup, hazelnut extract, vanilla, and salt.

Using a food processor, grind the hazelnuts until finely ground. Then using a spatula, mix the meal with the chocolate mixture in the bowl.

In a separate bowl, beat the eggs with a handheld or stand mixer for a couple of minutes until fluffy and they double in volume. Then using a spatula, gently mix the eggs into the chocolate/hazelnut mixture until everything is combined.

Pour the batter into the prepared pan and wrap the sides of the pan with aluminum foil. Place the pan in a deep baking dish and fill it halfway with hot water. Bake for 30 to 35 minutes or until a toothpick inserted into the center comes out clean. Be sure to not over bake it. Allow the cake to cool in the pan for a few minutes then place it in a serving plate and top it with the

Chocolate Fudge sauce

and chopped hazelnuts. Store pie in the fridge – it will last for about 2 weeks.
Recipe Notes
*To toast and skin the hazelnuts, place them in a baking pan and bake in the oven for around 10 minutes at 350°F, or until lightly colored. Wrap nuts in a kitchen towel and rub to remove the skins. Click here to see how I do it, or you can buy the hazelnuts already skinned here.
– Vanilla extract, or the seeds from a vanilla bean work as well in place of the ground vanilla powder.
– Be sure to finely grind your hazelnuts or your cake will crumble after baked.
P.S. Nutrition facts calculated without the Chocolate Fudge Topping.
Nutrition Facts per serving
Calories:
228
kcal
Carbohydrates:
8
g
Protein:
5
g
Fat:
20
g
Saturated Fat:
7
g
Fiber:
3
g
Sugar:
3
g
Net Carbs:
5
g