This homemade Hot Chocolate is rich, thick and creamy, with an intense dark chocolate flavor!! Similar to French hot chocolate but much healthier. (Paleo, dairy-free)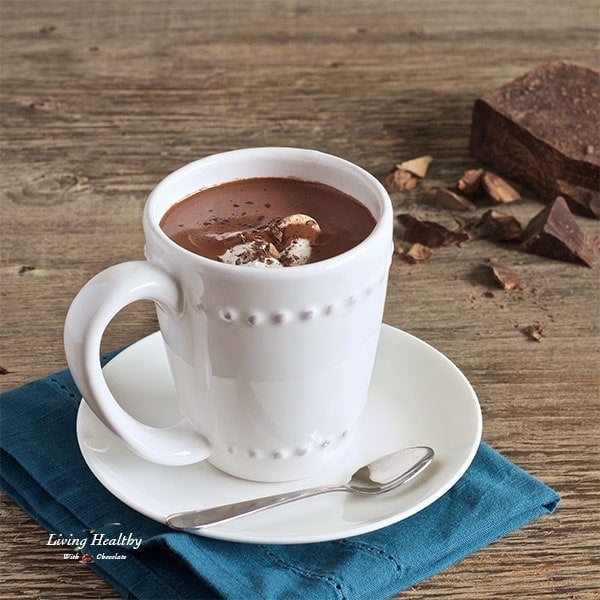 Not many people believe me when I say Hawaii gets cold sometimes. Well, it's been freezing here lately!
Of course many of you might think I'm crazy, but for me when it gets down into the 60's, I get really cold. Some nights have been down into the 50's. It has been stormy, rainy with strong winds. There was even snow on some parts of the Big Island, with the wind blowing over 100 mph!
Living on Oahu and having to wear sweatshirts and pants once in a while is actually pretty nice, and this weather made me crave a rich hot chocolate drink to help me warm up. This is how this recipe was born.
The main difference with this recipe is that this is a guilt-free, healthy homemade hot chocolate drink. I use unsweetened 100% dark chocolate in place of cocoa powder or semi-sweet chocolate.
It's deep, dark, and utterly magnificent.
Rich, thick and creamy, with an intense dark chocolate flavor is also how I would describe it. It is so thick and chocolaty, that it resembles a hot chocolate that you'd order from a French cafe.
Adding a touch of espresso powder to the recipe intensifies the chocolate flavor, so I added some of it to this recipe.
You'll find that this recipe is not too sweet. For me, 3 teaspoons of raw honey was enough. Keep in mind this recipe serves 2 people. If you prefer a sweeter hot chocolate, feel free to adjust the amount and type of sweetener added.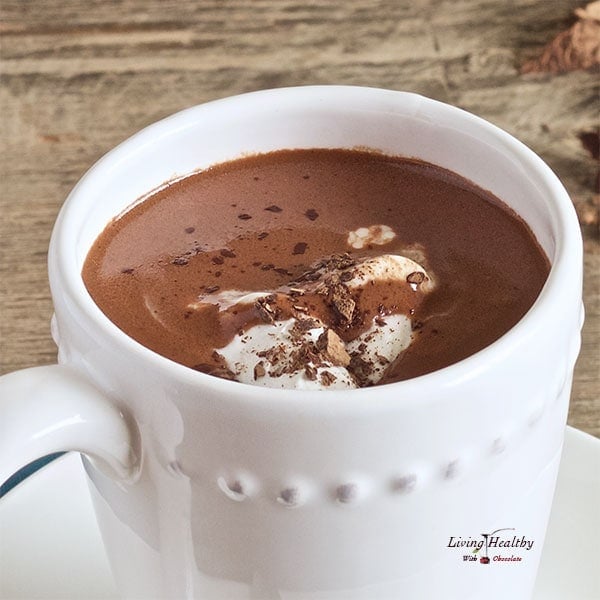 Making hot chocolate with coconut milk as opposed to cream and milk, is a wonderful dairy-free option. Not only is coconut milk extremely healthy, it tastes delicious in combination with chocolate.
When making drinks like this, I like making my own coconut milk. I just think that it tastes better than store bought coconut milk from can. If you'd like to try it, blend 1 ½ cups of water, and 1 cup of unsweetened shredded coconut in your blender. Then, using a cheesecloth or fine mesh strainer, strain the milk. Otherwise, use full fat coconut milk from can. Natural Value or Thai Kitchen are brands of coconut milk I recommend.
So there you have it... Healthy Homemade Dark Chocolate for your deepest chocolate needs when you want a savory hot drink to warm up. Enjoy.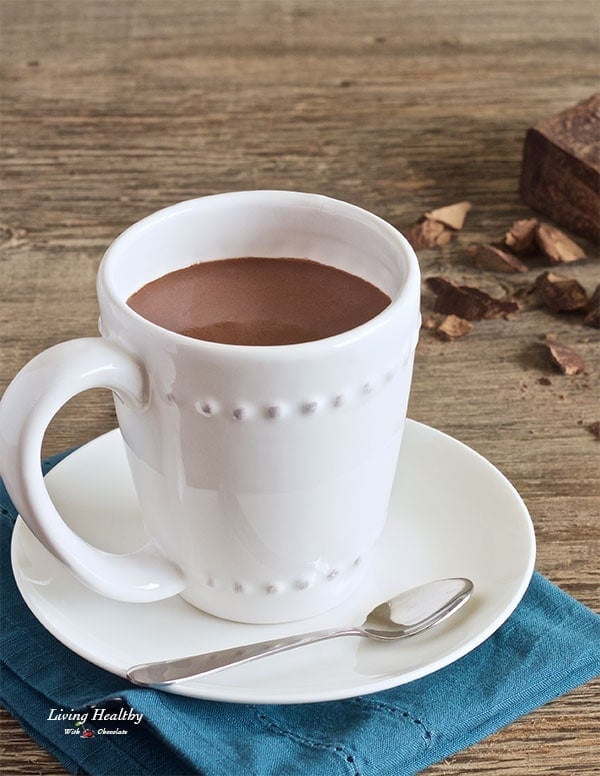 You might also like my Hot Chocolate on a Stick recipe. This recipe is from my cookbook.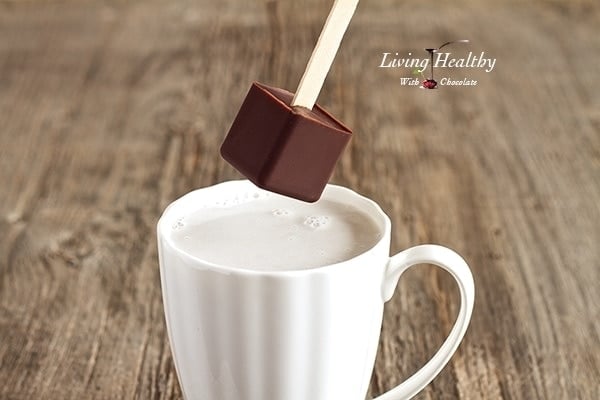 📖 Recipe
SHARE THIS RECIPE
Healthy Homemade Hot Chocolate (Paleo, dairy-free)
To see the brands I use, click each ingredient above or visit my Amazon shop.
Instructions
In a medium saucepan, heat the coconut milk until it starts to bubble over medium heat.

Stir all other ingredients and mix to combine. Stir frequently over medium heat for about 5 minutes until thick and smooth.
Notes
Top hot chocolate with coconut whipped cream and shaved dark chocolate.
Nutrition per serving
Calories:
408.4
kcal
Protein:
4.3
g
Fat:
41.4
g
Saturated Fat:
33
g
Sugar:
2.8
g
Fiber:
2.4
g
Carbohydrates:
6.9
g
Net Carbs:
4.5
g
*This post may contain affiliate links and as an Amazon Associate I earn from qualifying purchases. Please read my disclosure policy for more details.
Made this recipe?
Please leave a review and photo in the comments below.