For everyone that does not follow me via the various social media networks and have not seen my recipe for Paleo Chocolate Haupia Pie Squares that was featured as a guest post on the Civilized Caveman Cooking website, here it is! I hope you enjoy it and I'd love to hear your thoughts! Make sure to also check out my guest post at http://civilizedcavemancooking.com/grain-free-goodies/paleo-chocolate-haupia and follow George and his incredible blog full of healthy Paleo recipes.
♥♥♥
If you haven't heard of Haupia before, you are in for a real treat! Haupia is a tradition Hawaiian dessert often eaten on its own or as a topping for chocolate mousse pies or wedding cakes. Haupia is traditionally made from coconut milk, sugar, coconut extract and a starch to thicken it. The consistency is similar to a gelatin or thick pudding. Some recipes also add additional fresh or dried shredded coconut to enhance that incredible coconut flavor.
Hawaii really is an amazing place to live, especially because I absolutely love fresh coconut and there is plenty of it here year around. If you ever come visit the islands, you can find Haupia served at most local restaurants and at traditional Hawaiian lu'aus.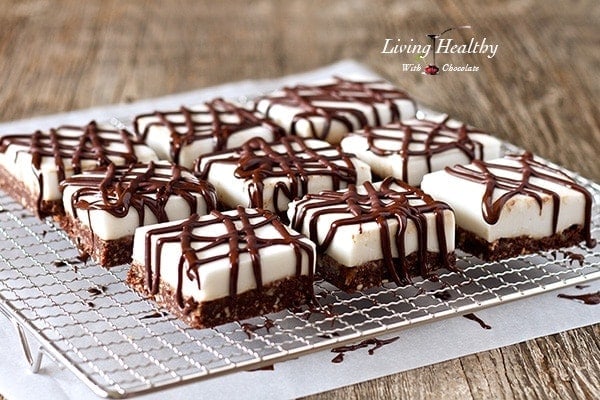 How about the combination of coconut and chocolate? For this recipe I decided to mix my two favorite treats into one delectable dessert. To accomplish this I created a sweet chocolate crust to complement my coconut Haupia. The crust is made of raw almonds, pecans and cocoa, and sweetened with dates. This chocolate crust is then topped with my Haupia and drizzled with melted chocolate on top. The Haupia has a very smooth consistency. It also has a rich coconut flavor and a very subtle sweetness. To me, the less sweetener you add to the Haupia mixture, the more you will be able to taste the natural sweetness of the coconut. It is magical!
The last thing I would like to add is that you MUST serve this dessert along with some type of berry. I personally love this with fresh blueberries or strawberries.
For sure this traditional Hawaiian dessert will be a big hit with your friends and family, paleo or not. Enjoy!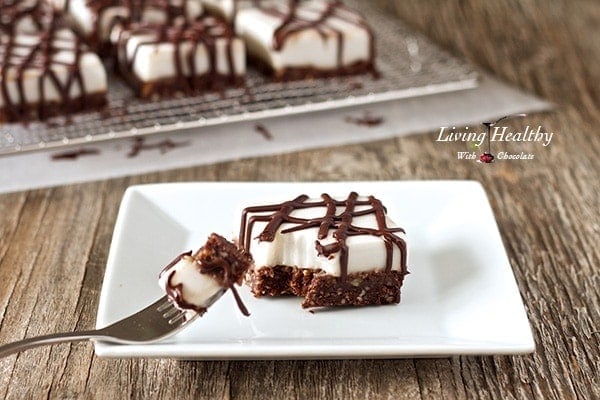 SHARE THIS RECIPE
Paleo Chocolate Haupia Pie Squares (grain free, gluten free, refined sugar free)
To see the brands I use, click each ingredient above or visit my Amazon shop.
Instructions
Chocolate Crust:
Line the bottom and sides of a square 8x8-inch pan with parchment paper.

Grind the almonds and pecans separately in a food processor until coarse ground.

Process dates in the food processor until creamy.

Using your hands, mix all crust ingredients until well combined, then press evenly onto the bottom of the prepared pan.
Haupia:
Combine the arrowroot powder and water in a saucepan and mix until the arrowroot is dissolved.

Whisk in the coconut milk and raw honey.

Slowly cook over medium-low heat, stirring constantly until it thickens.

Remove from the heat and stir in the vanilla extract.

Pour mixture over the crust and refrigerate overnight or until the coconut layer is firm.

Cut into squares, and drizzle top with melted dark chocolate before serving.
*This post may contain affiliate links and as an Amazon Associate I earn from qualifying purchases. Please read my disclosure policy for more details.
Recipe serves 10+ people.