Make these delicious Chocolate Chip Espresso Bars in just a few minutes using healthy ingredients to satisfy your sweet tooth. If you love chocolate and coffee this recipe is for you. (Paleo, Vegan, Gluten-free)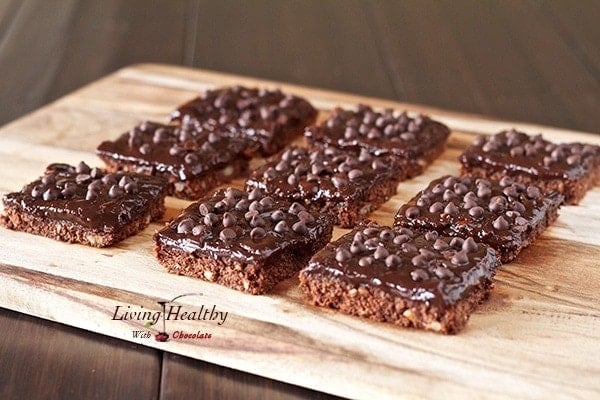 These bars have a crunchy chocolaty crust made of chopped pecans and almonds. Topping this delicious crust, is a silky smooth layer of chocolate. This creamy chocolate topping has a mild coffee flavor and is filled with mini dark chocolate chips.
I have to say that sometimes I feel like I am tempting everyones willpower too much with all the recipes I post every week. I also get tempted myself and want to eat everything I make. Sometimes it is really hard to just take a small bite to make sure the recipe turned out good and not eat the whole thing.
Luckily I have a lot of hungry friends and neighbors that love to eat all these delicious desserts I make. So these decadent Double Chocolate Espresso Bars are the last recipe I will be tempting you with this week.
For those of you that have food allergies, this recipe is dairy, egg, soy, gluten and grain free.
📖 Recipe
SHARE THIS RECIPE
Chocolate Chip Espresso Bars
To see the brands I use, click each ingredient above or visit my Amazon shop.
Instructions
Crust:
Preheat oven to 350°F and line an 8x8-inch pan with parchment paper covering all four sides.

Mix all ingredients for the crust and evenly distribute across the bottom of the pan.
Chocolate Layer:
In a medium saucepan, bring the coconut milk and honey to a light boil, then simmer on low for two hours, stirring occasionally. Do not cover the pan. You will know you cooked it long enough when the coconut milk is reduced to half and has a thicker consistency and darker color, similar to sweetened condensed milk.

Melt the chocolate chips in a double boiler.

Add ¾ cup of the cooked coconut milk to the melted chocolate along with the ground coffee and salt, then stir to combine.

Pour mixture over the crust and bake for 20 minutes at 350°F.

Remove from oven and immediately sprinkle top with chocolate chips, then set over a wire rack to cool.

Once cooled cut into squares and serve.
Notes
Please note you will need to plan ahead to make this recipe because it takes some time to reduce the coconut milk into a thick cream.
Recipe serves 10-12 people. Keep refrigerated.
Nutrition per serving
Calories:
257.1
kcal
Protein:
3.7
g
Fat:
23.9
g
Saturated Fat:
14.2
g
Sugar:
7
g
Fiber:
2
g
Carbohydrates:
11.4
g
Net Carbs:
9.4
g
*This post may contain affiliate links and as an Amazon Associate I earn from qualifying purchases. Please read my disclosure policy for more details.
Made this recipe?
Please leave a review and photo in the comments below.