These coconut dream cups are to die for, especially if you love coconut and chocolate like I do. The cups are made with coconut butter and filled with a creamy chocolate ganache that melts in your mouth. Coconut butter is made from one simple ingredient, unsweetened, dried shredded coconut! It is easy to make on your own and you can do it by simply adding 2 cups of shredded coconut to a food processor and processing it until it turns into a creamy paste, similar to peanut butter. Coconut butter is also sold in stores and below I list one of my favorite brands.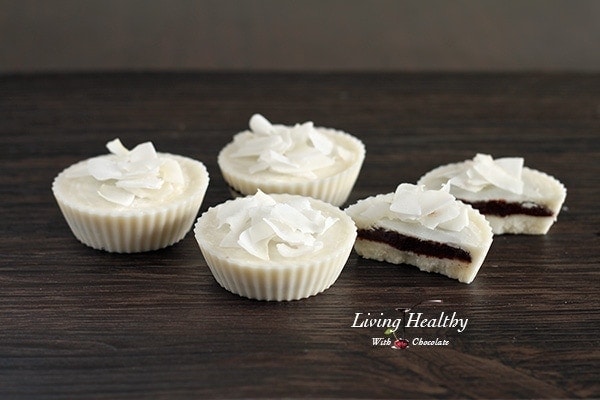 SHARE THIS RECIPE!
Coconut Dream Cups (Paleo, Low Carb, Dairy Free)
Instructions
add two teaspoons of coconut butter into six paper cup molds or silicone molds each and refrigerate. If your coconut butter is not soft, melt it by putting the jar in a saucepan, cover with water and heat it slowly until it melts completely.

melt the chocolate in a double boiler over simmering water and stir in the cacao powder, coconut milk, vanilla, honey and salt

add one teaspoon of the chocolate to the center of the chilled coconut butter and refrigerate until chocolate is set

remove from fridge and add one more teaspoon of the chocolate to the center and refrigerate until set *

top it with two teaspoons of coconut butter and refrigerate until set

garnish with coconut flakes and serve
Recipe Notes
*You can skip step 4 and just add two teaspoons of chocolate in step 3 all at once, however if you do this the chocolate will spread to the sides and you will see the line of chocolate on the sides of the cups.
Recipe makes 6 cups. Store in an airtight container in the fridge.