This healthier version of Chocolate Sprinkles is free of refined sugars, corn syrup, dairy, soy, and other chemicals. You need this recipe! So easy to make!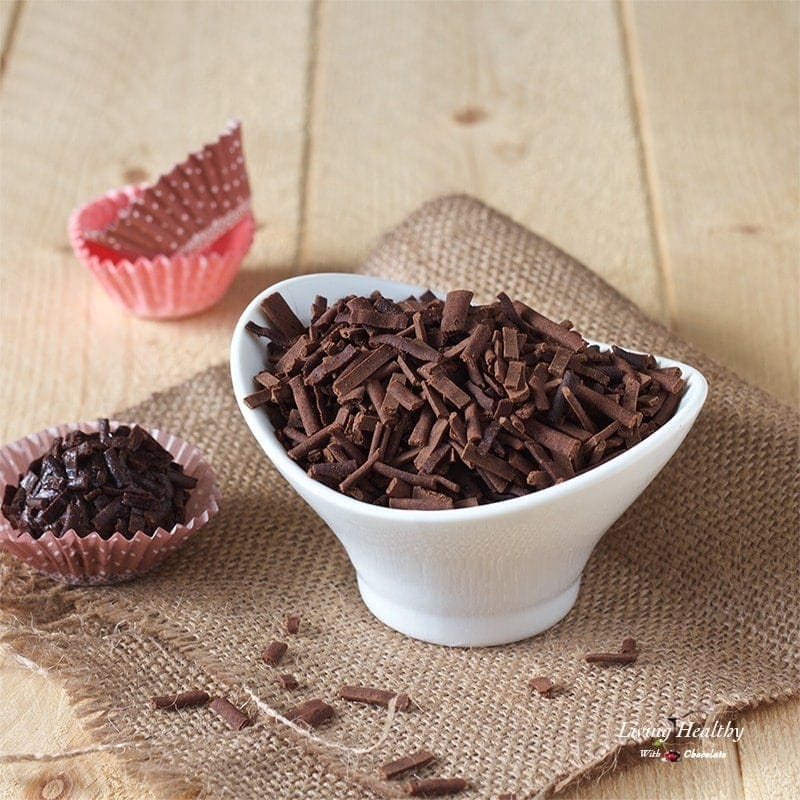 This is the healthier version of Chocolate Sprinkles you have been waiting for! This Homemade Chocolate Sprinkles recipe is free of refined sugars, corn syrup, dairy, soy, and other chemicals. Best of all, it's so easy to make!
Today I'm actually going to teach you how to make 2 recipes:
1- Homemade Chocolate Sprinkles
2- Paleo Powdered Sugar - simply a refined-sugar-free powdered sugar
Why do I consider these chocolate sprinkles a healthier version? Because these are made with antioxidant-rich raw cacao, pure vanilla extract and coconut sugar.
Although the main ingredient in this recipe is a sweetener, not all sugars have the same affect on the body, and some sugars have a number of nutrients in them. That's why I chose coconut sugar to be the main ingredient in this recipe and in my signature caramel sauce recipe.
Facts & health benefits of coconut sugar:
Coconut palm sugar is known for being low glycemic, meaning it has a slower effect on your blood sugar. It's high in B vitamins and minerals such as potassium, magnesium, zinc, and iron.
Coconut palm sugar is made from the sugary sap extracted from the flower buds of coconut palm trees. Immediately after extraction, the sap is boiled down to prevent fermentation until the water evaporates and a thick, sticky brown sugar is left. The sugar is then ground, sifted, and dried to produce the granulated coconut sugar. The product is sold as coconut palm sugar or sometimes as coconut blossom sugar. Don't confuse it with palm sugar, which is a different type of sugar extracted from Palmyra palm trees (or sugar palms).
•••
To make these sprinkles, I turned my granulated coconut sugar into powdered coconut sugar. The process is simple and all you need is a blender and a strainer. Using powdered coconut sugar in this chocolate sprinkle recipe gives them a smoother texture. So the finer your sugar is, the better the texture of your sprinkles will be.
Use these sprinkles to decorate cakes, cookies, muffins, ice cream and truffles. They not only make your desserts look pretty, they also add a hint of sweetness and crunch.
Dark Chocolate Truffle with Homemade Sprinkles - Click for recipe!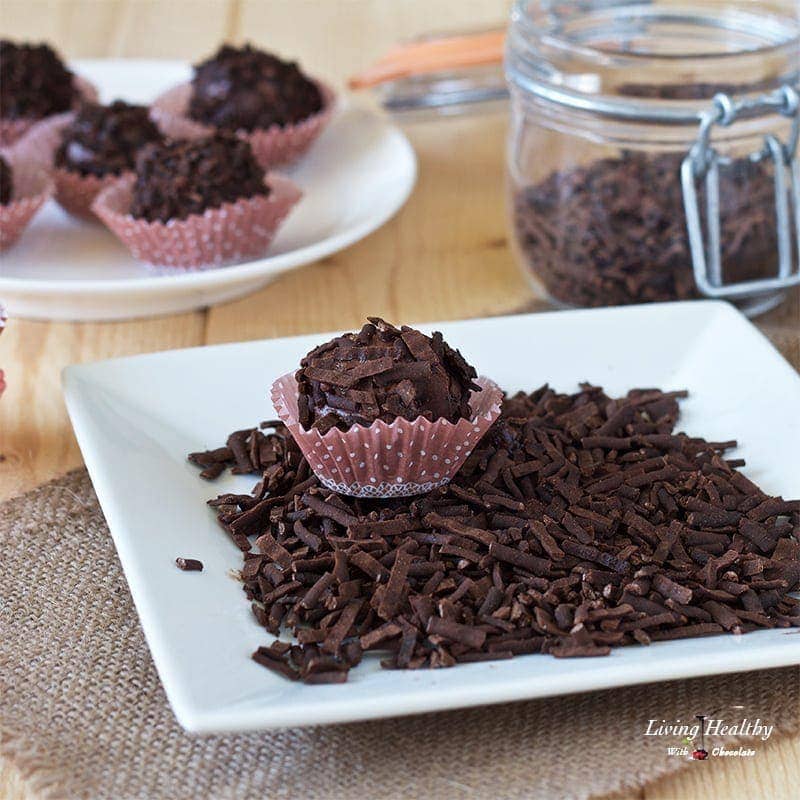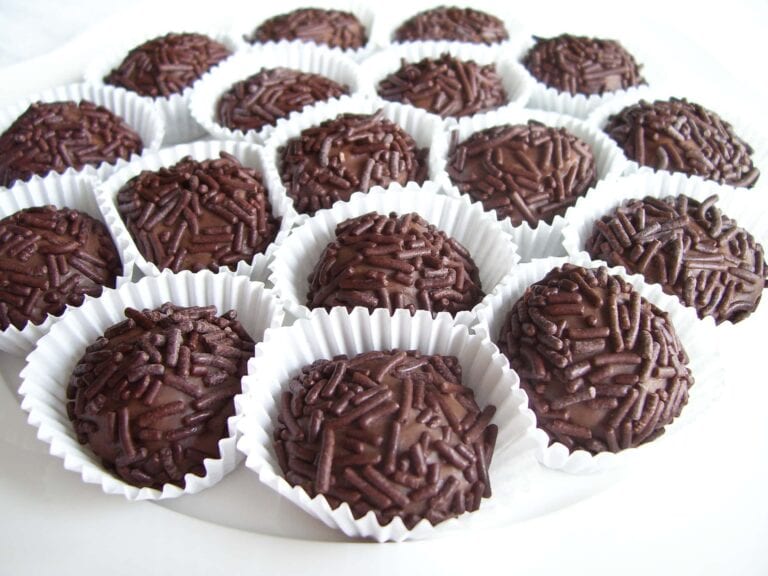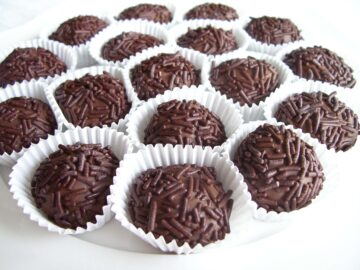 Have you seen my Brazilian chocolate truffle recipe? They are called Brigadeiro in Brazil, and I grew up eating them. They are usually decorated with chocolate sprinkles but now you have a much healthier option!
I hope you all enjoy decorating your desserts with these sprinkles and please share a photo of your desserts with me. Post them in the comments below and on Instagram with the hashtag #LivingHealthyWithChocolate so I can find it.
📖 Recipe
SHARE THIS RECIPE
Homemade Chocolate Sprinkles
To see the brands I use, click each ingredient above or visit my Amazon shop.
Instructions
Begin by making the powdered sugar. In a blender or food processor, blend the coconut sugar and arrowroot for a few seconds. Using a fine mash strainer, sift the sugar into a bowl and reserve.

To make the sprinkles, mix together in a medium bowl 150g (which is about 1 cup) of the powdered sugar, cacao powder, water, vanilla, salt, and coffee. Mix everything with a spoon until everything is combined and you have a smooth chocolate mixture.

Line about 4 cookie sheets with parchment paper.

Pour the chocolate mixture into a ziplock bag or pastry bag. Cut a small hole on one end of the bag and begin piping long and thin strips of chocolate onto the parchment paper (see photo below). If you use a pastry bag, use a small piping tip, number 3 or 4.

Allow chocolate to dry at room temperature in a cool, dry place for 24 to 48 hours. After the chocolate is set, cut into small pieces.

Store in an airtight container at room temperature.
Notes
- You can place the sheets in your oven to allow the chocolate to dry. This helps keep the bugs and dust away from the chocolate, but make sure your oven is tuned off.
- The finer you grind your sugar, the smoother the texture of your sprinkles will be.
- The coffee is optional. Mixing coffee and chocolate enhances the flavor of the chocolate.
- Reserve the leftover powdered sugar in an airtight container to make my Dark Chocolate Truffles recipe and other recipes. This powdered sugar recipes makes about 1 ¼ cups.
Piping long strips of chocolate onto the parchment paper.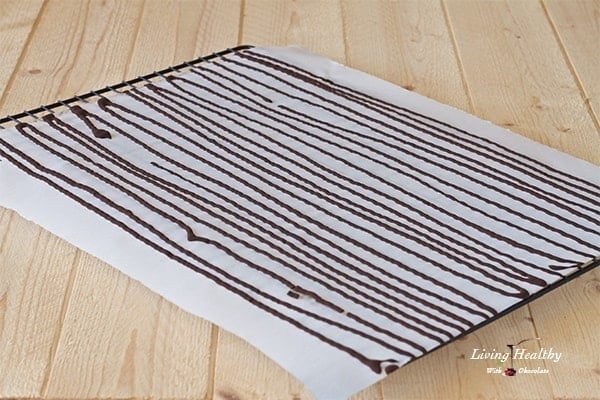 Nutrition per serving
Calories:
1351.9
kcal
Protein:
7.9
g
Fat:
5.5
g
Saturated Fat:
3.2
g
Sugar:
235.5
g
Fiber:
13.5
g
Carbohydrates:
342.3
g
Net Carbs:
328.8
g
*This post may contain affiliate links and as an Amazon Associate I earn from qualifying purchases. Please read my disclosure policy for more details.
Made this recipe?
Please leave a review and photo in the comments below.