If you ever crave chocolate, make this Healthy Emergency Chocolate Fix recipe which takes just 15 seconds and only 5 ingredients. (Paleo, Vegan, dairy-free)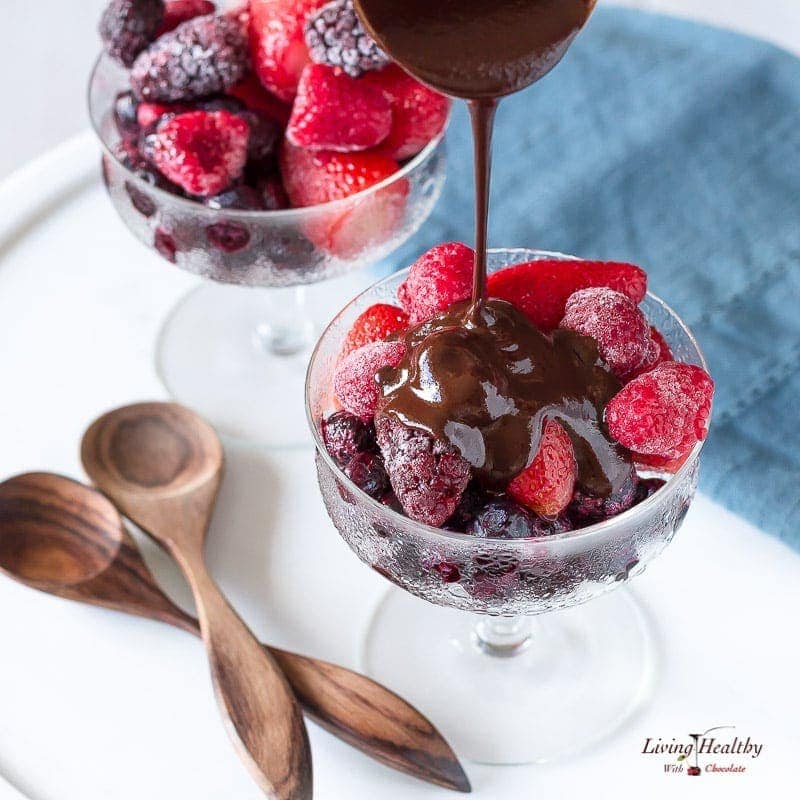 Have you ever had that crazy chocolate craving when there's no chocolate around the house? I always do! So today I'm going to share with you my quick-and-easy Healthy Emergency Chocolate Fix recipe that you can make in just 15 seconds and with only 5 ingredients.
This recipe is so simple in fact, that I filmed the steps for you to see. Watch the video below!
As you can see, curbing your sweet chocolate tooth can be healthy and easy to do. So next time you need a quick chocolate fix make this recipe at home and enjoy.
This dessert uses superfood ingredients high in antioxidants, mineral and vitamins, all found in the ingredients used to make the chocolate and of course the berries as well. Look how incredible and decadent it looks ?.
One thing I love about this dessert is the flavorful contrast of the chocolate and the berries.
You can use any fruits of your choice, but for me the berries are the perfect fruit to have with chocolate.
Using frozen fruit is not essential, but it does make this dessert more sensational and refreshing. I like to keep my freezer always stocked with berries to make this recipe and also smoothies.
Even though this recipe uses coconut oil, the dominant flavor is chocolate. If for some reason you don't like the taste of coconut you can use refined coconut oil instead of the unrefined since it has a much more mild flavor.
Other things you need to know about this recipe are:
If you are vegan, diabetic, or you are just simply not a fan of honey, you can substitute it for another sweetener of your choice like maple syrup or stevia. Also add as much, or as little sweetener to your taste.
You can run the frozen fruit in warm water for a few minutes to defrost it a bit.
This is important: You can skip step number 1 in the recipe. I often skip this step if I'm making this for myself. But my husband for example likes a smoother chocolate. So, one way to dissolve the cacao powder molecules and give your chocolate sauce a silky smooth texture is to make a thick chocolate paste with a bit of water before mixing the other ingredients (watch how I do this in the video above). You can use this trick whenever you want to dissolve cacao powder. This trick works great if you want to make smooth homemade hot chocolate for example.
This recipe serves one person and you can double, triple, or adjust the recipe to serve more people. You can make it ahead of time and keep it refrigerated. When it's time to serve, microwave it in 15 second intervals, stirring in between, until the chocolate is melted.
Add a tablespoon of almond butter to the mixture. It's delicious!
Let your imagination run wild and enjoy this healthy chocolate sauce by drizzling it over ice cream, waffles, muffins, or even as a ganache to top your birthday cakes. It is truly delicious!
Do you personally have other ways to satisfy your chocolate cravings? If you do, please share them with me in the comments below. I'd love to be inspired by you and your ideas!
More recipe ideas
🎥 Watch the recipe video
15 Seconds CHOCOLATE SAUCE (Healthy With Just 3 Ingredients!)
📖 Recipe
SHARE THIS RECIPE
Healthy Chocolate Fix for One in 15 Seconds
Ingredients
1

tablespoon (13g)

water

2

tablespoon (12g)

raw cacao powder

1

tablespoon (14g)

coconut oil,

soften

2

teaspoons (14g)

raw honey,

or maple syrup, stevia, etc

½ to ¾

cup

frozen or fresh berries

,

or other fruits
To see the brands I use, click each ingredient above or visit my Amazon shop.
Instructions
In a small bowl, add the water and cacao powder. Mix with a spoon until everything is well combined and a thick chocolate paste forms.

Add the coconut oil and the honey to the mixture and microwave for 15 seconds.

Stir contents in the bowl until combined. At this stage your chocolate might be thick. Thin it out to the desired consistency by adding about 1 teaspoon of water at the time, and mixing well after each addition. You might need about 3 teaspoons to make your chocolate have a smooth drizzling ganache consistency.

Pour chocolate sauce over your fruit of choice and enjoy.

If you make a large batch and have any chocolate left over, store it in an airtight jar in the refrigerator, and reheat it in the microwave at 15 seconds intervals until the chocolate is melted (or melt chocolate over a double boiler).
Notes
Note: you can skip adding the water in step 1 and just mix everything and microwave to make your chocolate. This works fine as well but your chocolate will have a grainy texture.
Nutrition facts calculator without the berries.
Nutrition per serving
Calories:
190.6
kcal
Protein:
2.4
g
Fat:
15.6
g
Saturated Fat:
13.1
g
Sugar:
11.7
g
Fiber:
4
g
Carbohydrates:
18.5
g
Net Carbs:
14.5
g
*This post may contain affiliate links and as an Amazon Associate I earn from qualifying purchases. Please read my disclosure policy for more details.
Made this recipe?
Please leave a review and photo in the comments below.