These healthified Dark Chocolate Truffles with Homemade Sprinkles are going to be a hit with your family and friends. They are creamy and smooth, dark and sweet. (Vegan, Paleo, dairy-free)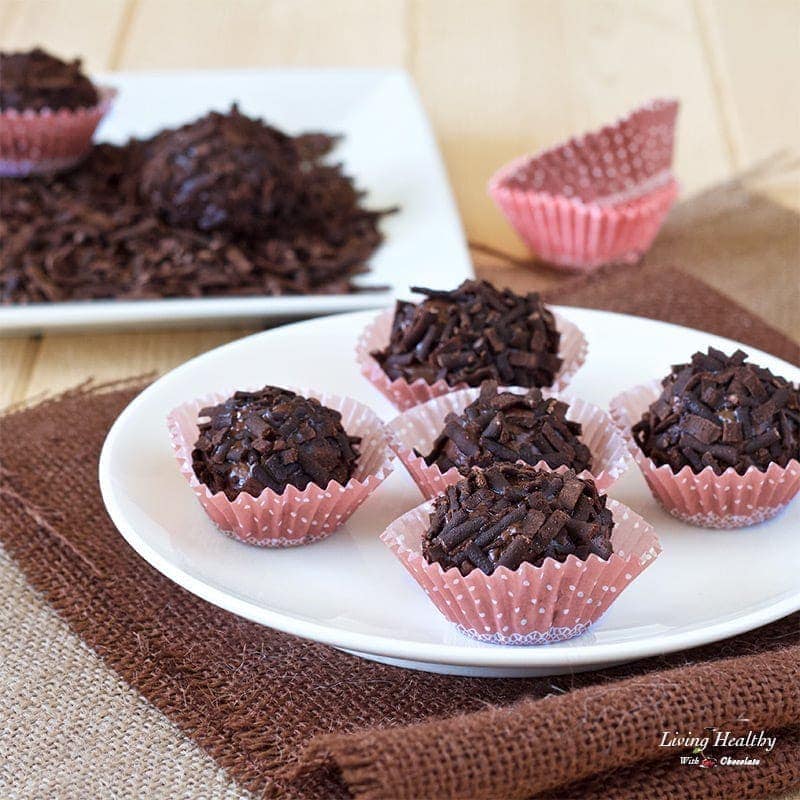 Before I tell you more about this recipe, I have something really important to tell you.
If you follow me on the social media sites like Instagram, Facebook and Pinterest you might not be able to see my posts anymore!
This is super sad, and I don't know why these sites decided to control what shows up on your feed regardless if you click to follow someone.
So, to make sure you're always notified when I have a new recipe, I can personally send you an email to let you know. This is great because we can keep in touch on a much more personal level and we can communicate more easily.
So enter your name and email address below so I can save it to my contacts and email you the next time I have a new recipe or other updates!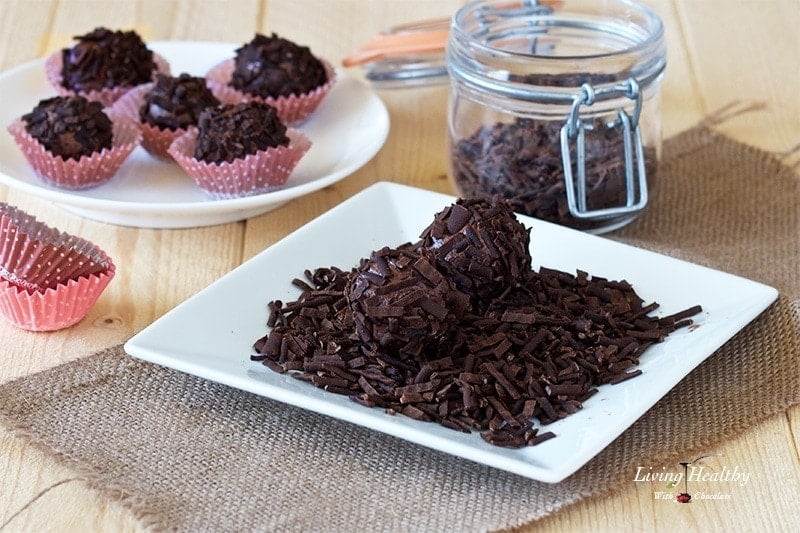 Back to these truffles 🙂 ...
This recipe is really simple to make.
As you can see, you only need 4 ingredients! One of them is my Homemade Chocolate Sprinkles recipe. But you can also roll your truffles in chopped nuts, shredded coconut or cacao powder. Or like me sometimes, don't roll it at all, and just eat a spoon daily straight from the pan ?.
What I love about these is that they have a dark chocolate taste and the chocolate sprinkles makes them just a little sweeter and crunchy.
And although they are made with coconut products, you can't taste the coconut much. The dominant flavor is definitely chocolate.
I hope you enjoy these and if you make them, please post a photo in the comments below so I can see them ?.
📖 Recipe
SHARE THIS RECIPE
Dark Chocolate Truffle with Homemade Chocolate Sprinkles
To see the brands I use, click each ingredient above or visit my Amazon shop.
Instructions
In a medium saucepan, stir the coconut milk and coconut sugar and bring the mixture to a boil over medium heat. As soon as it starts to bubble, stir frequently for 20 minutes. Then remove from the stove top and mix in the cacao powder. Return to the stove let it cook for an additional 10 minutes, stirring frequently so that it doesn't burn.

Remove from stove and let it cool of 5 minutes, then freeze for 10 minutes.

Using a handheld electrical mixer, whip the mixture for a few seconds and return pan to the freezer for another 10 minutes.

Whip the mixture with the mixer again until it thickens and turns lighter in color.

Grease your hands with coconut oil. Roll into balls, then roll on the chocolate sprinkles (if you plan to roll it at a later time, cover pan and store in the fridge).
Notes
For the coconut sugar in this recipe, you can use the leftover powdered coconut sugar you made from the Chocolate Sprinkles recipe.
Store truffles in the refrigerator.
Nutrition facts calculated without the chocolate sprinkles.
Nutrition per serving
Calories:
43.5
kcal
Protein:
0.5
g
Fat:
3.2
g
Saturated Fat:
2.6
g
Sugar:
2.3
g
Fiber:
0.5
g
Carbohydrates:
3.8
g
Net Carbs:
3.3
g
*This post may contain affiliate links and as an Amazon Associate I earn from qualifying purchases. Please read my disclosure policy for more details.
Made this recipe?
Please leave a review and photo in the comments below.