This Roasted Cinnamon Lemon Chicken with caramelized onions is baked to perfection and comes out juicy and moist every time. A delicious healthy meal for the whole family. This recipe is Paleo, Gluten-free and Whole30.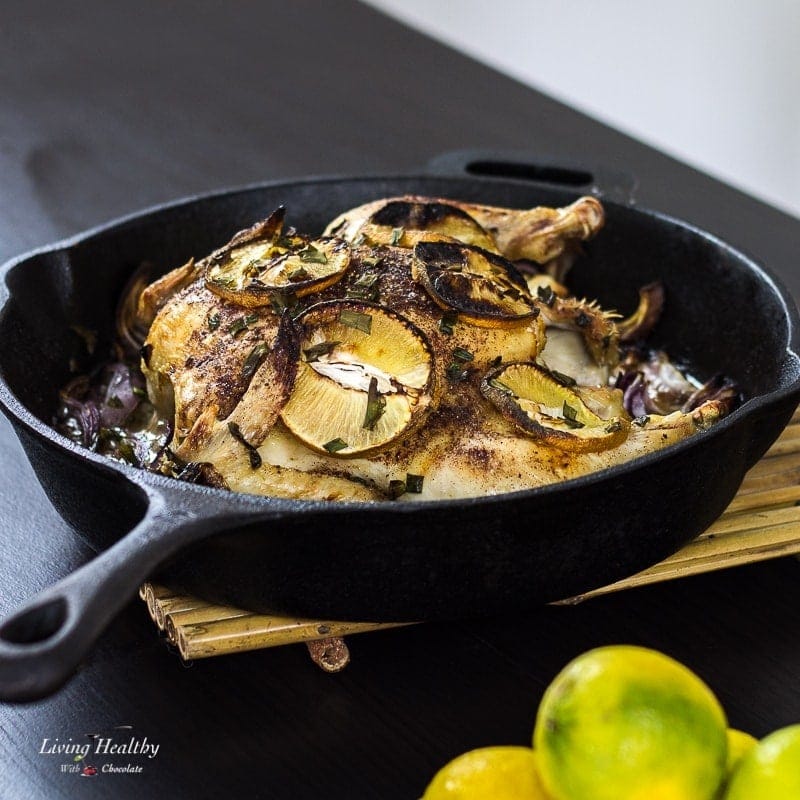 This Roasted Cinnamon Lemon Chicken is a staple in my home and today I want to share this easy recipe with you so you can try it in your own home.
This chicken is roasted to perfection and it comes out juicy and moist every time.
First thing, watch my instructional video below to see how each step is made.
Simple right? It takes just a few minutes to prepare it and in no time you have a healthy, super delicious meal. You can also bake at the same time a side dish of vegetables in a separate pan. Veggies like zucchini, leaks, asparagus, carrots, and broccoli for example are great to serve with this chicken. They bake for about 25 minutes and all you need is some salt, pepper and olive oil to season them.
Adding cinnamon to chicken may sound strange to some of you, but it's actually unbelievable how good it makes this chicken taste. You must give this a try!
Using red onions is not a must and you can use a different type of onion. But I find red onions to be sweeter and they caramelize really well during baking. It's one of my favorite things about this recipe.
I think it's hard to write recipes like this. It's not like baking where it's super important to write and follow the recipe and steps exactly. With this Roasted Cinnamon Lemon Chicken recipe you can adjust the amount of salt, pepper, cinnamon and olive oil added to your taste, and you can use any of your favorite fresh herbs if green onions aren't your favorite.
The measurements you see below are estimates and you can adjust them like I said. I usually sprinkle the salt, pepper, and cinnamon over the chicken, and then drizzle the olive oil making sure every part of the chicken is seasoned well.
When you try this recipe at home comment below and let me know your thoughts. Let me know if you made any modifications and how it turned out. I'm looking forward to reading your feedback. Don't forget to post a photo of your meal with your comments also. I love seeing your creations and I get really inspired by them.
More dinner ideas
🎥 Watch the recipe video
Roasted Cinnamon Lemon Chicken (Paleo, Gluten-free)
📖 Recipe
SHARE THIS RECIPE
Roasted Cinnamon Lemon Chicken
Ingredients
5.5

lbs

whole organic chicken

1

large

red onion

1

small

lemon

2

teaspoons

fine Himalayan salt

1

teaspoon

pepper

1

teaspoon

ground cinnamon

¼

cup

olive oil

3

tablespoons

green onions

,

chopped
To see the brands I use, click each ingredient above or visit my Amazon shop.
Instructions
Preheat oven to 400 degrees F (200 degrees C).

Place chicken in a large roasting pan. Sprinkle the salt, pepper and cinnamon over the chicken, then drizzle with olive oil.

Thinly slice the onion and place it in the pan around the chicken. Add salt and olive oil to onions.

Cut the lemon into thin slices and place them over the chicken.

Sprinkle chopped green onions over the chicken and bake uncovered for 1 hour. Rotate the pan once after 30 minutes to ensure both sides cook evenly.
Notes
If you can, buy a chicken that is not just organic but also pastured. This means the chickens were raised outdoors eating nutritious bugs in the ground, which in turns gives you a lot more nutrition 😉
A note about salt - I only use Himalayan salt to cook and bake with. It's more nutritions and tastes great. Not all salts are the same and some give your food a saltier taste. The link to the one I use is below.
P.S. Have you seen my Skillet Chicken with Spicy Paprika Sauce recipe? It's also delicious! Click here for the recipe.
Nutrition per serving
Calories:
523
kcal
Protein:
37
g
Fat:
39
g
Saturated Fat:
9
g
Sugar:
1
g
Fiber:
1
g
Carbohydrates:
4
g
Net Carbs:
3
g
*This post may contain affiliate links and as an Amazon Associate I earn from qualifying purchases. Please read my disclosure policy for more details.
Made this recipe?
Please leave a review and photo in the comments below.