Delicious spicy chicken made quickly in a skillet and cooked to perfection with a flavorful paprika sauce. This recipe is Paleo, Keto, Whole30 and Gluten-free.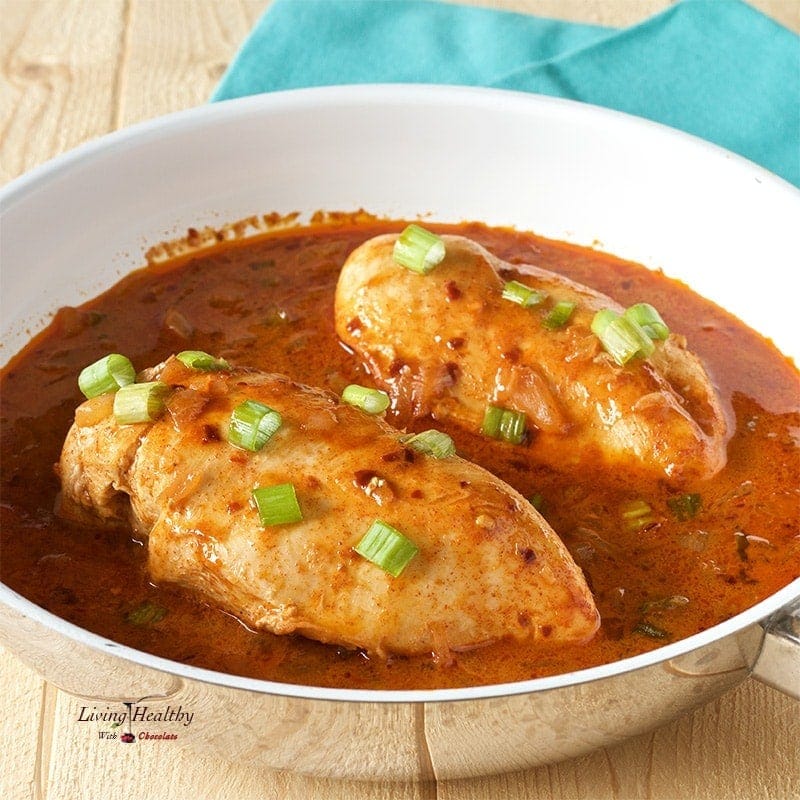 I love baking and making desserts as delicious, healthy and as beautiful as I possibly can, but today I have a very different recipe to share with you.
If you like spicy food, you'll love this recipe. But if you are not a fan of spicy food, you can make this less spicy and it will still taste amazing.
The combination of spices and cooking method results in a chicken that is flavorful and tender.
Served along with a low-carb vegetable of your choice this meal is healthy, and most important super tasty. You really don't need a serving of rice, pasta, bread or another carb-loaded-side to enhance the flavor of this meal. You'll feel satisfied, and really good afterwards.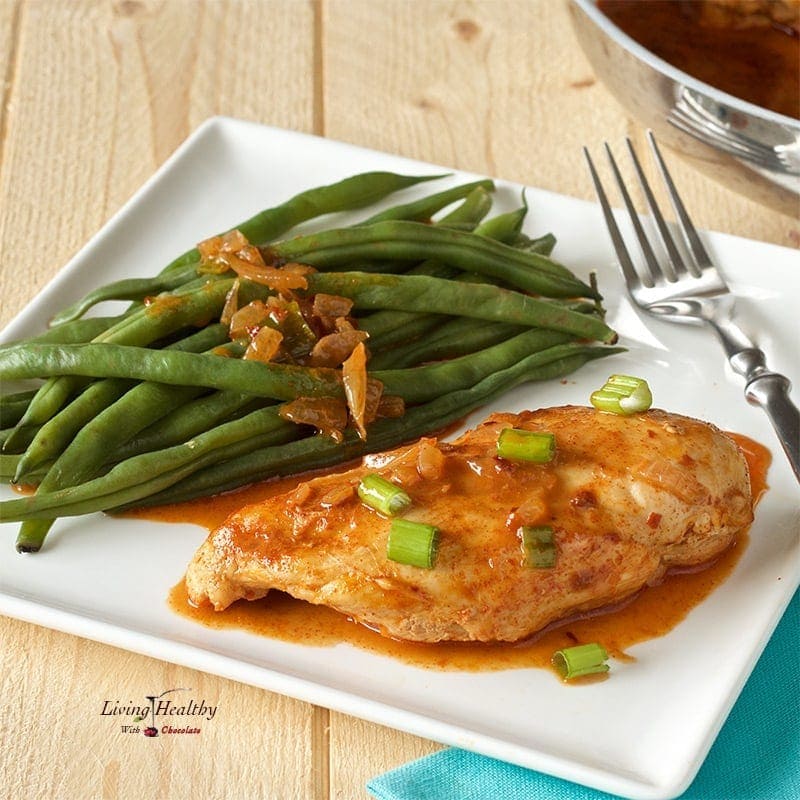 You can make this same recipe with beef, pork, shrimp or scallops in place of chicken as well and it's delicious!
I'm always trying to find ways to have more bone broth on a daily basis and this is how this recipe was born. Bone broth is on the very top of my superfoods list. It's rich in so many minerals, vitamins, it helps my digestion, keeps my skin looking young, and my bones and joints in good shape. This is truly a miracle food we should all consume regularly like our ancestors and many traditional cultures have done for centuries.
The reason I am posting this recipe today is because I'd love to know if you want to learn more about the foods that helped me gain my health back.
As you may know, I suffered from severe stomach and joint pain. I had digestive issues, cavities in my teeth and I was bit overweight. I had several doctors examine me but they couldn't help me.
I've never been a fan of going to the doctor, but I was always really into science and learning things on my own. In my late twenties the inflammation in my body got worse and it was getting in the way of my daily activities and athletic lifestyle, so I decided to look into the possible causes on my own.
Having a degree in Biology helped me read through the medical literature and understand what the papers and books were saying. I read so many books, articles and anything I could find and I began to understand that some of the foods I was eating were affecting my health.
Long story short, and after many years of experimenting with removing and reintroducing certain foods into my diet, I began to recover. My inflammation went down, my digestion and joint pain improved, and without even trying I lost weight as well.
Many of you may be trying to improve your health or know someone who is. So I'd really love to hear from you and I'd like you to take 1 minute and respond to a couple of questions I have in this form. Your answers are really important and will help me improve my work to serve you and help you more. THANK YOU in advance 🙂
I really hope you make this recipe and that you enjoy it.
🎥 Watch the recipe video
Skillet Chicken with Spicy Paprika Sauce (Paleo, Gluten-free, Whole30)
📖 Recipe
SHARE THIS RECIPE
Skillet Chicken with Spicy Paprika Sauce
To see the brands I use, click each ingredient above or visit my Amazon shop.
Instructions
In a large skillet, heat the coconut oil over medium-high heat. Add the chicken and cook each side for 1 to 2 minutes, turning once. You want the chicken nice and browned on the outside. Set the chicken aside on a plate.

Lower heat to medium and cook the onions on the same pan until soft and beginning to brown.

Add the chicken broth, coconut milk, fresh lime juice, pepper flakes, paprika and stir to combine.

Place the chicken back into the pan and sprinkle top with sea salt. Turn chicken over, and then over again to incorporate some of the salt into the sauce.

Let it cook uncovered for 10 to 15 minutes, turning the chicken a couple of times. Cooking time will very depending on how thick your chicken is. Mine was very thick and took 15 minutes to cook all the way through.

Serve with your favorite vegetable or salads.
Notes
*For the homemade chicken broth, cook the bones of a whole chicken in a large pot for 10-13 hours at low heat. Cover the chicken completely with water, add a dash of vinegar, and cover the pan during cooking. Use a strainer to strain the broth and discard the bones. You can cook the bones again and freeze the broth for later use.
You can make this recipe less spicy by adding less red pepper flakes to your sauce. If you are unsure how spicy you want your sauce, I suggest you add a ¼ teaspoon at first and try the sauce. Then ad more to taste.
I served my chicken with green bean. I cooked my beans in a pressure cooker for 1 minutes and topped it with the spicy paprika sauce.
Nutrition per serving
Calories:
433
kcal
Protein:
68
g
Fat:
13
g
Saturated Fat:
6
g
Sugar:
2
g
Fiber:
1
g
Carbohydrates:
5
g
Net Carbs:
4
g
*This post may contain affiliate links and as an Amazon Associate I earn from qualifying purchases. Please read my disclosure policy for more details.
Made this recipe?
Please leave a review and photo in the comments below.