This is a healthy Carrot Apple Soup made with fresh carrots that is very easy to make, and will keep you cozy and warm in the fall. This recipe combines the sweetness of apples and carrots with savory fall spices to make a creamy and delicious soup.
See why so many people enjoy this tasty soup and don't forget my crunchy cassava crackers for dunking! They are the perfect complement to this soup.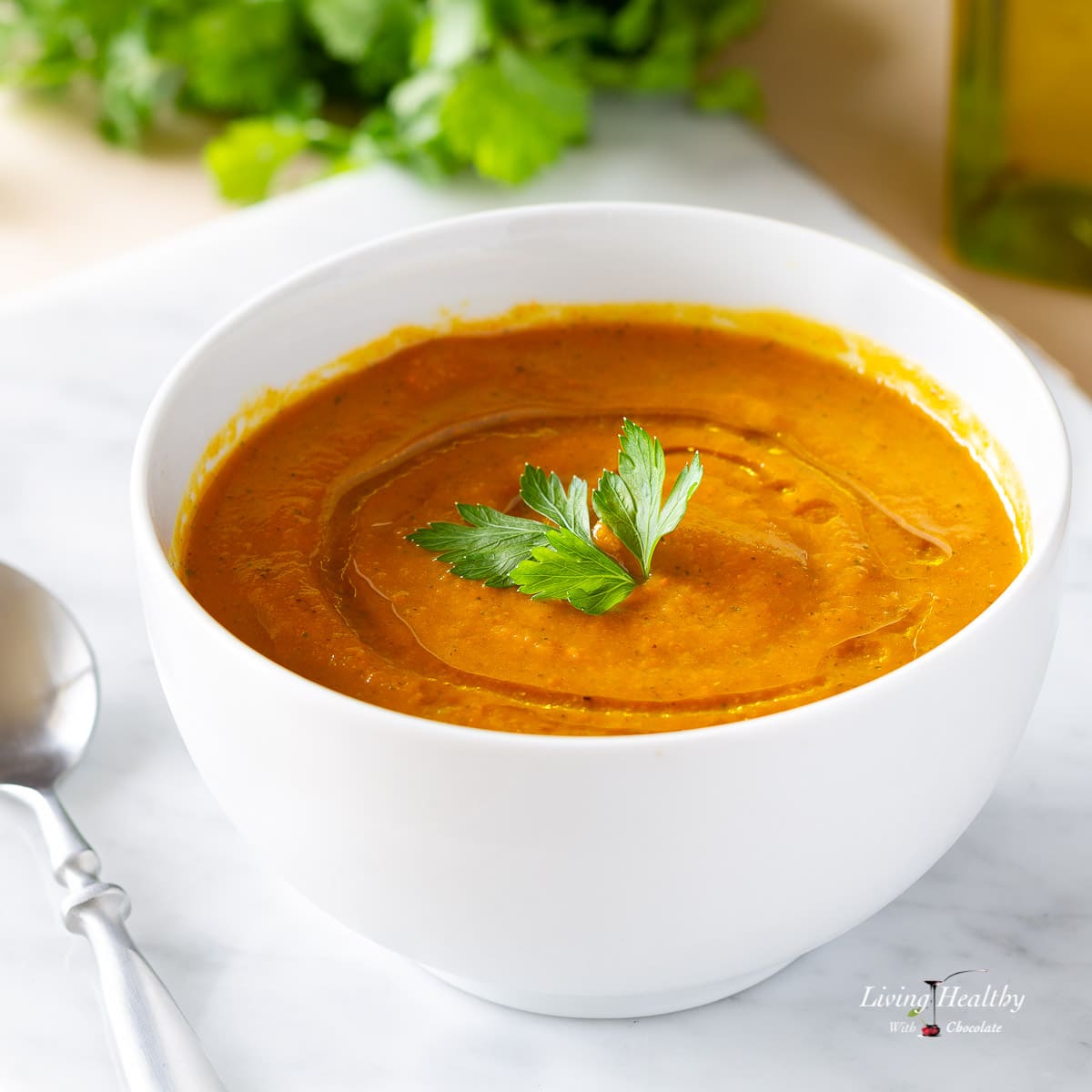 Jump to:
You'll love this simple homemade apple carrot soup
Home cooking should be simple and flavorful, and this carrot apple soup is one of those dishes that you will make now and forever. The whole family including babies and toddlers will enjoy it for dinner.
Gently flavored with applesauce, the taste reminds me of my favorite pumpkin soup but with a special sweet hint of apple. It's delicious, creamy, velvety smooth, light and filling.
And while this full flavored soup is easy to make, let's not forget it's super healthy too. It's high in nutritious calories, dairy-free, gluten-free, Paleo and Whole30 friendly, including a Vegan option.
⭐️ Featured comment
"First time making it and it was a success! It's delicious and light. My fiancé even loved it and he's picky." --Jessica Nunez
---
Ingredients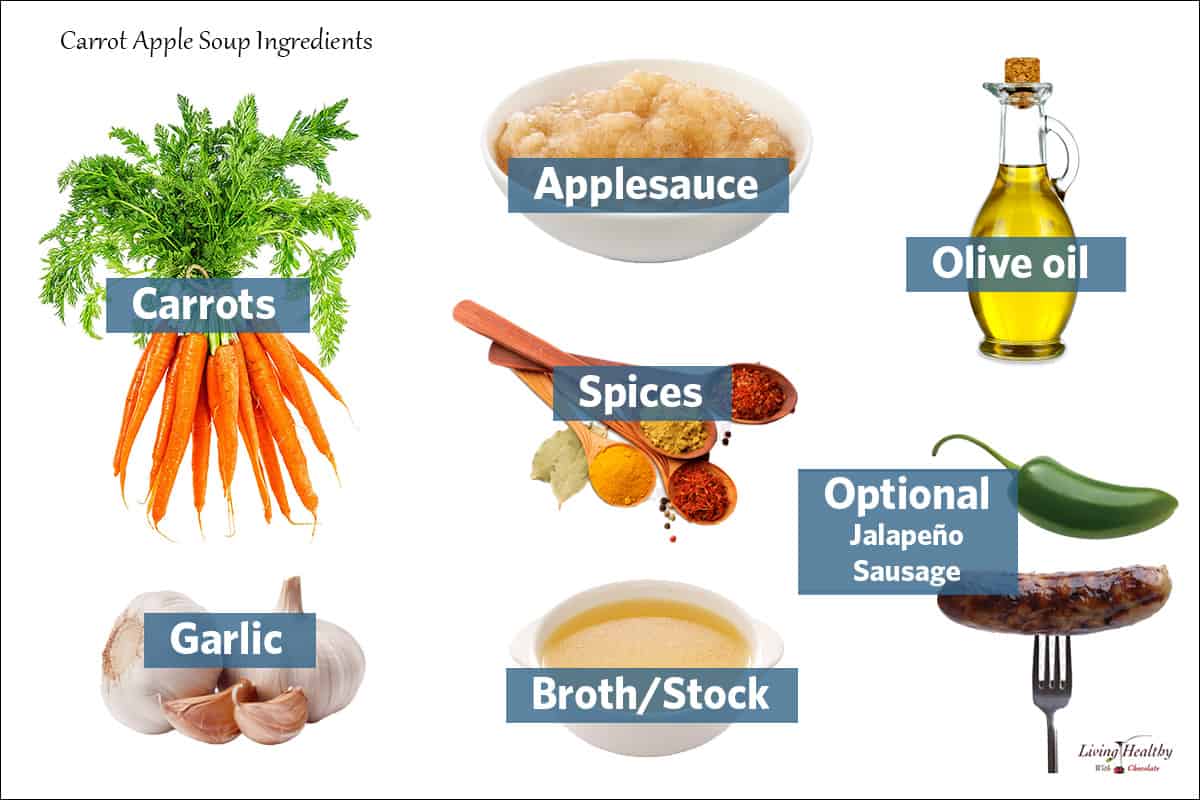 Carrots, unsweetened applesauce and stock are the 3 main ingredients you need to make this great quick and easy soup recipe. Below are a few notes about some of the ingredients.
Applesauce: Making soup with applesauce may sound different but it adds a lovely sweetness that goes really well with carrots and savory spices.
Stock/broth: For a tastier, healthier carrot soup, don't skip the broth! I recommend using chicken or vegetable stock. I make my own stock which is much more tasty.
Jalapeño: Adding a jalapeño pepper is optional. It adds a special mild heat to the soup.
Cumin/turmeric and garlic: These are spices that turn a simple recipe into the most delicious soup.
Sausages/other meats: A totally optional addition, but one that I never skip because it adds even more flavor and texture.
I usually make my soup with an organic chicken-apple sausage I get from Costco or Target, but any sausage you like also works. Sometimes I also make it with shredded beef or chicken which are other delicious options.
Pans and tool you can use
Dutch oven and stockpot: Dutch ovens or large stockpots are excellent for making soups and it's what I'm using in this recipe.
Instant Pot or traditional pressure cooker: Great if you want to make this recipe super quick because the soup cooks in less than 10 minutes.
Slow cooker: The slow cooker helps bring out the flavors because it cooks slowly. Plus it's great that you can throw everything in the pan, let it cook for a few hours without having to tend to it.
Immersion blender: My favorite tool for pureeing and blending all of the ingredients in the same pan.
Blender or food processor: A high speed blender like the Vitamix or a food processor are other helpful tools to puree the ingredients for this carrot soup. Simply add the carrots and stock to your machine and blend until smooth (you may need to blend in batches).
---
Instructions
Below is a step-by-step visual so you can see how to make this carrot apple soup from scratch in a stockpot. Be sure to have all your ingredients ready and chopped before you begin.
Step 1: Sauté garlic, jalapeño and carrots in olive oil.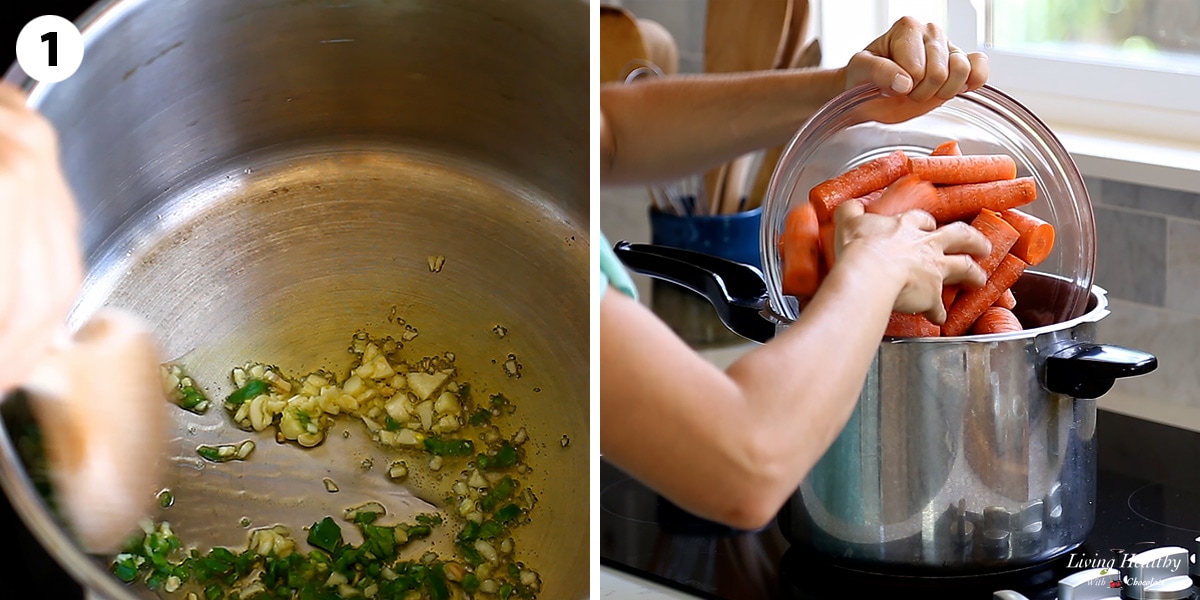 Heat oil over medium heat and begin by sautéing the chopped garlic cloves and jalapeño for a couple of minutes. Then stir in the carrots and sauté for an additional 5 minutes to roast the carrots and bring out more flavor.
PS. You can also add a large onion to the mixture in this step to build even more flavor.
Step 2: Season it with salt and spices.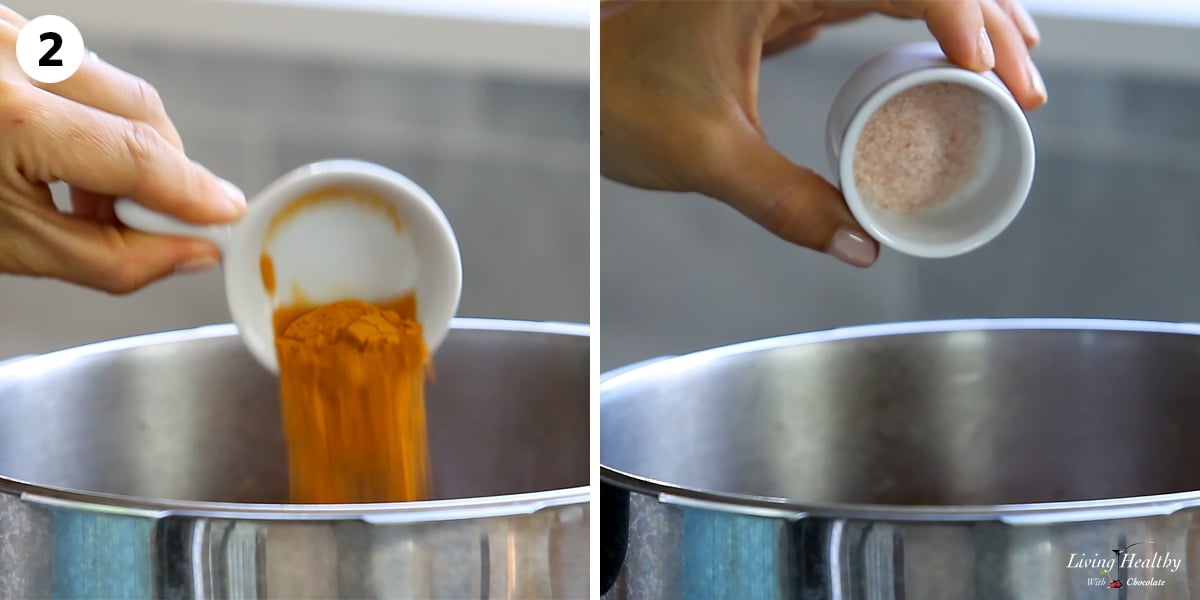 Season the sautéed ingredients with salt, cumin and turmeric, give it a stir and let it cook for another minute. Sometimes I also like to add crushed black pepper to spice it up a little.
Step 3: Add broth, applesauce and let it cook.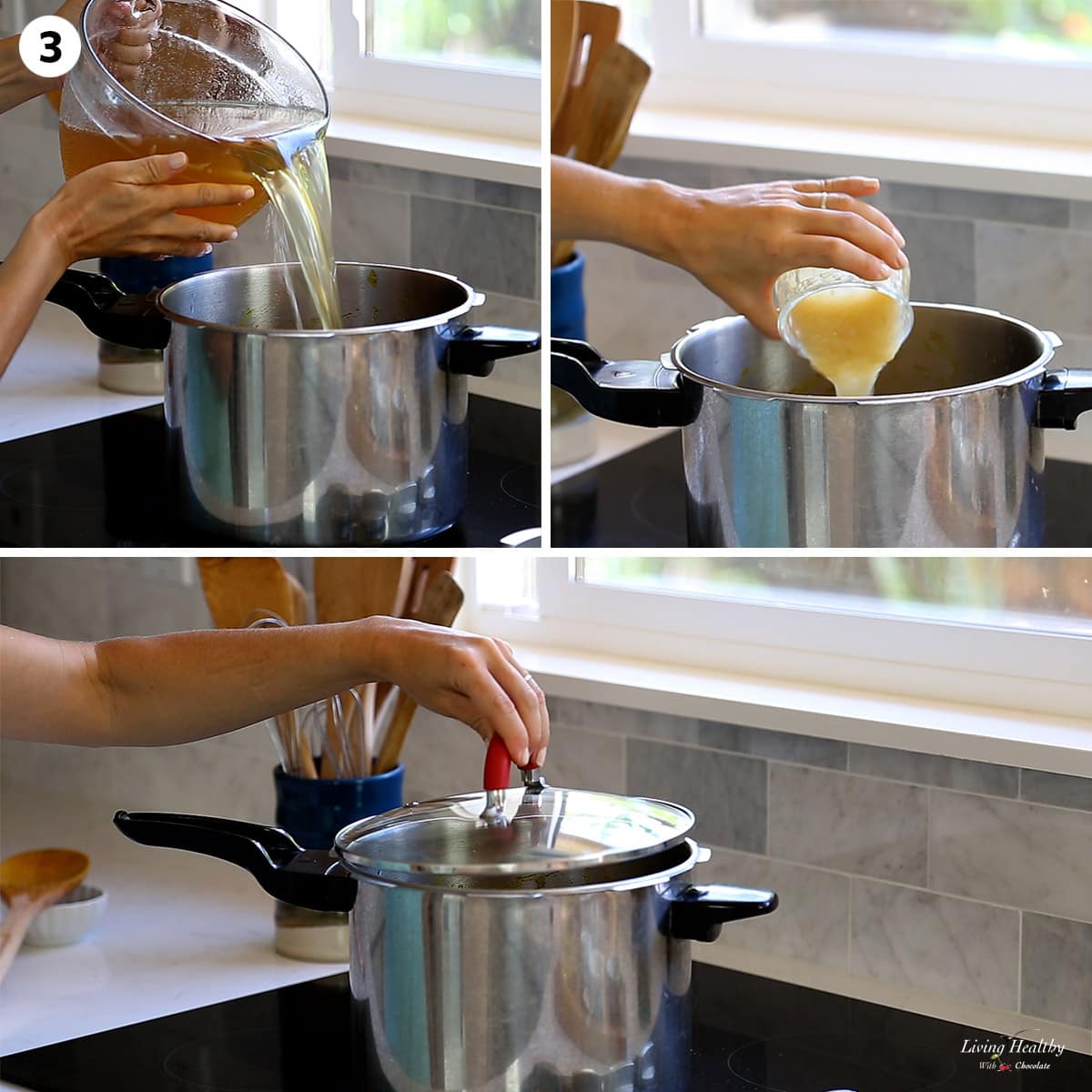 Next, add the broth and applesauce to your soup pot. Place the lid on the pan, bring the mixture to a light boil and let it simmer for 30 to 40 minutes over medium-heat to allow the carrots to cook until they're soft and tender.
Step 4: Puree soup.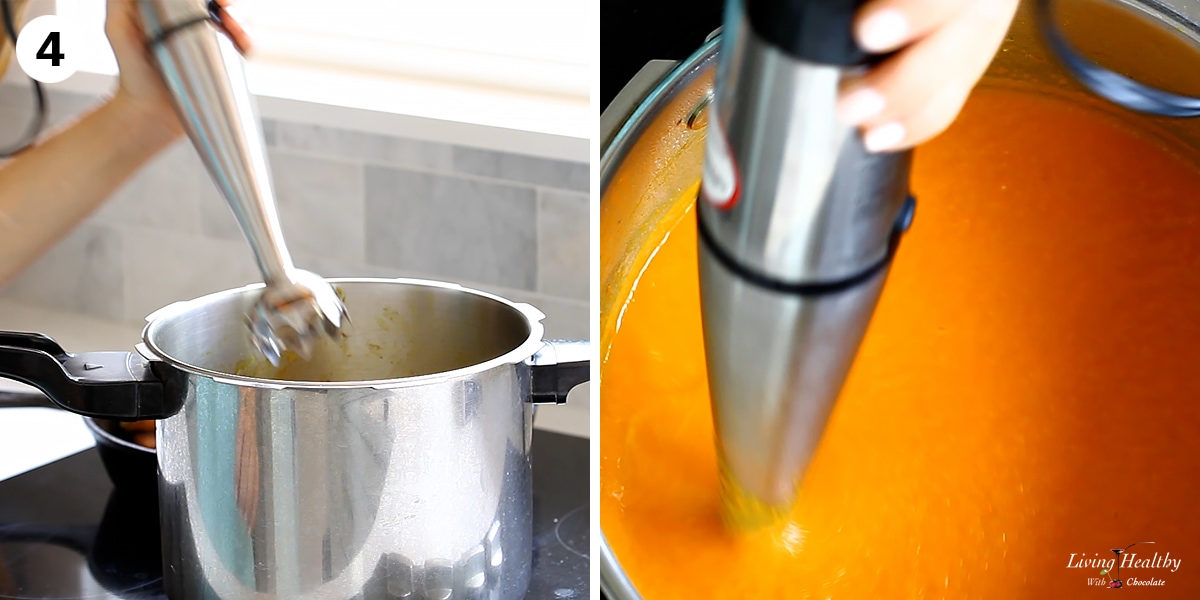 To finish, puree the ingredients in the pot using an immersion blender if you have one, or puree in batches in a blender.
Step 5 (optional - skip if Vegan): Sauté and add sausage, chicken or beef to soup.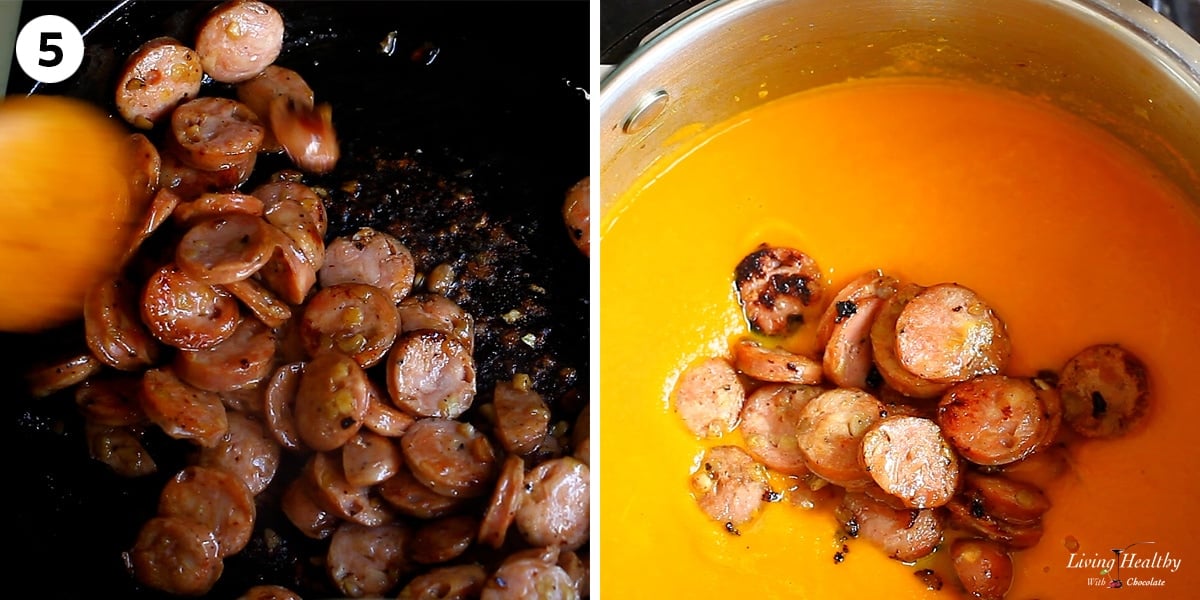 My Paleo, Whole30 friends, I suggest you don't skip adding some meat to your soup! I personally love sautéing some sausages in a skillet and adding them to my finished soup. Tastes delicious and adds texture.
You can use any other type of meat you like such as beef, chicken, ground beef, bacon. Cut into cubes or shred it, and sauté in a little oil, ghee or butter.
---
How to add flavor
While this carrot apple soup is my favorite recipe to make most often, sometimes it's nice to change things up by adding other flavors! Here are a few suggestions:
Ginger: Sauté 1 tablespoon of finely chopped fresh ginger together with the garlic and jalapeño, then proceed with the recipe. Or add 1 ½ teaspoons of ground ginger.
Fall and winter spices: Add in 1 teaspoon or so each of coriander, smoked paprika, cardamon, cinnamon, nutmeg or allspice, and a bay leaf.
Curried soup: Stir in about 1 tablespoon of curry powder to the mix.
Thai inspired: Add 2 tablespoons of red, green or yellow curry paste and substitute ¾ of the stock with coconut milk. Garnish with coriander/cilantro or basil.
More veggies: Substitute some of the carrots with veggies like pumpkin, butternut squash, potato, cauliflower, broccoli, celery, tomato, leek, etc.
Storage
This carrot apple soup will keep well in the fridge for about 1 week, or can be frozen for about 3 months – just thaw, then reheat in a pot on your stovetop or microwave.
Sides and dunkers
As for what to serve with this creamy tasty soup, try one of these delicious gluten-free breads for dunking.
🙋‍♀️ FAQs
How can I make this carrot soup in the Instant Pot?
The steps are the same but your soup will be ready much faster. Begin by sautéing the carrots with garlic and jalapeño. Add the broth and applesauce, and cook on high pressure for about 8 to 10 minutes then puree with your blender.
Can I make it with fresh apple instead of applesauce?
Yes and fresh apples would be delicious! Core 1 medium to large apple to remove the middle and seeds, then cut into 4 pieces. Add the pieces to the soup when you add the broth in step 3 and let it simmer to soften with the carrots. You will then puree the apple chunks and carrots together to get a creamy carrot apple soup.
I don't like carrots can I substitute it?
This soup doesn't have a strong carrot taste, but you can substitute them with pumpkin or butternut squash. I remember the first time I made it, my husband thought this would taste like carrots and he wouldn't like it. After trying, he loved it and now this is one of his favorite soups.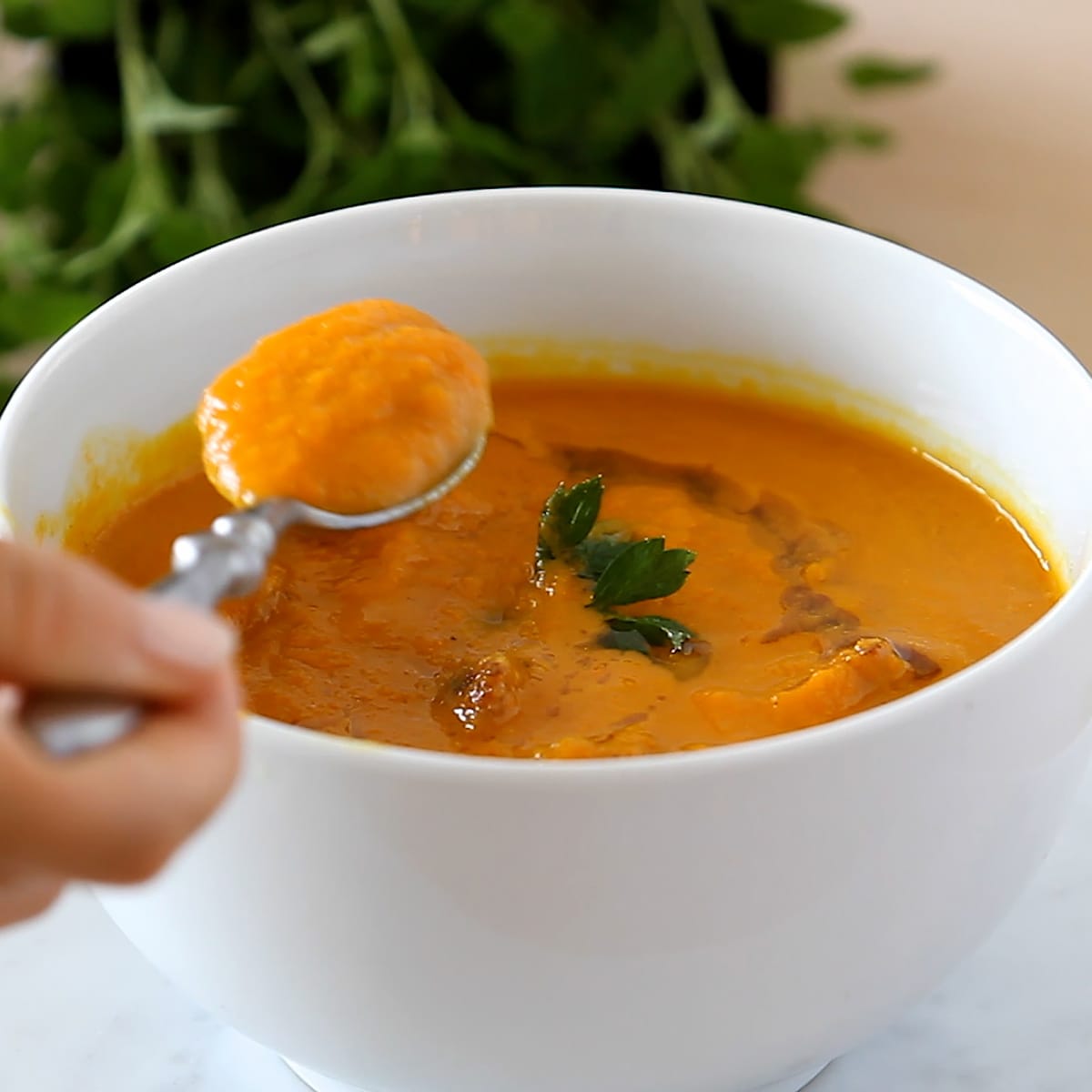 Carrots and apples – a classic match. Both fall season favorites that come together in a brand new way. It's a soup that will warm your heart and put a spring in your step. I hope you make it soon and enjoy!
Be sure to make these healthy ginger cookies for dessert. They're to die for and so soft and chewy!
Like this recipe? Subscribe to my newsletter for email updates, and follow along on YouTube, Instagram, Facebook and Pinterest for all of the latest updates.
---
🎥 Recipe video
Healthy Carrot Apple Soup
📖 Recipe
SHARE THIS RECIPE
Carrot Apple Soup
Ingredients
Optional
5

sausages

,

chicken or beef
To see the brands I use, click each ingredient above or visit my Amazon shop.
Instructions
Cut the carrots in half or in thirds depending on how big they are.

Chop the garlic and jalapeño and sauté them in 2 tablespoons of olive oil for 2 minutes over medium-heat. Add the carrots and sauté for another 5 minutes.

Add the cumin, turmeric and salt and let it cook for another minute.

Add the stock, applesauce and and stir. Place the lid on the pan and allow the carrots to cook until soften, about 30 to 40 minutes over medium-heat.

Using an immersion blender, puree the carrots in the pan. You can also use any blender you have - add the carrots and stock to your blender and blend to puree everything (you may need to do this in batches).
Optional:
Slice and sauté sausage in a skillet over medium-heat with 1 tablespoon of olive oil until brown. Then mix them in your carrot soup and serve.
Notes
You can speed up cooking time by making it in the Instant Pot or pressure cooker - please see post for instructions.
Storage: Store in the fridge for up to 1 week, or freeze for about 3 months. Reheat soup in a pot on your stovetop or microwave.
Nutrition facts calculated with chicken broth and without sausages.
Nutrition per serving
Calories:
113.6
kcal
Protein:
2.1
g
Fat:
6.1
g
Saturated Fat:
0.8
g
Sugar:
6.9
g
Fiber:
3.5
g
Carbohydrates:
14.3
g
Net Carbs:
10.8
g
*This post may contain affiliate links and as an Amazon Associate I earn from qualifying purchases. Please read my disclosure policy for more details.
Made this recipe?
Please leave a review and photo in the comments below.
This recipe was originally published on Oct 27, 2016 and this post has been updated with new information and photos. No adjustment were made to the recipe.