Have you ever wonder if there's an easy way to cut cauliflower into florets? My method will simplify the process for you and I will show you step by step how I cut cauliflower into florets. With those beautiful florets, we will then make a delicious and healthy cauliflower rice.
I made a video showing you how to cut cauliflower into florets and make my easy cauliflower rice recipe so be sure to watch it.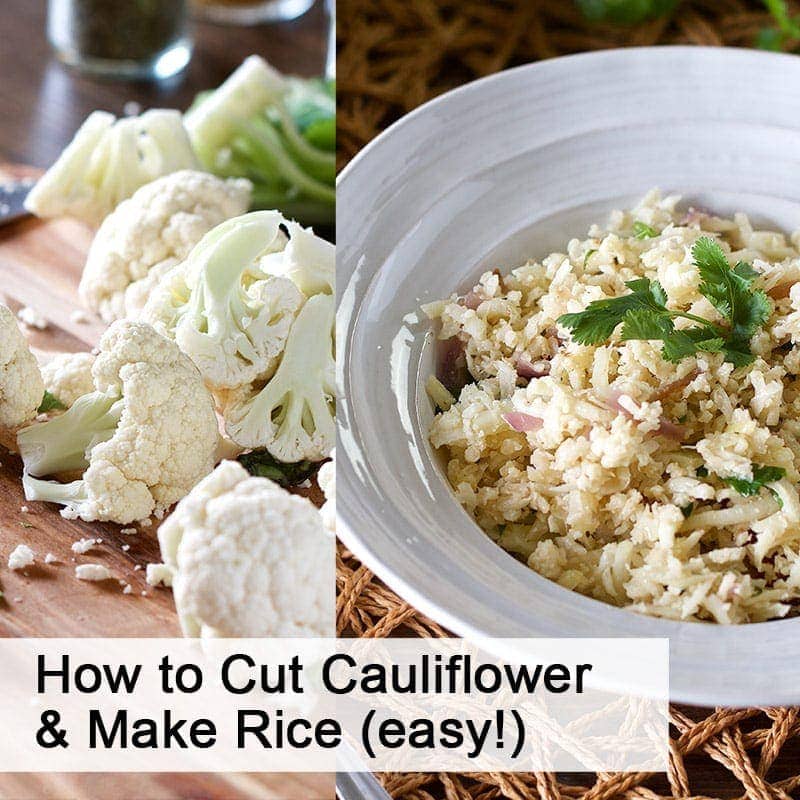 There are many different ways of cutting cauliflower into florets, but you may find my method of cutting the cauliflower stem and leaves simpler.
How to cut cauliflower step by step
Using a chef's knife, cut the cauliflower head in half.
Cut each half in half again so you have four large pieces.
Using a paring knife, you can now easily cut the stem and core off of each half.
Trim the stem a little more if needed, and you're left with beautiful and perfect cauliflower florets.
👩‍🍳 How to make cauliflower rice
Now that we have our cauliflower florets, it's time we make the best cauliflower rice recipe.
Making cauliflower rice at home is very easy, and it is much cheaper than if you buy store-bought cauliflower rice.
There are three techniques for making cauliflower rice:
My favorite method is using a food processor with the grater blade because it grades the cauliflower into small, even pieces that to me, resembles more real rice.
If you don't want to use a food processor or don't have one, you can use your chef's knife to cut the cauliflower.
A knife works pretty well, but you can also use a cheese greater using the medium-size holes.
With all these techniques you're aiming for little pieces the size of rice.
Does the rice taste good?
You may be wondering if we really can make rice from cauliflower. The answer is yes! Cauliflower is a great substitute for starchy rice.
Does it taste the same as rice? No it doesn't, but when seasoned properly cauliflower rice taste just as good and it's much more nutritious and lower in carbs.
Cauliforwer rice can also be served the exact same ways you'd serve rice. It's great along with curry and soups. You can make cauliflower cakes, cauliflower fried rice with chicken, shrimp, or even Mexican or Indian style.
My family's favorite dish is actually made with cauliflower believe it or not! I'm asked to make this dish every single week and it goes to show you how good it tastes.
No matter how you decide to cook your cauliflower, it'll taste really good!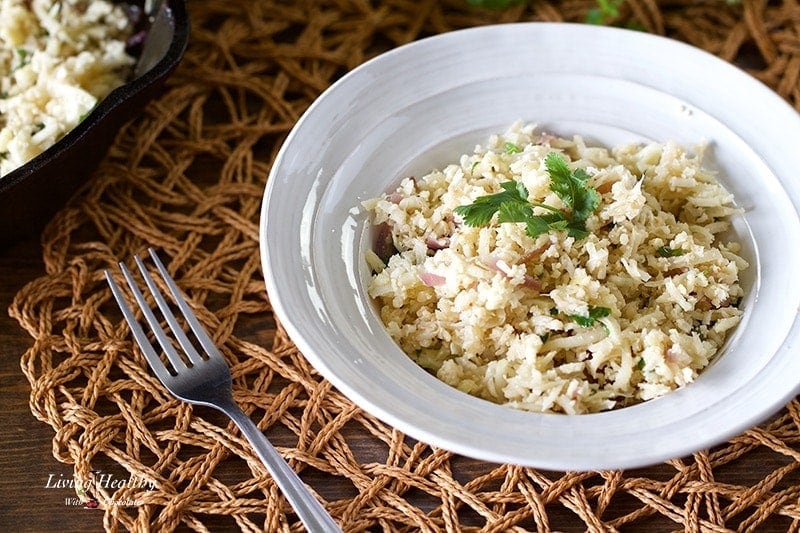 🧅 Cauliflower rice seasoning
One of my favorite ways to season cauliflower rice is using herbs, some type of citrus and coconut milk.
In this recipe, I'm adding fresh lime juice and coconut milk. You know salt and pepper are a must on all recipes, so I add Himalayan salt and black pepper.
As for the herbs, I think cilantro is a great complement to this dish. Some alternatives you may like are fresh parsley or thyme.
I think you'll love this healthy cauliflower rice as a main dish, or you can serve it like I do as a side dish along with some kind of protein like eggs, salmon, chicken, or sausage for breakfast, lunch and dinner.
🌡 How to store cauliflower so it doesn't turn brown
I have a good tip for you to store the cauliflower in the fridge so it lasts much longer without turning brown.
Story of cauliflower in the fridge right side up, with the leaves facing down. This will keep most of the moisture down low and the top won't get those brown spots as fast.
In case you do you have some brown spots in your cauliflower, it is not a problem and you can just shave it off with your life.
🌱 Cauliflower rice nutrition
Nutritionally cauliflower is a powerhouse. It is loaded with vitamins, minerals and antioxidants. It is very low in carbs and very healing for the gut.
This cauliflower rice recipe is Paleo, Vegan, low-carb, gluten-free, and full of healthy ingredients.
It's also a Keto-friendly riced cauliflower recipe for those of you who are diabetic, or are watching your carb intake closely.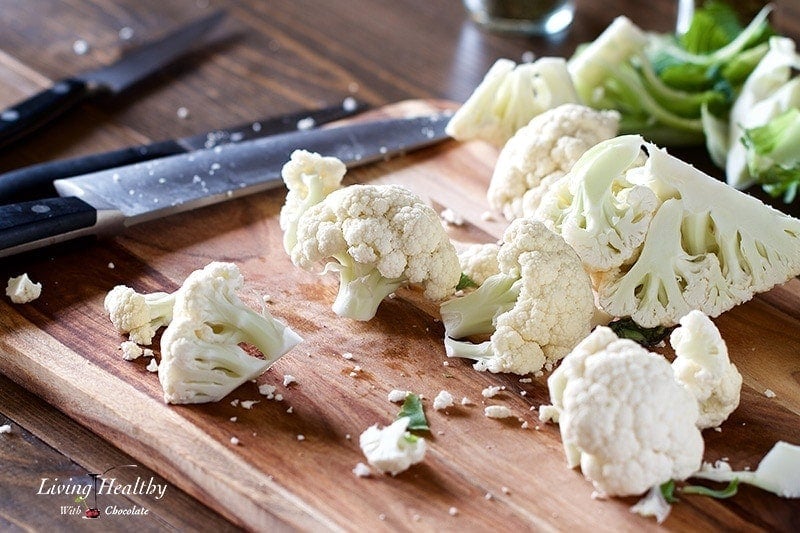 More dinner recipes 🥣
You guys have been asking me for more savory and dinner recipes and I listen! This cauliflower rice recipe is just one of many more to come.
A few months ago, the Shepherd's Pie and Brazilian Cheese Bread recipes I posted were a huge hit with you all and that made me so happy. I was thinking that maybe next week I could share another flavored cauliflower rice recipe that I make all the time. Would you like that?
Comment below with specific dishes you want me to share. And please share your own recipes too! Our community here (and myself) would love to try them!
Want to the see a video of me cutting the cauliflower into florets in my kitchen? Hit play below to watch the steps.
🎥 Watch the recipe video
How to CUT CAULIFLOWER into florets and MAKE CAULIFLOWER RICE (easy recipe!)
📖 Recipe
SHARE THIS RECIPE
How to Cut Cauliflower Into Florets and Make Cauliflower Rice
To see the brands I use, click each ingredient above or visit my Amazon shop.
Instructions
In a large skillet over medium heat, heat the olive oil and sauté the onions until they softened and get some color.

Add the cauliflower rice and give it a stir. Add more olive oil if it looks dry. Then add the lime juice, coconut milk, salt, and pepper, and mix to combine. Let it cook for about 5 minutes, or until the cauliflower softens enough to your preference.

Turn off the heat and mix in the fresh herb.
Notes
Watch the video above to see my easy method of cutting the cauliflower into florets and making the cauliflower rice.
Shop Equipment Used
Nutrition per serving
Calories:
135
kcal
Protein:
3
g
Fat:
10
g
Saturated Fat:
3
g
Sugar:
3
g
Fiber:
3
g
Carbohydrates:
9
g
Net Carbs:
6
g
*This post may contain affiliate links and as an Amazon Associate I earn from qualifying purchases. Please read my disclosure policy for more details.
Made this recipe?
Please leave a review and photo in the comments below.