Have you noticed how eating healthy is easy and delicious? I hope I have been able to show you this by now! Using real foods with a little creativity can turn a simple apple into Apple "Nachos", an incredibly delicious healthy snack.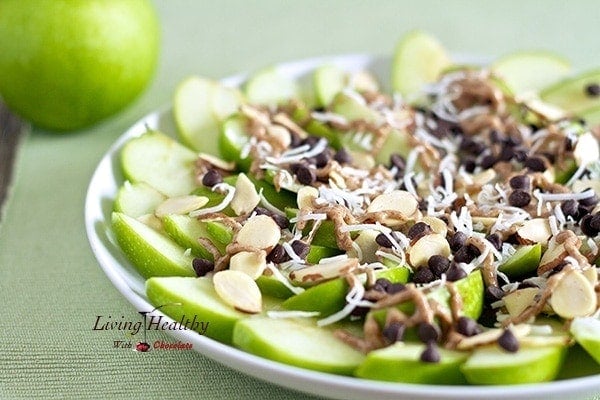 🍏 Ingredients
All you need for this recipe are some apples (I love green apples), a nut butter of your preference (I use almond butter), some dark chocolate chips and coconut.
Calling this apple "nachos" will make it fun and interesting for kids and I am sure everyone will love it.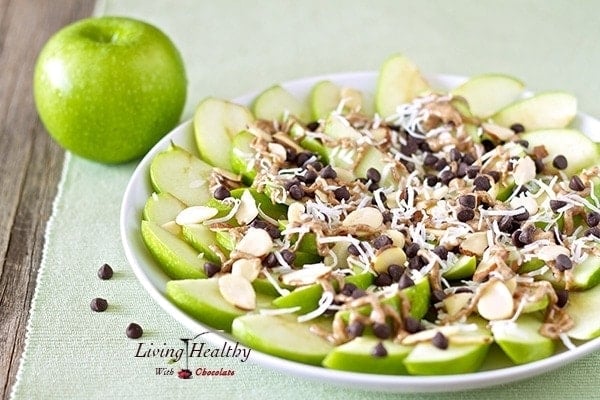 Tip to avoid apples from browning
A great tip for keeping fruits like apples and bananas from turning dark in color after you cut them is to simply toss the fruit in lemon or lime juice immediately after you cut them.
I like having a large bowl ready with the citrus juice in it and as I cut the fruit I quickly mix them with the juice . The fruit can be stored in the fridge for weeks and they will not turn dark. And best of all, somehow you can not taste the lemon or lime juice!
🍎 More apple recipes
SHARE THIS RECIPE!
Apple 'Nachos' (Gluten-free, Keto, Paleo)
Instructions
Slice apples and toss with the lemon juice in a large bowl.

Arrange the apples in a plate and drizzle with almond butter. You can use a pastry/piping bag or a ziploc bag to drizzle the almond butter.

Sprinkle with shredded coconut, chocolate chips and sliced almonds.
Nutrition Facts per serving
Serving:
1
g
Calories:
262
kcal
Carbohydrates:
32
g
Protein:
5
g
Fat:
15
g
Saturated Fat:
5
g
Fiber:
8
g
Sugar:
21
g
Net Carbs:
24
g
Recipe inspired by Taste of Home