These past few weeks I have been seeing a lot of recipes made with pumpkin. Halloween is coming up in a few weeks and what better ingredient to use than pumpkin. I have to confess that I was a little intimidated to use pumkin in a dessert recipe. I love pumpkin, especially my mom's pumpkin soup which has been my favorite soup since I was a little baby, but I never baked with it before. To be honest, I never even liked pumpkin pie all that much.
Last night I was thinking about what I could make that would taste delicious and not have an overpowering flavor from the pumpkin. Pumpkin puree, like bananas and avocados, are an awesome ingredient to bake with, because it creates moisture and a great texture. I knew I wanted to make something that is moist, fudgy and chocolaty, and after giving it some thought I came up with these Fudgy Pumkin Blondies.
Blondies are basically a chocolate brownie made without the cocoa powder. They are a very rich and sweet dessert, traditionally made from flour, brown sugar, butter, eggs, baking powder, vanilla, and some nuts.
My pumpkin blondies turned out irresistible! They are super fudgy, moist and chocolaty. The pumpkin puree used in my recipe did exactly what I wanted, it gave this recipe the perfect texture without too much pumpkin flavor. This recipe uses no oil or butter and instead I added flaxseed meal. Flaxseed meal tends to be a great substitute for butter in baking, giving the recipe an amazing buttery texture and flavor. This is a very simple and fast recipe to make and an awesome treat for you to serve for Halloween this year that everyone will love.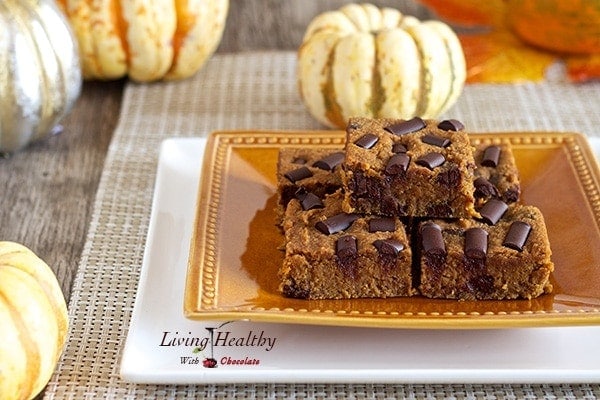 SHARE THIS RECIPE!
Fudgy Pumpkin Blondies (Paleo, gluten, grain, dairy free)
Instructions
mix together the almond flour, flaxseed meal, cinnamon, coconut palm sugar, chocolate chunks and salt

in a separate bowl, whisk the egg, pumpkin and vanilla extract

using a rubber spatula, gently mix dry and wet ingredients to form a batter being careful not to over mix or the batter will get oily and dense

spoon the batter onto a 9-inch pan lined with parchment paper (I used this awesome

silicone pan

because nothing sticks to it and I don't need to use paper or grease the pan)

bake at 350°F until a toothpick inserted into the center comes out clean, approximately 25 minutes
Made this recipe?
⭐️ Rate it and share your photos in the comments below! Click here!