MMMMM... Brownies - what's even better? Raw, No-bake BROWNIES that are naturally sweetened, easy to make, and no oven is required. Chewy, fudgy, with a rich chocolate flavor is how I like to describe them. This healthier brownie recipe is Vegan and Paleo-friendly.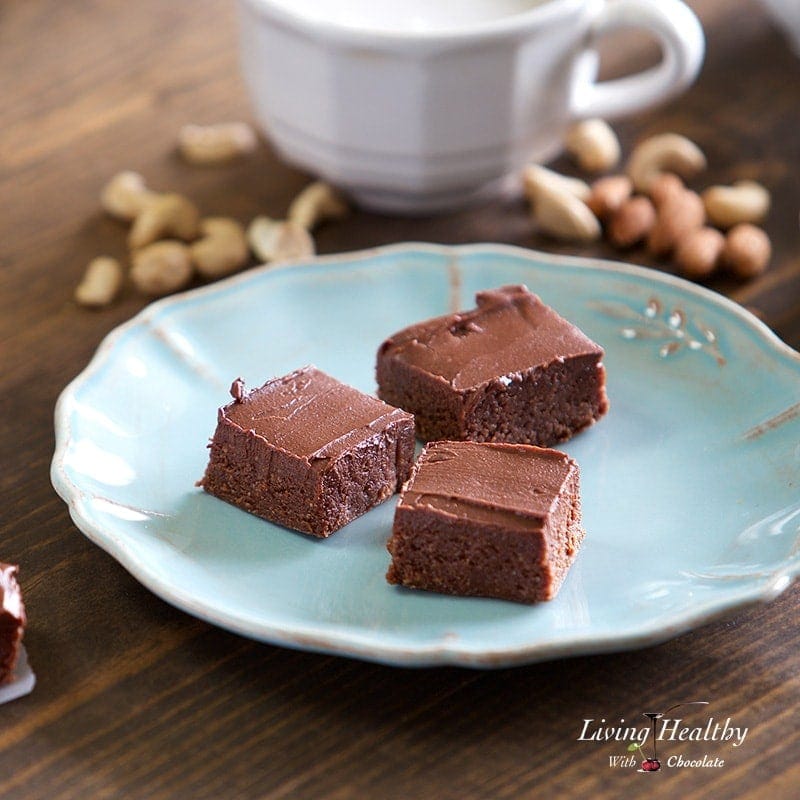 Most Vegan No-bake Brownies recipes are made with dates and while they are very good, the dates makes them heavy and very sweet. I really wanted to make a lighter brownie recipe that tastes just as good using few ingredients and without dates. So I did it! And I'm so excited to share my recipe with you!! My No-bake Brownies are made without dates, eggs, oil, butter, dairy, grains and gluten.
These brownies are made with raw cocoa powder, giving them a high boost of antioxidants and a rich chocolate flavor. The cashews and almonds give the brownies a boost of protein and healthy fats, while also making them super chewy, fudgy and moist.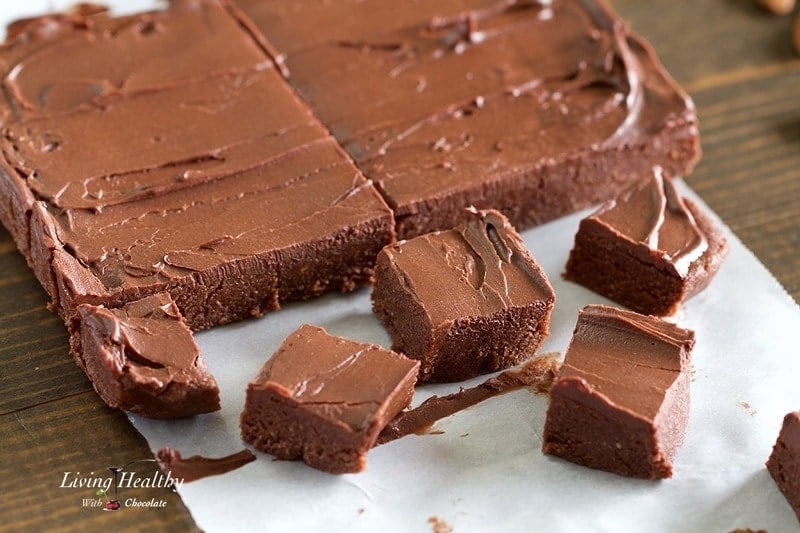 Topping the brownies is a thick layer of my healthy chocolate ganache. This ganache is one of my favorites. It tastes so good, and what I love about it is that it stays creamy, gooey and smooth even after chilled. I talk about my secret to giving the ganache this texture in the video above so be sure to watch it.
One of the ingredients I use in the ganache is unrefined coconut oil. As you know, coconut oil is a powerful whole food, full of antioxidants, vitamins, minerals and with antiviral and anti-fugal properties. I love the taste, and I think it gives the brownies a special flavor. BUT, if you are not a fan of coconut, and you'd like to use a more flavorless oil, you can use refined coconut oil instead. In the refining process, the coconut oil looses it's taste AND also most of it's nutrients, which is one big draw back you should know about.
So in summary, you can see how my Raw, No-bake BROWNIES are full of flavor, texture, and healthy ingredients.
It's so great that they are unbaked and super fast and easy to make.
If you crave brownies, don't go eating a traditional brownie, try this recipe and make them in just a few minutes for you and your family. I know you'll love them 🙂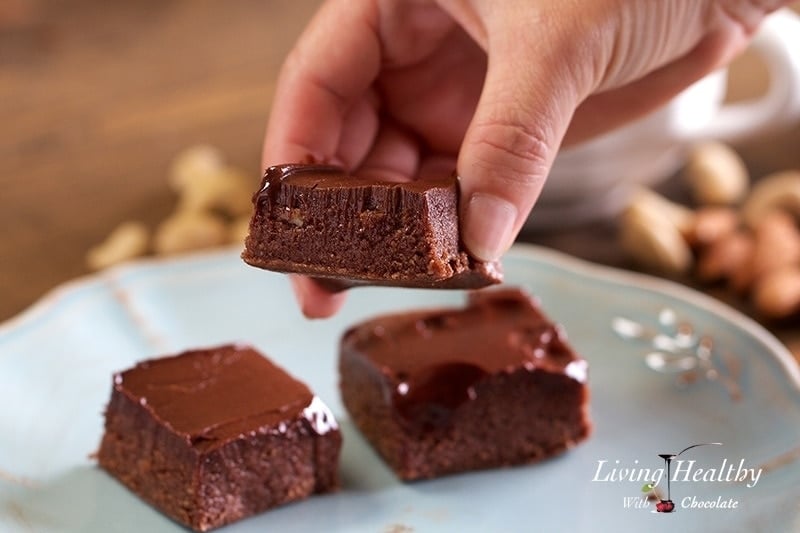 Be sure to also check out my other favorite brownie recipes for Nut-free Fudgy Brownies and Flourless Brownies recipe.
And I'd to know your preference so I can make more recipes for you. Do you prefer brownies that have a more cake-like texture, or a fudgy, chewy brownie like this recipe? Comment below to let me know.
🎥 Watch the recipe video
Raw, No-bake BROWNIES (without dates) (Vegan & Paleo)
📖 Recipe
SHARE THIS RECIPE
Raw, No-bake BROWNIES (Without Dates) (Vegan, Paleo)
To see the brands I use, click each ingredient above or visit my Amazon shop.
Instructions
In a large bowl, mix together with a spatula the almond flour and cacao powder until well combined and you see no more lumps.

Add to a food processor (or blender) the maple syrup, vanilla, salt, and cashews. Process for a few seconds, until the mixture is creamy. You may need to scrape the sides of your bowl.

Using your spatula, mix the cashew mixture with the almond/cacao mixture in the bowl until it forms into a dough.

Line an 8x6-inch pan with parchment paper and press the dough evenly in the pan. Freeze for 20 minutes and go on to making the ganache.
Chocolate Ganache
In a bowl over simmering water (double boiler), melt together the coconut oil, maple syrup, vanilla and cacao powder. Once melted, remove it from the stove and add the milk, and stir to combine. Allow the ganache to cool and thicken. You can speed this up by freezing or refrigerating the ganache for a few minutes.

Top your brownie with the ganache, then cut into squares and serve. Store in the fridge, in an airtight container.
Notes
P.S. Nutrition facts calculated with full fat coconut milk as the milk of choice.
Shop Equipment Used
Nutrition per serving
Calories:
177
kcal
Protein:
5
g
Fat:
12
g
Saturated Fat:
3
g
Sugar:
7
g
Fiber:
2
g
Carbohydrates:
13
g
Net Carbs:
11
g
*This post may contain affiliate links and as an Amazon Associate I earn from qualifying purchases. Please read my disclosure policy for more details.
Made this recipe?
Please leave a review and photo in the comments below.