Make the Brazilian Chocolate Truffles called Brigadeiro with a homemade dairy-free sweetened condensed milk and no refined sugar! This healthier version is sweet, creamy and chocolaty.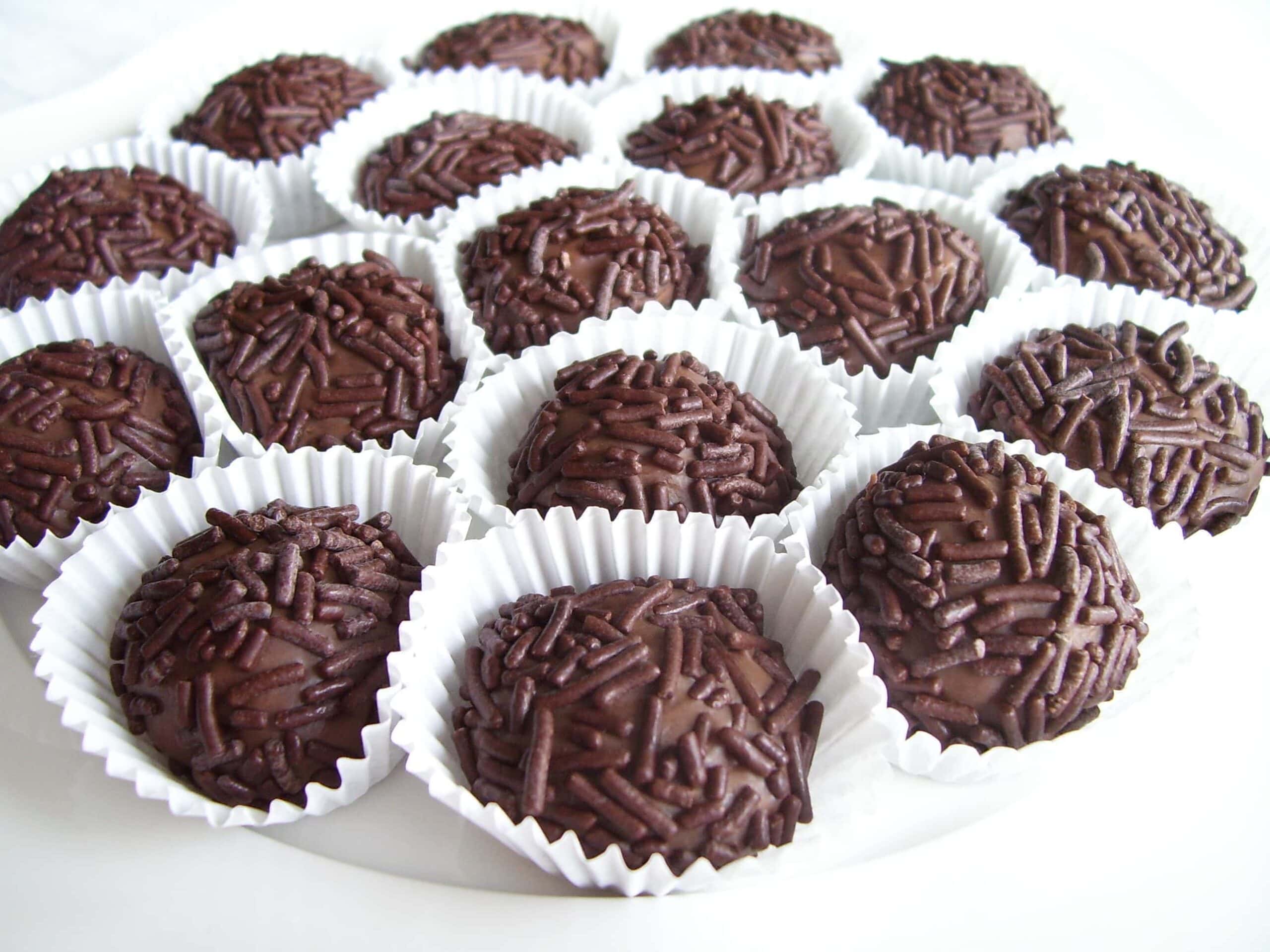 I can't express how excited I am about this recipe. Growing up in Brazil this is the one dessert I ate the most. It is served in every birthday party and special occasion.
Originally, it is called Brigadeiro and it is made by mixing sweetened condensed milk, butter and powder chocolate. It is a kind of bonbon or chocolate truffle, soft in texture and usually rolled into balls and covered in granulated chocolate. It is also used as a topping or filling for cakes, brownies and other pastries.
I have always missed eating this treat and I honestly thought I would never eat it again. After giving it some thought I decided to make a paleo, low carb and refined sugar free version of these delicious brazilian treats.
I have to say I succeeded in my attempt and I came up with a healthy version of it, made with coconut milk, a little honey, grass fed butter and raw unsweetened cacao powder. I wish all my Brazilian friends were in my kitchen and could smell it while I was making it. It smelled exactly the same!
The secret to it was to make my own condensed milk. This is a lengthy step and took about 2 hours. The other thing important mentioning is that is it really hard to tell when the Brigadeiro is ready, especially this Paleo friendly version.
Here is a picture of my dairy free and sugar free condensed milk when I removed it from the stove, about 2 hours later. It had a thick consistency and the color was a little more yellowish.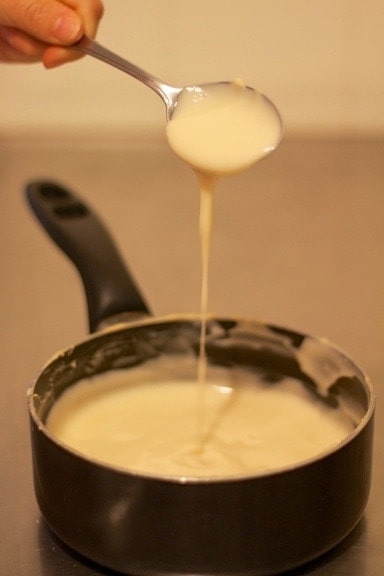 Here is my finished brigadeiro. I rolled it in cacao powder instead of granulated chocolate.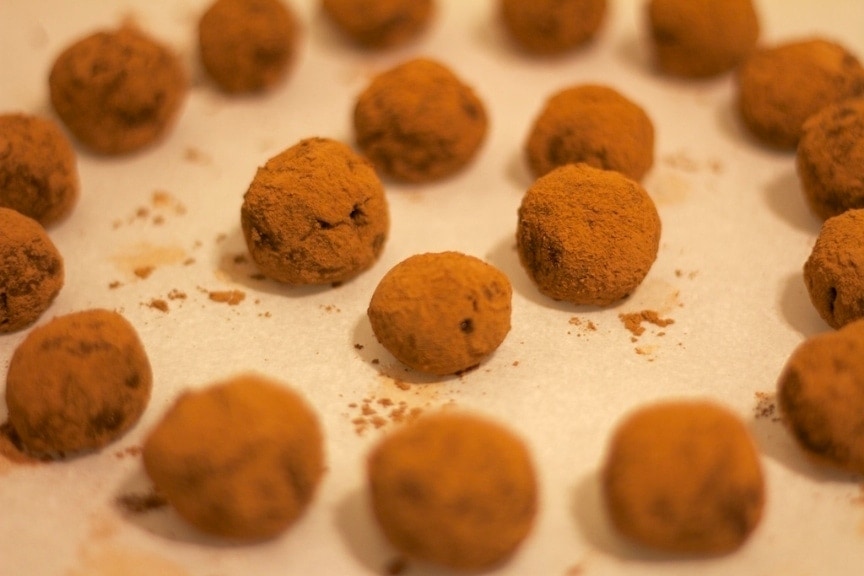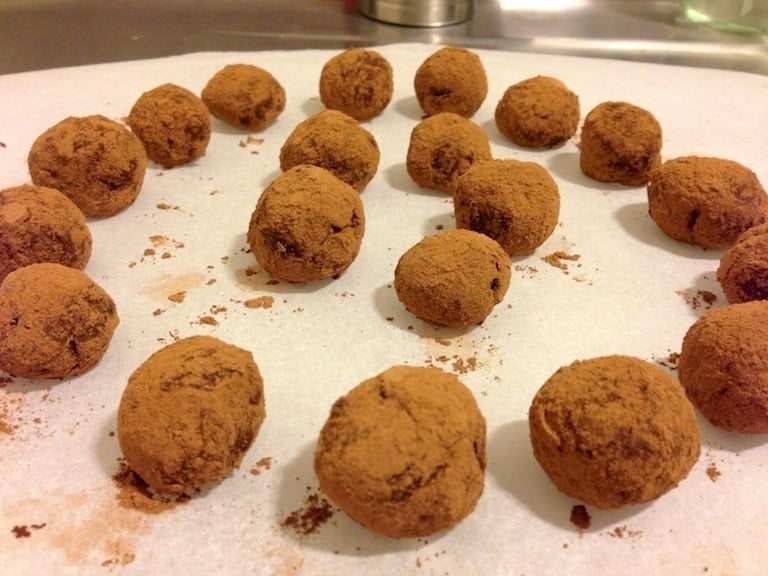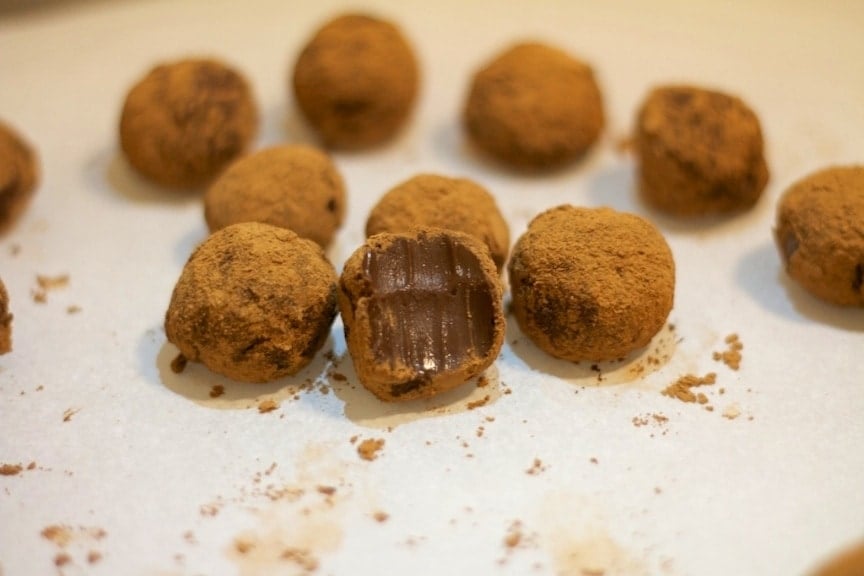 📖 Recipe
SHARE THIS RECIPE
Brazilian Chocolate Truffle (Brigadeiro)
To see the brands I use, click each ingredient above or visit my Amazon shop.
Instructions
Condensed milk:
Combine the coconut milk and honey in a saucepan and cook over medium heat until it starts to boil.

Lower the heat to low and cook mixture for about 2 hours. After 2 hours the coconut condensed milk should be thick enough so that it does not run off the spoon easily and is reduced to about half.
Brigadeiro:
Raise the heat to medium and mix in the cacao powder, butter and vanilla.

Stir the mixture frequently until it boils, then cook for another 12 minutes approximately, scrapping the sides of the pan. This time may vary and what you are looking for is a thick and creamy consistency.

Let it cool and place it in the fridge for about 2 hours. It is important to cool it before rolling it into balls.

Remove from fridge, line your hands with butter and start rolling the chocolate into balls. You might need to add more butter to your hands in between a few rolls.

Cover each ball in cacao powder, coconut or chopped nuts.If you feel the chocolate is not thick enough to roll into balls place it back in the stove at medium heat and let it cook longer, then cool it in the fridge again before attempting to roll it into balls.
Notes
Makes about 25 balls. 

Store in the fridge.
Nutrition per serving
Calories:
45.3
kcal
Protein:
0.5
g
Fat:
4
g
Saturated Fat:
3.4
g
Sugar:
2.1
g
Fiber:
0.3
g
Carbohydrates:
3
g
Net Carbs:
2.7
g
*This post may contain affiliate links and as an Amazon Associate I earn from qualifying purchases. Please read my disclosure policy for more details.
Made this recipe?
Please leave a review and photo in the comments below.