My best egg-free Chocolate Chip Cookies recipe that has a chewy, moist and soft middle, full of gooey chocolate chips that melt in your mouth. Easy to make in just 20 minutes! This recipe is Paleo, Vegan, Gluten-free.
If you've been looking for a healthy chocolate chip cookie recipe to fall in love with, this recipe might just be it. I fell in love with these cookies the second I took my first bite.
Thats because they are moist, soft, chewy, crispy on the edges, and they give you that incredible gooey melted chocolate sensation with every bite - just like with these fan favorite Flourless Chocolate Chip Cookies.
Watch the video below to learn how to make this recipe and my original Chocolate Chip Cookie recipe.
The inspiration for this recipe came from many of you who have told me of your allergies for eggs. So I took my favorite Chocolate Chip Cookie recipe and I modified it so that it's made without eggs, and so it also caters to those of you who have been asking me for vegan options.
In the video, I show you how to make my original Chocolate Chip Cookies recipe and this egg-free version.
The original recipe is moist, soft and chewy, and the cookies have a light and fluffy cake-like texture on the inside.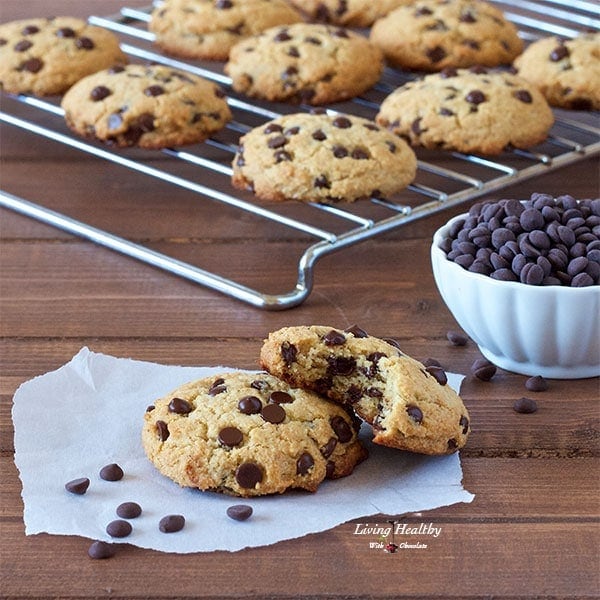 This egg-free version is also moist and soft, but the cookies are also more dense and chewier (largely because they contain no eggs).
These taste slightly different than my original recipe, mostly because I use coconut sugar in place of honey. The coconut sugar gives these cookies a similar taste and texture of a traditional chocolate chip cookie made with brown sugar which I love.
It's hard to say which recipe is better. I love them both and I encourage you to try them both. The two recipes have an amazing texture and taste, and they may become your new favorite chocolate chip cookie recipes like they are mine.
Please make a batch and share. Everyone will be impressed with you when you tell them they're homemade and made without traditional flours and sugars. These are truly delicious - Enjoy 😉
P.S. When you try these two recipes let me know which is your favorite in the comments below. I'd love to know! Please also upload a photo of your cookies with your comment so I can see them 🙂
---
🎥 Watch the recipe video
Healthy Chocolate Chip Cookies (Paleo, Vegan)
SHARE THIS RECIPE
Egg-free Chocolate Chip Cookies
To see the brands I use, click each ingredient above or visit my Amazon shop.
Instructions
Preheat oven to 350°F and line a baking sheet with parchment paper.

Mix together the flaxseed meal and water, and set aside for about 5 minutes. In the meantime add to a large bowl the almond butter, coconut oil, coconut sugar and vanilla extract, and mix with a whisk, a stand or hand mixer.

Add the flaxseed that's been soaking in water into the mixture, and mix again to combine the ingredients.

Now add the dry ingredients to the bowl - almond flour, coconut flour, baking soda and salt. Mix just until the dough comes together.

Using a spoon mix the chocolate chips into the dough.

Scoop the dough onto the prepared cookie sheet, about 1½ tablespoons per cookie, then flatten each cookie slightly with your hand. Use a medium cookie scoop to make this process easier.

Bake for 8 to 10 minutes in the preheated oven, or until the bottom and edges start to turn golden brown. Cool in pan on wire rack. Store cookies in an airtight container.
Notes
I make this recipe all the time in my stand mixer because I find this to be the easier way. But like I mentioned in the instructions above, you may use a hand mixer or just a whisk. A food processor works well also.
If you choose to substitute the chocolate chips with my homemade chocolate recipe, follow the recipe for the chocolate and make it into a bar, then chop it into little pieces. You don't have to temper the chocolate, but it does need to be chilled before you mix it into the cookie dough so that it holds it's shape.
Try my original Chocolate Chip Cookies recipe - Click here for the recipe.
Nutrition per serving
Calories:
107
kcal
Carbohydrates:
6
g
Protein:
2
g
Fat:
8
g
Saturated Fat:
2
g
Fiber:
1
g
Sugar:
4
g
Net Carbs:
5
g
*This post may contain affiliate links and as an Amazon Associate I earn from qualifying purchases. Please read my disclosure policy for more details.