These Paleo Chocolate Chip Cookies are one of the best, with a crispy outside and chewy inside texture. The cookies are full of chocolate chips and are made with almond flour. (gluten-free, grain-free & dairy-free)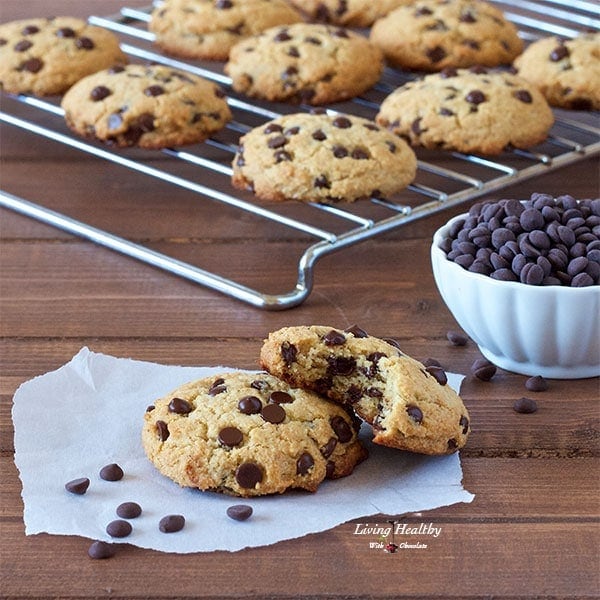 When I wrote this recipe, my intentions were to re-create Chocolate Chip Cookies with a similar taste and texture to traditional cookies while using healthy ingredients.
This meant my cookies needed to be crispy on the outside and chewy on the inside while also being extra thick, soft, moist and chocolaty with every bite.
I addition, I wanted this recipe to be very easy to make and take very little time.
My mission was to create the perfect Paleo Chocolate Chip Cookies recipe without grains, gluten, refined sugars and dairy. A recipe I can bake again and again for years, and one that everyone, including non-Paleo and healthy eaters would enjoy.
Nearly everyone has their favorite chocolate chip cookie recipe and today I'm overly excited to share with you my favorite recipe - my Paleo Chocolate Chip Cookies recipe that I'll treasure for years.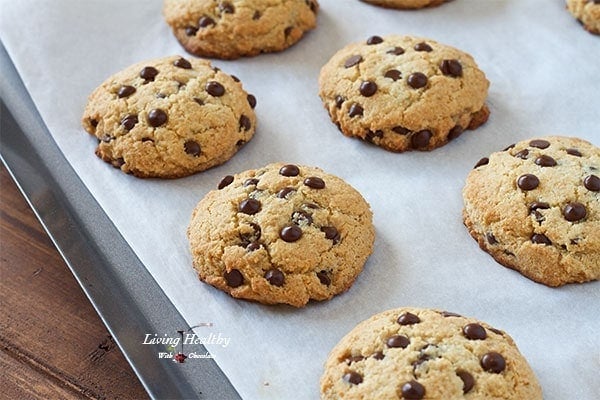 These have the perfect softness. They are thick, fluffy, and chewy, and they exceed all taste and texture expectations of traditional chocolate chip cookies as well.
Mixing baking soda with hot water, then incorporating it with the dough gives these cookies an unbelievable lift.
Mixing ingredients with a handheld electric mixer in nearly every step of this recipe, creates no mess and makes this the easiest cookie recipe to make.
Simply whip the ingredients in a large bowl in the order listed in the instructions, then scoop the dough onto the baking sheet and bake.
You could even add some chopped macadamia nuts, pecans or walnuts to give your cookies some crunch and a nutty flavor.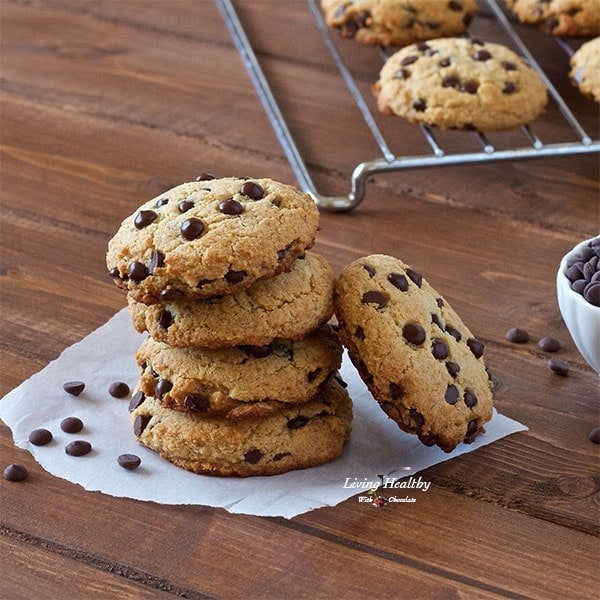 Sometimes the simplest of recipes, free of processed ingredients are also the most delicious. It's a healthy chocolate chip cookie. THE perfect Paleo chocolate chip cookie. Watch as they disappear fast!
P.S. Try the recipe for my Egg-free Chocolate Chip Cookies that I showed you in the video. This egg-free version is incredible!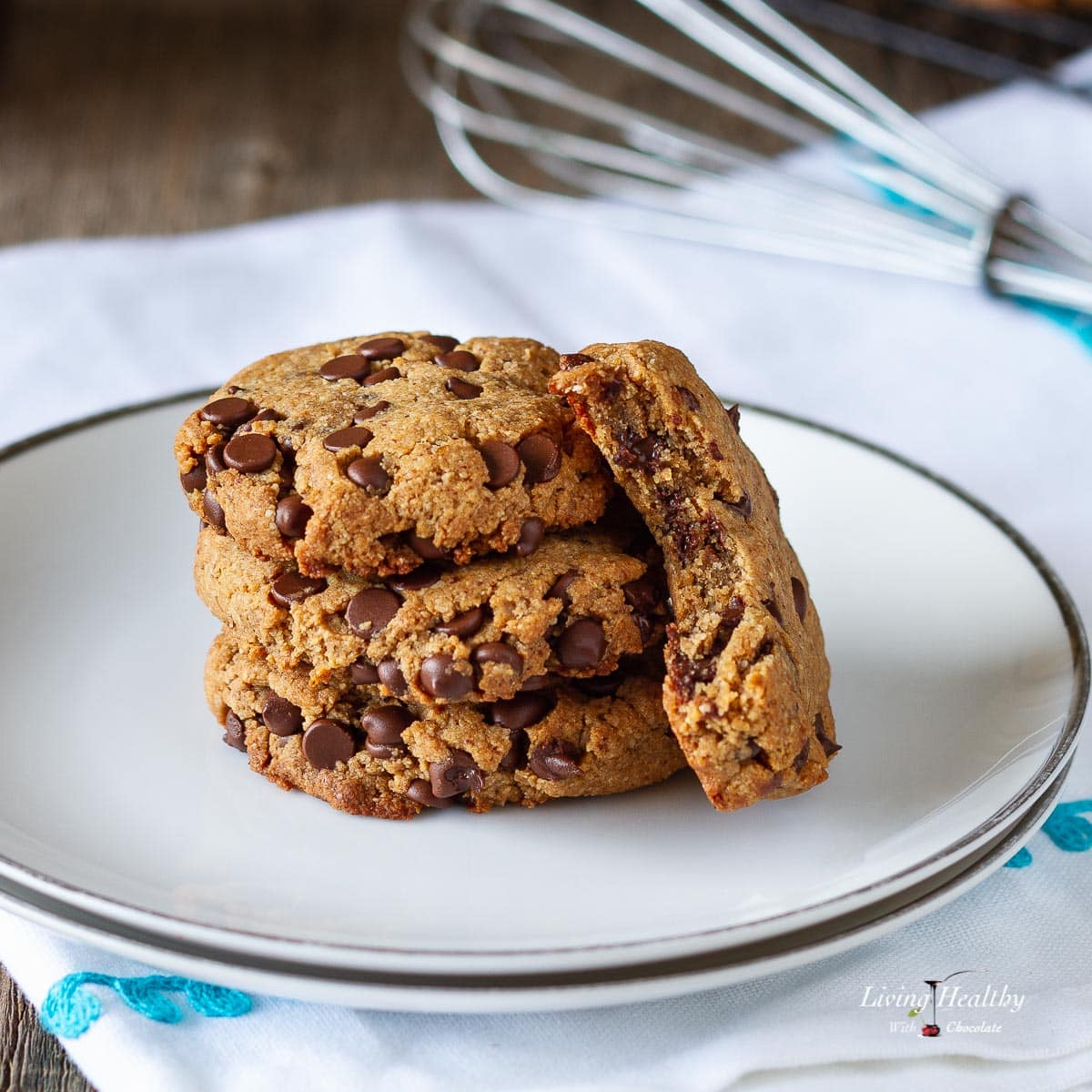 Try making both recipes and let me know which recipe is your favorite in the comments below. I'd really love to know!
🎥 Watch the recipe video
Healthy Chocolate Chip Cookies (Paleo, Vegan)
📖 Recipe
SHARE THIS RECIPE
Paleo Chocolate Chip Cookies (Thick & Chewy!)
To see the brands I use, click each ingredient above or visit my Amazon shop.
Instructions
Preheat oven to 350°F and line a cookie sheet with parchment paper.

Using a handheld electric or stand mixer, cream together the coconut oil and honey in a large bowl until smooth.

Add the egg to the bowl and beat to combine, then beat in the vanilla extract.

Add the flaxseed meal, coconut flour, almond flour and salt all at once and beat until everything is combined. Do do over beat the mixture.

Dissolve the baking soda in hot water in a cup, then add the mixture to the bowl and beat with your mixer until incorporated into the dough.

Using a spoon, mix the chocolate chips into the dough.

Scoop the dough onto the prepared cookie sheet, about 1 ½ tablespoons per cookie, then flatten each cookie slightly with your hand (if the dough is sticky, wet your hand with water).

Bake for 10 minutes in the preheated oven, or until the bottom and edges start to turn golden brown. Cool in pan on wire rack. Store cookies in the fridge to preserve freshness, in an airtight container.
Notes
P.S. I made this recipe with my handheld electric mixer on speed number 2. If you don't have one you can mix everything in a large bowl with a spoon.
Tip: Sprinkle a few extra chocolate chips on top of each cookie before baking to give them a cuter, more chocolaty look.
For those of you that can't eat coconut, you can substitute the coconut oil with butter, ghee or palm shortening, and the coconut flour with 2 tablespoons of tapioca flour.
Try my Egg-free Chocolate Chip Cookies recipe - Click here for the recipe.
Nutrition per serving
Calories:
145
kcal
Protein:
3
g
Fat:
11
g
Saturated Fat:
4
g
Sugar:
7
g
Fiber:
1
g
Carbohydrates:
10
g
Net Carbs:
9
g
*This post may contain affiliate links and as an Amazon Associate I earn from qualifying purchases. Please read my disclosure policy for more details.
Made this recipe?
Please leave a review and photo in the comments below.