I am going to call this to be the BEST Mint Chocolate Chip Ice Cream! ...here is why....
This ice cream has an exceptionally smooth and creamy texture with a deep rich minty flavor from real mint leaves and chunks of homemade chocolate that bursts with flavor. It is free of chemicals and preservatives, "mint flavors', food coloring and refined processed sugars. It is heavenly!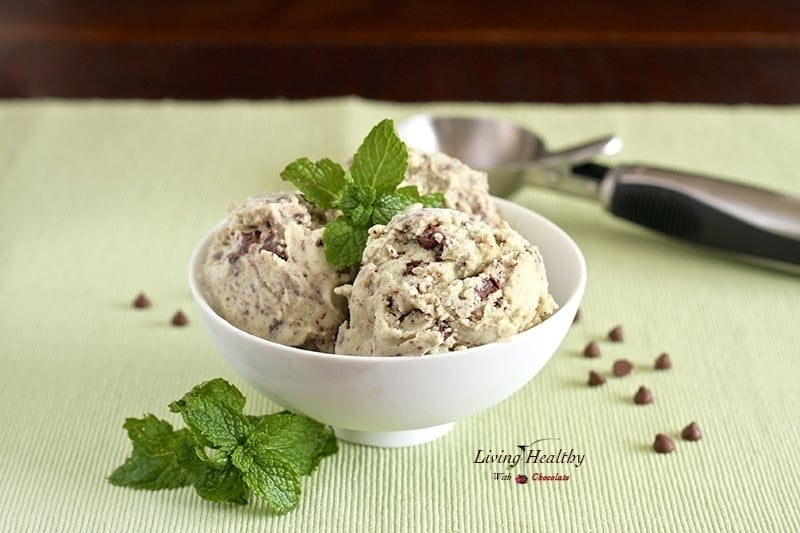 Two things that you can not omit when making this recipe is the arrowroot powder and the fresh mint leaves. The arrowroot powder will keep the ice cream smooth and creamy even after frozen for days. It helps prevent ice crystals from forming when frozen. When selecting the mint leaves, the fresher the leaves the better. I picked my leaves in my neighbor's backyard, but you can buy them at the store and select the freshest looking bunch. I used a whole 2 cups of mint and I packed the cups full. To infuse the mint flavor and color into the ice cream, I heated the mixture and left it to chill overnight before removing the leaves and processing in my ice cream maker.
My husband's reaction to this ice cream really surprised me. He could not stop eating it for one and the words and tone of voice he was using to describe it were comical. Every bite he took was followed by a new adjective about how it was the best he had ever tried. I was surprised and happy at the same time with his reaction and I have a feeling your family will be too.
SHARE THIS RECIPE!
Paleo Mint Chocolate Chip Ice Cream
Instructions
whisk together the coconut milk (or heavy cream) with the arrowroot powder in a saucepan until the arrowroot is dissolved

add the honey, eggs, salt and mint leaves and slowly bring the mixture to a boil over medium heat stirring frequently

when mixture starts to bubble remove from heat, mix in the vanilla extract and let it cool completely. Refrigerate overnight to infuse the mint flavor.

make the chocolate according to

this recipe

but double the recipe (and skip the tempering process). Line a small tupperware or pan with parchment paper and pour the melted chocolate. Cover and freeze the chocolate. After chocolate hardens, chop into small pieces and return to the freezer.

remove the mint from the chilled ice cream with a strainer, then press down with a spatula firmly to extract as much mint flavor and color as possible. Discard mint left in the strainer.

fold in the chocolate chips and freeze mixture in the ice cream maker and serve
Recipe makes 1 quart. Store in an airtight container in the freezer.