Carrot Cake Truffles - A unique, healthy and delicious Carrot Cake that requires no baking, and it's easy to make. Perfect for Easter. (Paleo, Vegan)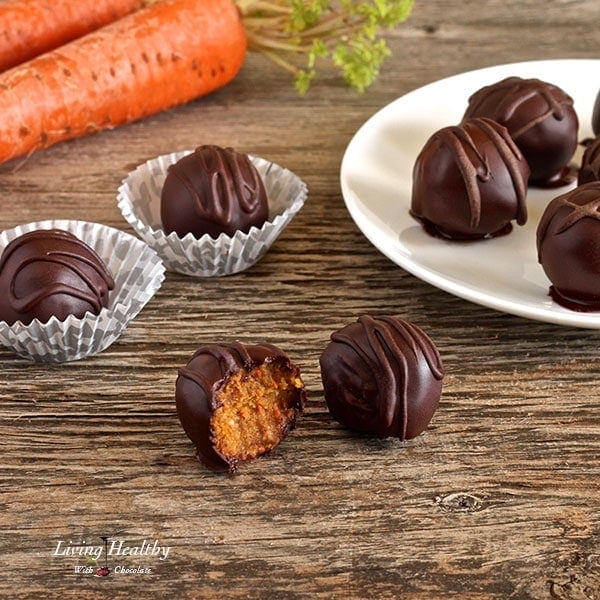 This is easiest and healthiest carrot cake you'll ever make. You only need a food processor (or blender) and a handful of ingredients. Plus there's no baking involved with these!
Carrot Cake Truffles video
Subscribe to my YouTube Channel
Reading the ingredients listed for this carrot cake would never make you think that it tastes like carrot cake. But let me tell you… it does!
I made this recipe not expecting much, but the result blew my mind, so I am really excited to share this recipe with you all.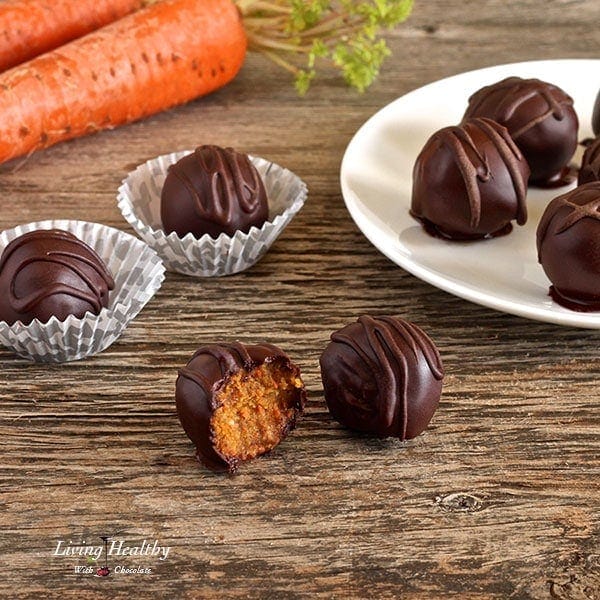 You know I am crazy for chocolate, so even though the little cake balls taste really good on their own, I decided to give them an extra touch and dip them in dark chocolate. Dipping them in chocolate made them look beautiful, but it took away the taste of the carrot cake a bit. But everything with chocolate tastes amazing so I am sure you'll like it also.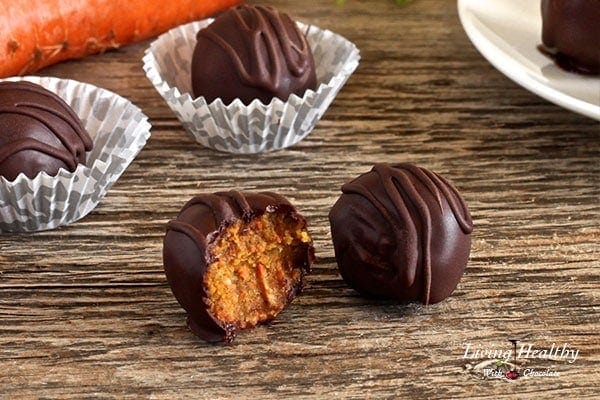 I would love to hear from you if you make this recipe. So please let me know your thoughts in the comments below.
Enjoy the easiest and healthiest carrot cake recipe out there and share it with everyone 😉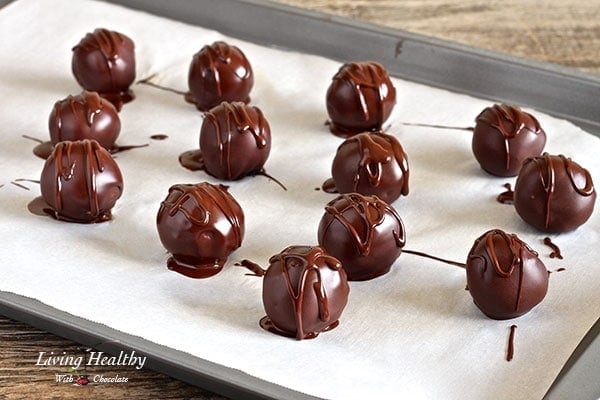 SHARE THIS RECIPE!
Carrot Cake Truffles (Vegan, Paleo)
Instructions
Carrot Cake:
Remove the pit from your dates and process in your food processor or blender until creamy and smooth.

Add all the remaining ingredients and pulse until everything is combined.

Roll the mixture into ball (about 1 1/2 teaspoons per ball) and place them on a baking sheet lined with parchment paper.

Place sheet in the freezer and go onto melting the chocolate.
Chocolate:
Slowly melt about 2 tablespoons of the chocolate in a bowl over simmering water (double boiler).

Remove from stove and mix in the coconut oil and more of the chocolate little by little until it's all melted.

Dip the chilled truffles one at the time in the chocolate and set it back onto the parchment paper. Store in the fridge.
Nutrition Facts per serving
Calories:
61
kcal
;
Carbohydrates:
7
g
;
Fat:
3
g
;
Fiber:
1
g
;
Sugar:
5
g
;
Net Carbs:
6
g