Looking for healthy Fudgy Brownies that are moist, chewy, nut-free and have an intense fudgy chocolate flavor? These Paleo brownies are just that and more!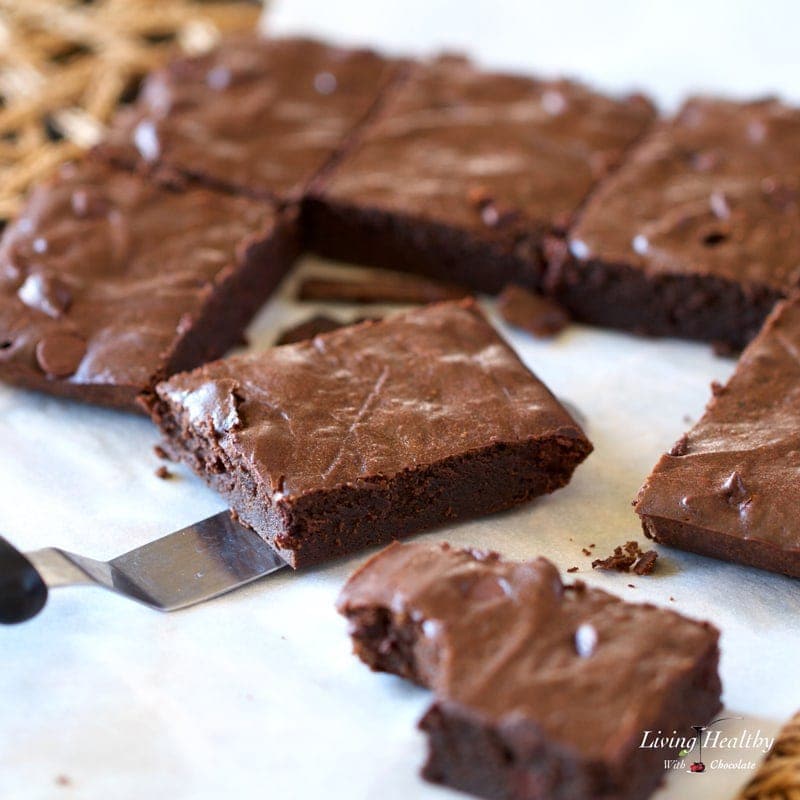 Looking for homemade Fudgy Brownies that are moist, chewy, dense, and have an intense chocolatey interior? This recipe is just that and more!
This healthier Brownie recipe uses whole food ingredients to re-create the taste you know and love. While sinfully delicious, these don't contain any gluten, grains, nuts, dairy, and are also lower in carbs. So no matter if you have food allergies, or are just looking for a good brownie recipe I think these will curb your sweet tooth and cravings for brownies.
Hit play to watch how I make them, read the important info below, and get the written recipe.
The majority of the questions I receive from readers is on how to substitute nuts, dairy and eggs in baking. Making these substitutions is not so simple, so in the recipe card below I give some suggestions. I also get a ton of requests for low-carb and Keto options, so these brownies are much lower in carbs than traditional brownies (nutrition info is in the recipe card below). I tried making them Keto-friendly by using erythritol (1/2 cup) as the sweetener, but in my opinion erythritol has a cooling aftertaste that I personally don't like. It also bakes differently, and gives these brownies a hard, crumbly texture. However, using erythritol and stevia to further lower the carb content of these brownies is an option that you can experiment with.
To keep this recipe nut-and-grain-free, I chose to use pumpkin seed flour. As you know, blanched almond flour is my favorite grain-free flour for baking. It gives baked goods the best taste and texture, but for those of you who have nut allergies, a good substitute are seed flours. In particular, pumpkin and sunflower seed flour work well as an alternative to almond flour in baking. You can substitute the almond flour cup for cup with seed flours. Each seed flour has a unique taste that you can distinguish when you make this substitution. And just as a side note, seeds are not as sweet as almonds, so you may notice a mild bitter aftertaste when you bake with them.
As for the texture, pumpkin seed flour gives these brownies a nice chewy, fudgy consistency, somewhere between a chocolate truffle and piece of fudge. It's really delicious. But when I make these for myself, I do prefer to bake them with almond flour. Personally I like the taste more, and the texture is a bit softer and fudgier. I like to describe each bite as chocolate heaven melting in my mouth, dangerously good, and hard to eat just one small square.
Either way, my goal is to show you that even if you have food allergies you can still enjoy a good brownie. So try them with either pumpkin or almond flour.
After you make them please post your photos and feedback in the comments below.
Hope you enjoy. Comment below to let me know!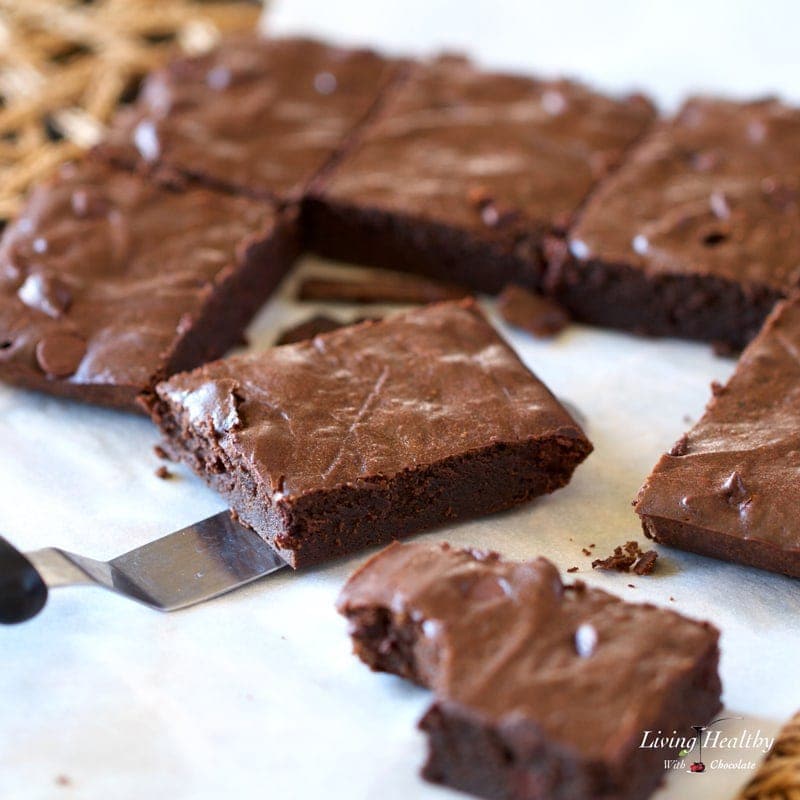 Also check out the healthy dessert recipes in my cookbook. You'll love them 🙂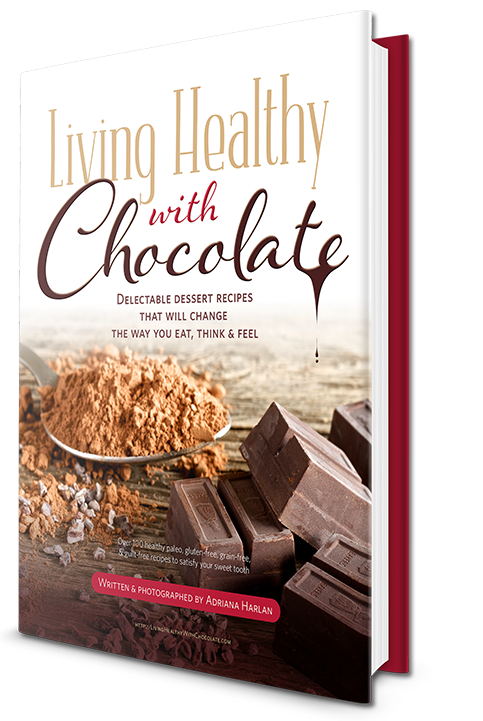 Check out these other popular brownie recipes on LivingHealthyWithChocolate.com!



SHARE THIS RECIPE!

Fudgy Brownies (Nut-free, Grain-free, Gluten-free, Paleo, Low-carb)

Instructions

Chop the 100% dark chocolate into small pieces. Add the chocolate to a bowl along with the coconut oil, and melted slowly over simmering water (double boiler).

While the chocolate is melting, mix in a large bowl using a spatula the egg, maple syrup and coconut sugar. Pour the melted chocolate slowly into the bowl, stirring while you pour until the ingredients are well combined.

Add the salt and flour, and mix to combine. Stir into the batter the 70% dark chocolate pieces if desired.

Spread the batter evenly in the prepared pan, and bake for 20 minutes or until a stick inserted into the center comes out clean.

Remove brownie from the pan and cut into pieces. Store in an airtight container in a cool, dark place like your pantry or in the fridge. Makes 6 to 8 squares.

Recipe Notes

Substitutions: Pumpkin flour: use blanched almond flour Coconut oil: use butter or ghee Egg: use flax or chia and water (1 tablespoon of ground flax or chia seeds soaked in 3 tablespoons of water). Unflavored gelatin powder dissolved in water may also work (1 tablespoon of gelatin dissolved in 3 tablespoons of water). This is a general rule for substituting the egg, and the texture will be different so keep this in mind. Please comment below to let me know how it goes if you try this. Coconut Sugar/maple syrup: use stevia and (or) xylitol/erythritol for Keto. These substitutes don't bake the same and give your brownies a different texture and taste (read my post above). Honey may also be used in place of maple syrup. The baking pan I'm using in the video above is ceramic and if you use a glass, porcelain, or metal pan the baking time may be different but it should be close to 20 minutes, and you can test for donees by using the stick trick.

P.S. Nutrition facts calculated with the 70% dark chocolate.

Nutrition Facts per serving

Calories:

158

kcal

;

Carbohydrates:

17

g

;

Protein:

1

g

;

Fat:

10

g

;

Saturated Fat:

7

g

;

Fiber:

1

g

;

Sugar:

13

g